Updated June 2021: eBooks are powerful tools for SaaS marketers to target customers in the awareness and consideration stages of the buyer's journey. This type of content appeals strongly to B2B audiences, with 63% reporting that they're willing to provide their contact information to download an ebook. As a B2B SaaS marketer, it's important to be familiar with the best ebook examples to help improve your own content marketing strategy.
In this article, we'll critique 5 ebooks so that you can learn what worked and what didn't, enabling you to create ebooks that your audience wants.
eBook examples for B2B inspiration
1. Sage Intacct: listicle ebook example
Here's the ebook: 8 Signs Your Software Company Has Outgrown Excel For Budgeting and Planning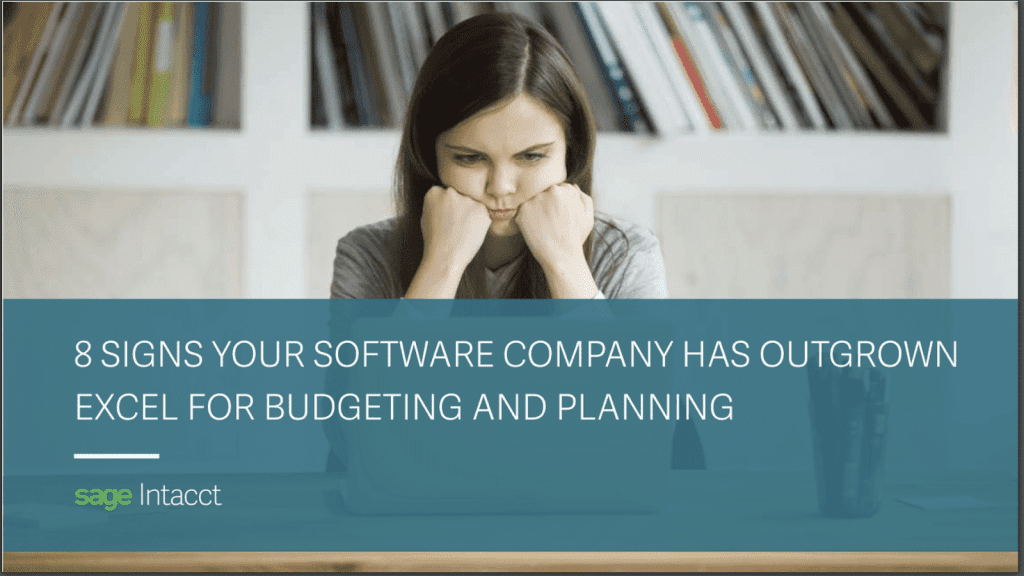 Sage Intacct is a cloud financial management solution that delivers efficiencies and insights to keep its customers on the fast track of growth.
THE GOOD
Interesting title: This ebook example features an intriguing title intended to make the reader want to find out if their B2B SaaS company shows any of the 8 signs of outgrowing Excel. The title is also clear and communicates exactly what the ebook is about.
Strong design: Emulating ebook examples with eye catching design elements and lots of white space is a smart strategy for B2B SaaS marketers to keep readers engaged as they peruse the content. Sage Intacct nails this approach with its ebook.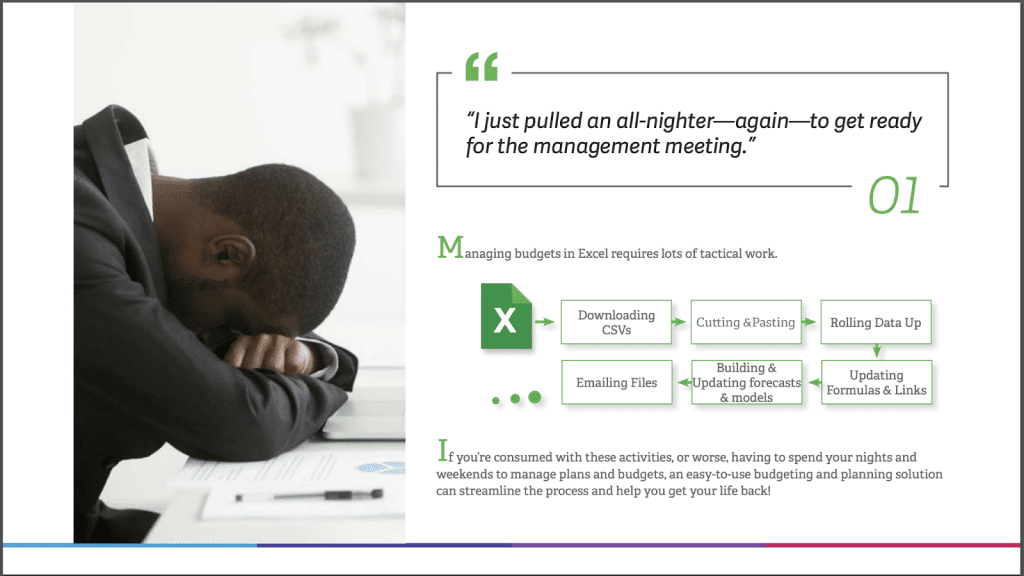 Persuasive CTAs: This ebook example features two clear calls to action at the end, inviting B2B readers to either watch a demo video of Sage Intacct's budgeting and planning product, or visit the company's website.
THE BAD
What's in it for me?: The landing page for this ebook misses opportunities to communicate why the reader should download the content, aside from gaining insight into whether they've outgrown Excel.
Needs bulleted list of learning outcomes: The landing page should feature a bulleted list with several learning outcomes such as what to do after you realize you've outgrown Excel. It should also expand upon "the benefits of a true budgeting and planning solution," which are alluded to but not actually listed.
Needs actionable information: The best ebook examples for B2B SaaS provide actionable information that readers can implement immediately after consuming the content. Sage Intacct offers its product as a solution to outgrowing Excel at the end of the ebook, but does not provide any other quick-win tips throughout.
Stuck for ebook ideas? Check out 5 tips for generating topics.
2. HackerOne: segmented audience ebook example
Here's the ebook: The Beginner's Guide to Bug Bounty Programs

HackerOne empowers the world to build a safer internet. As the world's trusted hacker-powered security platform, HackerOne gives organizations access to the largest community of hackers on the planet.
THE GOOD
Title explains audience: The title of this ebook example indicates that the specific B2B audience for the content is a beginner audience. This lets readers know that the ebook won't be full of technical jargon they won't understand.
Compelling landing page: The landing page for this ebook is well thought out, with a short introduction that explains why the content is relevant in today's cybersecurity landscape, an illustration that explains how HackerOne works and a list of four things readers will learn from the content. The landing page also uses imagery to make it even more engaging.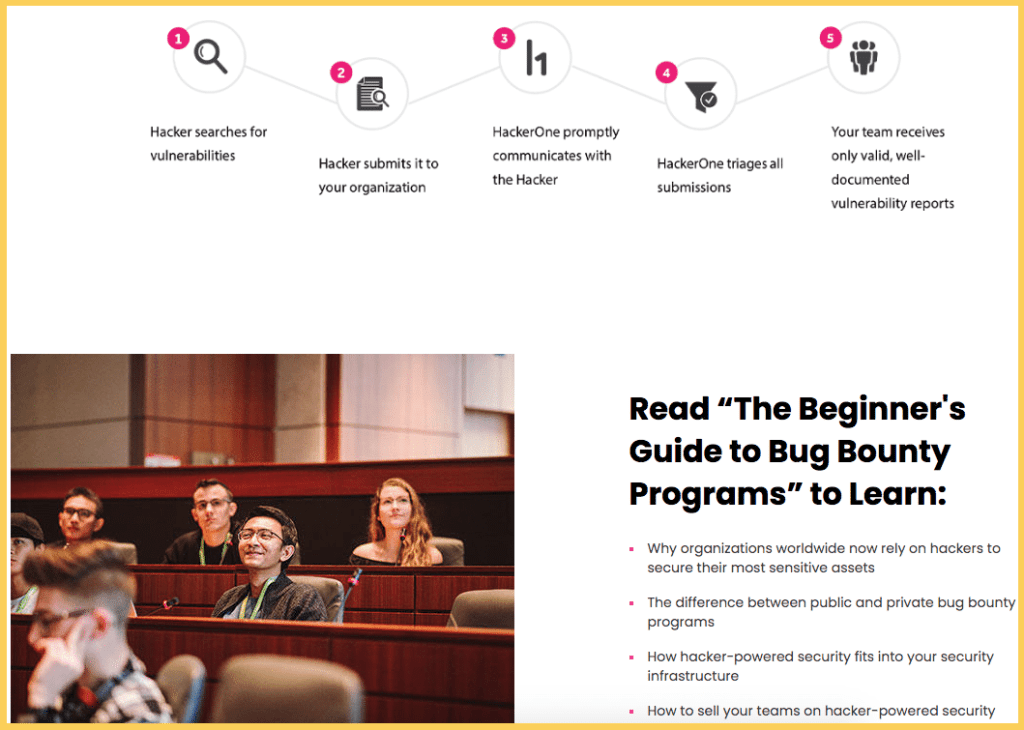 Helpful information: Well-crafted ebook examples are written to be useful to their audience, and HackerOne demonstrates success in this area by including a list of industry terms at the beginning of the ebook, since the audience is new to the concept of hacker-powered security. The ebook also includes an entire page dedicated to answering the question, "What is a bug bounty program?"
THE BAD
Difficult readability: Overall, this ebook example is exceptionally well executed, but one area that could use improvement is the small font, which is difficult to read even at 100% size. A heavier weighted font would be easier on the eyes.
Level of information: Another potential concern is that this ebook might include too much information for a beginner audience. It's a comprehensive guide, however HackerOne could consider creating a 10-page version in addition to this 23-page version to see which performs better with B2B readers.
3. Cvent: action-oriented ebook example
Here's the ebook: Leverage Your Content for Virtual Events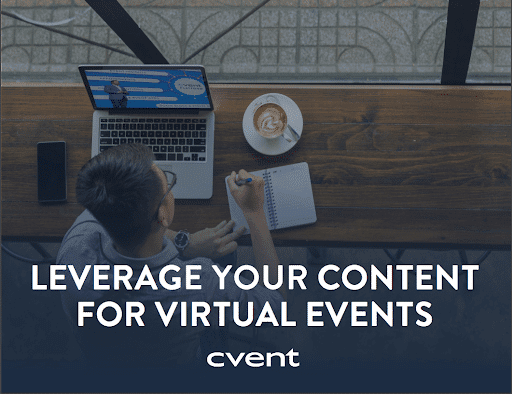 Cvent's technology helps transform the meetings, events and hospitality industries. The company's solutions optimize the entire event management value chain.
THE GOOD
Persuasive landing page: The most compelling ebook examples have a landing page that persuades B2B SaaS readers to download the content. Cvent accomplishes this by explaining what readers will learn in 4 bullet points on the ebook landing page.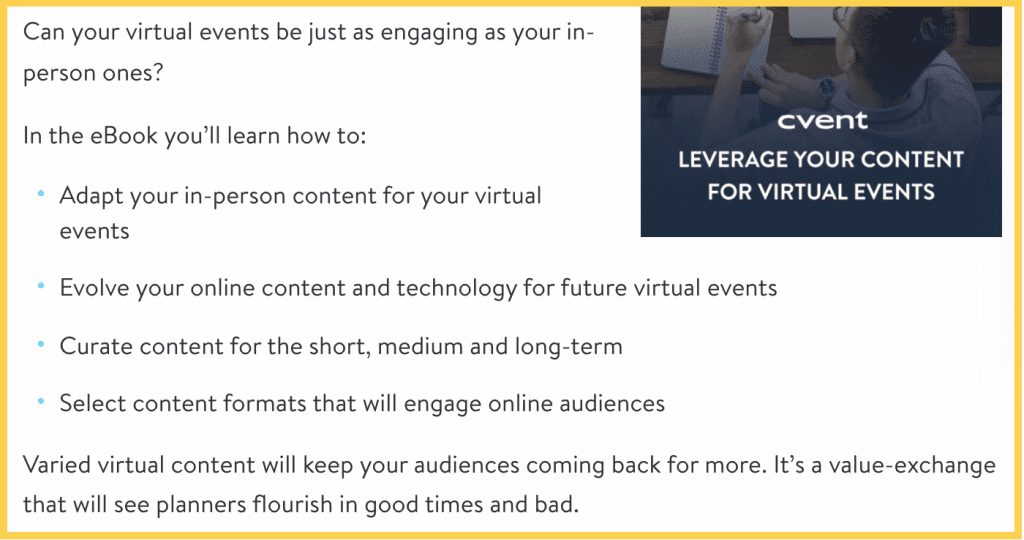 Compelling title: This ebook example has an action-oriented title that clearly outlines what the content is about and why the B2B reader should download it. The ebook is focused around one core topic: leveraging your content for virtual events.
Actionable take-aways: The ebook offers concrete, actionable insights, highlighting five different content formats that readers should use to capture the attention of their virtual event attendees. Readers can take this advice back to their desk and implement it immediately to improve event-related processes and ROI.
THE BAD
Text-heavy: Cvent's ebook uses a decent amount of images and colorful headers to break up the text, but it's still fairly text heavy and could take a page from other ebook examples in the B2B SaaS space by incorporating more white space and design elements such as statistics and infographics.
Missing call to action: The ebook would benefit from including a bit of information about Cvent and guiding readers towards a strong call to action.
4. Freshworks: interactive ebook example
Here's the ebook: The Art of Customer Experience: Winning on the New Competitive Battlefield
Freshworks offers SaaS customer engagement solutions to organizations of all sizes. These tools make it easy for support, sales and marketing professionals to provide better customer service and collaborate with team members to resolve issues.
THE GOOD
Helpful tools: This ebook example is highly interactive, with several value-added tools that readers can put to use right away. These include:

a checklist to assess your current customer experience (CX) strategy
a worksheet to conduct an overview of your CX tools and applications
a customer support metrics cheat sheet
Eye-catching design: The ebook design is bright and colourful with several engaging graphic elements to break up the text such as bulleted lists, charts and icons.
Social proof: This ebook example features pull quotes and statistics to grab the reader's attention, as well as demonstrate social proof and credibility in the form of hard numbers.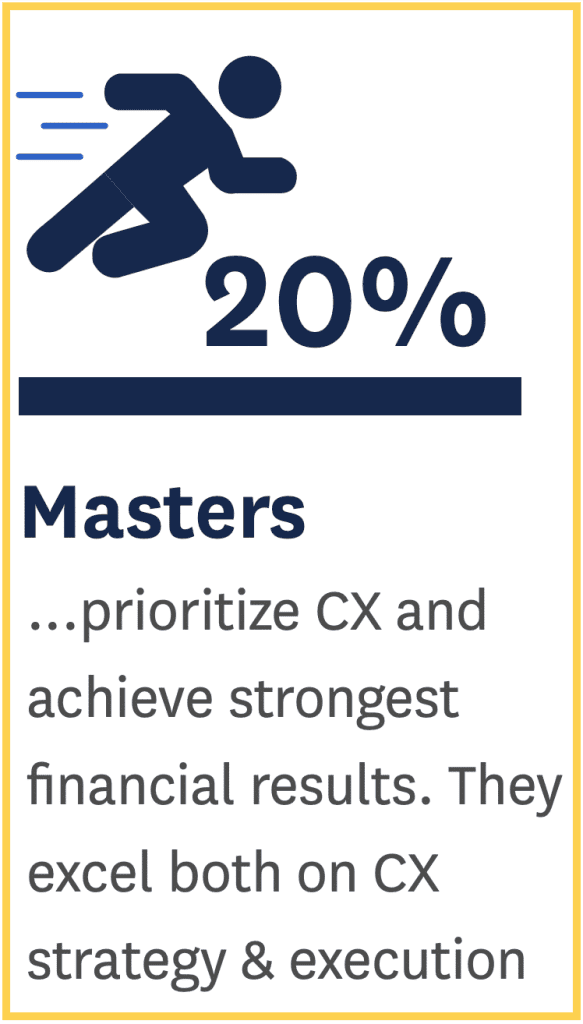 The Bad
Better header: While the landing page does explain the value the reader will get from the ebook, it could benefit from an action-oriented header. The look and feel is slightly muted due to the colours and text size.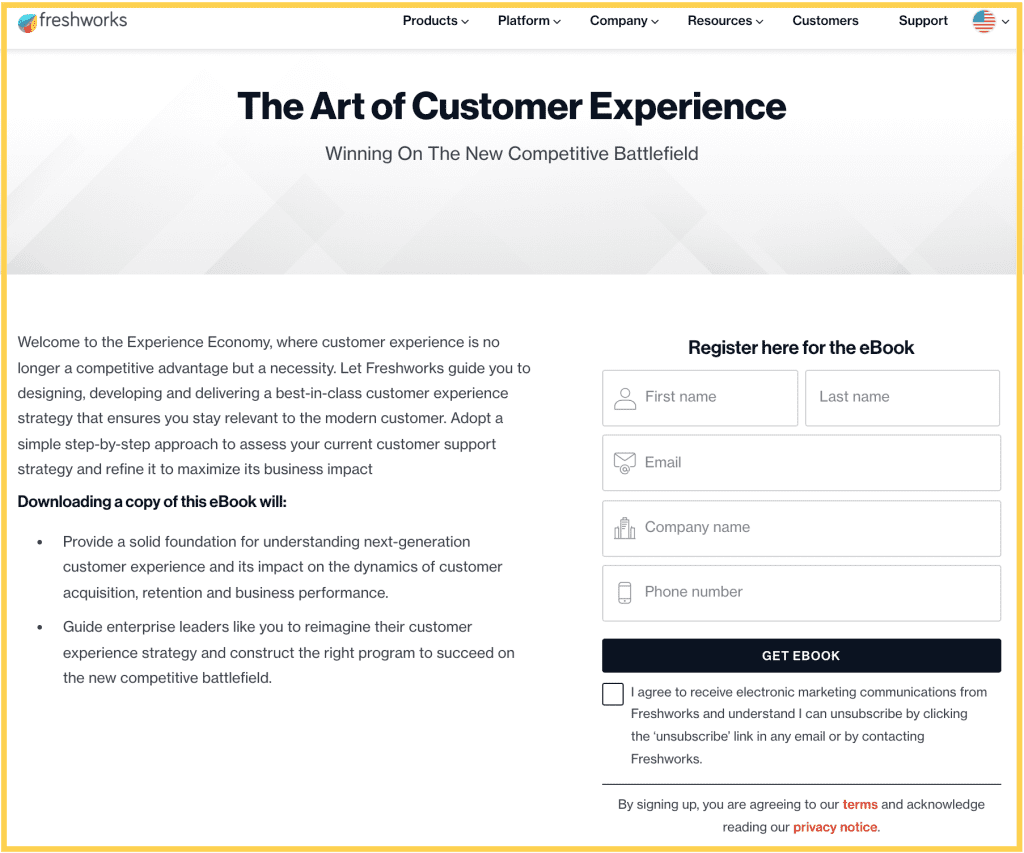 Missing contact info: Overall, this is an excellent piece of content that would rank among the best ebook examples out there for B2B SaaS. Our main suggestion is to provide contact information so interested readers can get in touch with Freshworks.
5. Zuora: research rich ebook example
Here's the ebook: The 5 New IoT Success Metrics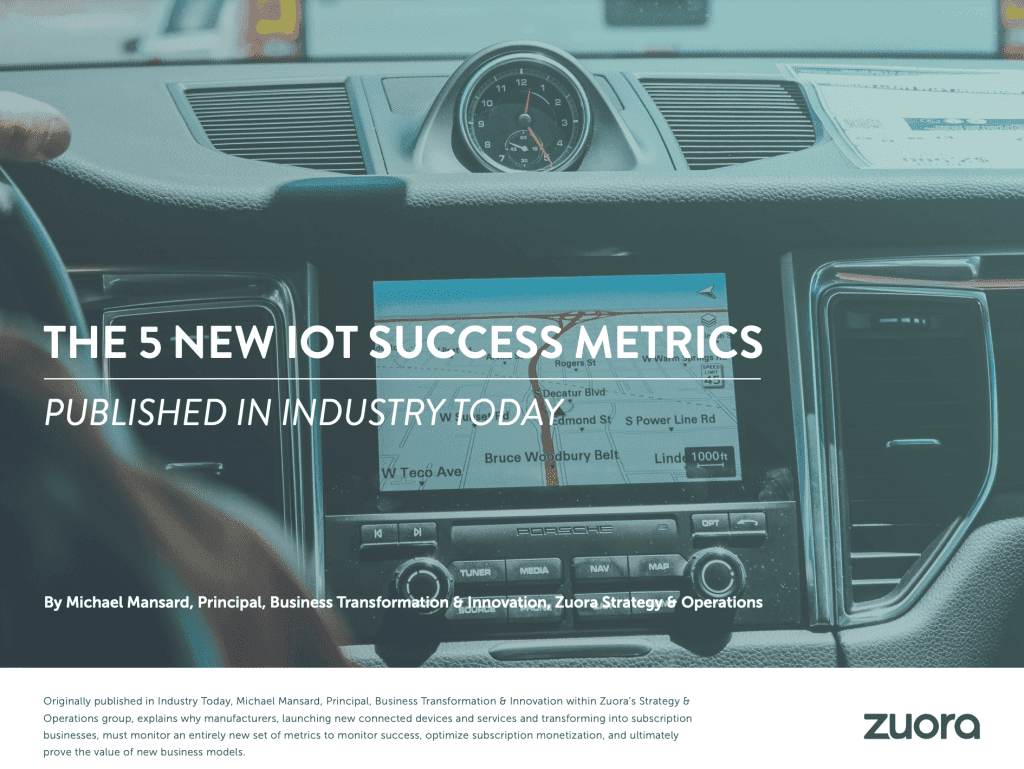 Zuora provides cloud-based software via subscription that enables any company in any industry to successfully launch, manage and transform into a subscription business.
The good
Builds trust: This ebook example builds credibility from the get-go by sharing B2B statistics and examples of organizations that are revolutionizing the manufacturing industry through Internet of Things (IoT) technology.

Graphics: The ebook makes great use of a diagram to help illustrate a detailed concept—the revenue impact of business transformation—so that readers can better digest the information.
Appealing design: This ebook example features a visually appealing design with full-page images and lots of space around the text.
The bad
No push to action: The landing page explains what the reader will learn in the ebook, but doesn't use an action-oriented header. It also doesn't make the connection to how the reader can implement the knowledge to their benefit, other than stating that they'll understand the revenue impact of business transformation.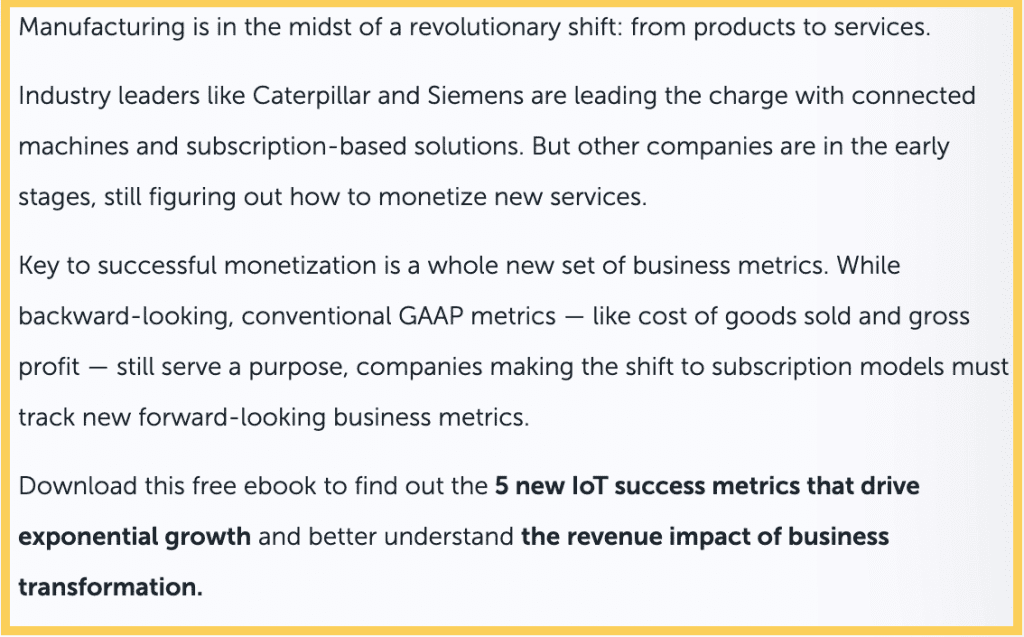 Be more specific: The ebook title should be more specific and actionable to entice readers to download the content.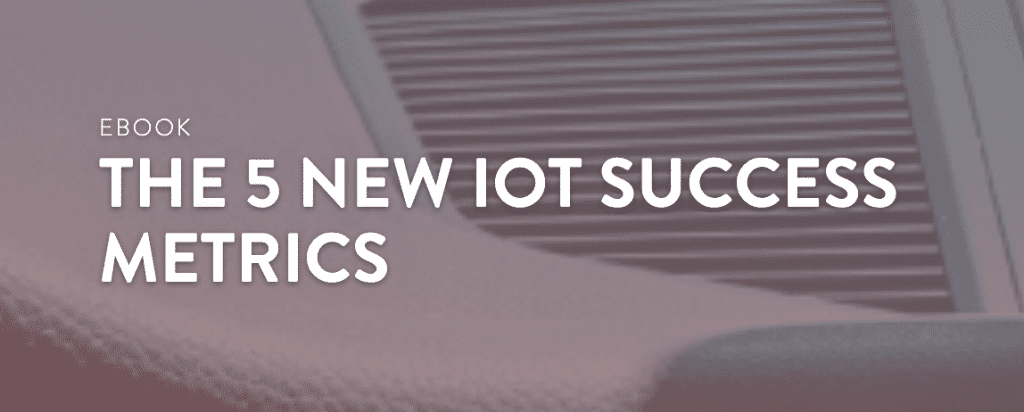 Make it easier to read: The ebook text is a little small. In addition, white text isn't great for readability.

Next step?
Now that you've seen 5 compelling ebook examples for B2B SaaS, it's time to dig into ebook ideas to help you hone in on a topic that your audience will find valuable and want to download. This is the third post in a 6-part series on steps to writing an ebook.
Get support with ebook creation
Work with an expert in B2B SaaS ebooks. Uplift Content can help your team nurture leads by creating compelling ebooks that showcase your expertise. Explore our ebook writing services.