Updated February 2023: Stand out from your competitors in rapidly growing B2B markets with a strong B2B blog strategy that helps you create attention-grabbing content. Your blog content should provide value to your readers by:
educating them on topics related to your industry
helping them solve problems
keeping them engaged with compelling writing as they move through your marketing funnel
In this post, we'll dive deeper into what a B2B blog strategy is, why it's crucial, and how you can create a strategy in 7 straight-forward steps.
What is a B2B blog strategy?
A B2B blog strategy is a plan that outlines how you will deliver value to readers, attract qualified traffic, and achieve marketing and business goals through blogging.
A blog strategy details key processes, like how to develop a content calendar, conduct keyword research, fill out a content brief, create engaging content, and publish and promote the content.
A blog strategy for B2B focuses on creating and distributing content tailored specifically to businesses rather than individual consumers. This strategy helps you provide valuable information to potential leads and nurtures them toward purchasing by increasing brand awareness and trust.
Is a B2B blog strategy crucial for your company?
Gone are the days when cold calls and direct mail dominated the marketing industry. Today, blogging is a foundational component of any B2B marketing strategy.
It enables companies to increase brand awareness, drive conversions and generate revenue. However, for any content marketing tactic to be successful, it requires purpose and planning, which is why it's essential to have a B2B blog strategy for your company.
64% of successful B2B companies have a content strategy, compared to only 40% of all B2B companies. In addition, 50% B2B marketers expect their content marketing budget to increase in 2023 which shows that marketers are ready to invest in effective strategies to get returns, such as lead generation and increased website traffic.
However, blogging isn't all sunshine and roses. Creating a B2B blog strategy takes time and effort. And doesn't provide instant gratification in the way running paid advertisements can.
Blogging, and driving organic traffic to your website as a result, is a long game. Stick to your blog strategy and you'll see results over time. You'll also build stronger relationships with your audience than you ever could through advertising alone, thanks to high quality, interesting and educational blog content.
What makes a good B2B blog?
A compelling B2B blog covers content that appeals to your target audience and delivers value. The blog should focus on providing useful, actionable information that helps you establish authority in your industry and differentiate your company from competitors. Engaging blogs also include fresh insights and perspectives from experts and thought leaders.
How to create a B2B blog strategy in 7 steps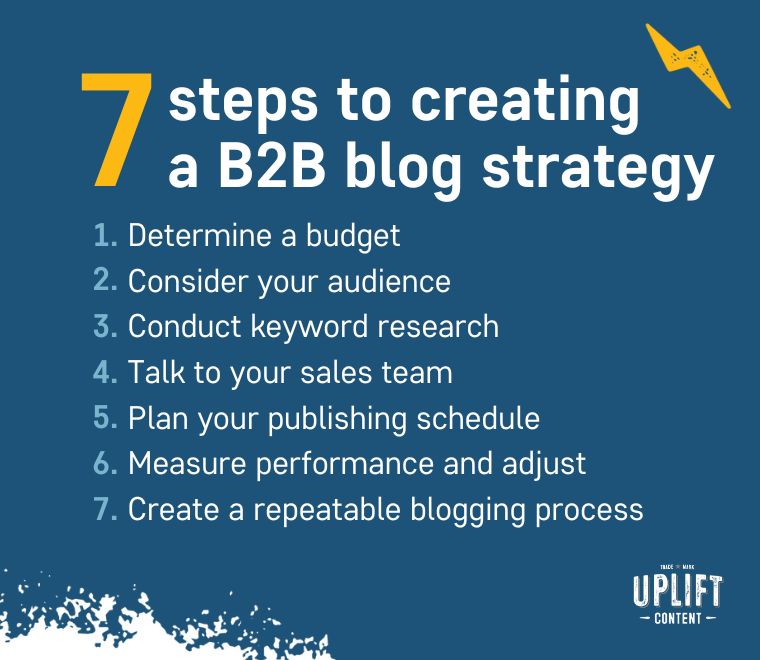 A B2B blog strategy is at the heart of your content marketing efforts. Here are 7 steps to developing a blog strategy that drives results:
1. Determine a budget
33% of B2B companies that describe their content marketing as 'very successful' spend 50% or more of their budget on content marketing.
Your blogging budget will need to cover writing the posts, creating branded images and videos, developing social content to promote the posts, and likely an SEO agency to conduct the keyword research and optimize the posts.
Remember to also budget for time, and keep in mind that if you choose to have an internal staff member execute on your B2B blog strategy, it may be a challenge for them to dedicate time to writing blog posts if they have other projects on their plate. Outsourcing to an external writer can free up precious hours for your team—and help you avoid the cost of a new employee.
2. Consider your audience
It's crucial to ensure the blog content you're planning to create will resonate with your audience so it can successfully drive leads and sales. While your B2B company likely already has audience personas drafted, it's important to refer to the personas regularly and keep them in mind when crafting your blog strategy and choosing topics to write about.
Pain points and common industry or product-related questions make excellent blog topics. Make sure you're connecting with your audience frequently to gather this information. And don't just assume what they want to read based on your company's existing personas.
3. Conduct keyword research
Keyword research is critical to any B2B blogging strategy because it helps you understand what topics your prospects and customers are searching for online. This enables you to provide relevant information through your blog posts and drive organic traffic to your website.
78% of B2B content marketers use keyword research tools for SEO during the content creation process, which helps them boost website rankings. Keyword research helps you create content that performs well in search engines and attract higher-quality leads.
Search Engine Journal says it well: "Good keyword research enables users to find what they need:
Shoppers who want to buy something can find the right product page.
A user that wants to know 'how to' can find a page that explains a process in-depth.
Users who want to research a person or brand can find out about that entity."
So, don't let your efforts go to waste and let your target audience know what you're offering.
Consider your audience personas when you're conducting keyword research. For example, if your company sells legal software, you could look for search terms related to compliance. Once you have a list of terms your audience searches for, then you can write blog posts around them.
4. Talk to your sales team
While keyword research is important, if you want your B2B blog strategy to really shine with content that converts, you'll need to have several in-depth conversations with your sales team about what truly resonates with your prospects at the Decision Stage.
Ask questions that dig deeper than simply gathering feedback on the features of your products. Find out how your solutions impact your customers in a bigger way. And then tell rich stories in your blog posts that create an emotional connection.
5. Plan your publishing schedule
Don't create a B2B blog strategy then just start publishing posts at random. You need a content calendar to accompany your strategy and to ensure consistency in your blogging efforts. A publishing schedule determines how often and when you'd like to post, taking into account any seasonal or industry trends.
You should also consider using scheduling software. A good platform lets you publish posts to social media in batches, so you don't have to do it manually.
So, how often should you post a blog for B2B? For B2B brands, a B2B blogging strategy that includes publishing blogs 11 or more times a month results in 1.75x more leads than blogging 6 to 10 times a month. The magic number is 2 to 4 posts per week—it results in the highest gains in traffic per dollar spent. And publishing more frequently also increases leads for B2B companies.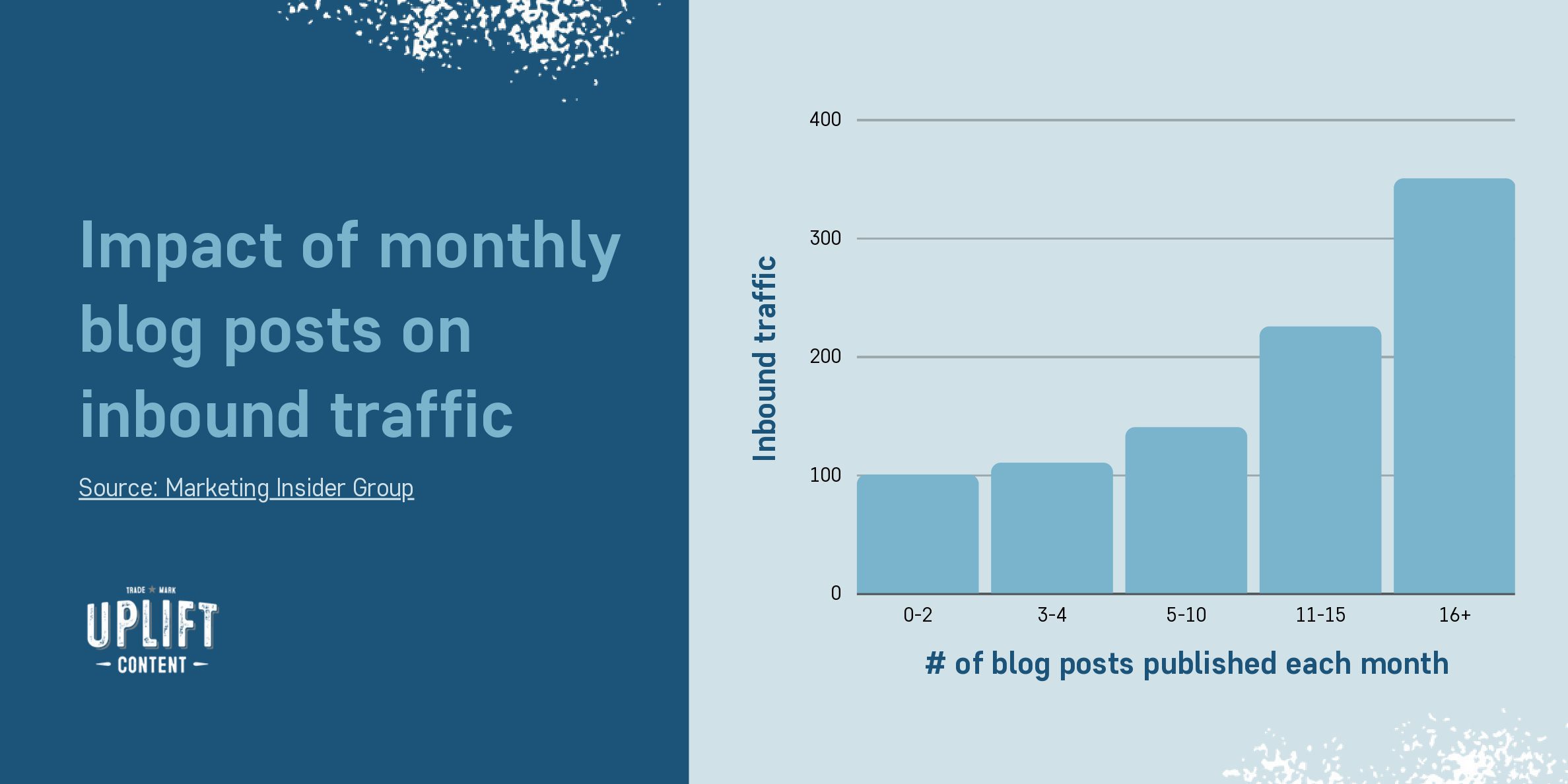 After this, think about where it makes the most sense for you to distribute your blog posts. For example, promoting content on LinkedIn is an excellent way to reach B2B audiences. And 40% of B2B marketers surveyed consider LinkedIn the most effective channel for driving high-quality leads.
6. Measure performance and adjust
It's essential to track, measure and improve the performance of your B2B blog posts on an ongoing basis. This allows you to adjust your blog strategy as needed to make it more effective. This process is called content optimization. It involves gathering insights and identifying the concrete fixes you need to make. By completing these tweaks, you'll get the longest lifespan and greatest ROI out of your blog content.
Something else to keep top of mind is how relevant and effective your calls to action (CTAs) are. To find out which ones resonate best, see these 12 CTA examples from B2B SaaS companies like Zendesk, ServiceNow and Snowflake.
7. Create a repeatable blogging process
A systemized approach to your B2B blogging strategy makes it easier for you to execute your content strategy every week, month and quarter. You can break down the process into steps such as:
Researching topics
Identifying keywords
Writing blogs
Editing and proofreading
Optimizing posts
Scheduling posts
Repurposing content
Measuring performance
Also, audit your blog strategy periodically to fix broken links, optimize for SEO, and identify content gaps. 67% of media planners say the results of their content audits have had a moderate to significant impact on their media planning strategy, which shows the power of content audits.
Put your B2B blog strategy to work
Need a hand writing your blog posts? Check out our blog writing services.