By analyzing B2B call to action examples from your colleagues in other industries, as well as your competition, you can achieve higher conversion rates with your content.
The best call to action phrases guide your audience where you want them to go next, and increase your chance of making a sale. A strong B2B call to action can even boost your landing page conversions and annual recurring revenue by 80-83% respectively.
In this blog post, we'll explore how to write a call to action for SaaS, and share 6 compelling B2B call to action examples.

How to write the best call to action phrases for your SaaS content

Deliver value and build trust
Due to the long nature of the B2B sales cycle, and the fact that multiple decision makers are often involved in the purchasing process, your SaaS marketing content should feature a B2B call to action that delivers value and builds trust with prospects and customers at each stage of the funnel. We'll dig into some concrete examples of how to do this shortly.

Be direct and informative
Strong B2B call to action examples speak directly to the audience they're intended for, in a manner that's both informative and to the point. The best call to action phrases for SaaS are clear in their message, ensuring the reader knows exactly what benefit they'll gain from taking the action you've requested—for example, what they'll learn from downloading your ebook.

Nurture rather than transact
Most B2B call to action phrases for SaaS should be focused on building long-term relationships that eventually lead to sales. You might try the occasional "upgrade now" call to action in an email to existing customers, but you'll typically be using B2B call to action examples that entice your audience with content and resources to nurture them through the funnel, rather than purely transactional language.

6 B2B call to action examples to learn from
Looking for inspiration from other companies to fine-tune your marketing content is always a helpful tactic. Let's take a look at 6 B2B call to action phrases and analyze why they work.

1. Sign up for a free trial
This is one of the most common B2B call to action examples used by SaaS companies, and for good reason. Giving your prospects a limited-time peek at how awesome your products and services are is a great way to convert them into paying customers.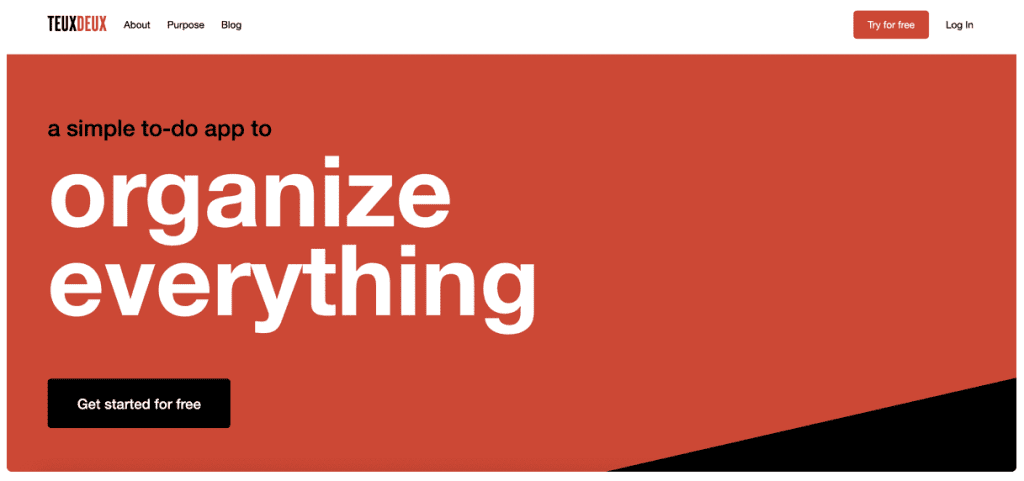 This B2B call to action is short and to the point. It also mentions "free", which takes the pressure off the reader, and uses action-oriented language ("get started").

2. Contact us or send a message
Show your audience that you want to hear from them by using B2B call to action examples like this one. You can use it on your website as a "Contact us" call to action, or on your company Facebook page as a "Send message" call to action like in the example below.
Inviting prospects to send a message to your organization gives them the opportunity to ask any questions that might be holding them back from buying from you.
While "Send message" is standard language for Facebook that you can't change, you have many more options for your own website, like "Get in touch", "Contact us" or "Contact us now", to name a few. Choose one that matches your brand personality.

3. Subscribe to a blog or newsletter
You've got a captive audience when someone visits your website, so use a B2B call to action to encourage visitors to subscribe to your blog or newsletter. Take a cue from the OfficeVibe example below, which lets the reader know they'll be receiving tips on how to become a better manager.
This B2B call to action example is simple (the user only has to fill out one field) and it's direct. The benefit-driven language highlighted in yellow makes it stand out. To make this message more urgent, you could opt for "Subscribe now" instead of "Subscribe".

4. Download an ebook or white paper
Offer your prospects and customers a free resource—for example, an ebook they can use in their day-to-day work or a white paper full of the latest industry insights. Not only do these types of B2B call to action examples help you build relationships that go beyond a transactional nature, they also help you grow your email list.
This type of B2B call to action offers a ton of options. If, like us, you feel the word "free" is unnecessary and a bit smarmy, you could take another angle like mentioning a benefit that the reader will gain from downloading the ebook.

5. Try a product demo
Similar to a free trial, a product demo enables your audience to see how your software works. If someone from your sales team is personally walking your prospect through a demo, this offers an additional opportunity to establish rapport and address any questions that the demo itself may not answer.
"Watch it in action" works well for this B2B call to action, but alternatives could include more direct and clear language, like "Watch demo" or "I want a demo". The form could also have fewer fields to make it less labor intensive to fill out.

6. Choose your own adventure call to action
Giving your prospects two paths to choose from is an excellent way to show that your SaaS company is customer-centric and focused on their needs—whether that's simply learning more about your offerings, or jumping straight to booking a call with your team.
This B2B call to action uses simple, clean design. It gives the user the option to choose the action that best suits where they are in the buyer's journey.
Want to see more CTA examples? Here are 12 more CTA examples from B2B SaaS companies like Snowflake, ServiceNow and Zendesk.

Optimize your B2B call to action phrases
You know your B2B SaaS content needs to be easy for your audience to find and use for it to be effective. So, how do you make sure your content is optimized and performing to the best of its ability?
Our content optimization checklist helps you cover all the bases, from a persuasive B2B call to action to a properly written URL. Download our free content optimization checklist to fine-tune your B2B call to action phrases so they pull their weight and drive sales.