When it comes to case study layout and design, you already know that throwing a substantial block of plain text up on a web page is going to get you exactly zero readers. Now consider that an average case study can be 500 to 1,500 words or even longer.
No matter how strong the writing or how impressive the storytelling, you need the deft hand of a designer to grab and keep the reader's attention by using excellent case study layout and design practices.
In this post, we'll explore 6 case study layout samples you need to include in your next case study. This is the 6th post in a 7-part series on case study best practices.
Strong case study layout and design do more than pretty up a page
Once you've figured out the case study components you want to use, then it's time to dig into the elements of a case study template. Done well, strong case study layout and design will:
increase readability by providing breaks for the eyes and mind
boost credibility and trustworthiness
break complex topics into digestible morsels
highlight key statistics, facts or quotes
use visuals to explain processes or impacts
Carefully applied color, headers, subheads, bolded text and bulleted lists should be part of every case study. Here are 6 other case study layout elements to consider—you should include at least some of these:
1. Add insightful callouts to your case study layout and design
Highlight your amazing testimonials. You're sharing a customer's story—what's more effective than letting them tell it themselves? A great quote is a credible third-party review of what you do. Showcase it!
Select the best sound bites from your interview to use as callouts or pull quotes. They should be informative and substantial, but not more than a sentence or two. Don't be afraid to splice together two fragments into one killer quote (but make sure you run the final version by the interviewee). Include attribution with all quotes.
You can also use key statistics or benefits for callouts. Treat them as you would a great quote: use different colors, fonts and type sizes to make the callout stand out from the body text.
Depending on the length of your case study, you can use a few callouts with consistent design to draw attention to key points.
Here's a sample of a callout that shows the magnitude of the situation that the Fairwarning solution was able to help with:
And here's a similar sample from customer service software company Zendesk's case study on its customer, Airbnb:
2. Incorporate pro headshots into your case study layout
Include a headshot with your testimonials. It will deliver instant trustworthiness and credibility. Unfortunately, testimonials are invented fairly regularly by less scrupulous companies, so adding your customer's face, name, job title and company to the testimonial helps it carry more weight.
Readers relate to people. You've worked to humanize the customer experience by telling a relatable, candid story in your case study. Hammer it home with a quality headshot. Don't accept a selfie or an out-of-date photograph. Headshots must be on-brand, personable, professional and do both you and your customer justice.
Here's a sample of a headshot from our own website:


And here's another sample from HR software company Zenefits' case study on its customer, Skilljar:


3. Use workplace photos in your case study layout and design
If possible or relevant, include other photos from the customer's workplace. This can help the reader understand the type of industry, work processes and standards of the customer. Vast libraries of stock photos are available if you're stuck—but your own pictures will be better and tell the story more honestly.
This workplace photo from an Expensify case study on Philz Coffee helps readers quickly understand some of the context of the story.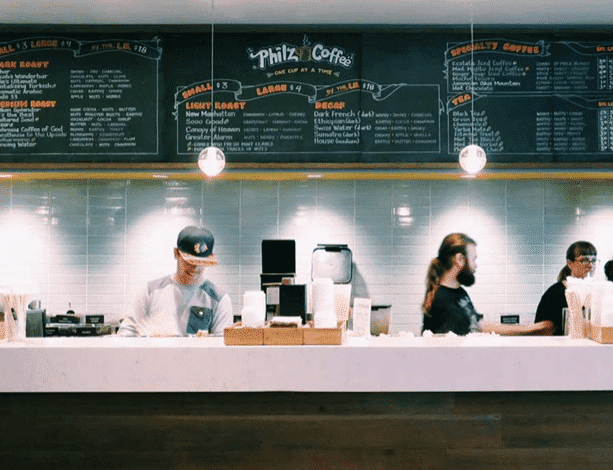 This product shot from a ServiceChannel case study on FreshPet also helps readers visually connect with the story.
4. Include data illustrations to enhance your case study layout
Some readers are visual. The best case study layout samples include clear data illustrations with minimal text, which are more effective than a paragraph full of numbers. Experiment with the best way to showcase the statistics or data you have. Samples include:
pie chart
graph
map
timeline
calendar
ServiceNow used a couple of different data illustrations for its case study on the company's work with Deloitte:
And Front's case study on Boostability takes a fast-facts approach to data visualization with this sidebar full of useful information that might get lost if it was written in a paragraph format:
5. Add informative infographics to your case study layout and design
Infographics visually break down a complex process into simple steps, or help guide the reader through the highlights of your case study.
Some elements of a case study may lend themselves to infographics more than others. If you think this may be the case, talk to an experienced designer. Translating words into a compelling graphic is an art.
Infographics are currently underused—only 22% of respondents include them as a case study format—but another 49% plan to try infographics in 2022.
Here are two great samples of infographics from Splunk's case study on Domino's Pizza: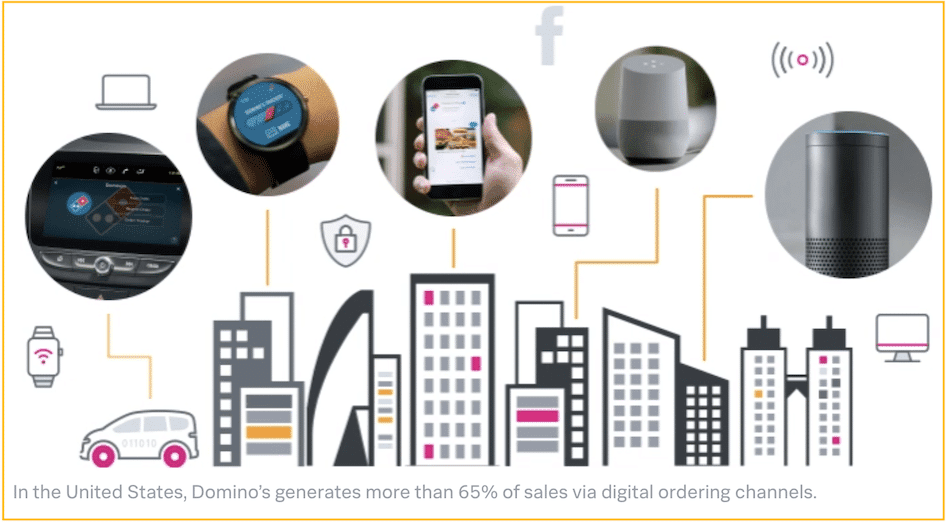 6. Finish your case study layout with a compelling call to action
If you've held your reader's attention until the end of your case study, they're likely interested in learning more about your products and services. Consider including a "Read more stories" or "Watch a demo" call to action (CTA) at the bottom of your case study layout. Make sure your case study CTA stands out from the text in your case study by using large fonts, colors and graphic elements like boxes or lines.
Here's a sample from ServiceNow's case study on Airbus that illustrates how this CTA element could look:
Here's another sample of a CTA from Splunk's case study on Domino's Pizza, which offers readers two avenues to explore next:
Keep the focus on the story

Remember, although the visual elements of a case study template should be strong, the text is still the main feature of your case study. Case study layout and design elements should be used to pull the reader through the story, highlight key points and make for an easier reading experience. Don't let the case study layout and design elements overwhelm the reader.
You're swamped. We're here to help.
Check out our B2B SaaS case study writing services. We work with high-growth companies like Okta and WalkMe to create powerful case studies that nurture leads and close sales faster.