Updated April 2023: Case studies and testimonials are critical elements of most marketing strategies. In fact, SaaS marketers ranked case studies the #1 most effective marketing tactic to increase sales—ahead of general website content, SEO, blog posts, social media and other marketing tactics.
Gathering the insights, data and customer quotes that make a case study resonate, however, takes some savvy when coming up with and asking relevant case study questions.
In this post, we'll explore the best case study questions to ask at your next customer interview.
This is the 4th post in a 7-part series on best practices for case studies.
Prepare your case study questions in advance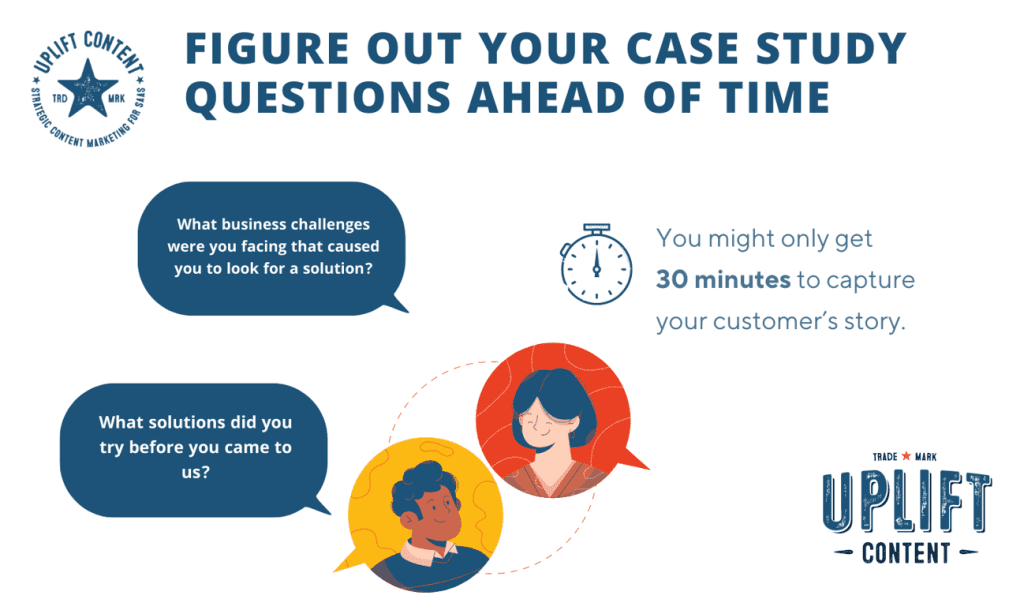 You'll probably have just 20 or 30 minutes to capture your customer's story so be thoroughly prepared before you even schedule the case study interview. Case study questions generally fall into these categories:
who your customer is (background)

what their pain is (challenge)

why they chose your solution (solution)

what results they experienced (results)
Usually, the most logical way to structure your case study questions is chronologically—it's helpful to think of the case study as a story with a natural narrative arc:
beginning (background and challenge)

middle (solution, including implementation)

end (results)
Do you need help with your case studies? Partner with Uplift to drive more sales with case studies that convert.
The best case study questions to ask
Use the 4 categories below to craft a list of case study interview questions you'll want to ask your customers:
Background
Tell me a little about your company.

What do you love about working there?

Tell me a bit about your role.

What are your goals? Your company's?
Challenge
What business challenges were you facing that caused you to look for a solution?

Why were these challenges such a big problem for your company? For you?

What were you hoping to achieve with a new solution?

What criteria did the new solution need to meet?

How were you planning to meaure the success of the new solution?
Solution
What solutions did you try before you came to us?

How did you discover us?

What did the vetting process look like?

Why, specifically, did you choose to work with us?

What services are we providing for you?

What challenges do those services solve for you?

Tell me a bit about the implementation process.

How are we supporting you when you need it?
Results
How has our solution impacted or benefited your end users?

How has our solution impacted or benefited your company as a whole?

Do you have any measurable data you can share around the impact or benefits of our solution?

Overall, what's it like working with us?

What's next for your company and us?

What advice would you have for others considering our solution?
Tailor these case study questions to suit the person you're talking to. Eliminate any that seem repetitive or irrelevant—and highlight 1 or 2 from each category that are most important. Leave space and time for follow-up questions.
Learn how to write a SaaS case study in 9 steps.
Find a convenient time for the interview
Your customers are busy—and they're doing you a big favor by participating in the case study—so be as flexible as possible when you're scheduling the case study interview. And while you'll likely want to talk to them for hours, be respectful of their time and ask for 30 minutes.
Send the case study interview questions ahead of time
Some people worry that sending case study questions in advance will result in less candid and honest responses. Not true. You want your customer to be at ease during your case study interview, and you want them to have all the information and data they need at their fingertips.
Providing the case study questions ahead of time will lead to a more informative and useful interview. It also helps ensure that you have enough time to cover all the important points. During the interview, you can jump in with follow-up questions to dive deeper into certain areas if needed.
9 components your case studies need to include.
An email interview won't cut it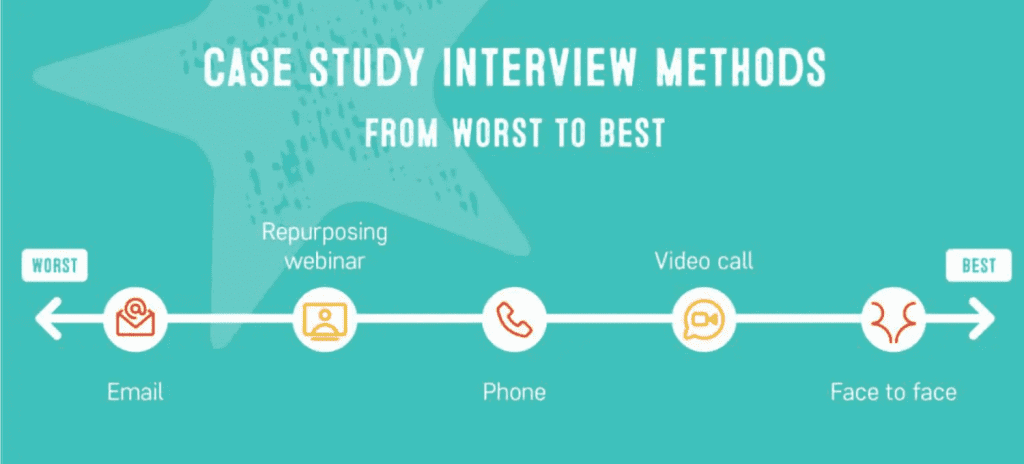 Don't settle for a case study interview done by email. Not only are people more candid in conversation, but you'll also be able to ask spur-of-the-moment questions and explore ideas as they're presented.
Here are the 4 best ways you can conduct your case study interview:
face-to-face (this is the best and most personable choice; try to arrange this if your customer is in your region)

video call

phone interview

repurposing webinar
Take notes and record the interview
A recording and transcription of the case study interview will ensure accuracy and give you peace of mind. Down the road, you can also use the transcript for other marketing activities, such as grabbing testimonials and pull quotes, writing blog posts and more.
Use an app to record phone calls, or use Zoom or Google Meet to record video calls. Make sure you have permission to record the conversation.
Watch out for these 4 common interview mistakes
1. Using yes/no questions
Does your list have any yes/no questions? If so, be ready with follow-up questions. Better yet, revise the question so it's open-ended to elicit a more thoughtful response.
2. Not pushing for numbers
Don't be afraid to ask for numbers, concrete examples or more information. You need these for a quality case study and this is your chance to get them. Don't be afraid to repeat case study questions or rephrase them to make sure you get what you need.
3. Not allowing the conversation to flow
You don't need to be rigid about asking every single question on your list. The best insights are often unexpected so allow the conversation to flow a little—but don't get too far off-topic or you'll run out of time.
4. Not listening to your customer
Don't think you already have all the answers. Go into the case study interview with an open mind and be ready to listen.
Get help with your case studies
You're slammed. Uplift Content's case study writing service is for you.