Case study results are important—and marketers know it. 60% of SaaS companies say they would add more measurable results or statistics to improve their case studies.
Customer stories are powerful tools for helping your B2B SaaS company get a slam dunk when it comes to landing your next sale. But, without a compelling snapshot of case study results upfront, your content will perform a little like your star player is off the court.
In this blog post, we'll provide 7 examples of how other leading B2B SaaS companies frontload their case studies with clear results, and we'll offer suggestions for how each example could be improved even more.
Find out what to do if you don't have case study metrics.
7 examples of case study results that shine
If you're finding it challenging to frontload your SaaS case studies with strong results, while keeping your introductions succinct and still giving a snapshot of the complete story…well, that's a handful, and you're not alone.
Find out how the following 7 B2B SaaS companies navigated this delicate dance in their content:
1. Plaid's case study on Qapital
The Qapital customer story provides a succinct case study results section at the beginning of the content (included in the "Solution" paragraph near the top of the executive summary), so readers get a preview of the story right away. This approach gives your audience the most pertinent information from the get-go, then allows them to decide if they want to read the rest of the case study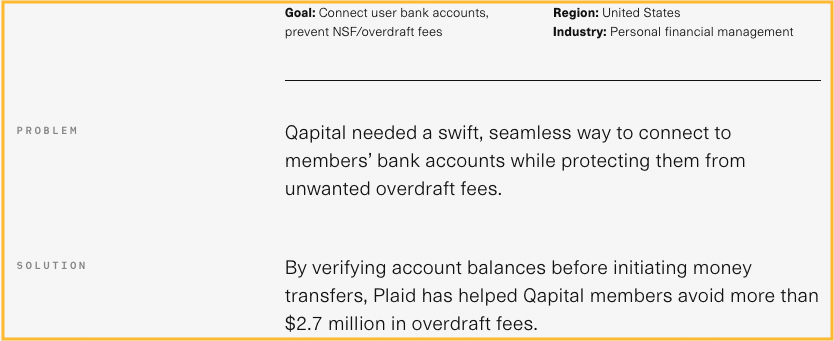 2. Cloudbees' case study on Autodesk
The executive summary of the Autodesk case study covers all of the key points in the story. But, if Cloudbees included a few more concrete numbers on what the company helped its customer achieve, these case study results would make the content a lot stronger. For example, Cloudbees could rework this section:
Suggested fixes:
Bullet #1: State how many deployments Autodesk achieves now with Cloudbees vs. with its previous solution, like this: "1k daily deployments now vs 300 with previous solution"
Bullet #2: Cover how long it took for Autodesk to implement Cloudbees' software, like this: "1-month rollout to SOC2 compliant"
Bullet #4: Start with the number to make it pop, like this: "10X increase in productivity"
3. WalkMe's case study on LinkedIn
The LinkedIn customer story makes good use of icons to display the case study results. The content would be even more compelling if WalkMe added more numbers to the case study, and made the language of the bullet points more active.
Suggested fixes:
Make results more active by writing "Reduced employee frustration" instead of "Reduction in employee frustration"
Add numbers where possible, like this: "10X increase in employee productivity"
4. Okta's case study on Major League Baseball (MLB)
Sharp graphic design can make or break your SaaS case studies. In the MLB customer story, Okta highlights the results it helped MLB achieve by using a callout box next to the title at the top of the page so readers don't miss this key information. Okta calls out the same case study results again in an executive summary section below the title, before diving into the full customer story.
5. ServiceChannel's case study on FreshPet
The FreshPet customer story uses bright colors and large text to draw attention to the "Quantifiable Results" section on the first page of the case study and make the numbers stand out. Putting the numbers at the beginning of each list item is another smart move.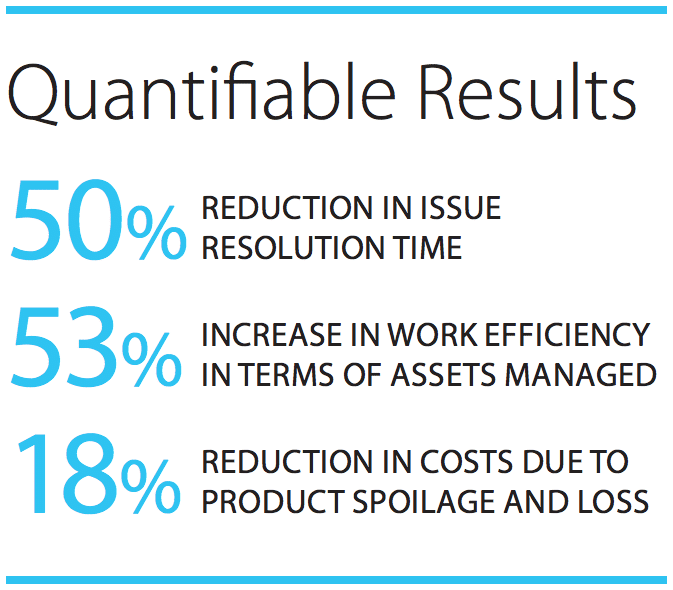 Of course, as a SaaS marketer you likely know that getting metrics for your case study results sections can sometimes be a struggle. ServiceChannel navigates this challenge by using a Highlights section to display unquantifiable results.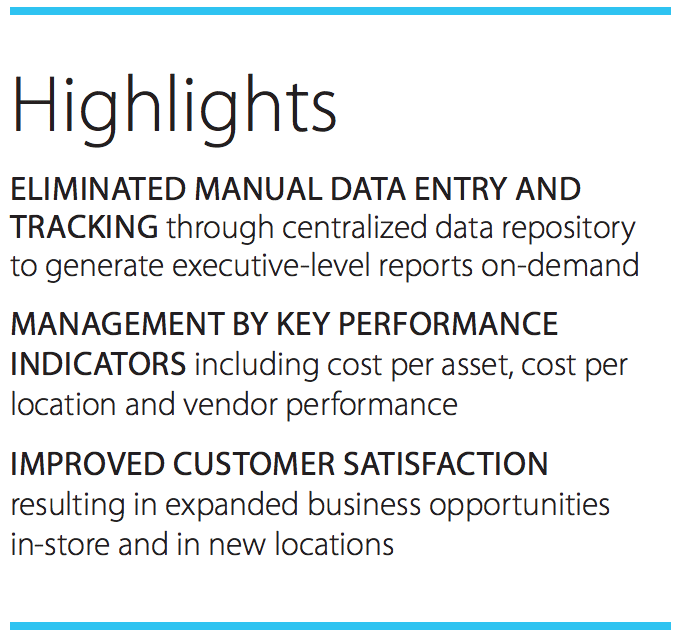 6. Expensify's case study on Philz Coffee
Part of creating engaging content includes writing in a way that showcases your SaaS company's unique brand personality. Expensify nails this in its case study on Philz Coffee, which uses creative language in an 'At a Glance' box to outline the case study results.
7. ServiceNow's case study on Deloitte
One cue SaaS marketers can take from the media is that "above the fold" content matters most. ServiceNow understands this principle and puts it to work in the company's case study on Deloitte. The case study results featured under the title include icons and concrete numbers to put ServiceNow's best foot forward for readers.

Want to see other case study examples?
Check out 8 Case Study Examples to Close Sales Faster [+ Tips & Templates]
Enhance your SaaS customer stories
Gather more ideas to improve the way you present case study results with Uplift Content's case study critique series. In this series, we dig into content from high-profile SaaS companies so you can learn from the best and surpass the rest.