Updated April 2022: Successful B2B SaaS case studies take time and effort to produce from everyone involved—including your customers—which means it's crucial to evaluate whether these sales tools are performing well enough to make the content creation process worth your while.
However, determining case study success is often easier said than done because many SaaS companies use both quantitative and qualitative metrics to evaluate a home run versus a dud, and gathering this data can be challenging.
In this blog post, we'll share insights on this tricky issue directly from customer marketing leaders in the SaaS industry, as we dig into what case study success looks like for 8 customer marketers.

Case study success: why is it so hard to measure?
Your B2B SaaS case studies can only be successful if they have impact, and to have impact, these stories must be shared.
Content creators rely on others within their organizations, such as social media marketers and sales reps, to get these stories in front of potential customers, which makes it hard to keep track of the content's success.
Even when these case studies do get promoted online, it's easy for them to get lost in a sea of competing content.
Say your case study catches a prospect's eye on LinkedIn and they click through to your website to read it.
Even at that point, it's tough to determine case study success because metrics such as page views and time spent on a page track the level of consumption of a story, but not how it was received by readers, which is highly subjective, or how it might go on to influence a deal.

No cohesive view of case study success
Case study success is something that every customer marketer is aiming for. But it's extremely hard to get a cohesive view of how case studies perform.
While some SaaS marketers report receiving anecdotal feedback on case studies from sales colleagues, this is a rare occurrence.
Other customer marketers feel they have no concrete view into how often case studies are used in sales conversations.
Metrics can be deceiving because there's no way to know how often a sales rep has saved the content to their desktop and emailed it to a lead.
Finally, technology poses another challenge. One SaaS marketer describes case studies as an engine that powers other components of marketing and sales, which often use different MarTech stacks. As a result, the variety of places marketers need to look for metrics makes the evaluation process time consuming.
With a multitude of tools being used, it becomes tricky to get a cohesive view of the impact of your case studies, and you'll often be missing key pieces of data required to gain a full picture.
Case in point
In February of 2022, we conducted a survey of 121 SaaS marketers and found that 30% of SaaS companies say they don't measure case study performance at all because they lack the time, resources or know-how to do so.
The rest of the respondents use a wide variety of marketing tactics to evaluate case studies.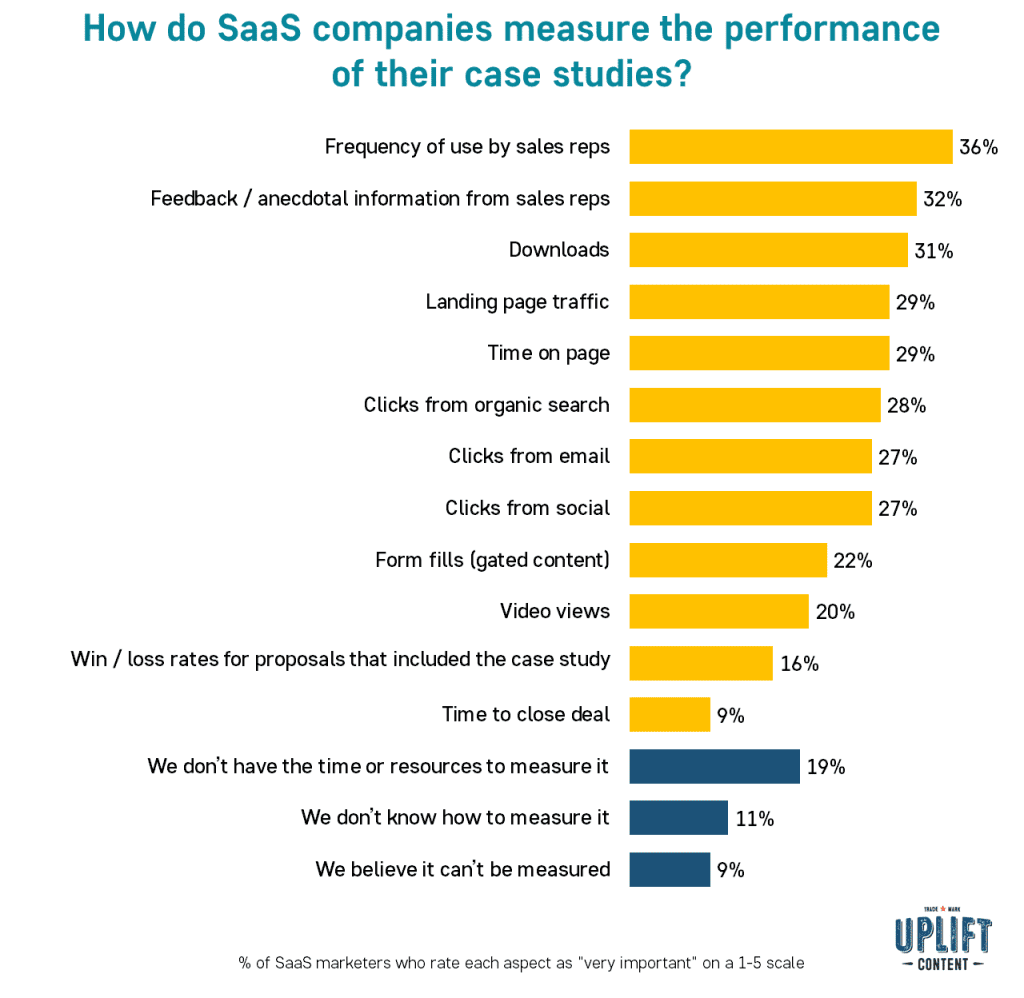 Read the full report here: 2022 SaaS Case Studies Trends & Tactics Report

Case studies: why is it important to measure performance?
Without setting and tracking key performance indicators (KPIs) for your case studies, you'll have a harder time developing strategy and allocating budget for them.
It'll also be more difficult for you to analyze your competition and demonstrate accountability to your boss. Establishing KPIs will enable you to get a sense of your wins and opportunities for improvement.
Knowing which of your case studies are performing best can help inform your next steps, such as promoting these heavy hitters far and wide.
Many customer marketers are creating so much content on a quarterly basis that it's tough to build awareness of each individual piece due to information overload.
Sales teams are being bombarded with emails and messages, and sometimes case studies get lost in the shuffle. Identifying priority content based on performance can help solve this problem.
When it comes to the laggards, this content is just as crucial to pay attention to. By optimizing these stories for better performance, you can make them work harder for your SaaS company and generate more conversions, rather than focusing your resources and efforts on creating new content from scratch.

8 customer marketers weigh in on how to measure case study success
There doesn't seem to be any research available online that speaks to how SaaS marketers measure case study success. So, we spoke directly to 8 customer marketers in the B2B SaaS space to find out how they measure the performance of their case studies. Here's what we learned:
Andrew Sevillia, Director, Customer Marketing, Sage Intacct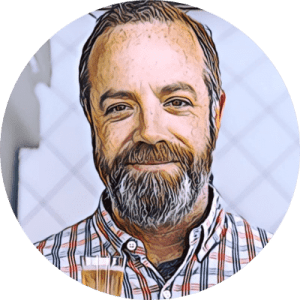 "Case study success for me is if I can capture the story, then my PR team can pitch it and it gets picked up by one of the industry or business publications we work with. Another big success is when these case studies get used by our demand gen or sales staff, and when the stories help to either attract prospective customers or to speed up the sales cycle." — See Andrew's LinkedIn profile


Matt Arout, Senior Customer Advocacy Manager, Google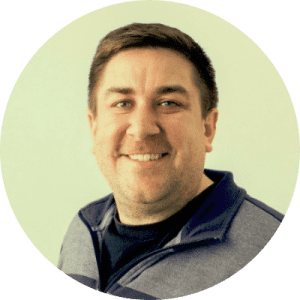 "We use Looker to measure case study success! Looker can be used to tie multiple data sources together to build a dashboard. We have a content dashboard that gives real time insights on how content is performing via Google Analytics, email campaign performance, social performance and overall influence on our pipeline." —See Matt's LinkedIn profile


Meaghan Britain, Senior Customer Marketing Manager, CPA Global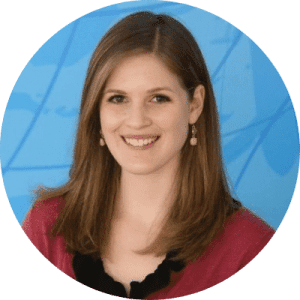 "We measure the landing page and channel performance of case studies. We gate several case studies, so we can track individual channel KPIs such as social impressions, as well as landing page metrics such as page visits, form fills/downloads and video views." — See Meaghan's LinkedIn profile


Sam Shepler, CEO, Testimonial Hero
"Given that about 80% of marketing content goes unused by sales, if sales is using a case study, that's a good thing. They wouldn't be using it if it wasn't working. Another way we measure case study success is by checking to see if the story has influenced deals in the pipeline. If deals are being closed, and your sales leaders are thanking you and telling your CEO they're getting exactly what they needed from you, that's all the measurement you need." —See Sam's LinkedIn profile


Jeanne Talbot, Director, Customer Marketing, CloudBees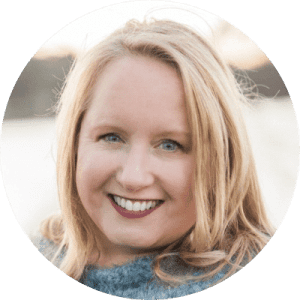 "The mistake many make is trying to measure the impact of case studies instead of thinking about the impact of the campaigns that the story, video, quote, etc. supports. Everything we create in customer marketing supports other elements of the marketing function." —See Jeanne's LinkedIn profile


Kyle Yantis, Former Customer Advocate Associate, Ellucian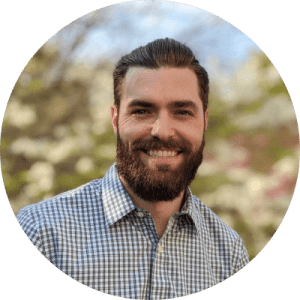 "We use Marketo and Eloqua dashboards to measure email campaigns. We also track click rates on our website through Google Analytics, and case studies that were included in RFPs by comparing closed/won rates." —See Kyle's LinkedIn profile


Lauren Turner, Customer Marketer, UserTesting
"Time to close is also a great metric to track. The case study may not be the thing that gets the deal signed, but it can help remove objections and get the process done more smoothly. We also look to increase the SEO value of our other assets by embedding as many relevant links into case studies as we can that point to related blogs, white papers, and other content in an effort to drive traffic." —See Lauren's LinkedIn profile


Senior Customer Marketing Leader
"We monitor downloads from our website and minutes spent on pages. We also analyze the traffic of won deals to see which assets influenced our customers' decisions during the entire sales process. I'd love to get to a place where we measure which specific case studies were shared against each opportunity, but we aren't there yet. This would require a field on the opportunity records in Salesforce, for example." —Senior customer marketing leader who prefers to remain nameless
As you've probably gathered by now, there's no specific "right" way to measure case study success. However, by sharing knowledge and discussing what works for each of us and what doesn't, we can all learn from one another.

Give your SaaS case studies a boost
The stakes are high when it comes to creating excellent case studies—and we can help. Check out our case study writing service.