SaaS case studies help you educate prospects on the value of your products and the results your customers have achieved. To make your case study creation process easier, it's crucial to follow a format.
In this post, learn the 9 components of a case study you need to include in order to provide the social proof your prospects are looking for. This is the first post in a 9-part series on how to write a B2B case study.
Must-have components of a case study
1. A compelling executive summary
One of the most important components of a case study is a powerful executive summary. It lets your reader know what they're getting into, and how they might relate to and benefit from what they'll learn. Firstly, it needs to introduce your customer and their challenges. Secondly, it should highlight how your B2B SaaS company helped deliver the right solution. And be sure to include a preview of the results your customer saw from your products.
Example: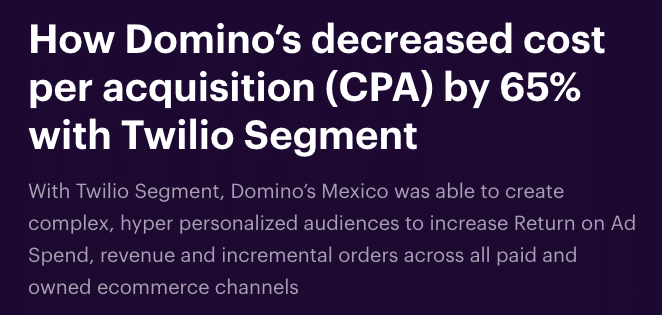 2. Outline your customer's challenges
Illustrating the obstacles your customer faced that prompted them to seek out a B2B SaaS solution is one of the most crucial components of a case study. For example, maybe their business processes were a drain on time, resources or budgets—or all of the above. This section is an ideal spot to use a customer quote and let them share their story in their words. Remember to paint your customer in a positive light. And focus on how they wanted to improve their business, and avoid overly negative language.
Example:

3. Lead your reader along your customer's journey
Help your reader picture themselves in your customer's shoes. Lay out the steps your customer took to try to solve their problem, including an overview of the other products they investigated before they decided on yours. But be mindful not to toot your own horn—you're simply recapping the facts.
4. The moment of discovery
The core components of a case study wouldn't be complete without a section on how your customer decided on your specific B2B SaaS solution. First, provide insight into which of their business requirements it met. Then include any other reasons the partnership was a good fit—perhaps your companies shared similar organizational values. This is an area where testimonials make for powerful storytelling. They allow you to set your case study up to dive into how you and your product solved your customer's challenges.
Example:

5. Spend some time on the solution
In the "solution" component of your case study, you get to pitch your products without the fear of sounding like a used car salesman. Remember, you didn't rush in and save the day—this is about your customer's goals and how your solution helped them reach their objectives. As a result, you simply need to outline the products your customer purchased and the benefits they provided.
Example:
6. Walk your reader through the implementation
Change can be daunting, especially when it comes to the unknown, so it's crucial that you give your reader a clear sense of how the implementation process went for your customer. For example, if problems arose, don't be afraid to be transparent about them, but tie the storyline back to how you and your customer overcame the challenges. This is one of the most important components of a case study, and is an opportunity to let your customer service shine.
7. Celebrate your customer's results
77% of SaaS companies include metrics in at least 50% of their case studies. Metrics are where you can show off the data—hard numbers like revenue gains and time saved that illustrate the return on investment your customer gained from your solution. Showcase how well your products solved the customer's problems. Find out what to do if you don't have metrics to work with.
Example:
8. Close the loop with a call to action
Using the right components of a case study so far has helped keep your reader's attention until the end of the piece, creating an important opportunity for you to guide them to the next step you want them to take. You can accomplish this by including a clear call to action (CTA) that speaks directly to them at the end of your B2B SaaS case study. See these 12 CTA examples to learn how to make your calls to action stand out.
Example:

9. Don't get too caught up in using the perfect format
A lot of experts will tell you that your content needs to include all of the components of a case study and follow a structured formula. But don't stress over this. A creative story doesn't lock itself into anything too prescriptive. And you don't have to chunk your content into specific modules like some '90s business plan. The most interesting and compelling stories take a creative approach to flow and format, and they play with perspective.
9 components of a case study: did you include them all?
Now that you know the 9 components of a case study, take a look back through your own case studies. Have you included each of the components?
And last, but certainly not least, have you squeezed every last ounce of value from your case studies? Here are 8 ways to fully leverage your case studies for maximum results.
Get help writing your case studies
Partnering with Uplift Content allows you to produce a consistent flow of high-quality marketing and sales collateral that generates and nurtures leads—and closes sales faster. Check out our case study writing services.