Founder of Mantis Research and CMI-alum, Michele Linn, sees a lot of content marketers making the same mistakes when conducting and publishing original research. Keep reading to find out what she considers the 5 biggest research mistakes and how to avoid them.
You'll also learn how she got where she is today, why she thinks content marketers should be paying more attention to original research and her top tips for anyone wanting to get started in —or get better at—conducting original research.
Interview with Michele Linn, Founder of Mantis Research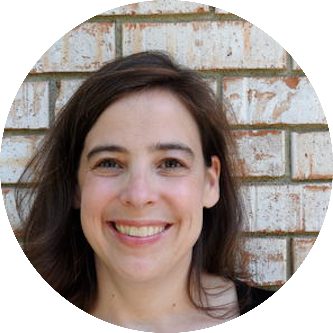 Fun facts about Michele:
Food you're craving right now: Pita with chicken and hummus with a side of cucumbers, tomatoes and feta cheese (with a dash of citrus oregano vinegar!)

If you could have one superpower, it would be: The ability to know exactly what I should be focusing on in the moment and doing that thing

The #1 thing you're grateful for today: My husband, who is supporting all my crazy home improvement and vacation ideas

Place you most want to live is: A house on Crooked Lake in Petoskey, Michigan

Vacation you're dreaming about: Grace Bay, Turks and Caicos

Tell me about yourself and what you do for work
My name is Michelle Linn. I work for a company called Mantis Research that helps marketers conduct and publish original survey-based research. This includes trend reports, "state of X" reports and other types of content in which we survey people and then release those findings to help other people in that industry.
How did you end up where you are today?
Very long story short, I was working in tech—in product marketing—and I quit that job to freelance soon after my first daughter was born. After a few years, I connected with Joe Pulizzi, who was launching the Content Marketing Institute (CMI) at the time, and he asked me to join the team.
I ran the editorial for CMI for many years, and one of the projects we worked on every year was an original research piece where we surveyed marketers to understand if and how they were using content marketing.
When I left CMI in 2017, I initially strugged to figure out what to do next. I was kind of burned out on content marketing because I was always reading about content marketing, writing about it, speaking about it. And I thought the one area that seemed very untapped, yet really helpful to marketers, was original research.
So I set out and created Mantis to help marketers do those research projects, both by working with them directly as well as teaching them how to do them.
What is original research and what forms can it take?
Original research is actually a pretty broad term that can mean a lot of different things. There are various different research methods you can use.
What I do is survey-based research, in which we survey an audience to understand how someone is thinking about or approaching a topic area.
But you can also do qualitative research, where you can do a series of interviews to identify trends and take those trends to the market.
Or, you could tap into your internal company data and figure out what your users are doing and share what you learn.
You can even tap in into existing datasets and share what stories the data tells.
You can also do observational research. For instance, Andy Crestodina did a great study about websites. He looked at around 50 different websites and said "These are the things that this many websites include" and so forth.
We recently interviewed Andy to better understand how he gets over a million visitors and almost 1,000 leads per year—and never publishes more than twice a month.
Curious? Read Why Less Is More for Content Marketer Andy Crestodina
What makes original research valuable for content marketers?
Original research works on so many different levels. It works for the business because it can lead to sales—you know, I have clients who tell me it leads directly to revenue. It can help sales have new conversations.
It helps for your marketing goals like earning backlinks, gaining email subscribers and generating leads.
It's fantastic if your goal is a little broader and it's thought leadership—it can really help you stand out because you're uncovering something new and meaningful, and that can lead to all sorts of opportunities.
Research can also be used for PR. We recently had Becky Lawlor on our Research Power (Half) Hour (a monthly virtual meetup for marketers interested in original research) and she said she got really interesting speaking engagements as a direct result of the research they did.
You can also get a lot of mileage out of a piece of original research. You can create a research study once and then repurpose it into a lot of different content assets and publish them widely.
One of the things I've found when I work with marketing teams on this is that it re-energizes them. It gets them excited. They have something new—they're learning something about their audience. So I love the energy that original research brings to marketing teams.
And last but not least, as we're all talking about AI and what impact that's going to have on marketing, I love original research because it's something that AI can't replicate. It's new information, you know, no one else can find out what exactly you're finding out. So I think it works really well from that perspective.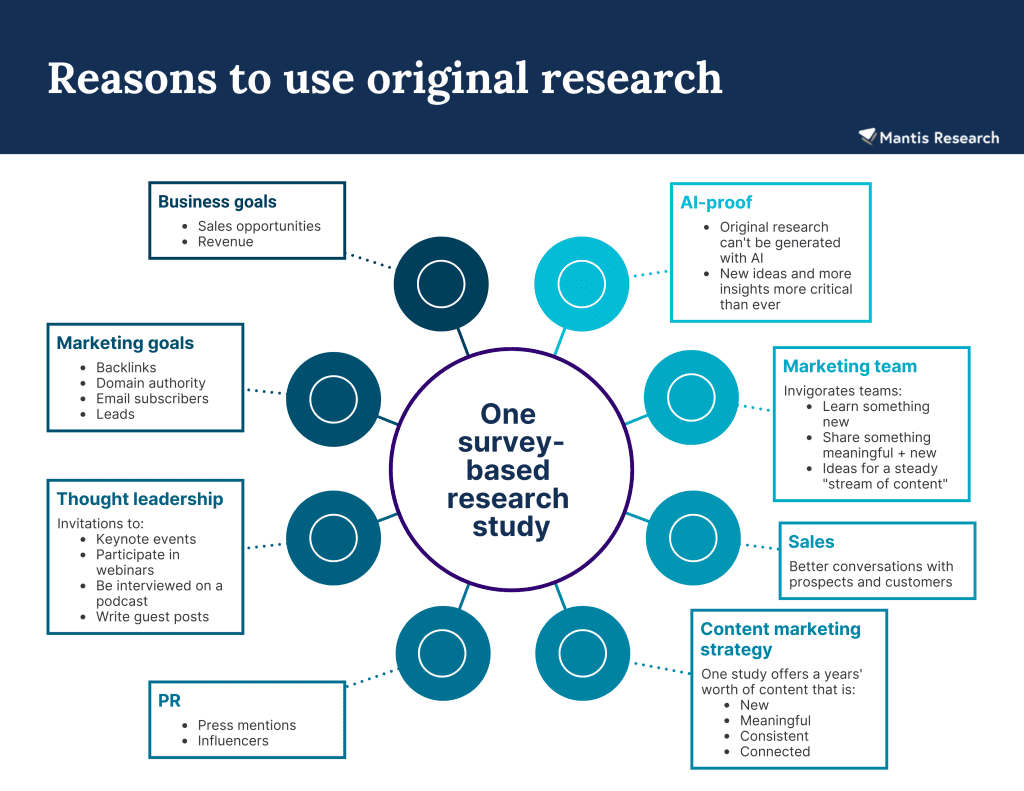 What are the best ways to use original research in content marketing?
I always recommend that you create one page where your research lives and then start creating a lot of different content linking back to that landing page. The content can be webinars, emails, videos, blog posts, LinkedIn posts, Instagram posts, Twitter posts and a lot of other different things.
Last year, I did a presentation called How to Publish a Year's Worth of Content from One Research Study that walks you through a framework and tons of different examples on how to use and repurpose your research report in different ways.
Is gating your research a bad idea?
No, you can absolutely gate your research report. You can certainly link to that gated asset on your landing page, but you want to make sure people who land on that page get something of value even if they don't download the report.
That said, if your goal is SEO, domain authority and backlinks, consider linking to a page that is not gated. And if you link to the PDF directly, you could be missing out on some of the SEO benefits of having that information live on your site.
What are common mistakes marketers make when conducting original research?
Mistake #1: Doing the wrong type of research
I think Mistake #1 is choosing to do survey-based research when that's not the right type of research to do. For example, if you don't have enough people willing to complete the survey, survey-based research may not be the best choice for you. Instead, you might be better off doing a smaller qualitative study.
Mistake #2: Trying to prove something or seek a very specific outcome
A lot of people want to do research to prove the value of what they're selling. They want to say, "Look at how valuable XYZ is!"
I believe it's a mistake to try to do that for 2 reasons:
I think your readers see right through it, and it's not going to feel very credible or useful.
You might not actually get the results that you expect.
So, I would take something like what you do with case studies (SaaS Marketing Case Studies: 2023 Trends and Insights) and say well, I just want to explore.
How are people using these? Why are they using them? What are all the things going on here?
I think you do that beautifully. You're not trying to prove anything. You're just showing "Here's what's going on in the world of case studies."
So basically, look at the topic with curiosity instead of trying to get a very specific outcome.
Mistake #3: Not investing enough time in your survey questions
Something else I see is that marketers often jump right into creating survey questions, or they don't spend enough time on survey questions.
The issue is that if you don't ask your questions correctly, you might end up without a story to tell, or the stories you get might be really boring.
Or, you might find that you're asking questions in a way that's not clear and the data's not really clear so you can't use them—or maybe you didn't ask questions to check for quality or to actually clean your data, so you don't know if you have good data.
So spending time putting together a good survey is something I think marketers need to spend more time on.
Mistake #4: Failing to tell a cohesive story with text and design
I've seen a lot of research reports that are just not very compelling—they don't tell a story, or you can tell that someone wrote it and then threw it over to the designer who put some charts in.
So look at the report as a very collaborative effort between the writer and the designer to get a really strong story and a really strong design to make the story pop.
Mistake #5: Not promoting your research report
So many people go through all of the effort to do this research, and then publish it and just move on.
But if you think about how to get a lot of life from one research report—which you can very easily do—you want to distribute it in a variety of ways over time.
I think there are a lot of missed opportunities if you don't share your report in as many different ways as possible.
How can marketers get started with original research?
I think it's helpful to first make sure that you're choosing a really strong research topic.
I often joke that the world does not need another 'state of content marketing' report because if you type that in, you're going to see all of these different results come up from all of these different companies. That space is very, very saturated.
Just like with any other content, you need to figure out what topic you can study that's going to be meaningful to your audience, that's going to align with your brand and that's going to say something new.
Figuring out what topic to choose is really key if you want to get the most value out of what you're doing.
One of the things I always ask clients when we kick off a project is "What are the unanswered questions that your audience would love data-backed answers to?"
So instead of just trying to do something that just feels interesting, you really want to try to figure out where those gaps are, because that's where you're going to get the most value.
What advice would you give to someone conducting research for the first time?
Get help with your survey questions.
I've talked to marketers who have worked with big research firms or done surveys on their own, only to discover at the end that they asked the wrong questions and didn't get much usable data.
And if you don't want to talk to someone like me, talk to other people in your industry to fine-tune your survey questions. Talk to editor friends who have a really strong grasp on language, who can pinpoint mistakes in your survey and so forth.
You want to do everything you can to ensure you'll end up with quality data that you can use to tell a compelling story.
Test the questions before you launch the survey. et people to run through it and see if they stumble or misunderstand anything. You can even "soft launch" it. If you're paying to get responses, you could launch it to 10% of that sample and see if you run into any issues when you're looking at the data before you do a full-scale launch.
Do you offer courses?
I've just started offering courses. I have a course specifically on how to write better survey questions.
Check out Michele's on-demand Build a Better Survey course.
I'm also offering a new survey review service that looks at people's surveys to give them feedback before they launch. And then I also help clients one-on-one in really traditional engagements to actually do the research for them. It's a constantly-evolving business model.
Any other courses you'd recommend?
Thanks for spending time with us!
Thanks to Michele for that inspiring conversation—and thank you, reader, for spending part of your day with us. I hope you found my interview with Michele as value-packed as I did.
Here's how you can connect with Michele:
Want to read more about research?
Check out these related Uplift blog posts:
P.S. Want more marketing insights?
If you'd like access to more content marketing insights like this, sign up for our newsletter to catch all of our interviews with content marketing leaders.
No spam, we promise—just one value-packed content marketing newsletter each month.
Plus, if you're interested in case studies and customer marketing, you can opt-in to receive a second monthly newsletter where we chat to leaders in customer marketing.
Speaking of case studies, have a look at our 2023 case studies trends and insights report, where we surveyed more than 100 customer marketers to gather their insights and experiences with customer stories.
Here's a preview: