Updated July 2023: You need to knock it out of the park with every piece of B2B SaaS marketing content you create. The best way to get the results you want is to kick off each project by filling out a content brief template that covers all of the standard elements, but also includes a few things you may not have considered before.
Here's what we cover in this post:
Download our free content brief templates

Want a great content brief template without reading the full post?
Download the Google Docs template
Download the PDF template
What is a content brief?
A content brief is a document that outlines all of the expectations, requirements and suggestions for a writer before they set out to write a piece of content.
The brief typically includes basic information like word count, topic and keywords to use, but it can also include more in-depth information like the goal of the content, who the audience is and a rough outline. A helpful content brief might also include links to resources that will help the writer get started in their research.
Unlike a quick conversation or messy meeting notes, a content brief is important because it provides a written record of what is expected from the content. It helps ensure everyone on your team is on the same page—especially if you're working with an extended team via an agency or a freelance writer.
A content brief also helps align expectations between a writer and a client or content manager. By providing an agreed framework or structure to your writer before they start, you can ensure the final piece of content meets your needs—especially on topics covered, keywords used and tone.
In particular, this is important when you're working with different writers and content agencies at the same time since detailed briefs help make sure your brand messaging and voice remain constant.
What is a content brief template?
A content brief template is a reusable document that has predetermined sections outlining all of the pieces of information you need to include when creating a content brief.
Having a template for your content brief will not only save you time, but it will also ensure you don't forget to include any essential important elements.
A well-thought-out template is also part of systematizing the writing process to ensure consistent outcomes over time. It makes it easy to reuse components that appear regularly in your briefs. This is useful if you produce content on an ongoing basis because creating briefs from scratch can cause delays in your content calendar.
Who should use a content brief template?
A content creation brief template is an invaluable tool for anyone involved in content creation. From the product marketer tasked with writing a post on the newest functionality to the vice president of marketing charged with creating an entire content strategy, content writing brief templates are useful at any level of your B2B SaaS business.
Here are two roles that typically fill out content brief templates:
Marketing strategists
Marketing strategists are well-versed in keyword research, content strategy and planning. But their real superpower is understanding how to connect all the pieces of the content puzzle together to achieve specific business goals.
Using a content brief template allows marketing strategists to communicate all of their insights to the writer in a way that is easily digestible and actionable. It also provides the writer with a better understanding of how this particular piece of content fits into the broader strategy.
With a detailed and fully completed content marketing brief template to work from, the writer can create content that aligns with the content marketing strategy, performs better and requires less back-and-forth time with the editor.
Writers
Sometimes content projects don't have dedicated strategists. And sometimes the only information provided to the writer is high-level information like "we need a blog post on the benefits of our product."
In these cases, the writer should fill out the content marketing brief template and run the brief past the stakeholders to ensure everyone's on the same page. Content brief templates also help set clear expectations for the piece of content and save a lot of time (and headaches) down the road.


Why are content brief templates so important?
Jumping into a content project without a fully fleshed out content brief template is a bit like baking a cake with no recipe. You might get lucky and end up with a great tasting cake, or you may end up with a hot mess.
From a writer's point of view, inconsistent content briefs can make it hard to understand what the company actually wants from their blog posts and articles.
Filling out a content writing brief template is critical to the content's success for 3 reasons: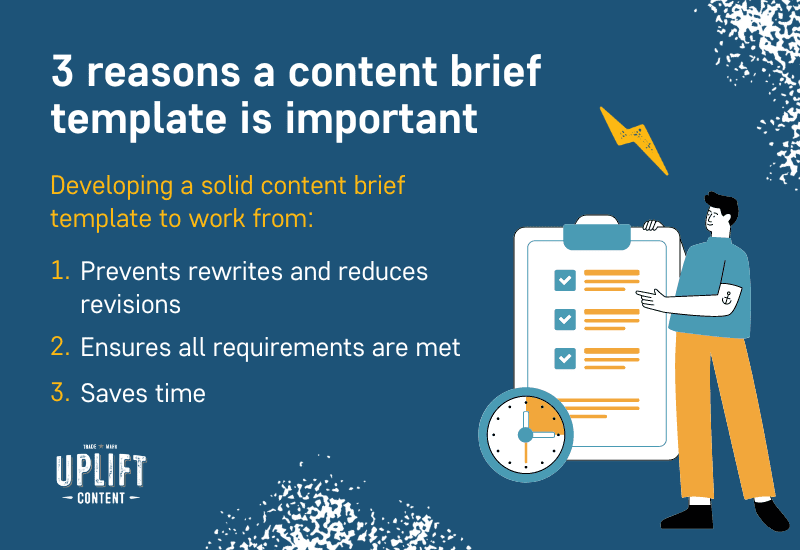 1. Prevent rewrites and reduce revisions
Detailed content briefs help the whole content team align on what's important. With a completed content marketing brief template, everyone can clearly see what's expected, which is crucial for avoiding rewrites and multiple rounds of revisions, as well as getting content approved and published quickly.
By using a robust template, content planners can make sure they're providing writers with all the information they need to produce excellent content.
If you're working with a new writer or agency, bundling important contextual information like your target audience, brand positioning and competitor analysis helps them start on the right foot. It's these seemingly minor nuggets of information that elevate content to match your expectations—don't leave them out.
2. Ensure all requirements are met
A content creation brief template acts as a checklist for the content you'll be creating, ensuring the writer doesn't forget to include anything that's needed for a comprehensive and useful piece of content.
A brief must include all the necessary SEO information for that piece of content to perform well, including targeted keywords, section headings and recommended links. However, editorial guidelines are just as important. A writer must know who they are writing for, and for what purpose.
That's precisely why we recommend using a template to make sure you don't forget these important elements.
3. Save time
Creating a content brief without using a template is a time-consuming task. As we've discussed earlier, the more detailed a brief is, the better the content will be. However, this creates a time burden for the content planner.
By making use of reusable components and structures, you can cut the time it takes to generate briefs dramatically.
Higher-quality briefs will also save time for writers and editors. With email, Slack, Trello, meetings and Google Docs, we have so many ways of communicating about our next piece of content that it can be difficult and time-consuming to find a specific piece of information.
By collecting all the information into a content writing brief template, writers know where to easily and quickly find the information—helping them write content faster and more accurately.
A brief can be used by editors to check that a writer has taken the content requirements into account. If elements are missed, editors can refer to the brief when asking writers to make changes, cutting revision lead times too.
How do content brief templates fit into content marketing workflows?
Content briefs can help streamline your content marketing workflow by ensuring writers have all the necessary information to get started. With a template, there's no need to build each content brief from scratch.
The content marketing workflow is cyclical, and the content writing brief template is arguably at the center of it all.
Let's explore how content brief templates fit into a typical content marketing workflow: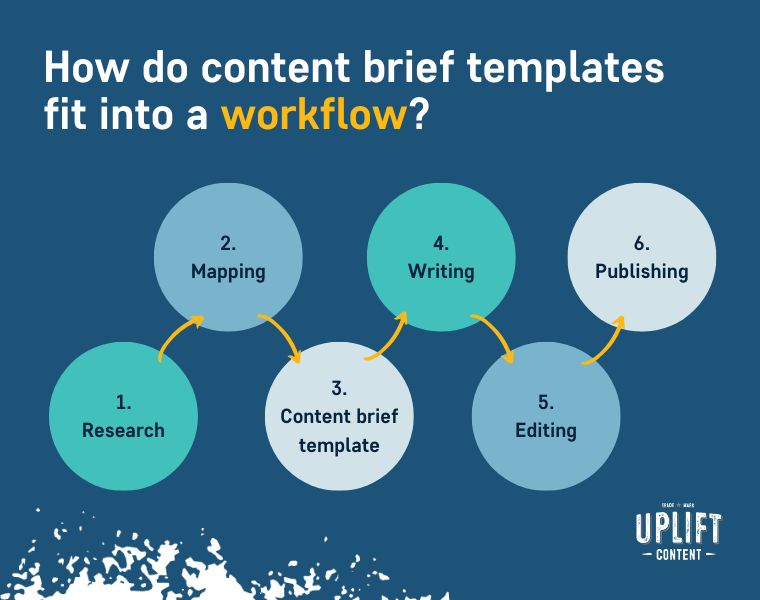 1. Research
The first step in the content marketing workflow is to conduct research to figure out how content fits into the big picture and identify what the strategy should focus on.
Here, you should:
Use keyword research to see which topics and keywords have the greatest chance of making an impact.
Conduct competitor analysis to find insights into what other companies are doing well, and identifying how your company can outperform them.
Find out what queries and pain points your potential users are searching for. Tailoring content to solve these problems increases your chances for successful conversions.

2. Mapping
The next stage is to map out how specific pieces of content fit into the overall content plan and editorial calendar.
During the mapping stage, you should:
Identify the specific purpose of each piece of content. Who are individual posts for? What problems should the piece solve? What should users do after reading the post?
Plan out when content should be written, edited and published. This is an important step for maintaining a consistent editorial calendar.

3. Content brief template
Next, to ensure that the written content matches the requirements identified in the last two steps, you'll need to fill out a content brief template for every content item in your content calendar. Clearly, the brief is the critical link between your research and planning—and the actual content creation.
Using a template helps make sure you're not missing out anything—reducing back-and-forth between writers and avoiding the need for time-consuming revisions.

4. Writing
Next, a writer will use a detailed content brief to write the piece. A brief should be their primary port-of-call to find out the requirements of that specific piece.
If they need to look elsewhere—for example, a different document, a Slack message or an email—to find missing information, this will inevitably slow them down.

5. Editing
Once the piece has been submitted, your editor can use the content brief as a checklist to make sure all critical information has been included.
If revisions are needed, you can easily point out the areas of the brief that a writer needs to work on. This helps reduce the time it takes for a writer to complete revisions.
6. Publishing
Once a piece of content has cleared the editing and approval process, it's time for it to go live!
You should keep an eye on the content brief when publishing the content to ensure that the keywords are fully optimized.
The brief will also contain other SEO requirements—such as title tags, meta descriptions, alt tags and more—that should be followed when publishing the content on your website.


How to write an effective content brief template
An effective content brief helps ensure each and every piece of content matches your requirements. To do this, you'll need to build the right content brief template for your company.
Let's discuss how you can approach this and what you'll need to include in the ideal content brief template.
What should you include in a content brief template?
To give writers all the information they need to craft great content, you'll need to include all the basic elements of content creation in the writer's brief template.
Essentially, a content brief should answer all the questions a writer has before they ask them.
Here are 8 basic components every content brief template needs:
1. Working title
You should provide a working title for the piece of content so everyone knows how to refer to the project.
We recommend including the target keyword or topic in the working title. Experienced writers and agencies will know when to change or adapt a working title, but including one provides a great jumping-off point.
A working title is an easy way to guide the format of your content. For example, a working title of "5 Reasons a SaaS Business Needs a CRM" will instantly pivot your writer to talk about the benefits of the technology in the context of your target customer.
2. Deadlines
Being transparent with deadlines and due dates helps keep your content calendar on track. Your brief should clearly set out when the draft is due and when the content will be published.
Displaying deadlines clearly on briefs gives writers the opportunity to query tight due dates and iron on problems at the earliest possible time.
3. Goal
What is the goal of the content? What are you hoping this content will achieve?
By setting out clear goals, your writer can tailor the content to suit your needs.
For instance, if your goal is to build brand awareness through thought leadership, your writer can be sure to include quotes from influential leaders in your company.
4. Buyer's journey
To create content that converts prospects into customers, you need to tailor the content to a specific stage of the buyer's journey. How can you identify this?
Ask yourself: at what point do buyers usually face the problem or pain point you're trying to solve? There are three main stages: awareness, consideration and decision.
Understanding which stage you should be targeting ensures your writer is tailoring calls-to-action (CTAs) that match the intended purpose of the content.
5. Audience
Content written specifically for your target audience is more likely to convert your target audience. But who is your target audience? Why would they want to read this content? What's in it for them?
Many B2B SaaS companies will tailor blog posts for specific use cases, industries, company sizes or job titles. Content planners may look at which customers are more valuable in that they have a high CLV or high ROI. Do companies from a particular sector tend to spend more on your product or stay for longer? How about targeting them in your marketing content?
6. Topic
A brief should clearly describe the topic you'd like the content to cover. Are there any specific angles you'd like the writer to explore? What is it about this topic that is particularly interesting or valuable to your target audience?
Do you have any subtopics you'd like the writer to touch on? Do you have a sense of what you'd like the structure of the post to be? Do you have any resources the writer should check out? Be sure to list any of this in the brief.
7. Specifications
Next, it's useful to discuss the desired format of the blog post. Here are a few things to consider:
Should it be a straight-forward discussion?
Would a listicle work better here?
How about a complete guide of the topic to provide a deeper level of insight to a reader?
Are there any specific formatting considerations?
You should also consider how long the text should be. The length of a blog post can have a pretty big impact on how useful readers find your content.
For guides and how-tos, users tend to prefer longer content with more detailed insights. In fact, according to SEMRush, articles of 3000–7000 words get 2X the page views and 24% more shares when compared to shorter-length posts.
However, it's important to note that longer articles take more time to write and not everyone wants to read a novela.
8. Resources
Finally, a brief should provide any templates, style guides, key messaging documents or background information that could be helpful to the writer.
The accuracy of your content plays a significant role in whether customers trust your brand and your products. That's why research and fact-checking is key. We recommend providing some relevant research links and jumping-off points to help your writers get started.
How to include an SEO focus in a content brief template?
SEO is an important part of writing B2B content because tailoring your blog posts and articles to perform well in search engine results will help improve your brand visibility and get you clicks.
Despite this, many content managers don't focus on SEO requirements when writing content briefs. While experienced writers will know a lot about SEO, it's still important to provide them with guidance to boost the performance of the post (and make their lives easier).
What SEO considerations and elements should you include in your content brief template to ensure your writer is optimizing content for search engines?
Let's discuss how to instill an SEO focus into your briefs:
1. Include primary and secondary keywords in your brief
We've said it once, and we'll say it again. Let your writer know what keyword you're targetting. This helps them tailor the focus of the article to best answer your target query. It's important to note that a great SEO writer will know how to weave keywords into the text – as they'll know keyword stuffing doesn't work in modern SEO. It's not as simple as scattering keywords yourself after your writer delivers the content.
2. Identify opportunities to target featured snippets
Featured snippets are the section on search engine result pages (SERPs) tagged as "People also ask…". Google (and other search engines!) collate snippets from webpages to display common answers to questions. If your article aims to solve a frequently asked question, let your writer know where to target it in your brief. The best strategy for this is to answer the question clearly and concisely.
3. Make your desired goal or action clear in your brief
Finally, your brief should answer: what do you want your reader to do after they're done with the article? Call-to-actions (CTAs) are important for converting customers, but they are also important for SEO. By having a clear user flow and encouraging readers to read more, check out a landing page or get in touch, visitors will stay longer on your site. From Google's point of view, this signals that your blog post (and by extension, your site) is worth sticking around for – boosting your rankings in search results. Neat, isn't it?
4. Include an SEO cheat sheet or list of best practices
Even experienced writers will need a reminder of SEO rules from time to time. We recommend including a cheat sheet for SEO requirements for writers to keep in mind when writing the piece of content.
What sort of rules could you include in this? We recommend adding some guidance on H1-H2-H3 tag hierarchies, paragraph length, style pointers, meta descriptions, etc.
Remember, a content brief should align with your overall SEO strategy to ensure your content matches your SEO goals.
Check out our Content Optimization Cheat Sheet.


What do most people fail to include in a content brief template, but should?
A bad content brief will lead to incomplete or unsuitable content. If you don't provide all the information a writer needs to craft a great post, you risk costly revisions and delays to your content calendar.
This problem can be alleviated by ensuring your template has every relevant component in it. Take your content from basic to brilliant by adding these 5 unexpected elements to your content creation brief:
1. Emotional outcome
As a B2B SaaS marketer, you already know the aim of your content, but do you know how you want people to feel after they read one of your blog posts? How about relief or excitement that they finally have a solution to a problem that's been nagging them? This is the emotional outcome. Get clear on this in your content creation brief and you'll forge a strong connection with your audience.
2. Big picture
Craft your content brief with your company's greater purpose in mind. The well known example from author Simon Sinek explains how Apple markets its products—not as user-friendly computers or smartphones, but as part of a bigger picture that centers around challenging the status quo.
For many SaaS companies, their 'why' could involve disrupting old patterns and breaking down barriers so people can work more efficiently and with greater impact. Make sure your content creation brief reflects your company's 'why'.
3. Competitive analysis
Include a few links to your competitors' content in your writer's brief to give a sense of what other companies in your industry are doing well—and not so well—in their blog posts and ebooks. This is one of the best ways to ensure your content stays sharp and fills in any missing gaps in information.
4. Storytelling
The most engaging and effective content tells a story. So, when developing a content brief, plot out the story that you want the content to tell. Like any good narrative, it should have a beginning, middle and end. For example, highlight a problem and describe how it's challenging an industry. Then provide thought leadership on how to solve the problem.
5. Performance expectations
The content brief isn't just a way to outline what information the content should include. It's also a chance to share your enthusiasm and ambition for the content—and inspire the writer. Is the goal to publish the definitive guide to a subject? Spell that out. Let the writer know you're confident that you can achieve this together.
How should you fill out a content brief template?
Now that you know what sections to include in your content marketing brief template, you're ready to fill it out. Here are 4 things to keep in mind as you fill out a content brief template:
1. Be clear and concise
The goal of the content brief is to provide clear instructions to the writer so that they can produce content that meets your expectations. For this to happen, you need to be as specific as possible about what you want—and just as importantly, what you don't want.
A related point here is to not be too overbearing in your brief. The idea is to give the writer the tools they need to write a good post, not tell your writer exactly what to write.
2. Know your audience
Your target audience should be at the front of your mind when you're filling out the content brief template. Every decision you make, from the topic to the tone of voice, should be based on what will resonate with them.
Remember, the audience you target should be tied directly to the customers you're looking to attract. It's important to keep in mind which stage of the buyer journey you're targeting since this will affect how your writer approaches CTAs.
3. Set realistic expectations
It's important to set realistic expectations for both you and the writer. If you're unrealistic about deadlines, word counts or the level of detail you expect in the final piece, it will only lead to frustration on both sides.


4. Be flexible
While it's important to be specific about what you want, it's also important to be open to new ideas and perspectives.
The best content is often the result of a collaborative effort between you and the writer, so be prepared to put your own preconceptions aside and let the writer take the lead.
Once you build a working relationship with your writer, it should become fairly clear what aspects of a brief they can take some creative license with. However, to begin with, we recommend making non-negotiable parts of a content brief clear. It's best practice to keep these to a minimum, however, as a writer's input can lead to a better overall post.
5 content brief template examples and 1 free download
Need some help creating your content outline template? Here are 5 content writing brief template examples to refer to:
Content Brief Template Example 1:
It doesn't get much more straight-forward than this content brief template. We like the clarity around SEO—and the nice addition of "Competitor articles."
Content Brief Template Example 2:
We like how Agency Analytics includes "Product tie-in" and "Internal links". These 2 components are really helpful for the writer.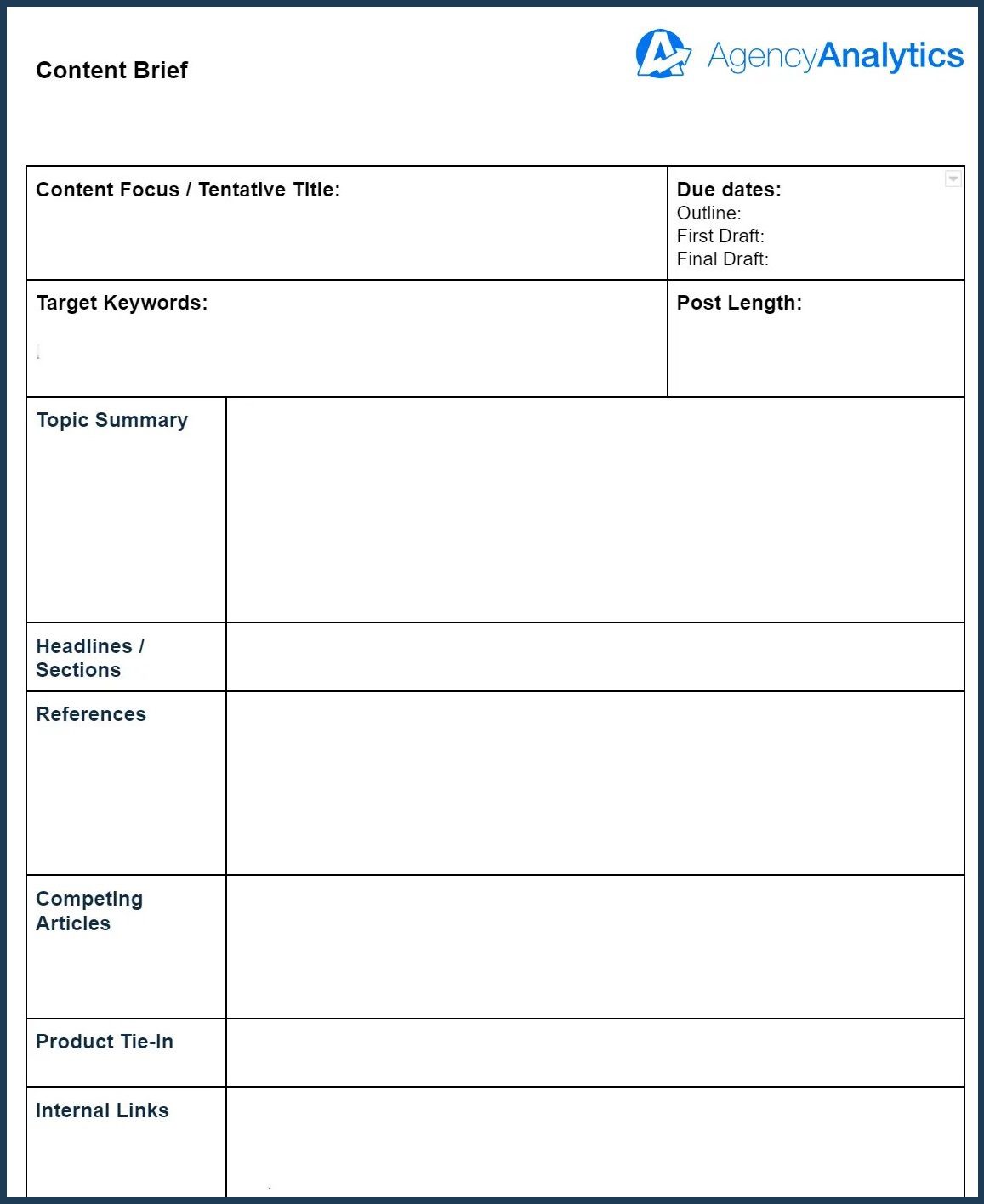 Content Brief Template Example 3:
Shout out to Mega Blog for including "Content goal" in their brief. And it's great that they've got a big section for the "Outline." The clearer you can get on your goals and your outline, the better the chance that your writer will produce the kind of content you're looking for.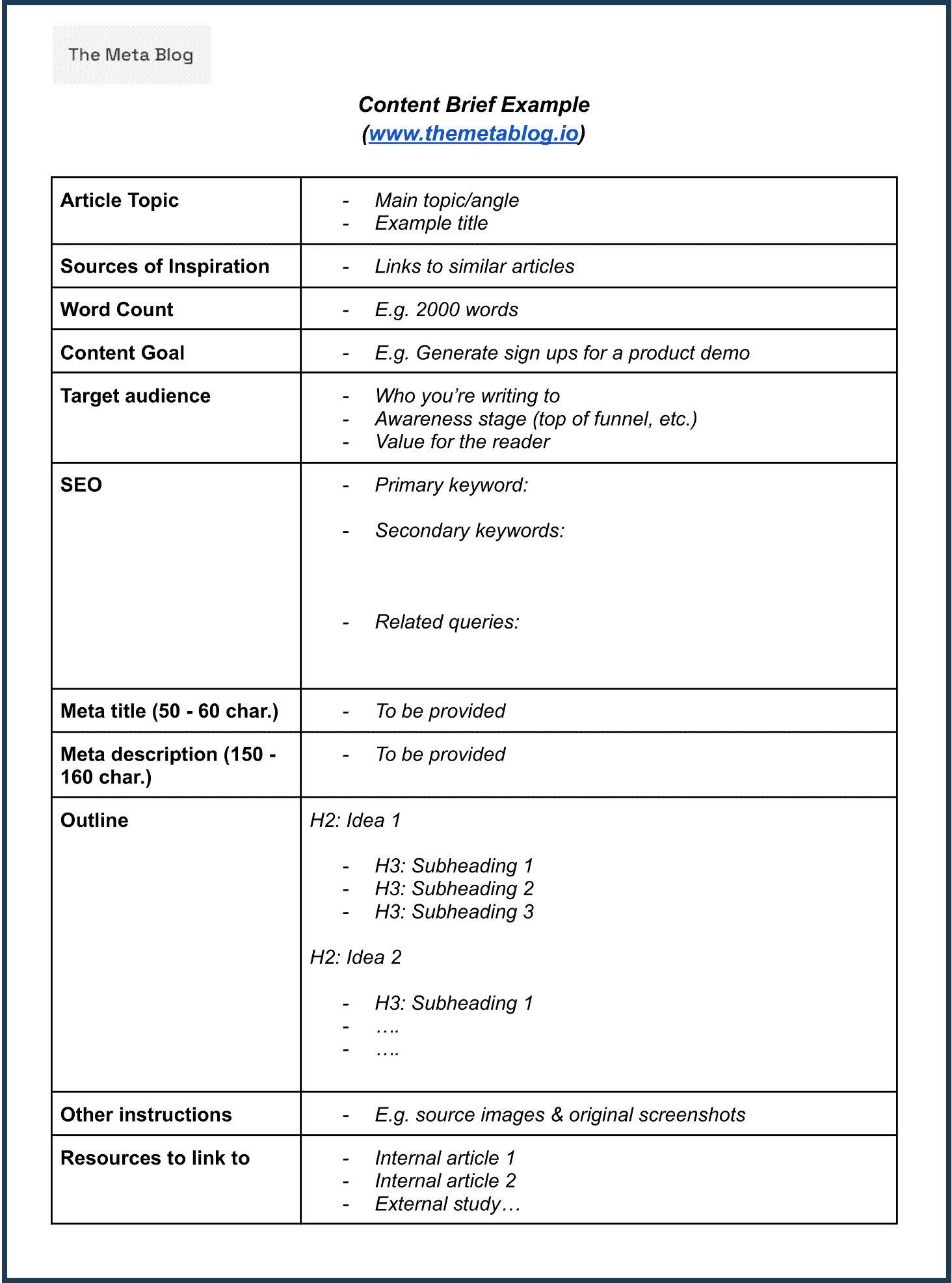 Content Brief Template Example 4:
This brief is one of the more robust content brief templates we've seen. Below is just a small snippet of the full brief, which we'd encourage you to check out. A brief like this might be appropriate for an ebook or white paper that's more robust than a blog post.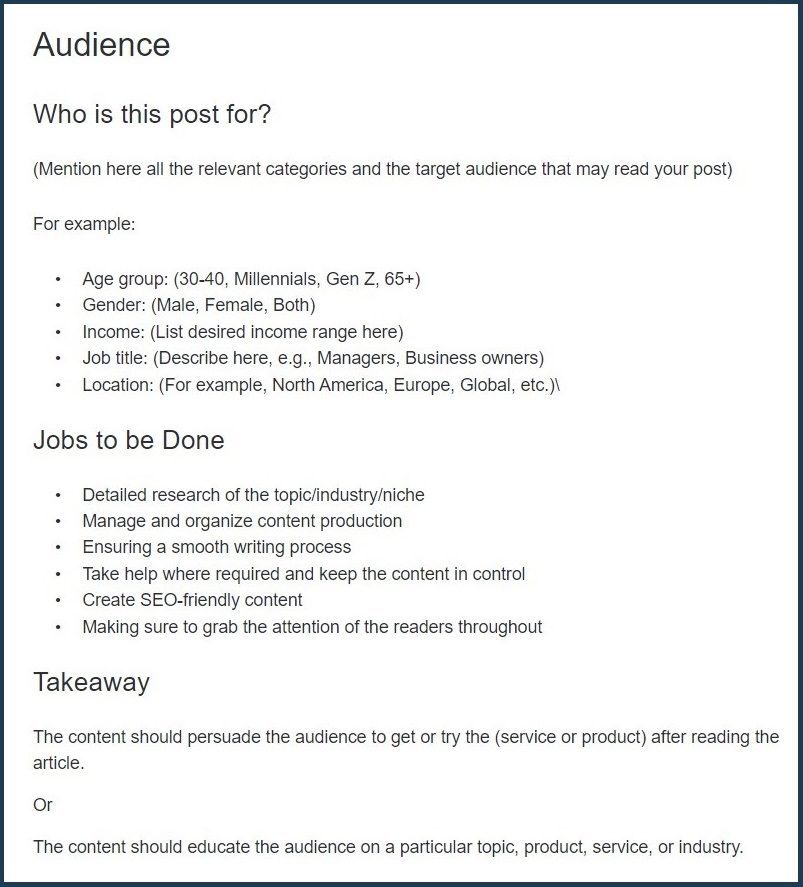 Content Brief Template Example 5:
We love that Wrike has a section for "Inflexible H2s and H3s". This ensures that the writer is clear on which headers they must use versus which headers they can choose to use or modify. We also appreciate how they provide a section for internal link options to commercial and supporting pages–very handy!
Download our free content brief template

Here's the free content brief template we use with our customers. Make a copy and tweak it for your own needs.

Download the Google Docs template 
Download the PDF template
Start using a content brief template for your next project
Having a clear and concise content brief will save you time and frustration in the long run—and ensure that the final product is exactly what your team wants.
Once you've created a content brief template that works for your team, you can use it over and over again for all your future projects. Fill in the blanks with the specific details of each project, and you'll be well on your way to producing great content that achieves your goals every time.
This is the sixth post in a 7-part series on how to find and work successfully with your next SaaS writer.
Need a hand writing your blog posts?
If you need a hand writing high-quality posts that drive traffic and conversions, check out our blog writing service.