Updated March 2023: You know that excellent B2B SaaS content drives brand awareness and revenue, but can you prove it? Show your boss that you understand how to use content marketing for brand awareness by tracking 5 key metrics—and check out the brand awareness ROI measurement framework we use with our customers.
Need a hand writing your B2B SaaS marketing content? Check out our content writing services.
High-quality, actionable B2B SaaS content is the best way to educate customers and foster strong brand awareness. In fact, 80% of B2B marketers say that building brand awareness is the top goal achieved through content marketing.
While it's clear that using content marketing for brand awareness is an important factor in driving sales, its overall effect on revenue can be hard to pinpoint.
At Uplift Content, we understand what SaaS businesses need to elevate their brand awareness—and the answer is content. Need a hand writing your B2B SaaS marketing content? Check out our content writing services.
In this post, we'll discuss why you should use content marketing to increase brand awareness, and also cover how to approach calculating the ROI of your content marketing efforts.
Topics:
What is brand awareness?
Brand awareness is the extent to which your target audience is familiar with your company and its products or services. It measures the degree to which your target audience recognizes and recalls your company name or logo, and the level of association they have with your brand.
Brand awareness is an important metric for SaaS companies to track since your target audience is more likely to purchase a product or service from a brand they are familiar with and have positive associations with.
For this reason, companies must invest in marketing and advertising efforts, including content marketing, to increase brand awareness, build a strong brand identity and attract new customers.
What are the 4 levels of brand awareness?
To understand how brand awareness affects a customer's journey, we'll need to explore the different stages of brand awareness.

This model is based on David Aaker's brand loyalty pyramid but has been adapted to demonstrate the brand awareness journey of a modern brand.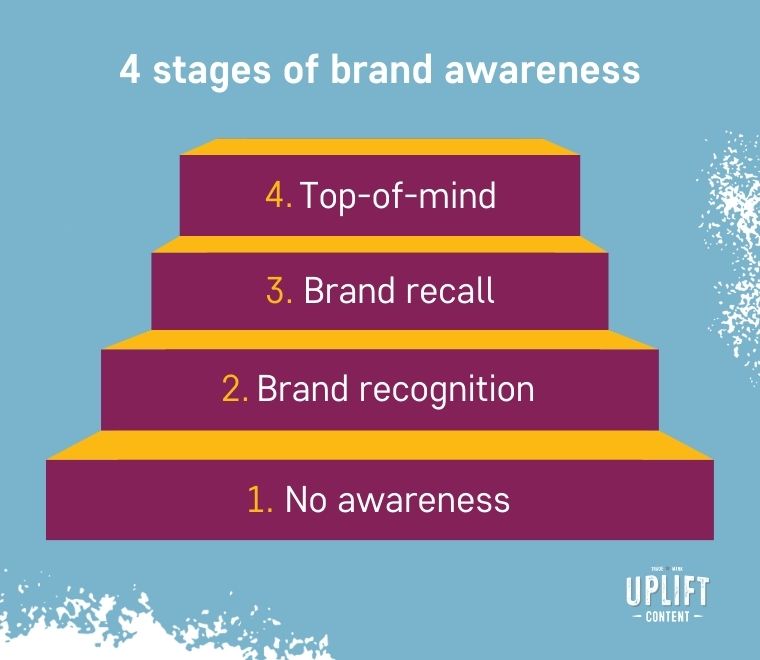 Starting at the bottom and working our way up, here are the 4 stages of brand awareness:
1. No awareness
Your target audience has no knowledge of your brand at this stage. This is where all new brands start out. Here, you'll need to focus on marketing channels that get your name out to a wide range of people—we'll discuss how later on!


2. Brand recognition
Your audience recognizes your brand when they see it. They may not know anything about your brand or what you do, but they're aware of your logo, name, color scheme or other key visual cues.


3. Brand recall
If your audience thinks of your brand when they need a product or service you offer, this is known as brand recall. For instance, you may think of Zoom or Google Meet when you're thinking about video conferencing. In SaaS, achieving brand recall means you've established the trust needed to convince B2B customers to trust your product with their business operations.


4. Top-of-mind
This is the stage where a brand is the first one that comes to mind when a consumer thinks about a particular product or service category. Top-of-mind is achieved when your brand is established as a thought leader in your field or has successfully marketed your product as the best-in-class.
Different ways to achieve brand awareness
In this post, we'll discuss in detail how to use content marketing to increase brand awareness, but there are a few other ways of achieving it as well. These include:
Paid advertising
This is the oldest trick in the book. You can use advertising to get your brand and its products in front of a wider audience. This can either be through traditional means—such as TV, radio, print ads etc.—or through digital advertising. Online advertising can often help you reach your target audience more efficiently.
Social media marketing
Social media platforms offer companies a unique way to connect with potential customers. Viral marketing campaigns help expose your brand to new audiences, while you can use other forms of social media content to educate your existing audience on the products or services you provide.
Public relations
This involves generating media coverage and positive publicity for the brand through various channels, including press releases, media pitches and influencer marketing.
How to use content marketing to increase brand awareness
As we touched on previously, customers need to know that your SaaS company exists before they can buy your products or services. Creating content full of rich stories is an essential part of driving brand awareness.
By providing potential customers with educational information on relevant topics and pain points, you establish your company as a trusted expert in the field, and boost the awareness of your SaaS product.
How does content marketing increase brand awareness?
Content marketing done right means you present your brand as a trusted authority in the pain points and problems your product solves for.
Let's look at an example. If your company has an all-in-one marketing platform for real estate companies, you can publish blog posts that educate real estate companies on marketing best practices for real estate. Your target audience will find your posts when searching for tips on how to up their marketing game—and will learn about your brand at the same time.
This valuable information about relevant problems that your target audience is experiencing is key to presenting your brand and its products as the solution to their pain point—driving interest and ultimately sales.
And consistently producing and sharing high-quality content that is aligned with a company's brand values and messaging can help to reinforce the brand image and increase brand awareness.

You may even be able to build a regular readership from the content you publish. Semrush launched their online blog to rank well in SEO-related search queries, but many founders and SEOs regularly read their blog posts for new insights. Building a loyal audience like this can help drive repeat business and word-of-mouth referrals.
That's why we recommend using content marketing for brand awareness. High quality content keeps your audience coming back, which further increases your brand awareness ROI.
What is brand awareness ROI?
Brand awareness ROI is how you demonstrate the value of your brand awareness activities and how those activities impact opportunities and sales.
Building brand awareness and educating your target audience on your brand and what it represents will make other marketing and acquisition channels more cost-effective. For instance, a business owner is more likely to click on a display ad for a CRM tool like HubSpot if they're already aware of the brand's position as a market leader.
How to calculate brand awareness ROI
Quantifying and calculating the ROI of brand awareness is sometimes easier said than done. The impact of increased brand awareness may not be immediately measurable or directly tied to a specific revenue stream.
The key to measuring brand awareness ROI is figuring out the number of potential customers who were exposed to your brand thanks to a piece of content you created, and how that exposure influenced opportunities and sales.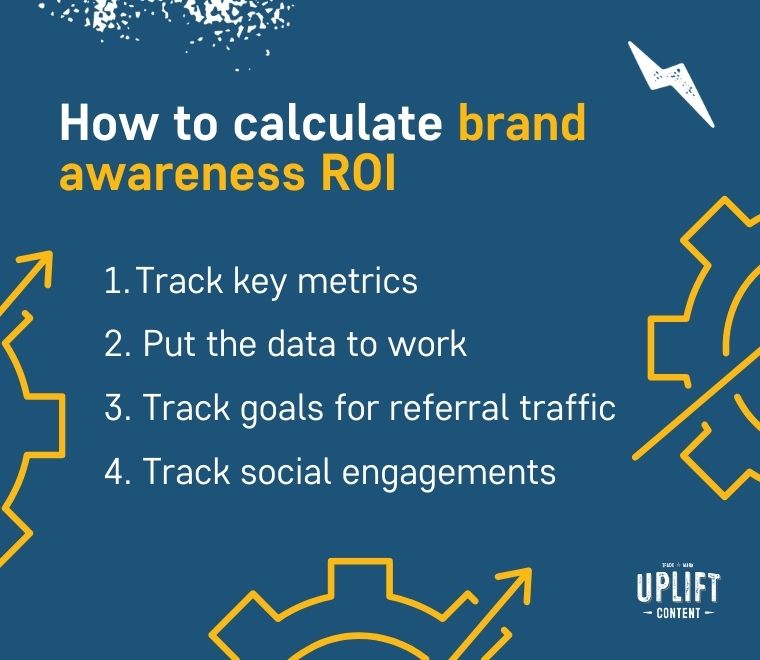 Here's how to calculate brand awareness ROI:
1. Track key metrics
Brand awareness can influence a wide range of KPIs and metrics. With this in mind, here are 5 metrics you can track to demonstrate how you use content marketing to increase brand awareness:
direct traffic to your website
earned media hits
external links to your website
blog shares
social media engagement
search volume
2. Put the metrics/data to work
Use your favorite analytics tool to create goals, and track conversions and opportunities that resulted from your website's direct traffic.
3. Track goals for referral traffic
Set up and track goals for your referral traffic to determine the effectiveness of your earned media hits and external links.
4. Track social engagements
Use a social attribution platform to track how your social engagement drives conversions.
How we track content marketing for brand awareness at Uplift Content
Our measurement framework has a section specific to brand awareness ROI. Here's what it looks like: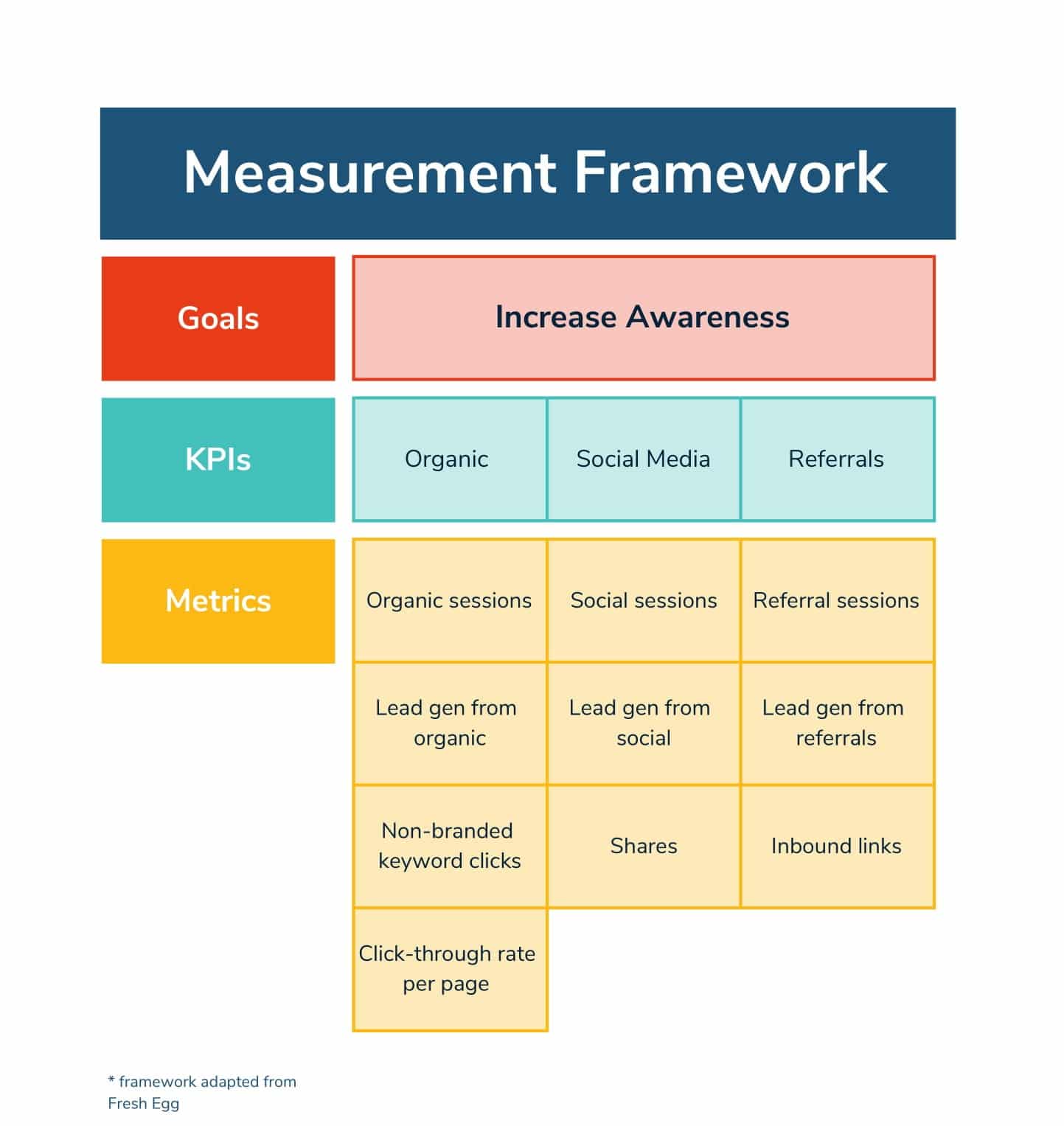 We've broken down our goal of increasing brand awareness into 3 KPIs:
organic search
social media
referrals
For each KPI, we track a series of content marketing metrics. Here are 3 few examples:
1. Organic search
We measure the number of organic search sessions, lead gen from organic search, non-branded keyword clicks and click-through rate per page.
2. Social media
We measure the number of social sessions, lead gen from social and number of shares.
3. Referrals
We measure referral sessions, lead gen from referrals and the number of inbound links.
Every 3 months, we analyze this data to see what changes we need to make as we use content marketing to increase brand awareness.
Boost brand awareness with better content
Want help creating content for brand awareness? Check out our content writing services.