Updated February 2022: A compelling SaaS case study could very well be the best way to convert a prospect into a customer. But it will only work if you make the customer the hero of your case study—not your own company.
How do you make the customer the hero of your case study?
First up, check your ego. No one wants to read your ramblings about how great you are. Prospects are, however, very interested in what your customer thinks about you.
When you make the customer the hero of your case study, it will resonate with your readers on a much deeper level. They will see themselves and their own issues reflected in the hero's story. To help you achieve this kind of resonance, keep these points in mind:
In this post, we're going to outline 5 ways to make the customer the hero of your case study, as well as show you 2 examples from Gong and Okta. This is the fourth post in a 9-part series on how to write a SaaS case study.
1. Introduce your customer champion right off the top
Stick to the most relevant details: what industry is your customer champion in, what size is the company and what do they excel at. Only include information your audience cares about or details you need to provide to tell the most compelling story. Don't forget to introduce the individual you interviewed. Your readers will relate to a person, not a faceless entity.
2. Let your customer do the talking
Direct quotes should make up a good portion of the case study if you want to make the customer the hero of your case study. Use your words to clarify or connect quotes and move the story forward. Let your customer champion explain the challenge they faced, how they decided to use your services and how your solution helped them achieve results.
3. This isn't about you
Don't paint yourself as the knight in shining armor who rescued a business in distress. You merely stepped in to smooth out a bump in the road. You provided a tool that helped the customer improve a process or solve a challenge, and they emerged stronger for it. Aren't they amazing? To make the customer the hero of your case study, always keep the focus on the customer.
4. Talk strategy
It is important to explain why the customer chose your solution, and how they implemented it and rolled it out. Let readers see the thought process involved.
5. Cut right to the heart of the issue
Skip any vague and superfluous praise. Go easy on the marketing lingo. What changed for your customer? What did it mean to their business? Include numbers where possible or detailed descriptions if you don't have metrics. (This is where you get to brag a little bit about how your service made a difference and why.)
Remember that the person you interviewed is the face (and heart) of your case study. Be sure they resonate as a real person, like Jamin:
Source: Gong
This is an excellent example of introducing not only the customer, but a specific individual within the company. Jamin is a dad of two and wants to spend as much time with them as possible. And he wants to help his teams get better – great hero material!
Sometimes the organization itself can be the hero, like the Australian Red Cross: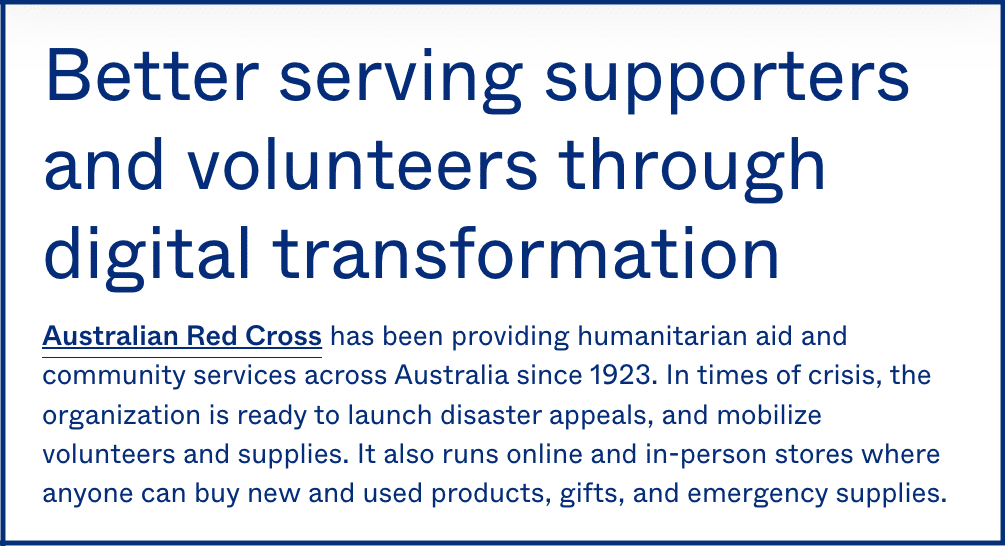 Source: Okta
This paragraph in the executive summary nicely positions the Australian Red Cross as the focal point of the story.
Sometimes, stepping aside is the best way to inspire trust in what you do. To truly make the customer the hero of your case study, let them do the talking—they may be the best salespeople you have.
Get more inspiration for your case studies by checking out our critique of 3 case study samples from GitLab, Sendoso and Front.
Get done-for-you case studies
At Uplift Content, we write high-quality case studies for B2B SaaS companies like WalkMe, ON24 and Okta. If you're swamped and need a hand, check out our case study writing service.