Being a customer marketer during the pandemic was tough, but lots of learning came out of it for Ashley Ward, a Top 100 Customer Marketer at LeanData. That experience helped guide her as she adjusted her planning as a customer marketer during the current economic uncertainty. Keep reading to find out the 2 key strategies she uses.
You'll also hear about her journey to customer marketing, her thoughts on the difference between customer success and customer marketing, and a few of her biggest customer marketing successes in the past 12 months.
Interview with Ashley Ward, Director of Customer Marketing, Lean Data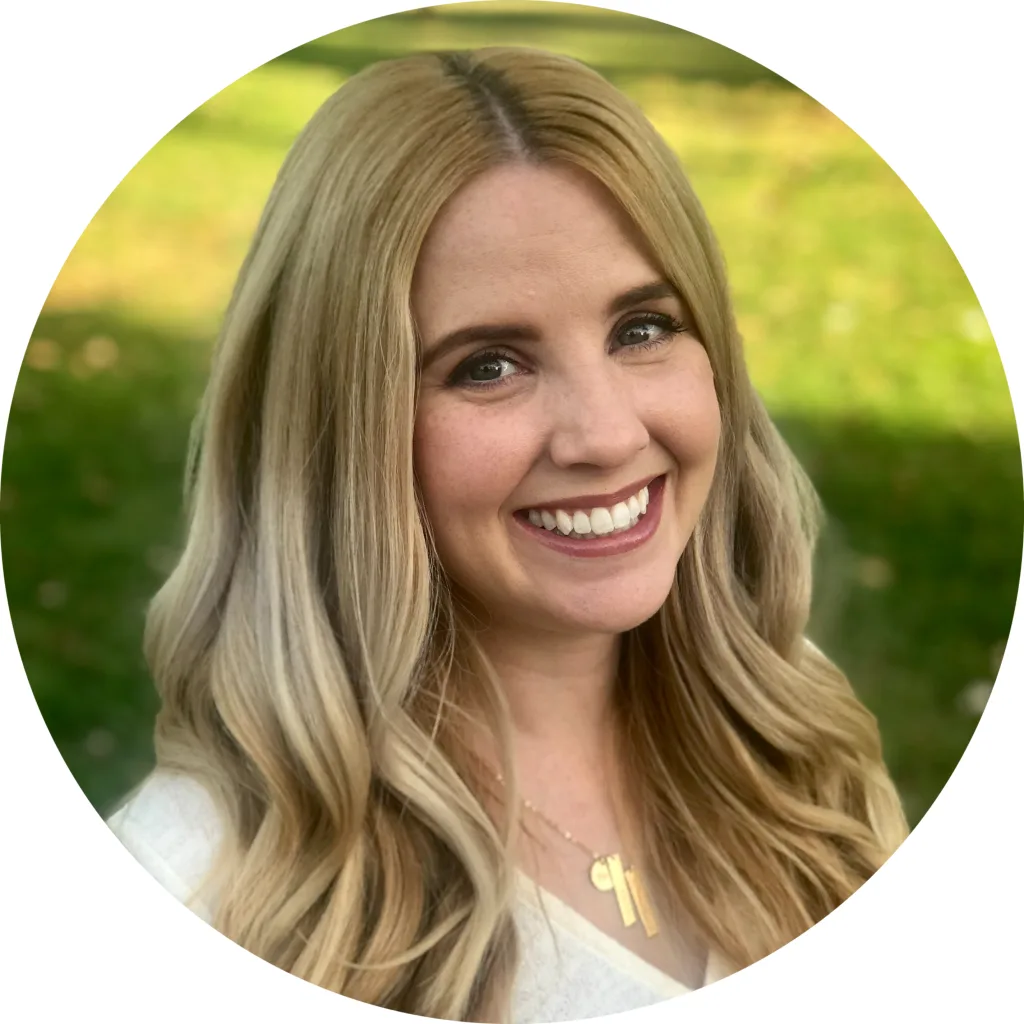 Name: Ashley Ward
Job title: Director of Customer Marketing
Company: LeanData
Location: San Francisco Bay Area, CA
Fun facts about Ashley:
The show you're binging right now: Shrinking

Tea, coffee, or something else?: COFFEE.

Your all-time favorite movie is: The Breakfast Club

Your ideal vacation includes: Warm sun, cold beverages and delicious food

Last place you've traveled to: Yosemite

How did you end up where you are today in customer marketing?
My major in college was advertising and my first job was in advertising sales. I quickly learned that I didn't love having to go out and find new customers, but I absolutely loved building relationships with my existing customers and growing the revenue with them as I grew those relationships.
Eventually interviewed for a role in Customer Success which I had never heard of, but it sounded really similar to the account management side of my sales roles that I loved. So I started working for a company in Customer Success, but what was unique in this role was that two of us were hired together and we shared hundreds of accounts.

Basically, it was like, "Here, go figure out how to onboard, train and grow all these accounts in a scalable way." And I loved it because we had so much creativity and flexibility to just build out scalable programs. I got to lean into my marketing skills and we started building out content and webinars, and we were able to pretty successfully manage all of these accounts.
Eventually, I started taking on your more traditional customer-marketing activities that I had no experience in. We didn't have that role. So I started doing customer stories. I built out a community. I was driving reviews. We launched a Customer Advisory Board. Then, when I found this opportunity at LeanData, it was the perfect melding of all of those things that I love together. And now I've been at LeanData for three and a half years as Director of Customer Marketing.
What's the difference between Customer Success and Customer Marketing?
If the ultimate goal of Customer Marketing is to have advocates who are out talking about your product, then you have to help ensure that you have successful customers and build them into advocates first.
At LeanData, we have spent a lot of time building out programs for our customer base. Our product is a little more technical, so we're focused on product education. We are really focused on helping to make sure—in a scalable way—that our customers are successful.
We have a great Customer Success team who are having those one-on-one conversations, but we're providing webinars and training and resources that reach a lot of customers at one time. And through those programs, we can create and identify successful customers who often become our best advocates.
Does Customer Success fall under the umbrella of Customer Marketing?
Right now it's side by side. A lot of companies realize they have to scale Customer Success. And to do that, you have to have one-to-many programs in place, whether that's campaigns or email sequences or webinars or events or community-building.
I think it's a natural fit for those one-to-many programs to come from Customer Marketing. Customer Success and Customer Marketing have different skill sets and different offerings, but they have to be really closely aligned to succeed together.
What are some of your biggest customer marketing successes of the past 12 months?
In the last 12 months, we've been able to do a few things in person again, which has been so amazing. I didn't realize how much I missed being in person until I was back in person. In September, we had our annual conference and I was able to meet a ton of customers and film a number of video testimonials.
The videos were a huge success. The initial testimonial videos turned out great—nothing quite comes through as much as a customer telling their own story in their own words. We were able to create so much content out of those two days worth of work that we're still creating content from it. That's going to be like the gift that keeps on giving for us over the next several months—if not longer.
How is all the economic uncertainty affected your planning as a customer marketer?
I feel like we went through this to an extent in 2020. There are a couple of things that I think about:
1. We are leaning into our customers.
A lot of our customers are also in the tech space and so are highly impacted by the economic uncertainty. There are a lot of conversations, a lot of listening, and just finding out what they need from us right now. That's number one.

In 2020, this informed a lot of our strategy. Customers wanted more community. They wanted to talk to other people. They wanted to learn more to make sure that they were experts, whether that helped them keep their job or look for a future job. So we really leaned into training and certification and meetups because that's what people wanted.

2. We are trying to be as scrappy as we can.
How do we deliver more with less without sacrificing on the customer experience we deliver? What can we bring in-house that we weren't before? And how can we make sure that we're doing everything we can to help support our sales team?

For our customers, it's back to listening. Do we understand what challenges they're facing right now and do we have the right resources to support them? Can we evolve existing programs to meet their needs over building out more programs? And for Sales, I'm thinking about how we can repurpose existing customer content. Can we highlight our reviews in different ways? Can they easily find everything we have?
What does leaning into the customers look like for you?
It comes down to listening, really listening, to your customers and actioning the common themes of feedback. We have a lot of people across different teams engaging with customers and it's really important that we're all sharing the feedback and insights. One of the best things at a company our size is that we can move quickly and address the needs of our customers in a way that can have a major impact.
How important are customer stories?
They are incredibly important. We truly have the best customers, and every time we have a conversation—especially an interview—we learn so much. I love customer stories because I love highlighting what our customers are doing. A big piece of my job is finding people who are doing amazing things and then helping them share their story. That's one element of it.
Obviously, for our Sales team and our Customer Success team, these stories are incredibly important because they tell the story of how our target audience can use the product to change their business. They need to understand how other people are solving a problem, and the best way to do that is through existing customers.
What are some of the challenges that come with producing customer stories?
Lately, the challenge I'm facing is that our customers will give us so much great information and you somehow have to whittle that down to a story that is short enough that you expect a prospect to actually read or watch it. People don't have great attention spans anymore. Everything is like 10 seconds or half a page long.
I've been thinking a lot about how we take these amazing stories and then create bite-sized content that really captures everything the customer's doing. That's hard!
How do you measure the performance of your customer stories?
We look at our customer stories alongside all of our other content and how it's performing. I tend to look at the feedback that I get from the Sales team. That's how I measure performance. I listen to what they have to say. I look at how the customer stories are being received internally. Our Sales team is very engaged.
I know that the Enablement team uses customer stories as part of their bootcamp and training for new hires, so I can see that our customer stories are woven into everything that we're doing internally. That's my gauge for determining that these are important. People appreciate them. They're using them in the field.
Do you have any advice for anyone new to customer advocacy?
Customer marketing is all about the customer. Every organization is going to be different and have different needs and different expectations from their Customer Marketing department. That's a big challenge for us in customer marketing.
However, if the focus is on the customers—and if you're in a role that's mostly about advocacy—it is all about what they need. Do they need a community? Do they need content or education?
Another important thing to consider is what each customer wants. Not everybody wants to do a customer story. Not everybody wants to speak on a stage. Understanding what your customers need and then building your program based around that is how you find success.
Sign up for our newsletter to catch all of our interviews with customer marketing leaders.