Updated February 2022: The first thing you do when faced with any study or report is read the executive summary or overview—right? Then you decide if reading the rest of the material is worth your time. This is why it is so important for you to learn how to write an executive summary for a case study.
The executive summary of your case study serves exactly the same function. If the reader sees nothing beyond this section, they will still walk away with a good understanding of your service.
A great summary might even be enough for a reader to pass the information along to the decision-makers in their organization.
In this post, we'll discuss what makes a compelling executive summary for case studies, and provide you with 4 examples from leading B2B SaaS companies. This is the third post in a 9-part series on how to write a case study.
Every word counts when writing an executive summary
When thinking about how to write an executive summary for a case study, you need to create 2 or 3 crucial sentences that provide a concise overview of the case study. It must be informative and:
summarize the story by introducing the customer and their pain points
explain what your organization did
highlight the key results, including 1 or 2 statistics that drive home the takeaway message
Write the executive summary first to help you focus the rest of the case study. But don't be too rigid: in the process of reviewing the interview transcript or writing the main copy, another point or statistic may emerge as having more impact than what you've chosen to highlight. Revisit your executive summary after writing the case study to make sure it's as strong and accurate as possible.
If you need a hand with your SaaS case studies, have a look at our case study writing service.
Executive summaries can be short and sweet
This executive summary example from Segment is just a headline followed by a glorified subhead—but it does the trick!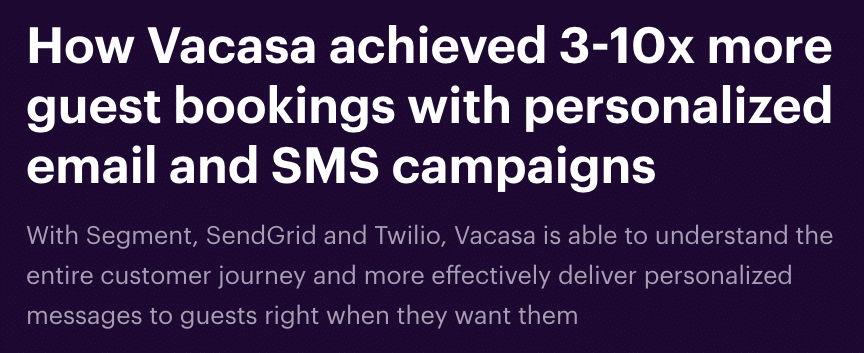 Here's another great example of a quick, yet helpful executive summary for Plaid's case study:
Sometimes you may need a longer executive summary
For complex case studies, you may need a more in-depth executive summary to give readers an overview of the case study.
Here's a more fleshed-out executive summary from Segment: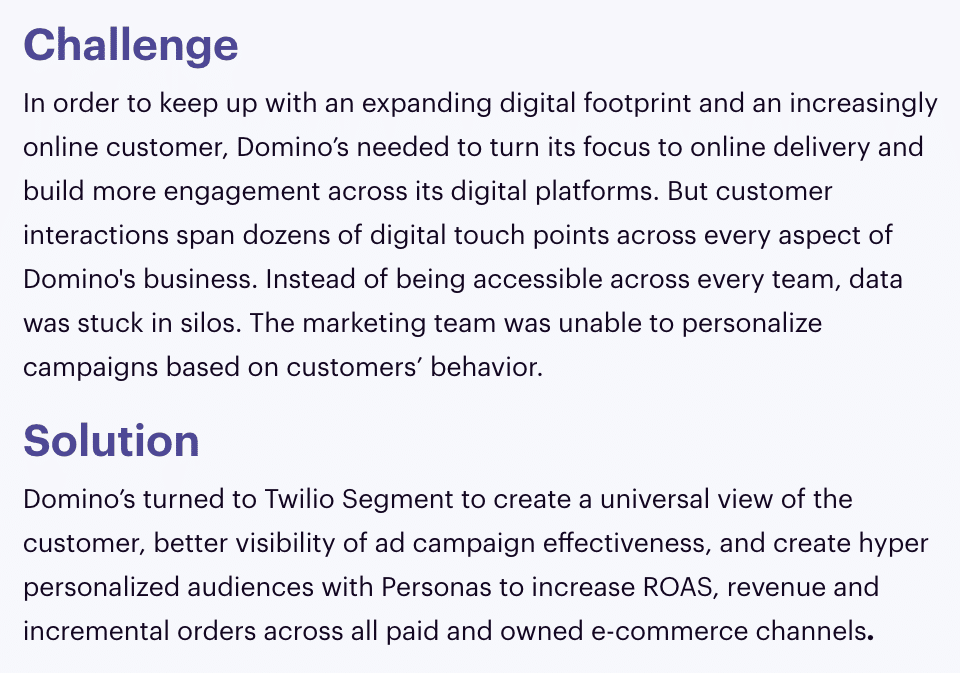 It's a bit lengthy, but it effectively introduces the challenge. This executive summary could be more powerful if it included a section for results.
Sometimes executive summaries miss the mark entirely
This is not an executive summary. It is merely an introduction. We have no idea what the problem or solution is, and there's nothing to motivate us to read further.
You can do better with your executive summaries
Be precise. Impress the reader with key results. Let them see that you offer solutions that matter.
If you need a hand with your SaaS case studies, have a look at our case study writing service.
---
Get the help you need
As a SaaS company, you need to partner with someone who "gets it". We are a SaaS content marketing agency that works with high-growth companies like Calendly, ClickUp and WalkMe.

Check out our done-for-you case study writing service.