Monthly case study critique of a high-profile SaaS company
Each month, we dive deep into a case study from a well-known SaaS company, analyzing where the content excels and where the gaps exist. In this month's GitLab case study critique, we're looking at the case study it did on its customer Fanatics.
Our mission with this series is to help you, as a SaaS marketer, see that even the big guys aren't perfect. We can all learn from what they do well and what they need to improve. Case studies are a critical piece of the marketing and sales funnel, so it pays—literally—to get them right.
GitLab case study critique: Fanatics 
GitLab is a complete DevOps platform delivered as a single application. The company is changing the way development, security and ops teams collaborate and build software. From idea to production, GitLab helps teams improve cycle time from weeks to minutes, and reduces development costs and time to market.
Check out the case study we're critiquing: GitLab offers Fanatics the CI stability they were searching for.
What worked well
1. Strong title
This benefit-driven title mentions both GitLab and its customer Fanatics. The title is also paired with a subtitle that further explains the results Fanatics got from GitLab's solution.
2. Useful executive summary
This is an essential element for every case study because it gives the reader an immediate understanding of your service. The section at the top of the Fanatics case study is easily digestible and includes information that sets the stage for the reader, such as:
fast facts about GitLab's customer Fanatics
a brief overview of the solution
statistics to demonstrate results

3. Structured flow
The case study clearly guides the reader through specific challenge, solution and results sections, with subheaders for each section that summarize what the reader will learn about.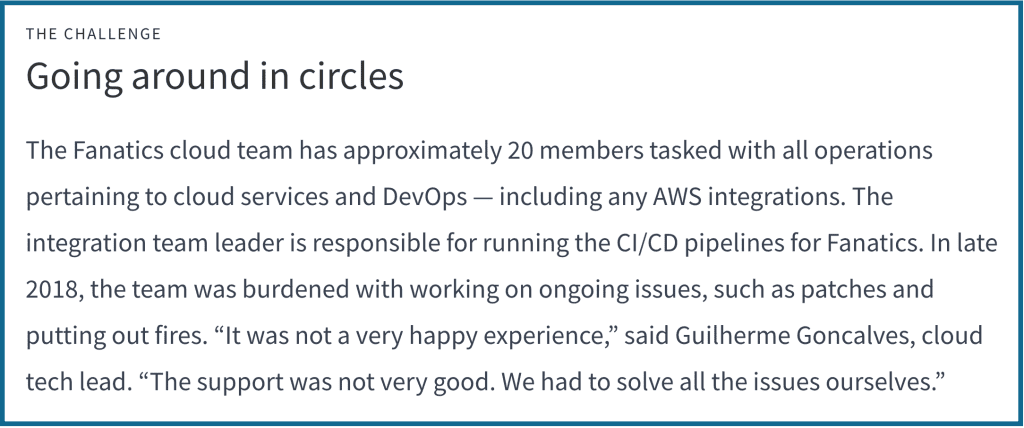 4. The customer is the hero
Making your customer the hero in your case study—as opposed to tooting your own company's horn—is an excellent way to achieve resonance with your readers. GitLab makes the interviewee, Fanatics' cloud tech lead Guilherme Goncalves, the hero by highlighting how he advocated for change in his organization.
5. Convincing quotes
GitLab uses several customer quotes to tell the story from Fanatics' perspective, adding detail, credibility and personality to the case study. This is a solid tactic because it allows the reader to hear straight from the customer why they recommend GitLab's service.
6. Call to action (CTA)
The case study features a bar with a button to sign up for a free GitLab trial. The CTA appears at the bottom of the page and stays in view as the reader scrolls through the content.
What could be better
1. Statistic in the title
Using a hard number in the case study title would help drive home the results that Fanatics got from GitLab's solution.
2. Product link
Including a link to the continuous integration (CI) product that Fanatics purchased would guide the reader in a specific direction to learn more about GitLab's offerings.
3. Pull quote
Adding a visual call-out between two of the sections would break up the case study text and give more weight to the story from the customer's perspective.
4. Design elements
Solid case study design is essential for grabbing and keeping your reader's attention. GitLab could consider adding a headshot of the case study interviewee alongside a pull quote, which helps deliver instant credibility. A data illustration would also be useful to help visual readers process the numbers in the solution section.
6. A look to the future
A paragraph on what's next for Fanatics would help demonstrate how customers can grow with GitLab.
7: CTA above footer
While the case study CTA remains visible as the reader scrolls 95% of the page, it does disappear when the reader scrolls into the page footer itself. GitLab could address this so that the CTA is visible 100% of the time.
8. Additional content
Including a call-out linking to other customer stories would be valuable for readers who want to find more information before signing up for a free GitLab trial.

GitLab case study critique is a wrap!
Stay tuned next month for a new critique, and in the meantime, check out our ServiceNow case study critique.

We've got your back
As a SaaS marketer, you've got a ton of competing priorities. Uplift Content can take case study writing off your plate and deliver you powerful content that converts leads to sales.
We'll help bring your untold success stories to life and highlight how your products enable your customers to solve tough challenges.
Explore our case study writing services to learn how we can help your SaaS company grow.