Knowing how to wrap up a blog post is essential for B2B SaaS marketers. When a reader reaches your blog post conclusion, chances are good that they're interested in your brand and what you have to offer. So don't fumble the ball right before the touchdown line with a lackluster blog post ending. In this post, we'll cover 5 ways to end a blog post, and we'll also share one foolproof strategy.
5 ways to end a blog post
1: Summarize the post
One way to wrap up a blog post is by recapping key points to help your readers remember what you covered. Summaries are a great opportunity to boost SEO by getting your focus keyword in one more time.
Example of how to end a blog post by summarizing it:
2: Ask a question
Another way to end a blog post is to keep your readers engaged in two-way communication. That's why asking a question is so effective. This strategy can help you get some action going in the comments section of your B2B SaaS blog. Asking questions also encourages your readers to contact you on social media or by email with their answers.
Example of how to end a blog post by asking a question:

3: Inspire your reader
One of the more popular ways to end a blog post is by inspiring your reader. By and large, B2B SaaS audiences read blog posts to solve problems and learn. Ending a blog post with a conclusion that motivates your readers to take action is a smart move.
For example, if you're writing about customer relationship management software, you can challenge readers to reach out to one of their customers to nurture the relationship and put some of your tips into action. This direct approach will not only motivate them, but it'll make your brand memorable in their eyes.
Example of how to end a blog post by inspiring your reader:
4: Build anticipation
One of the best ways to end a blog post is by creating a little excitement and suspense. Learning how to create anticipation in your content is crucial to knowing how to conclude a blog post. Your blog post conclusions can pique readers' interest to stay tuned for the next article. This tactic works well for promoting a series of blog posts, like this example from our own blog. Here, we're promoting the next post in our case study critique series.
Example of how to end a blog post by building anticipation:

5: Use your keyword one last time
As a B2B SaaS marketer, you know you need to work several keywords into every blog post, but sometimes that's easier said than done. Including a keyword or two in your blog post conclusion is a great way to boost your post's SEO ranking.
Example of how to end a blog post by using the keyword:
Focus keyword: best sales tools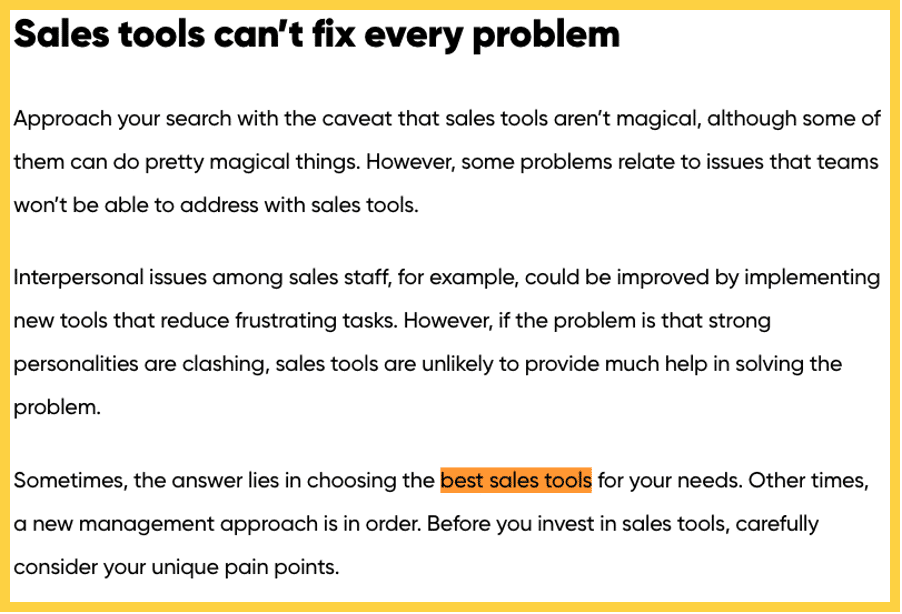 Why include a call to action in a blog post
You now know 5 ways to end a blog post, but we've saved our top trick for last. The absolute best way to wrap up a blog post is with a call to action (CTA). A quality CTA is your golden ticket to the next stage in your relationship with your audience. Carefully crafted call to action phrases guide your readers where you want them to go next—and they increase your conversions.
See 12 CTA examples from B2B SaaS companies like Snowflake, ServiceNow and Zendesk.
Example of ending a blog post with a CTA:
Get help with blog post writing
Being strategic about how you wrap up a blog post is a critical tool in your marketing toolkit. At Uplift Content, our blog post writing service helps drive high-intent traffic to your website, boosting your conversions and freeing up your time to work on other high-value tasks.