Updated June 2023: Knowing how to end a blog post is essential for B2B SaaS marketers. If a reader reaches the end of your blog post, it means they've found the information in the post valuable.
Finish strong by writing a blog post conclusion that helps your readers take the next step in their journey—and also meets your goal for the post, whether that be sharing your content, reading another post or downloading a lead magnet, for example.
Unfortunately, writing a great blog conclusion is just as hard as writing a great intro. And because it's at the end, it often doesn't get the love and attention it deserves. Thankfully, there are simple and effective methods you can use to write an impactful conclusion every time.
In this post, you'll learn how to end a blog post in 7 different ways.
How to end a blog post
1. Be helpful by summarizing the post
One way to wrap up a blog post is by recapping key points to help your readers remember what you covered. Summaries are a great opportunity to boost SEO by getting your focus keyword in one more time.
Example of how to end a blog post by summarizing it:
2. Engage readers by asking a question
Another way to end a blog post is to pose a thought-provoking question to engage your readers. You create a sense of community and invite discussion and comments by encouraging reader interaction. That's why asking a question is so effective.
This strategy can help you get some action going in the comments section of your B2B SaaS blog. Asking questions also encourages your readers to engage with you on social media or send you an email with their answers.
Example of how to end a blog post by asking a question:

Captivate Collective makes it even more obvious what they'd like you to do next:

3. Encourage your reader with supportive messaging
One of the more popular ways to end a blog post is by encouraging your reader. By and large, B2B SaaS audiences read blog posts to solve problems and to learn. Ending a blog post with a conclusion that motivates your readers and helps them see that they, too, can be successful is a powerful strategy.
Example of how to end a blog post by encouraging your reader:
4. Invoke emotions with personal stories or anecdotes
It can be an advantage to end a blog post by making an emotional connection with the readers. You can create empathy and a deeper connection with your audience by sharing personal stories or anecdotes that relate to the topic.
These stories should be carefully crafted to connect back to the blog post's main message or key takeaway, leaving readers inspired and emotionally invested.
Example of how to end a blog post by invoking emotions:
5. Keep your readers' attention with a surprising fact or statistic
Using a surprising fact or statistic in the conclusion of your blog post can be a powerful way to keep your readers' attention. By presenting interesting data related to the main topic or argument, you leave them wanting to learn more.
This approach can also help boost the credibility of your content and position you as an expert in your field.
Example of how to end a blog post with a fact or statistic:
6. Build anticipation by teasing what's coming soon
One of the best ways to end a blog post is by creating a little excitement and suspense. This can be a hint at upcoming topics, new content or exciting developments in your niche. By piquing readers' curiosity, you can build anticipation for future posts and maintain a loyal readership.
Example of how to end a blog post by building anticipation:
7. Inspire action with a compelling CTA
The most important way to end a blog post is by incorporating a powerful call-to-action (CTA). A strong CTA motivates readers to take a specific action, whether it's signing up for a newsletter, downloading a free resource or booking a demo. Choosing persuasive action verbs and highlighting the benefits of taking action can drive the reader to take your desired action.
Example of how to end a blog post with a CTA: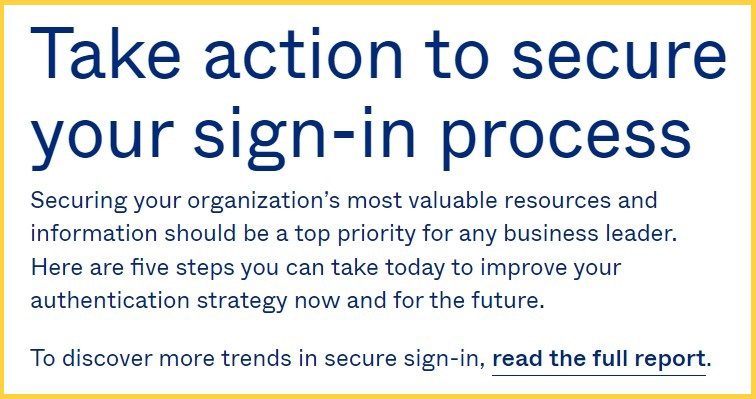 And here's a more graphic CTA example:
See 12 CTA examples from B2B SaaS companies like Snowflake, ServiceNow and Zendesk.
Get help with blog post writing
Need help driving high-intent traffic to your website, boosting your conversions and freeing up your time to work on other high-value initiatives? Check out our blog post writing services.