As content marketers, one of the biggest challenges we face is establishing credibility in the content we create, especially when writing about topics we're not experts on. For our content to hit the mark, it needs to read like it's been written by someone who shares the reader's deep industry knowledge. This gets even harder when our audience is in a technical industry like software engineering, finance or healthcare, to name a few.
So how do we convince our readers—who are experts in their respective fields—that we know what we're talking about?
The short answer? We fake it 'til we make it.
The full answer is a bit more complex than that. We talk to subject matter experts and customers and we immerse ourselves in research, trying to absorb as much industry knowledge as possible. But creating relevant and helpful content for an audience of experts takes time. A lot of time.
Being an effective content marketer means balancing expertise (or relative lack thereof!) with efficiency. Establishing credibility in writing means making sure we understand our audience's jobs—and "jobs to be done"—well enough to create content that offers readers real value.
Ultimately, how you use your time determines whether your content will succeed or fall flat, as Katie Mitchell knows all too well—something we discussed in depth in our interview.
In our interview, we discussed a wide range of topics, including:
how she ended up in content marketing and what's next for her
"paying it forward" by sharing your knowledge
how content marketers can create authentic, helpful content when they aren't experts on the topic
Interview with Content Marketer Katie Mitchell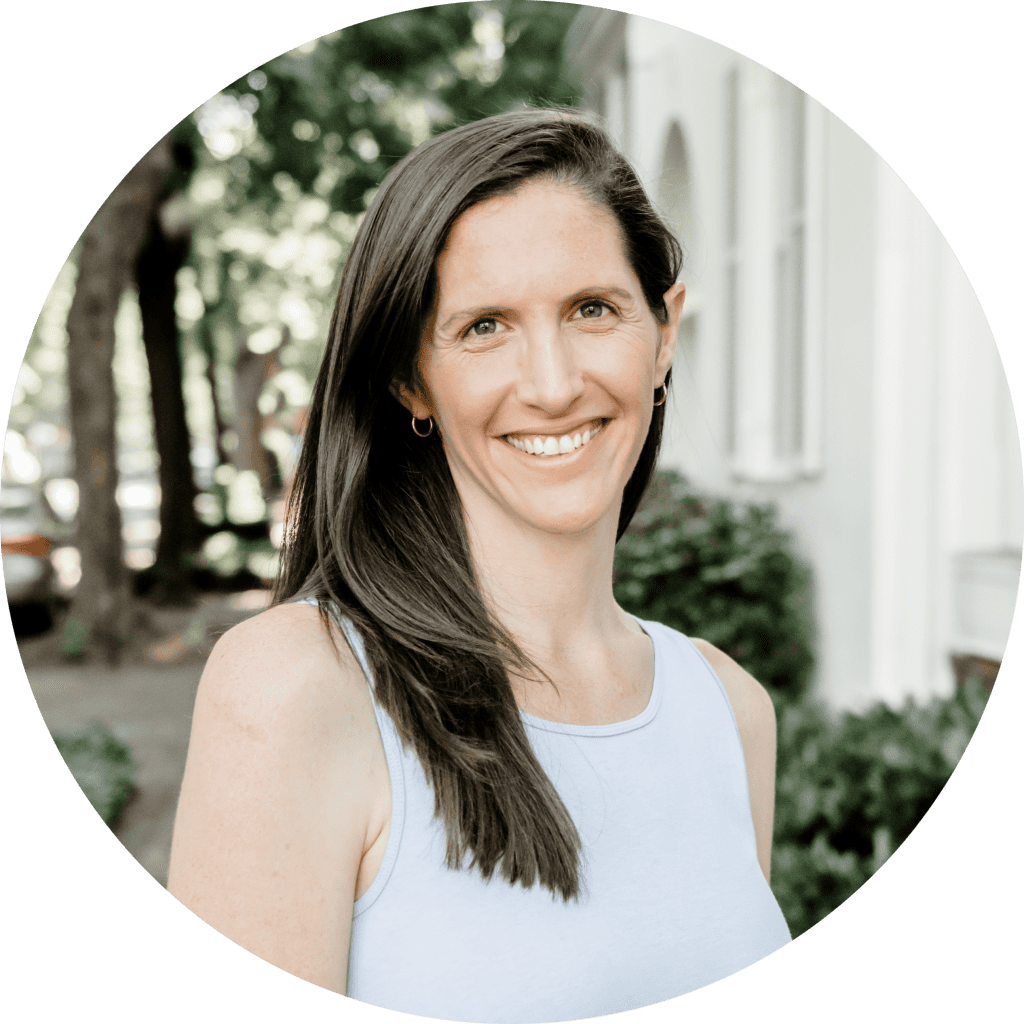 Name: Katie Mitchell
Job title: Marketing director roles
Company: Formerly at Sprig and EVERFI
Homebase: Washington, DCDegree: MBA, Marketing and Strategy

Fun facts about Katie:
Food you're craving right now: I am obsessed with a good ham and cheese croissant

Book you think everyone should be reading right now: Grace: President Obama and Ten Days in the Battle for America

The show you're binging right now: The Marvelous Mrs. Maisel

Tea, coffee, or something else?: COFFEE!!

You're a parent to: Two fun kiddos – 6 and 4
How did you get to where you are today in content marketing?
In the past, I've mostly worked for small marketing teams at growth-stage companies, but recently I was at a startup called Sprig. Like many marketers, I have done a little bit everything. I've been the jack of all trades.
I started out on the demand-gen side, just nuts and bolts, working on everything from websites to CRO to paid. I have done that type of job at just about every company I've been at.
The longer I've been in marketing, the more I've realized that the thing I really like to do is create content and write, anything from landing pages to campaigns. So it's been a journey of coming to that realization.
What's your current job?
I actually just left my last role as head of marketing at Sprig in December. My family is moving abroad in July, and I'm going to be spending some time leaning into my family.
But right now, I'm working pretty closely with Emily Kramer, helping her run a lot of her content and all the things that she's got going on with her newsletter.
Who is Emily Kramer and what does she do?
Emily creates content for marketers about marketing—everything from growth to content to product marketing. She covers the gamut. Emily was an early-stage marketer, and she's since gone out on her own and runs a fund. Her Substack newsletter has about 20,000 subscribers, so you should definitely subscribe if you haven't already.

Emily also teaches a variety of different courses and advises marketers and founders. She was my advisor for a while, and I decided that since I'm not working full-time right now, it was a good opportunity for us to collaborate.
When you post on LinkedIn, it seems really intentional. What motivates you to share your expertise?
I think most good content marketing is figuring out what you know that your audience doesn't know yet. If you can figure that out—and how can you package it up and share it with your audience—you're golden.

So most of what I write is stuff I think other content marketers would find useful. As I learn things, I share. So if I have an experience where I'm, like, "Wow, it would've been really helpful if I knew that before," usually that's when I'll share because I want to be able to pay it forward.
That's part of the reason I love content marketing. As a professional, we're helping professionals be better at their jobs. And, before now, there weren't really a lot of ways to do that. You had to muscle through and experience it and make mistakes, and now there's ways for you to not have to make mistakes. You just read what other people did wrong, and then you can sort of do it. That's my main motivation.
What's the biggest challenge in content marketing?
Gaining the industry knowledge needed to establish credibility.
It's incredibly hard to be a B2B content marketer because you are basically faking it until you make it. You're trying to pretend that you know more than your customers about an area that they are an expert in and you are not. And that is a pretty hard job.

And I think that's the biggest challenge for content marketers because people don't want to read marketing, they want to read something that's helpful, and the most authentic content marketing is the most successful.'
How can content marketers create authentic, helpful content?
So it comes down to expertise, right? How do you get that industry expertise in a way that's consistent and scalable? I've always been very focused on developing relationships with subject matter experts, but just having the relationship doesn't really solve your problem because you need their time.
If you can take some of the time to do deep research yourself, I think that can help build expertise and help you figure out what type of content will actually solve your audience's problem. This research can include talking to customers and your Customer Success team to better understand what the customer or ICP is going through, and what they care about or struggle with.
What are your top content marketing goals?
The goals really depend on the company. What are the company goals? At every company that I've been at, the content marketing goals have been different because the company-level goals have been different.
The one thing I've always felt was important—and this is more as a marketer generally and not as a content marketer—is how do you really figure out the actual thing you're trying to make happen (the outcome), versus the output?
A lot of marketing teams are, like, "We want to create 10 blog posts, or We want to create 15 social media posts," or whatever it is. But I think the key is to try to get out of output and into outcomes as much as you can.

If your company really wants to increase traffic with a certain persona, what is the company goal that ladders to that? And then how can your specific KPIs as a content team support that?
Eventually, you will get to output, but how can you at least start with outcomes-based goals, like "We want to drive X amount of traffic to these 10 blog posts that would be useful for Y persona, which would then have this many conversions to signups or demos for that persona." That's generally how I think about it—how can you get really close to that core goal?
What are some of the challenges that come with creating content?
And for each example, could you explain what makes it challenging and how you think about or overcome this challenge?
Challenge 1: Creating content is really time-intensive
You want to be efficient, but you also want to create great content, and it can be a pretty big time investment. I think figuring out who is doing what and resourcing effectively can be a big challenge.
Most often, the content that falls flat is content that's been written by someone who's not as experienced or doesn't have as much knowledge—and you can see through that really quickly. And the reason that's happening is because the people that are experienced don't have the time it takes to do all of the content creation.
That dynamic is something you see in every company because you have experienced managers and subject matter experts and you have newer folks without as much industry context. There's that push and pull between who is experienced and who is learning and trying to optimize everyone's time.
Challenge 2: Everyone creates content differently
Content is particularly challenging because if you gave three different people a content prompt, you'd get three completely different outputs. It's always going to be different.
Let's say you're a content-marketing director and you're working with a manager or specialist. What they produced is how they perceived it in their head. You might have had a completely different idea because this is an inherently creative discipline. Melding something that everyone is comfortable with is a complex process.

If you're a content marketer, it's important to have empathy for yourself and be kind to yourself and understand that everyone approaches content differently.
Challenge 3: It's hard to prove that what you're doing works
You're influencing people's perceptions, but how do you prove that? Pulling anecdotes and the soft results that aren't in the numbers are often the most impactful because the numbers don't really tell you a lot. They tell you something, but they don't actually tell you what's happening.

You have to talk to people and you have to get those anecdotes to really see that. And I think if you can talk to a few people to understand what they think about your content, and you find out how you are impacting their thought process, then you can assume it's happening with everyone else.
As an experienced content marketer, how do you nurture newer, younger team members?
People like to feel productive. And to most people, being productive is putting pen to paper and creating something. And something that I told my team all the time: "You should not write a piece of content today. We're going to spend time at the whiteboard. We're going to spend time talking. You're going to read. You're going to listen to calls."

You almost need a full day each week where you don't produce anything and you just calibrate with both the market and with your manager. Because if you spend all day writing, you're never going to actually get the information that then makes your writing better. I had to deprogram my team because they didn't feel like they could take the break to actually do that stuff.
But it makes you 500 times more productive if you take the time because content marketing is taking all of that and then regurgitating it. And if you don't feed the machine, you're never going to be able to have anything good come out on the other end. I will die on that hill. I think it's so important, but it can really mess with your brain because you feel like you spent a day not doing anything and it makes you feel like you wasted your time.
How do you spend those days when you aren't producing content?
I wouldn't necessarily say do it all day. I think there are customer pillars:
Can you get on calls with customers and shadow them or talk to them? Can you spend a couple of hours collaborating with your manager on a piece and getting on the same page with what you're writing about?
Can you just spend time researching and thinking and then present very raw thoughts to your manager?
As a manager, how do you make your team members feel they can come to you to brainstorm ideas?
You have to tell them all the time, "Come with me!" I do think being in person really helps. We had one day in the office, and it was so amazing how that day was so much more productive. It's hard in a remote world. I think if you can try to find time to be in person, it definitely makes a big difference. You just have to be open and share.
Sign up for our newsletter to catch all of our interviews with content marketing leaders.