Updated October 2021: Knowing how to write a B2B case study is one of those crucial skills every B2B SaaS marketing team needs to nail.
Why? Because SaaS case studies are the #1 marketing tactic to increase sales, according to a 2022 survey we did of 121 SaaS marketers.
Your case studies are an opportunity for you to share your customers' success with your prospects, and as a result, demonstrate the value of your service. Think of it like writing a story, not a report—although it does need to be factual and should include numbers, it also needs a compelling narrative and lots of quotes.
A B2B SaaS case study is a tool you can use throughout your marketing mix. It's an extension of your brand and should be written in your brand's voice. And it's a chance to position your company as a trusted leader and the clear choice for your prospects' business.
Learn how to write a B2B case study
Here are 9 of our go-to tips to walk you through how to write a business case study that keeps readers engaged, leaves them informed and gets them interested in hearing more from you:
1. Find out the 9 essential components of a case study
Every case study needs a story arc that captures the reader's attention. It should begin with a compelling executive summary that illustrates how your reader will benefit from what they're about to learn.
Next, the piece should outline the challenges your customer faced that led them to seek out your SaaS solution (and dive into that process). Spend some time on the solution and how it enabled your customers to level up their business while positioning them as the hero in the story.
Wrap it up with a results section that shows off hard numbers, then close with a call to action to guide your reader where you want them to go next.
See examples for each of the 9 case study components you absolutely need to include.

2. Hit a home run with your title
Keep three elements in mind when writing your B2B SaaS case study headline. Include your customer's company name. This helps show readers that your case study is a real-life example of how your service helped someone.
Reference the product or service your customer used. This gives readers an idea of whether the case study is relevant to them.
Finally, if you have one, highlight a statistic that references the results your customer got from working with you.
See examples of compelling case study titles from leading SaaS companies.

3. Keep your executive summary short
The executive summary of your B2B SaaS case study should be short (a few sentences) but impactful, and should provide a clear understanding of your service.
First, introduce your customers and the challenges they were facing when they hired you. Next, explain what your company did to help.
To finish strong—don't skip this crucial step—outline a few results backed up with statistics that reinforce your main message.
Check out 4 examples of executive summaries in SaaS case studies.

4. Focus on your customer, not your company
Readers don't want to hear about how great you are—that's not how to write a business case study. They expect a B2B SaaS case study to provide insight into your customer's opinion of your service.
Include details like what industry your customer is in, the size of their company and the name of the person you interviewed. Incorporate direct quotes to tell the story from your customer's point of view. Explain why they chose your solution and how it impacted their business, but keep the focus on them and their success.
Learn how to make your customer the hero of your case study—and see examples.

5. Use quotes to add personality and credibility
There's a time to paraphrase when you're writing, but sometimes, no one can sing your praises better than your customer. If you want to master how to write a B2B case study that's engaging and honest, using quotes is a go-to tactic.
Readers want to hear from your customers whether they recommend your service, and why. The quotes you highlight should be specific and resonant, with detail that brings them to life. Feature testimonials as pull quotes in your design, and include a headshot of your customer to make it personal—and trustworthy.
Get tips on how to choose testimonials for your case study—and what not to do.

6. Don't let a lack of metrics stop you in your tracks
Metrics are a surefire way to measure success in a B2B SaaS case study. Hard numbers are objective, reliable and convincing. But, you may not always have metrics to tell your story. We'll walk you through how to write a SaaS case study without them.
First, lead with your best quote. Social proof can be just as powerful as numbers. Describe a clear before and after the experience—for example, time or money saved. Have your customers explain what your service has meant to their business. List a few benefits (infographics come in handy here).
Check out an example from a case study with no metrics.

7. Guide your reader with a call to action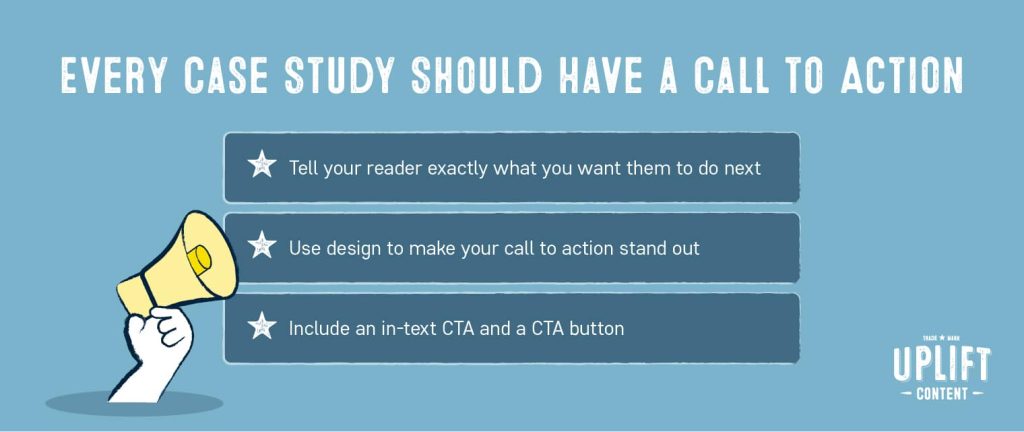 Your reader has stuck with you until the end of your case study. Don't leave them hanging—guide them where you want them to go next with a call to action. This should be a specific statement that speaks directly to your target audience.
Use design to make your call to action stand out. It should be obvious and clear what you want your reader to do. Tip: you can have more than one call to action in your B2B SaaS case study, and you can intersperse them throughout.
See 8 case study CTA examples from other B2B SaaS companies.
8. Find inspiration for your content from other case study examples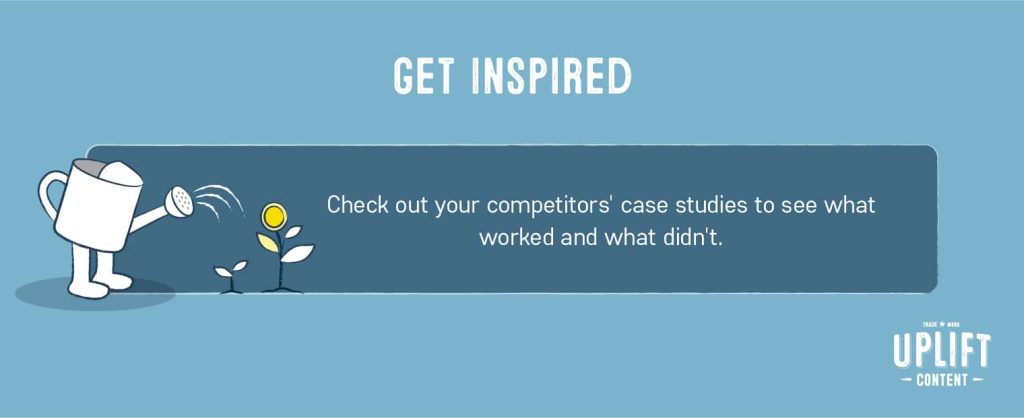 When you're looking to sharpen your company's B2B SaaS case studies, reviewing your competitors' content is an excellent way to gather inspiration.
Critique their case studies for what worked well and what could be improved, such as titles, imagery and use of testimonials and statistics. We've done some of the legwork and reviewed three case studies from GitLab, Sendoso, and Front so you can take notes on the hits and misses.
See what worked and what didn't for 3 case studies by GitLab, Sendoso and Front.

9. Find out 8 ways to get more eyeballs on your case studies
You already know why the B2B SaaS case study is a powerful marketing tool. Now that you know how to write a SaaS case study, you can likely imagine it's a time consuming effort.
To leverage your case studies to their full potential, create a section on your website for them and promote them from your home page as well as from relevant landing pages for your services.
Create case studies in various formats including video, and promote them on social media as well as in your e-newsletter. Get your case studies into your sales team's hands, and use them at any presentations or conference talks you give.
See the 8 ways to squeeze the most value from your case studies.

Now that you know how to write a B2B case study, what's next?
With these tips on how to write a business case study, you've got a great overview of the elements you need to pay attention to when writing a SaaS case study. Now you'll want to dive a bit deeper into each of these tips to round out your knowledge and learn actionable steps you can start taking towards better case studies today.

First up is to dive into our post on how to format your B2B SaaS case study so it reads like a natural story narrative. This will help you keep your prospect's attention and allow them to imagine themselves as the central character—your next customer!
Need a hand with your B2B SaaS case studies?
With our case study writing service, you can:
drive more leads and sales with case studies that resonate
grab back more time to work on other high-value tasks like strategy and planning
impress your bosses, colleagues and the sales team with the excellent results you're getting from the content you're responsible for creating
Check out our case study writing service for details on how we can help.