Updated September 2023: Learning how to write a white paper is a crucial skill for SaaS marketers. Why? Because a white paper is one of the best ways to demonstrate your expertise while providing useful information to prospective clients. It's also a great marketing tool for generating leads and nurturing them into customers.
That's why almost two-thirds of B2B marketers used white papers last year in their marketing mix. White papers also ranked fourth in terms of content that gave content marketers the best results, after in-person events, virtual events and webinars, and research reports.
Because white papers are so important for lead generation, it's important to understand how to write a white paper that gets results. In this post, we cover every step of the white paper writing process—from identifying your audience to writing and distributing the white paper for maximum leads.
What is a white paper?
A white paper is a lead magnet that covers a particular topic in depth. The goal is to create a content asset that educates your target audience and helps them understand and solve an issue that they're having. The content needs to be valuable enough that your target audience is willing to trade you their email address for the information.
Some people are confused about what a white paper is. If you look up "white paper definition," here's the general flavor of what you'll see:
Hubspot says, "A white paper is a persuasive, authoritative, in-depth report on a specific topic that presents a problem and provides a solution." CoSchedule adds to the white paper definition with, "It's a document that helps you establish topical authority and share original insights, data and expertise."
If lead generation is a priority for your SaaS company, then it's likely that white papers are already part of your content strategy. They go beyond surface-level content, offering valuable solutions to specific industry challenges backed by independent research. And because white papers tend to have a higher perceived value than other content assets, they can be powerful lead magnets, incentivizing potential customers to share their contact details.
When learning how to write a white paper that drives leads, you first need to be clear on your goals. And while the goal of white papers is often to nudge your target audience towards your product, they're NOT a sales pitch. Instead, they focus on solving the reader's problem by providing clear and useful information, unique insights and perspectives, and measurable data. 
Ultimately, a good white paper should:
Identify and validate the problem that needs to be solved
Impartially highlight ways to solve the problem
Pitch your SaaS product as a way to solve the problem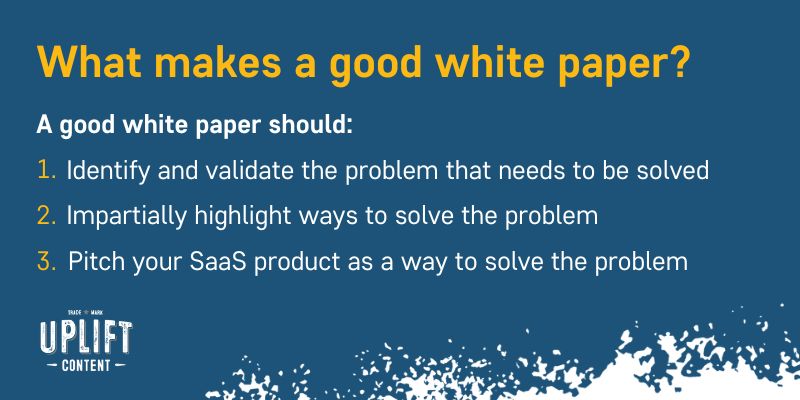 White paper vs. ebook: Which one should you choose?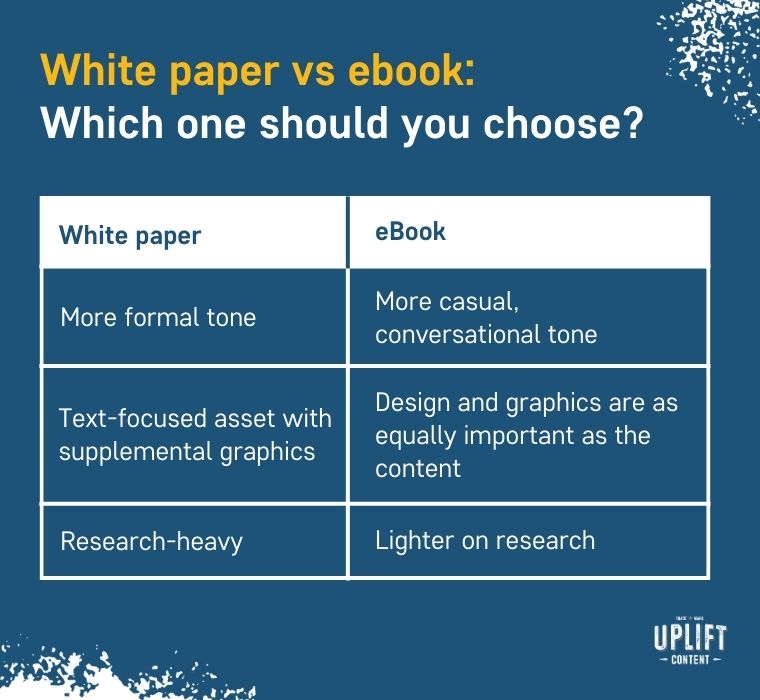 Before you figure out how to write a white paper that drives sales, do you know if a white paper is the right choice? Maybe you're debating whether you should write a white paper vs ebook. White papers are research-heavy reports that position your company as a thought leader in the industry. They provide new or unique information on a specific problem and solution. 
White papers also tend to dive deep into a narrowly defined topic and use evidence-based research to support the ideas and arguments. Most white papers are led by text and supplemented by diagrams or graphs for greater comprehension.
eBooks also have the goal of educating their audience, except that they're often written in a more casual tone and include more design elements and white space. This delivers more digestible chunks of content for a lighter read.
eBooks are created with both eye-catching graphics and easy-to-read text so prospects can read and understand them easily.
So which is right for you?
Whether you choose a white paper or an ebook depends on your specific goals. eBooks may be better for providing general "how-to" information or getting people excited about the topic with a brief intro, while white papers are better suited for providing technical and detailed analysis on a specific topic.
Importance of white papers for SaaS
Rarely are B2B buyers ready to purchase after reading a single blog post or watching a product explainer video. This is especially true for enterprise clients. They need to build trust with your brand and understand how your solution will help solve their particular pain point.
White papers rank among the top content formats for B2B buyers, especially in the early and middle stages of the funnel, according to the 2023 Demand Gen Report.
When researching a solution, buyers gravitate to white papers because they want to validate the legitimacy of a solution through use cases and analytical data. White papers help develop thought leadership and move prospects through the sales funnel. 
White papers are also highly shareable. Content packed with quick-hitting facts and shareable stats are the number one driver for sharing content. When passed along to the C-suite, white papers can help influence stakeholders on the purchasing team.
8 types of white papers
In SaaS marketing, 8 types of white papers exist. Some serve as how-to guides providing step-by-step instructions, while others function as industry reports that deliver valuable insights and in-depth analysis. When learning how to write a white paper that drives leads, choose which type of white paper to use based on your goals and objectives for the asset.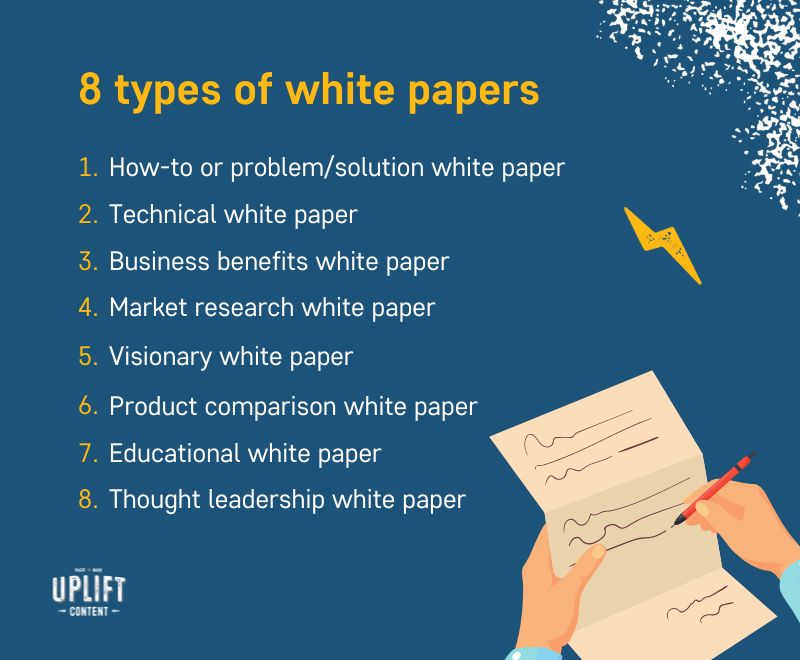 1. How-to or problem/solution white paper
How-to or problem/solution white papers call out a nagging business problem and provide a new and improved solution. Use this type of white paper to attract and educate prospects, usually in the consideration stage of the buyer's journey. Your audience knows they have a problem and is researching solutions to overcome it.
2. Technical white paper
Technical white papers explain the technical aspects of a product and how it solves a problem. They're tailored to tech-savvy audiences and feature elements such as technical specifications, flowcharts, tables and diagrams.
3. Business benefits white paper
Business benefits white papers focus on showcasing the specific advantages of a product. Unlike technical white papers that explore the working details of a solution, business benefits white papers focus on the big-picture business outcomes. They're geared toward decision-makers and non-technical audiences. Sometimes, they provide a cost-benefit analysis and potential ROI to justify the value of the solution.
4. Market research white paper
You may have seen white papers titled "The State of…," which offer big-picture insights into specific industries. For instance, an IT security company might create a market research paper called "The State of Cybersecurity: Threats, Challenges and Best Practices." These papers delve deep into the industry's latest trends, showcase what's effective and address current challenges.
5. Visionary white paper
Unlike market research white papers which focus on the current state of an industry, visionary white papers project out into the future. Visionary white papers are typically titled "The Future of…" These white papers are best for top-of-funnel prospects that want to learn more about the industry, or high-level professionals who want to stay up-to-date on predictions and trends.
6. Product comparison white paper
Product comparison white papers compare multiple products in a specific industry. Marketers use them strategically for the Decision Stage of the buyer's journey when the prospects know they need a solution, but need help deciding between a few vendors.
7. Educational white paper
Educational white papers are designed to teach your audience something new. Since these white papers are grounded in factual evidence, you should dig into industry reports when doing your research.
8. Thought leadership white paper
Thought leadership white papers present original viewpoints that often go against conventional wisdom. The goal is to demonstrate expertise, establish credibility and gain influence, particularly among decision-makers or executives. You can put a spin on current issues or take a new approach to address your audience's pain points.
How to structure a white paper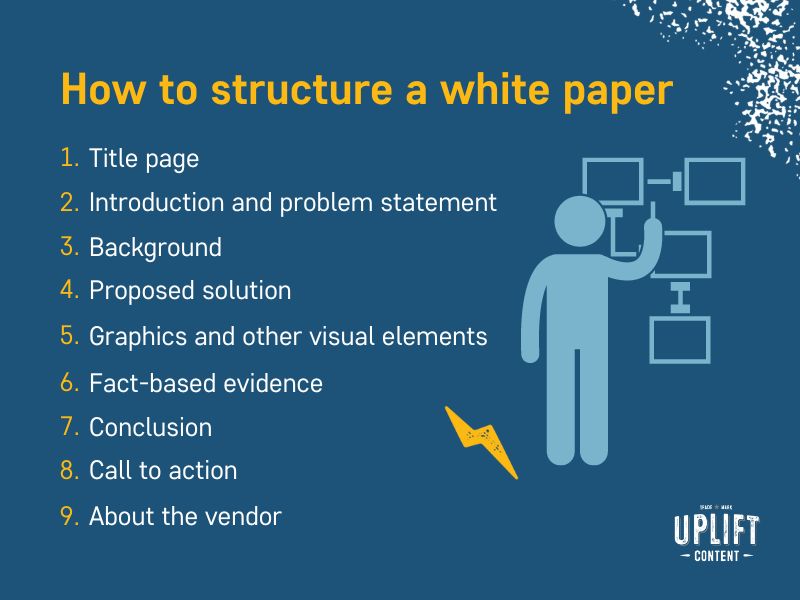 When crafting a white paper, it's helpful to adhere to a white paper structure that sets the stage for the proposed solution. Here are the 9 elements you'll want to include when formatting a white paper:
1. Title page
Create an attention-grabbing title that highlights the problem you'll solve or the topic covered in the white paper. Make it intriguing enough to entice readers to share their email addresses.
2. Introduction and problem statement
Explain the purpose of your white paper and why your target audience should read it. The introduction describes the business problem your technology solves from the perspective of your target audience. It should be interesting enough to hook readers right away and keep them reading.
3. Background
Here's where you can provide in-depth background information on the specific problem you're discussing. This section is usually data and research-heavy. Dig into why the problem is a growing concern in the industry and what detrimental effects it may be having on the readers' businesses.
4. Proposed solution
This is the meat of your white paper. This section should propose a solution to the stated problem, typically a course of action, product or service. For SaaS companies, that means describing your technology and how it solves your audience's pain point. It may also compare your solution with competing technologies.
5. Graphics and other visual elements
Nobody enjoys reading a wall of text. White papers are much more engaging when you add visual elements like charts, tables and infographics. People retain information with visuals better than text, so using graphics is a great way to summarize your points in a digestible manner.
6. Fact-based evidence
Facts help to support your argument and reinforce why you believe something is true. Statistics, metrics and quotes can add context to your points, highlighting the importance of a problem or the effectiveness of your solution. Sprinkle in facts to help bolster your position.
7. Conclusion
Wrap up with the most important points that you want your readers to remember. It should summarize the white paper's findings and recommendations. Also, emphasize the benefits of your solutions and the risks to readers who don't take action on resolving the issue. Conclude with the most important points that you want your readers to remember.
8. Call to action
Add a call to action (CTA) to encourage readers to take the next step, whether that be booking a demo or signing up for a free trial. Frame it as a way to start solving their problems. Even the most fact-based research white paper should include some form of CTA to help readers take the next step.
9. About the vendor
The About section is where you can openly sell your solution. Clearly state what your technology does, who it helps and how. You can add another CTA at the end of this section.

While there's no rigid white paper format you need to follow, these guidelines will provide a good starting point.
How to write a white paper for SaaS in 10 steps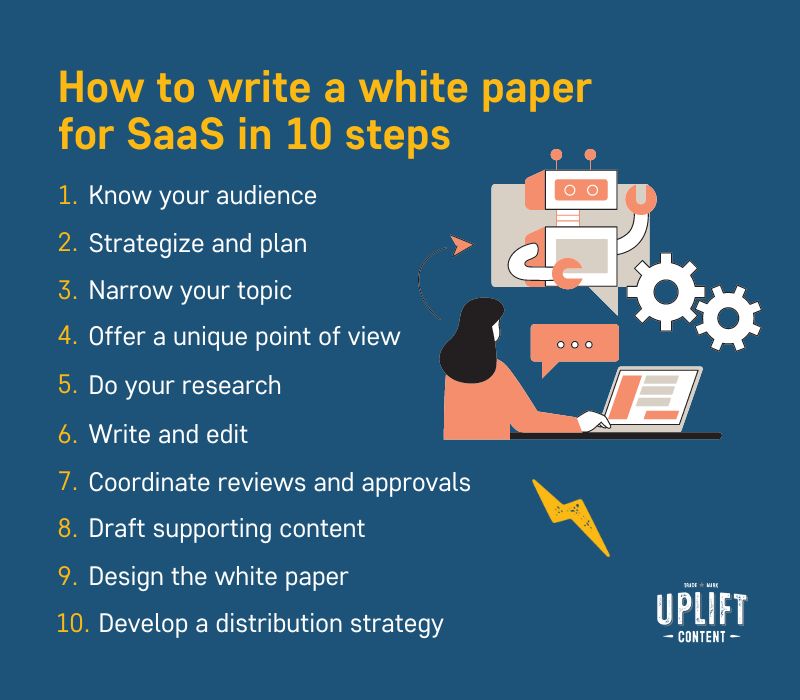 Now that you know the white paper structure to aim for, let's get into the step-by-step process of how to create a white paper for your SaaS company.
1. Know your audience
When thinking about how to write a white paper, the most important step is making sure you know who you're writing for.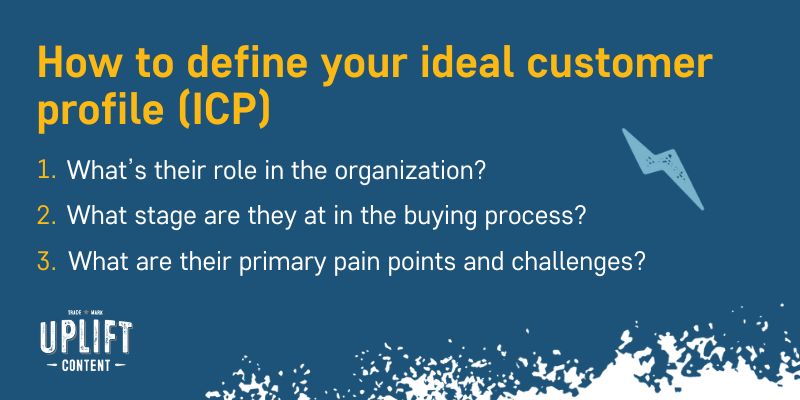 You can define your ideal customer profile (ICP) by asking a few questions:
What's their role in the organization? Decision-makers wear multiple hats. Know their job title and company size and tailor your white paper content accordingly.


What stage are they at in the buying process? Prospects in the Awareness Stage know they have a problem but don't yet have a solution. Prospects in the Consideration Stage are looking at different solutions. Lastly, prospects in the Decision Stage are ready to buy and looking for reasons to choose your product.


What are their primary pain points and challenges? Really knowing your prospects' pain points and challenges enables you to write a white paper that is valuable to them—and one that they're willing to give you their email address for.
2. Strategize and plan
Figuring out how to write a white paper is all about landing on a great topic. Sit down and brainstorm ideas for your white paper. What is it that your ideal customers want to know? What will help them solve a burning problem?
If you're stuck for topic ideas, you can turn to a ready source—anyone in your company who speaks directly to customers or prospects. For you, that may be any employee from: 
Sales
Marketing
Partnerships
Customer service
Technical support
Your sales department is having targeted conversations with prospects every day. Common questions and pain points come up on these calls every day.
And the conversations don't have to be a one-way street, either. Run some white paper topics by a focus group panel or your customer advisory board and see which topics intrigue them the most.
3. Narrow your topic
Prospective clients generally prefer topics that are more specific. Topics that are too broad dilute the overall effectiveness of the information. And don't try to cram everything into one white paper. Instead, focus on the most important and relevant points.
If you know exactly who you're writing the white paper for and how it fits into your content strategy, it should be easy to narrow your topic. If you want to generate leads in a specific vertical, you may focus on the topic of a new approach to a common industry challenge. However, if you want to support a new product launch, you may decide to discuss the technologies underlying your new solution.
4. Offer a unique point of view
You want to avoid rehashing the same tired information as everyone else. Nobody gets excited about a white paper that covers the same topic as your competitors. This might seem like a no-brainer, but when thinking about how to write a white paper, you need to provide a fresh perspective.
With so much content vying for your prospects' attention, many companies struggle to stand out. Taking a stance that goes against conventional wisdom can help you win raving fans. Specifically, taking a stance that aligns with the buyer's values can help to establish credibility and trust.
Even SaaS companies can create a brand identity around their values and causes. For example, Square and Stripe turned the payments industry upside down by creating online payment software tailored towards small businesses. Previously, small businesses relied on traditional merchant accounts that involved high fees, lengthy contracts and complex setups.
Consider what your brand stands for and how it's different from competitors. For example, how do you solve a problem differently than anybody else?
Think about how to demonstrate your expertise in a way that encourages conversation. Often this unique point of view can come from the subject matter experts you chose to interview. Be sure to create a fully fleshed-out content brief so everyone is on the same page.
5. Do your research
The best white papers come from extensive research. If you want to establish your company as an authority and gain the trust of your target audience, you'll want to base the claims you share on credible sources.
First, determine where you might find the information you'll need for the white paper. That will determine the research methods you'll use. If you're doing interviews, schedule them at least a day apart so you have time to prepare, as well as digest the information afterward.
You likely have an in-house SME that you can interview, such as a product developer, data analyst or CEO. However, sometimes you may want to find external industry experts or advisors to contribute their knowledge.
When performing secondary research, read industry reports and other white papers on your topic. See what influencers have written about on the topic. Reading will help you discover content gaps and unique approaches your white paper can take. Keep all research material in a single folder.
Be sure to find credible sources for your white paper. Using industry reports, journal articles and publications are great sources.
You can also perform surveys with your customers, which allow you to collect opinions and data on specific topics related to your industry. For example, a project management company can collect specific data from its B2B clients to prove its effectiveness and success rates of completion.
Once you've completed your research, be sure to create an outline. Don't skip this step—it will help you stay more focused and save you time in the long run. Allow your manager and an SME to check that your outline is on track to meeting everyone's expectations for the white paper.
6. Write and edit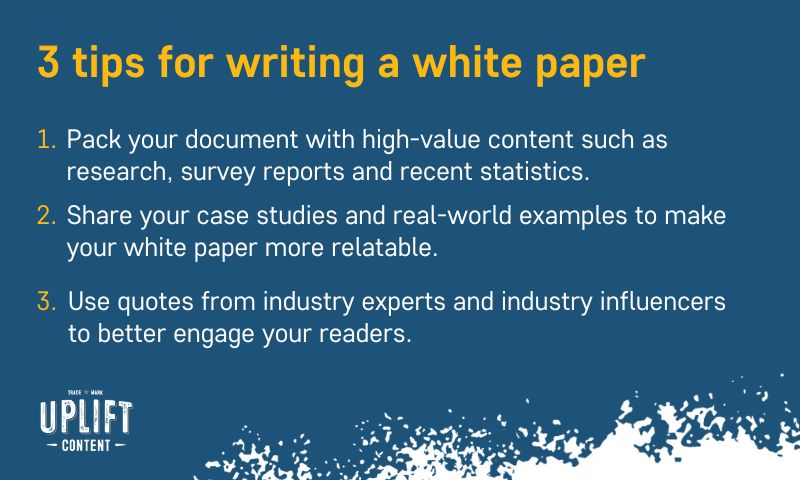 Once your colleagues approve the outline, you're ready to flesh out your SaaS white paper. Here are 3 quick tips to consider:
Valuable content: Pack your document with high-value content such as research, survey reports and recent statistics. 
Examples: Share your case studies and real-world examples to make your white paper more relatable. 
Quotes: Use quotes from industry experts and industry influencers to better engage your readers. 
Once you've completed the first draft, you should step away from your computer for at least 24 hours. Fresh eyes can help you rethink, rewrite and polish your work. Do this a few times until you've nailed it.
Edit the white paper for logic, key messages, grammar and style. Often, you'll need to eliminate buzzwords and hype, improve readability with simpler language or make the text more crisp and compelling. Make every word count—avoid padding it with flabby writing or lazy thinking.
Even the best writers need editors. Get a co-worker or editor to provide a fresh pair of eyes on your work. This can help you catch mistakes you didn't see or provide a different perspective to strengthen your writing.
7. Coordinate reviews and approvals
Reviews and approvals always take longer than you might think, so make sure you set aside enough time in the project timeline. Before the project even starts, you should determine exactly who will be reviewing and approving the SaaS white paper.
Review by committee is tedious and tough. Conflicting opinions and personal preferences can dilute the original message and cause the review process to go on for far longer than it should. Aim for no more than 3 stakeholders to be involved in the review process. Set firm deadlines for review and approval cycles.
You'll have a smoother content approval process if you set up the following in advance of starting the white paper:
Brand guidelines: Brand guidelines ensure your white paper aligns with your brand identity, maintaining consistency across all marketing collateral. This is especially important to pass along to a SaaS content marketing agency if you decide to outsource the white paper writing.


Content brief: Your content brief should state the content goals, audience and a rough outline for the white paper. Be sure to create a fully fleshed-out content brief so everyone is on the same page.


Editorial style guide: This is one of the most important documents during the writing and editing phase. It includes standards for tone, grammar, images and vocabulary.


Workflow: Use a project management tool to easily assign tasks, set deadlines and move the white paper through each stage to completion. The tool allows all team members to see where the project is at and ensures that the white paper gets completed on time.
Once your white paper gets final approval, you're ready for publishing.
8. Draft supporting content
Opt-in pages are the entry point to gated content like white papers. However, so much can go wrong with the opt-in page that you may never collect your prospect's email address. If you want to increase downloads, make sure you include 6 crucial elements in your opt-in page.
When designing your opt-in page, make sure to place the unique value proposition, form and call to action above the fold. This helps readers take the desired action without having to scroll.
Hook readers by driving curiosity with a compelling headline that explains the main benefit of downloading the white paper. In the body of the opt-in page, you can add short bullet points to tell them what they'll learn in the white paper.
The thank you email and thank you page should include a link to the downloadable white paper, along with the next step you'd like prospects to take, such as booking a demo call or signing up for a free trial.
9. Design the white paper
Appearances matter. Get your designer to create a memorable white paper design that is professional and easy to read—and plays into your branding.
If you've got some interesting data, don't bury it in dense paragraphs. Instead, present it using visually engaging charts, graphs and infographics to captivate your audience and make the information more digestible.
When designing the graphics, you'll need to know what types of graphics will best highlight your research. Start by defining your visualization goal for each graphic:
Inform: Convey an important data point or message that doesn't require much context to understand
Compare: Show differences or similarities
Show change: Visualize trends over time
Organize: Categorize data to show trends
Reveal relationships: Show correlations among variables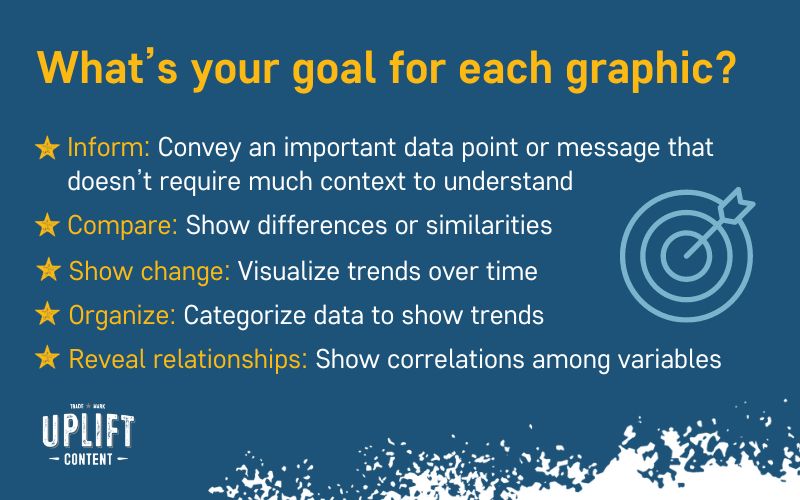 The types of visuals you use depends on the purpose. For example, horizontal bar charts are great for charting survey results. Or you can use infographics as a way to tell a story using facts and statistics. Even adding icons with corresponding text is a great way to make the information easier to read.
If you don't know how to design a white paper, we recommend reviewing the white paper examples below for inspiration.
10. Develop a distribution strategy
Now you know how to prepare a white paper, but do you know how to promote it? A SaaS white paper isn't valuable unless the right people see it, download it and read it. Think about how you will use owned channels (like your website, social media and email) and external channels (like conferences, advertising and public relations) to get your white paper in front of people.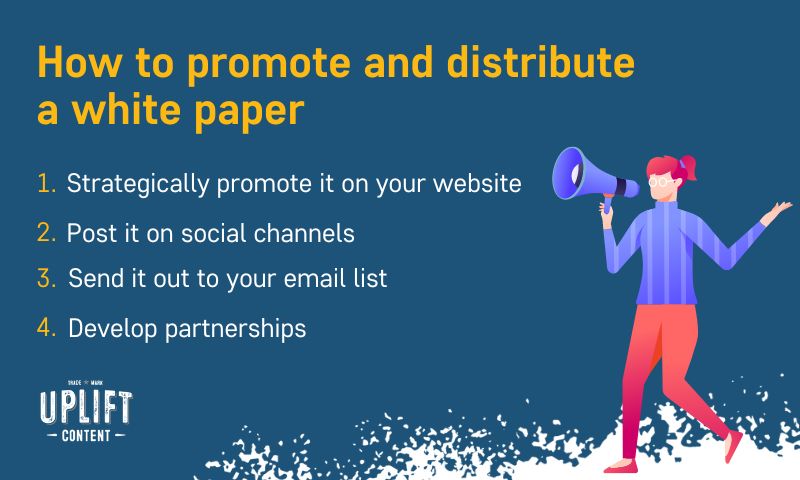 Here are some tips to promote and distribute a white paper:
Strategically promote your white paper on your website: You should place the white paper in spots on your website where it makes sense as part of the buyer's journey. Ask yourself when your target audience would be ready for this information. Consider adding it to the Resource section of your website or as a CTA at the end of related blog posts.


Post it on social channels: Your audience is probably scattered across various social media channels. Create a series of posts focused on key ideas from your white paper. Remember, white papers can be repurposed into different formats—blogs, tweets, social posts, slide decks and even sales material.


Send it out to your email list: Email marketing has stood the test of time and shows no signs of slowing down. Send a teaser email to your mailing list to build anticipation of the white paper before it's published. Once published, you can include it in your newsletter or email nurture sequences. You can even have customer-facing team members include it in their email signatures to get it in front of your target audience.


Develop partnerships: Leverage relationships with content marketers and journalists in your network to include links to your paper from their content. Perhaps, you've got original research that would fit perfectly to their content. Send them an email to see if they'll include a link to your research into their blog content or an article.
Never forget to promote and distribute a white paper. Content that gets lost in the shuffle results in lost opportunities and time that could've been spent elsewhere.
6 mistakes you should avoid when writing a white paper
Many SaaS companies fall victim to common mistakes when writing a white paper, which can derail a stellar piece of content and turn off your readers. The good news is you can write valuable white papers by avoiding these costly mistakes.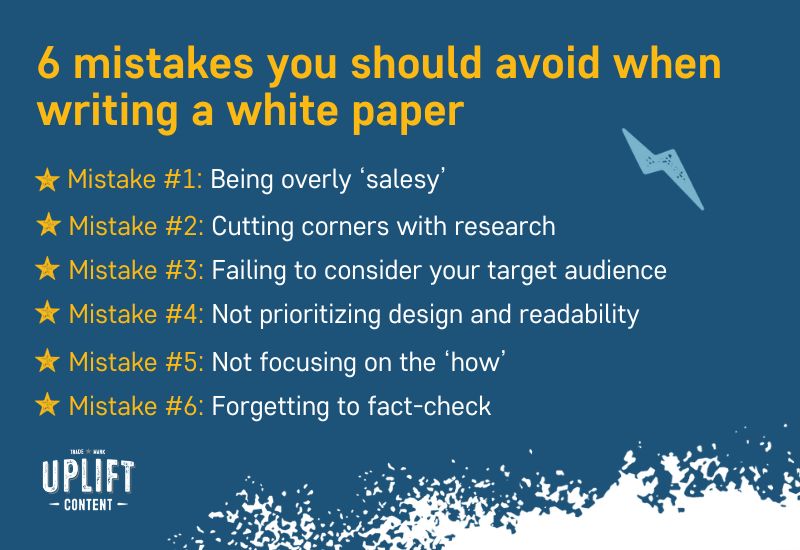 Mistake #1: Being overly 'salesy'
White papers use facts and logic-based evidence to prove a point. If the white paper is too salesy, readers will tune out once they realize it's a marketing pitch. They'll question the objectivity and credibility of the content, leading to a loss of trust. Instead, present a vendor-agnostic view of the problem and solution, and support claims with factual evidence.
Mistake #2: Cutting corners with research
The worst thing to do when writing a white paper is to slap in a few stats you find on Google and call it a day. A bunch of Google searches aren't going to bring you any new insights on the topic. Not only that, repurposed statistics are blatantly obvious and can instantly undermine your credibility.
Use a combination of primary and secondary research instead. Industry reports are trustworthy sources that add credibility. Primary research brings life to your white paper. Consider leveraging interviews, surveys and focus groups to gather unique and original data points.
Mistake #3: Failing to consider your target audience
White papers are meant to address specific industry challenges, provide solutions and offer valuable insights. If you don't understand your target audience, you may miss the mark on addressing their needs.
You can make your white paper more relevant by keeping your ideal customer profile (ICP) front and center when choosing a topic, figuring out what subtopics to cover, doing your research and writing the white paper.
Mistake #4: Not prioritizing design and readability
Most people won't read your entire white paper word for word. The key is to make your white paper scannable so that readers can still get the gist of your complex ideas without reading the entire document.
Visual elements can help you tell a story with only a few words. Line graphs are great for showing comparisons, trends or patterns, while infographics help to summarize key ideas.
Also, use headings, different size fonts and graphics to break up your white paper. This makes your document more easily digestible. With plenty of white paper templates out there, there's no reason not to have a visually appealing white paper design.
Mistake #5: Not focusing on the 'how'
Placing too much emphasis on research findings is another mistake. Many white papers will stay in the realm of theory without covering how to use those findings on a practical level.
For example, there are endless white papers discussing the importance of employee engagement. But very few give concrete strategies and examples in specific verticals to help the reader solve their problem.
Mistake #6: Forgetting to fact-check
For your white paper to have its intended effect, it's important to establish your content as a credible source of information. Spreading false or misleading information will cause you to lose trust and could have legal ramifications.
You can verify statistics and quotes by ensuring you cite the original sources and that they're accurately represented. Also, check that they're cited from reputable sources and not just a random blog post from the internet.
White paper examples
The best way to write exceptional white papers is to learn from successful ones. Pay close attention to their structure, design and how they infuse storytelling to persuasively argue their points.
Here are 5 white paper examples to learn from: 
1. Databricks – Getting started with unstructured data

This white paper from Databricks gives B2B tech professionals plenty of real-world examples of how a structured data strategy can be used in businesses.
Many tech solutions aren't so "obvious" to new users. But by giving concrete examples of how customers can use your solution in a non-salesly way, you can nudge readers down the sales funnel toward a purchase.
2. Snowflake – Design patterns for building multi-tenant applications

This Snowflake white paper compares 3 ways to organize data for customers using one of the Snowflake products.
The white paper provides clear recommendations to solve a specific problem. Giving clear recommendations can help tech buyers in the buying process because they often highlight the functionalities or features most relevant to the buyer's use case.
The white paper also uses workflows and charts to visually demonstrate the solution.
3. ActivTrack – Manager's guide to productivity measurement

This ActivTrack white paper takes an educational approach by focusing entirely on giving value and only subtly promoting its product at the end. 
The white paper includes plenty of visual elements with minimal text to summarize the key points of the section. This allows readers to quickly scan the document and get the gist of what is said.
4. AeroSpike – Streamlining data architectures for IoT analytics
AeroSpike sets the stage in this white paper by describing the importance of scalable and reliable data structures. It uses practical examples, such as connected healthcare for diabetes management and smart city initiatives, to showcase real-world applications of IoT and data architectures.
At the end of the white paper, AeroSpike presents its product and its benefits. It talks about how AeroSpike is a high-performance database that can handle the issues described in the paper.
5. DecisionLink – The power of one: your guide to selling metrics that matter

The DecisionLink white paper combines abstract concepts with practical advice.
It starts with a clear purpose—to help sales teams understand how to incorporate financial metrics in the sales process. It then highlights a feature of their product, a calculator, to help teams estimate the financial benefits of a solution.
The white paper even includes a workbook with specific questions to help the sales team come up with actionable metrics to use in sales conversions. Incorporating practical tools like a workbook can help to turn conceptual ideas into actionable insights.
Frequently asked questions (FAQs)
Should you gate your white paper?
Gating your white paper is great if you want leads, but there are some drawbacks as well. If your target audience has to provide their email address to access your white paper, fewer people will see it since not everyone is willing to give up their email addresses for a piece of content.
If you don't gate your white paper, you're making the white paper barrier-free so more people are likely to read it. And by creating the white paper in HTML, rather than as a PDF, you can optimize the white paper for search and get traffic organically.
When making the decision of whether or not to gate your white paper, it's important to get really clear on your primary goal for the content asset. Are you trying to generate leads? Or are you trying to get the information in front of as many prospects as possible and grow your brand awareness?


How long should a white paper be?
White papers are often 2,500 words or longer. They aim to be an in-depth exploration of a topic, providing comprehensive information and analysis to readers. However, your focus should be on creating a white paper that delivers on its promise and not the word count. 

How many pages is a white paper?
White papers should at least be 6 pages long, but on average are between 10 to 12 pages. Gone are the days of lengthy 30- to 50-page documents. Today's time-pressed tech buyers and executives want shorter white pages. This is just enough content to cover a specific topic in-depth without losing readers' interest.

What does it mean to write a white paper?
Writing a white paper means crafting an authoritative document that uses logic and facts to promote a recommended solution to a problem. Technology buyers want to educate themselves on their problems and potential solutions before they can evaluate or justify a purchasing decision. Businesses offer white papers as downloadable content on their websites to generate leads.

Can anyone write a white paper?
No, not anyone can write a white paper. To write a white paper, you need to be a strong writer and have experience in a particular topic or consult with subject matter experts. White papers are perceived as highly authoritative documents supported by research and data. As a writer, you need to understand the target audience's pain points and possess the expertise to present information convincingly.

How many hours does it take to write a white paper?
Generally, it takes 20 to 40 hours, spaced out over 6 to 8 weeks, to complete a white paper. Writing a white paper is an extensive process that requires conducting thorough research, interviewing SMEs, writing the draft and collaborating with other stakeholders for input. Hiring experienced SaaS content writers can expedite the process since they can produce better quality work in less time, minimizing the need for extensive revisions.
What's next?
You've done the hard work of writing a white paper that will resonate with your audience and add value. Now you're ready to make sure you cite your sources properly.
This is the sixth post in a 9-part series called the Ultimate Guide to Writing a White Paper for B2B SaaS.
Need a hand with your SaaS white paper?
If you're anything like our other SaaS customers, you're probably slammed. We're here to help. Check out our white paper writing service.