Updated July 2023: A lead magnet landing page helps you gain leads by offering a free resource like an ebook, white paper, guide or checklist in exchange for the lead's email address. People will typically arrive on your landing page by clicking on an ad or other promotional content.
Importance of a high-converting lead magnet landing page
The best lead magnet landing pages help to drive brand awareness, promote your SaaS company and attract more customers by giving visitors a branded resource they can learn from or use.
A well-crafted landing page helps to:
convert visitors to leads (and eventually, sales)
create a targeted email marketing list
build brand awareness and rapport
3 lead magnet landing page best practices
1. Capture attention
The best lead magnet landing pages capture a visitor's attention long enough that they stay on your page to learn about your offer.
2. Valuable resource
The resource on your landing page must be so valuable that your visitor is willing to hand over their email address for it.
3. Compelling
The copy on your landing page needs to be enticing enough that your visitors will complete the form to download your free resource.
4 steps to creating a compelling lead magnet landing page
To create the best lead magnet landing pages, you need a clear and compelling headline, a strong offer and a strategic opt-in form with an irresistibly clickable button.
This 4-part combo locks your visitors into your email list. It may sound like a tall order, but it's possible to create a compelling landing page in these 4 steps:
Step #1: Check that your landing page has a clear headline
It's not enough to get eyeballs on your landing page. Potential customers should engage with your brand and take action by signing up for your email list to download your content. The headline on your landing page should concisely answer the question: what's in it for me?
Attribution's Lead Magnet landing page example has a clear headline
In this lead magnet landing page example, Attribution nails its headline by clearly communicating to readers that they'll learn how to generate more revenue with a smaller spend by downloading the CMO's Playbook.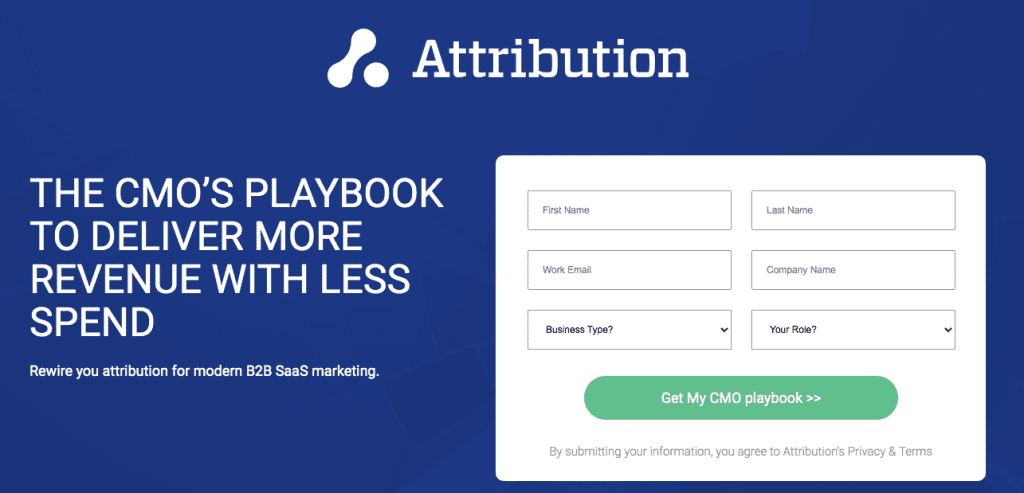 Diligent's landing page example has a vague headline
In contrast, the lead magnet landing page example for Diligent Insights' toolkit uses a vague headline, "Current Awareness Toolkit," that doesn't clearly indicate what the resource is about. The benefits the visitor will get from downloading the content also aren't apparent from this headline, and are only revealed much further down the page.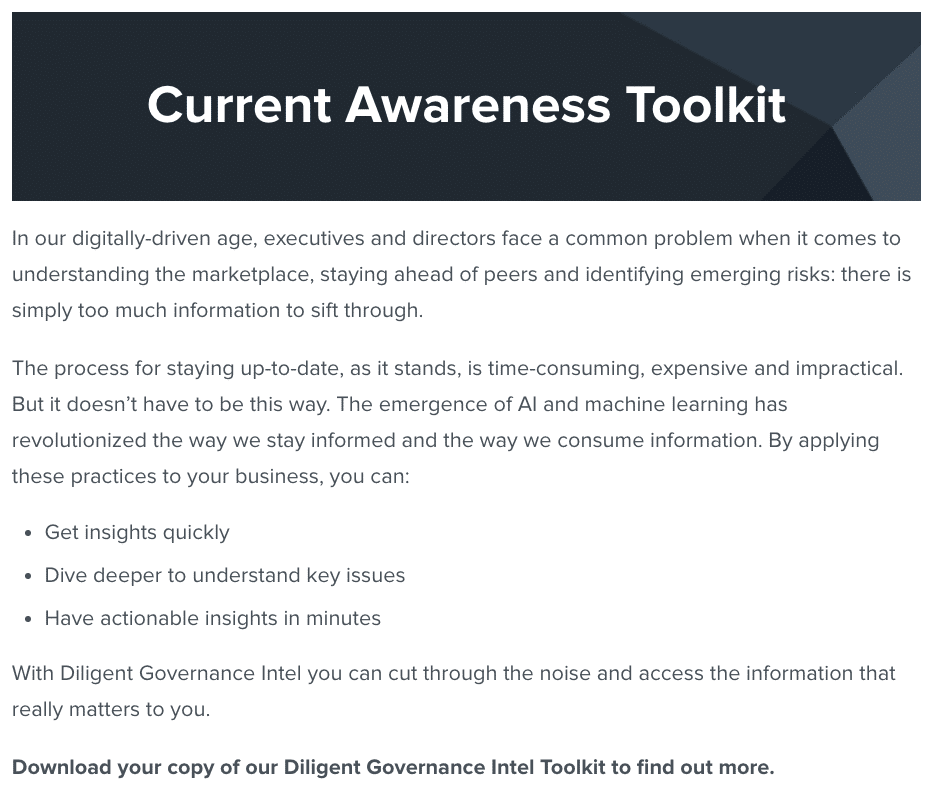 Check the effectiveness of your lead magnet headline
To ensure the headline of your landing page is on point, check out Coschedule's free headline analyzer. This tool will help you optimize your headline for traffic, sharing and search.
You can make your landing page headline even more powerful by adding a subtitle that includes a statistic, testimonial or some form of social proof to give prestige to your content.
Step #2: Ensure your lead magnet landing page describes the value of your offer
Your B2B SaaS landing page needs to be focused, and must persuade your visitor to take action by downloading your lead magnet. It's crucial that your landing page makes a compelling case for the value of the resource you're offering.
The best lead magnet landing pages identify a relatable problem that your target audience is experiencing, and explain how your lead magnet can help solve that problem, giving a preview of the actionable takeaways that the content includes.
Outreach's Lead Magnet landing page Example describes the value of the guide
Outreach does this flawlessly on its landing page with body content that clearly and concisely explains how its lead magnet, the Outreach Sales Productivity Index, helps sales leaders gain clarity around their processes, performance and goals.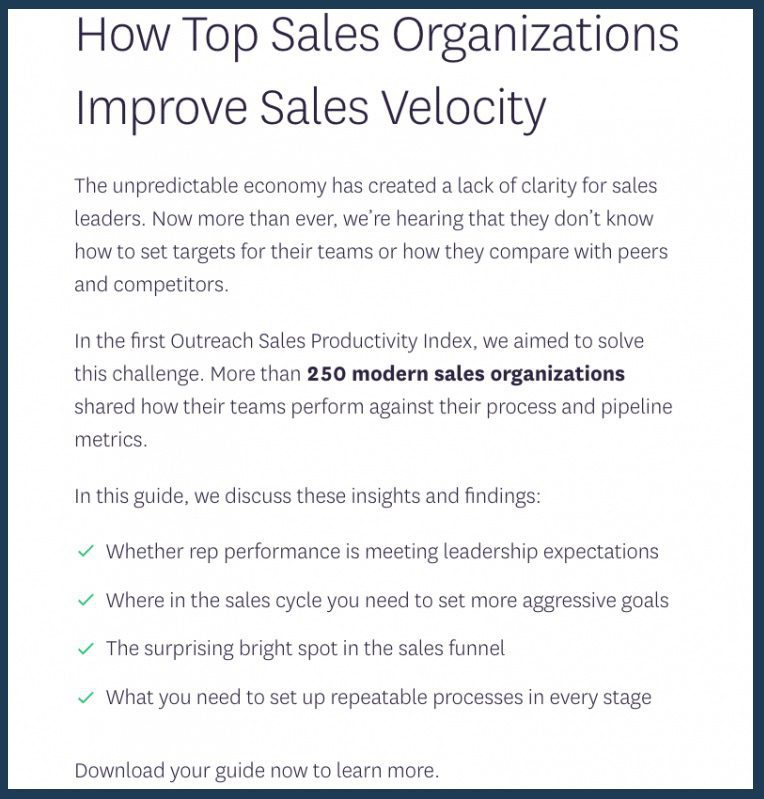 Step #3: Make it easy to opt in with the form
You've attracted a lead and described the value that they'll gain from downloading your lead magnet. Now it's time to complete the conversion with your lead magnet opt-in form.
For better conversions:
minimize the number of fields on your landing page form
avoid requesting sensitive information that deters your B2B SaaS lead from completing the form
be transparent about what's required—if you've promised a one-step opt-in, avoid asking your lead for more information once you've got their email because this negatively impacts brand trust
The shorter, the better
Creating a shorter opt-in form gives you a higher chance of conversion, but it's also important to consider your business goals as they relate to quantity versus quality of leads. Longer opt-in forms allow you to qualify the leads, but you'll get fewer of them. To hit that user-friendly sweet spot, A/B test your form.
Cvent's Lead Magnet landing page example is short and sweet
In this lead magnet landing page example, Cvent created a form with a clean design that requests only the visitor's email address, first name and last name to download the company's Virtual Event Strategy ebook.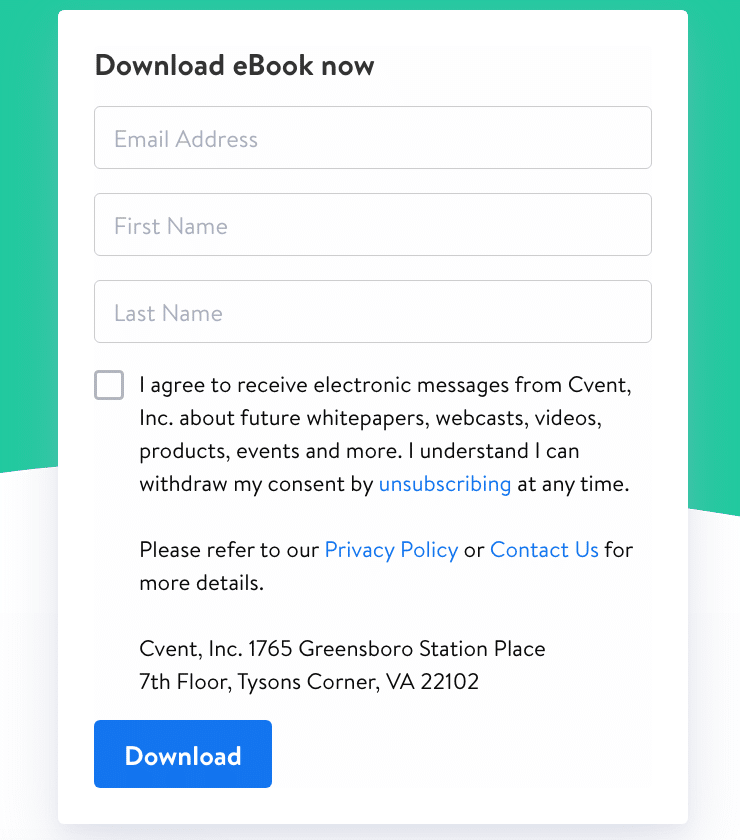 Zendesk's landing page is more work than you think
On the other hand, Zendesk's lead magnet landing page example appears simple at first: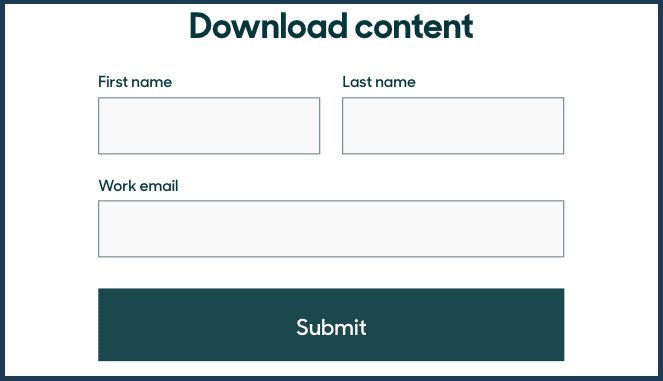 But as soon as you add your name and email, 3 additional fields pop up (which definitely left a bad taste in my mouth). It also means you'll be receiving a sales call, which may make you change your mind about downloading Zendesk's lead magnet.
Step #4: Hook your leads with your CTA button
The call to action (CTA) button on your landing page is a crucial piece of the conversion puzzle. A click of the button after the opt-in form has been filled out is the seal of approval on a well-designed landing page for lead magnets.
The language on the button should imply positive momentum forward. Avoid anything overly tongue and cheek—it can scare off or confuse your leads. Stick with actionable words that confirm the value of what they're receiving like "Send me the ultimate guide" or "Start the VIP masterclass now."
OutSystems' CTA button is clear
In this lead magnet landing page example, OutSystems' CTA button is directed at the visitor and encourages them to click to "Download Now". The focus is on the action the visitor should take.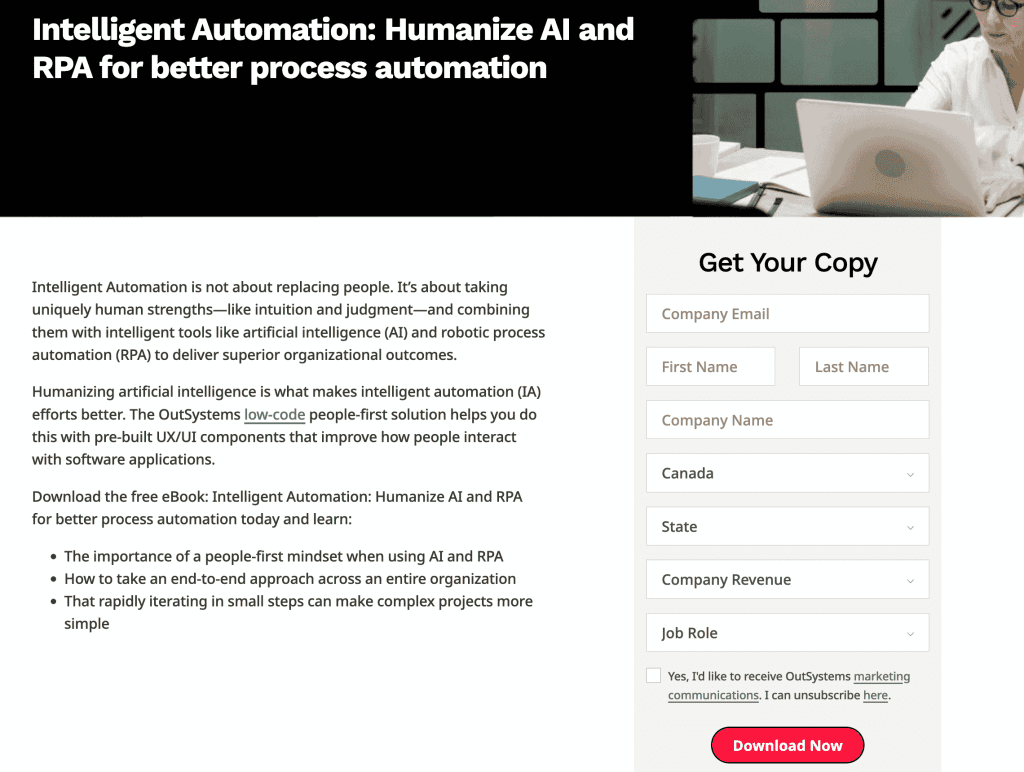 Databricks' CTA is not customer-centric
In contrast, the landing page CTA button on Databricks' website is lackluster. Instead of focusing on the insights into the full data management lifecycle that visitors will receive after they've filled out the opt-in form, the "Submit" button calls attention only to what Databricks will gain from the exchange—the lead's information.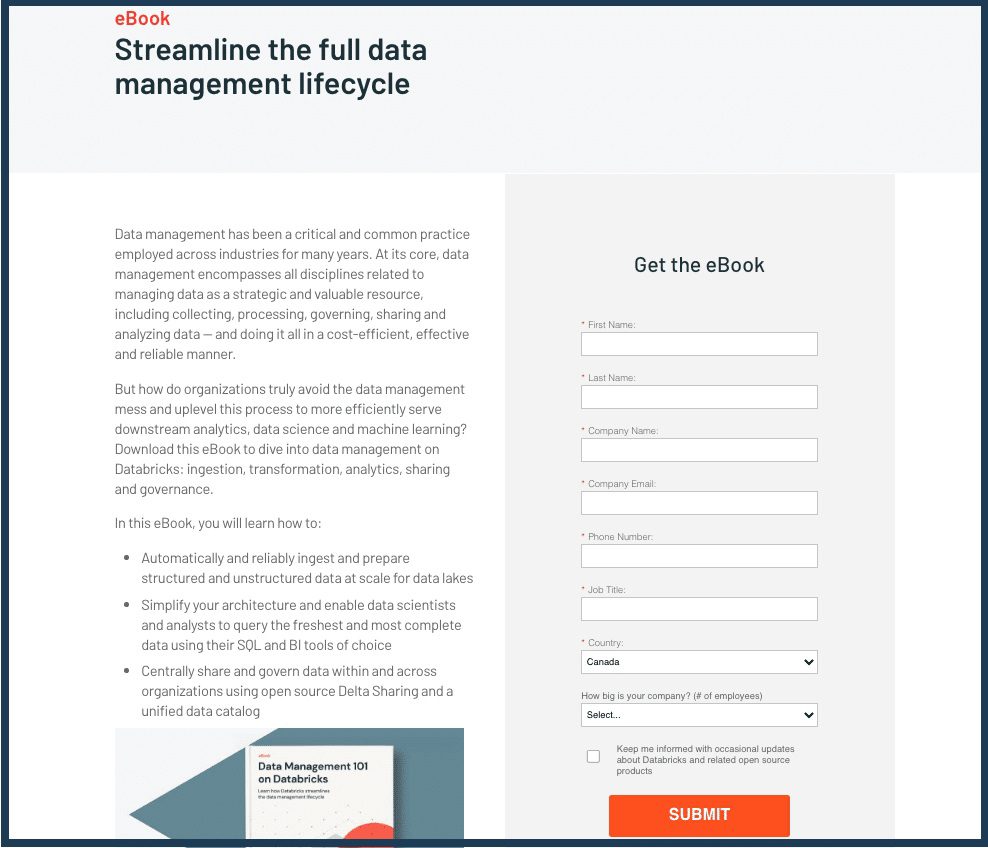 As a SaaS marketer, you know that high-value b2b lead magnets like ebooks and white papers take a lot of time and effort to create. By using the 4 lead magnet best practices we've just covered, you'll increase your chances of getting more content downloads.
Now, promote!
Once your landing page is optimized for conversions, it's time to promote your lead magnet to drive traffic to the page. Download our content promotion checklist to discover 20 ways to promote your B2B SaaS lead magnet to its full potential.
Need a hand with your lead magnets?
As a SaaS content marketing agency, we write ebooks, white papers and guides for high-growth SaaS companies like Okta, Lean Data and AWS. Check out our content writing services.