Punchy Founder Emma Stratton is a messaging and positioning expert. In working with B2B tech leaders, she's found that tech companies often struggle to market their offerings in a way their customers understand. Keep reading to find out why she advises tech companies to bring emotion into their messaging—and how to do just that.
You'll also learn how she niched down from being a copywriter and storyteller to founding a consultancy that specializes in positioning and messaging strategy. She also busts some jargon and clarifies the differences between positioning and messaging, and shares 5 tips you can start using today to make your content more compelling.
Interview with Emma Stratton, Founder of Punchy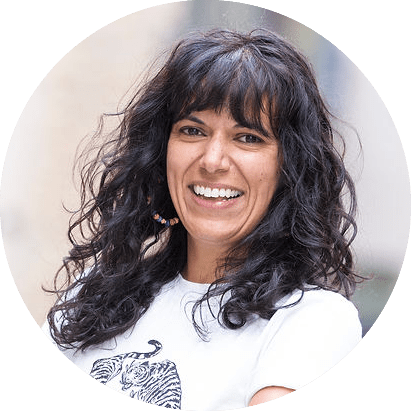 Fun facts about Emma:
📺 The show you're binging right now: Succession
☕ Tea, coffee, or something else?: I have Yorkshire Tea with milk every morning
⚡ If you could have one superpower, it would be: Flight
🐼 What's your favorite animal? Horses (don't tell my cat!)
🎞️ Your all-time favorite movie is: Trainspotting
👪 You're a parent to: Arlo, Wren, and Willa
🗨️ One of your all-time favorite quotes is: "Creativity is intelligence having fun" – Einstein (allegedly)
Sign up for our newsletter to catch all of our interviews with content marketing leaders.
Tell me about yourself and what you do for work
I'm Emma Stratton. I'm the founder of Punchy. We are a B2B training and consulting firm that works with fast-moving tech companies on developing great messaging. We also provide training to teach them to develop and hone their messaging and positioning themselves. We've been at it for seven years now.
How did you get to where you are today?
I kind of fell into tech. I was working as a copywriter at a B2B marketing agency and had this enterprise software company as a client. Back then, I didn't know anything about tech or software, but I did know bad messaging when I saw it.
I think because I had that outsider perspective, I asked the client a lot of basic, beginner-level questions. I wanted to know who the customer was, and why it was so hard to understand the product. The client realized their messaging was their biggest problem—their inability to talk about their technology was killing their sales.
It turns out a lot of companies can't explain what they do in simple terms, which inspired me to start my consultancy.
I started offering storytelling, helping founders and startups tell bigger stories about their products. I found it so interesting, so I went deeper. Eventually, I started working with larger companies and realized, oh, you know, positioning and messaging strategy is a thing.
I was very much just following my natural interests and saw the need and kept refining my niche tighter and tighter. These days I don't use words like "storytelling" or "branding" to describe Punchy's work. While I work side-by-side with brand communications and content and things like that, we're very focused on messaging strategy.
How do you define positioning or messaging?
To paraphrase product positioning expert, April Dunford, positioning is offering a unique value to a clearly defined audience.
And that's exactly what positioning is.
When I work with clients, I simplify it by saying it's "planting a stake in the ground". It's being intentional and saying, "We are this for this group of people."
When you're defining your positioning, you're asking "What is the core value of this thing?" For example, are you going to position a pair of glasses as a fashion accessory, or as an eyesight performance enhancer?
There are a lot of weak positioning statements out there where people are not planting a stake in the ground—they're essentially trying to say that every person under the sun is their customer.
Great positioning is strategic. It's making that decision that we're going to stand for this in the market. It's going all-in on the fact that we are the fastest solution for our customers, or we are the easiest solution for IT directors. It should be something very tight.
Messaging flows from that positioning. So how are we going to communicate our positioning in a message? How are we going to bring this idea of being the fastest solution for IT teams to the market?
When I do a messaging framework, I lead with a core value proposition, which is usually what you would see at the top of the homepage—that core promise or unique value proposition.

Messaging is what you're going to say to bring the positioning to life, and that will vary depending on the channel, medium, audience and goals of each piece of content. But it will always map back to the concepts you've outlined in the positioning.
Copywriting refers specifically to how you communicate that message through advertising—it doesn't apply to all content writing.
I use two definitions for positioning.
When we're talking about Positioning with a capital P, we're talking about that central idea or stake in the ground. It's a strategic process you need to go through to clarify what your product is and who it is for. This is a big exercise that often needs input and alignment across a cross-functional team.
Then there's also positioning with a lowercase P, which is all the everyday ways we position things as marketing. I define it simply as your stake in the ground. It's about standing for one thing, not a million things.
Lowercase-P positioning is about asking questions like
"What's your spin on this?"
"What are you going to highlight?"
"What angle are you going to take?"
"What are you going to lead with?"
You can even apply it to how you're going to position an argument in an article.
And then of course with messaging, you could come up with your key messages for a campaign and take some of that and put it directly on an ad—and then it becomes copywriting.
There is a lot of overlap between these concepts and I think that's why a lot of people get confused.
When we're talking about what B2B tech companies need to do, they need to start with positioning, then translate their positioning into messaging, and then use that messaging to guide all their content creation.
How can B2B content marketers make their content more compelling?
There are a couple of principles that I use that probably can be applied to all content.
#1 Make your content digestible and easy to read
If you're looking at a piece of content and it's just long, never-ending sentences, people aren't going to read it and they're not going to understand it. You don't want them to read a sentence four times and still not know what that says.
Use digestible, simple language and swap all those big words for plainer, shorter alternatives.
Make sure your sentences aren't too long.
Break things up.
#2 Use stories and anecdotes to engage your audience
I love to start pieces with a story. Using stories or anecdotes to support your point or idea gets people engaged and helps them understand what you're talking about.
When you read or hear a story, your brain inserts you into the story. You experience it and feel it, so you remember it.
#3 Use analogies to explain complicated concepts
If you can come up with an analogy that's just really simple to explain, a technical point can go a long way.
Analogies that compare unfamiliar or technical concepts to familiar things are engaging and help people to grasp and understand what you're trying to explain.
#4 Put yourself in your customer's shoes
Effective content isn't about just marketing your product and telling people about its features—you need to connect the dots between what you know, what you offer, and more importantly, what people want to know and how you can help them.
People want solutions to their problems. Empathize with your customers and write about what matters to them and what they want to know about.
#5 Bring emotion into your messaging
So much of product marketing language is like, "increase efficiencies" and "streamline your day". It's not wrong, but it doesn't make people feel anything.
When you use emotion in your content, it helps you form a connection with your reader. You're showing that you get them—that you understand how they're feeling and what life is like for them with their problem.
You start subconsciously building a bit of trust with your reader, and it makes your brand more human, more personable.
How can tech companies bring emotion into their content marketing?
One really good thing is mirroring people's problems and reflecting how hard their situation is and how it makes them feel right back at them. You want your messaging to show them you get it.
When you describe an annoying situation in terms of the emotions it evokes, you're jogging people's memories and taking them back to that moment and the sensations they experienced.
You're making them feel something.
It helps to do an exercise where you ask your focus group to talk about their problems and challenges in "real talk". How might they actually talk about it to their colleagues or their friends at a barbecue?
Like, okay, you say you're not organized, but what does that look like? How does it feel? Does it make you crazy?
You get these great stories of how people struggle—before using your software—and if you can use those stories to jog people's memories and help them connect to that feeling, you might be able to inspire them to make a change and consider a solution.
When I do this exercise with teams, they come up with all this stuff, and I can see that they're surprised by all the emotion that comes out. It's awesome.
And I'll ask them "How much of this is in your messaging at the moment?" And usually, the answer is "None of it." So I say, "You've got to start bringing this into your messaging because this is good stuff."
It's real. It makes you stand out, and it helps you connect with people.
Thanks for spending time with us!
Thanks to Emma for sharing your knowledge—and thank you, reader, for spending part of your day with us. I hope you gained as much as I did from my interview with Emma.
Here's how you can connect with Emma:
Want to read more about creating engaging B2B tech content?
Check out these related Uplift blog posts:
P.S. Want more marketing insights?
If you'd like access to more content marketing insights like this, sign up for our newsletter to catch all of our interviews with content marketing leaders.
No spam, we promise—just one value-packed content marketing newsletter each month.
Plus, if you're interested in case studies and customer marketing, you can opt-in to receive a second monthly newsletter where we chat with leaders in customer marketing.

Speaking of case studies, have a look at our 2023 case studies trends and insights report, where we surveyed more than 100 customer marketers to gather their insights and experiences with customer stories.
Here's a preview:
Sign up for our newsletter to catch all of our interviews with content marketing leaders.