Product-led marketing content is a powerful B2B SaaS sales tool that can help push prospective customers "off the fence" and into sales territory, says Neha Kirpalani, Product Marketing Manager at EdTech company Quacquarelli Symonds. Keep reading to learn why product-led marketing is so effective, where in the sales funnel to use it, and which companies she thinks are nailing product-led content.
Neha has had a fascinating career journey. She started out in finance, only to discover that she craved more creative work, leading her to make a career change to marketing.
In our recent interview, she shares how she made the leap from content marketing to product marketing, and offers advice for others interested in doing the same.
Interview with Neha Kirpalani, Product Marketing Manager at Quacquarelli Symonds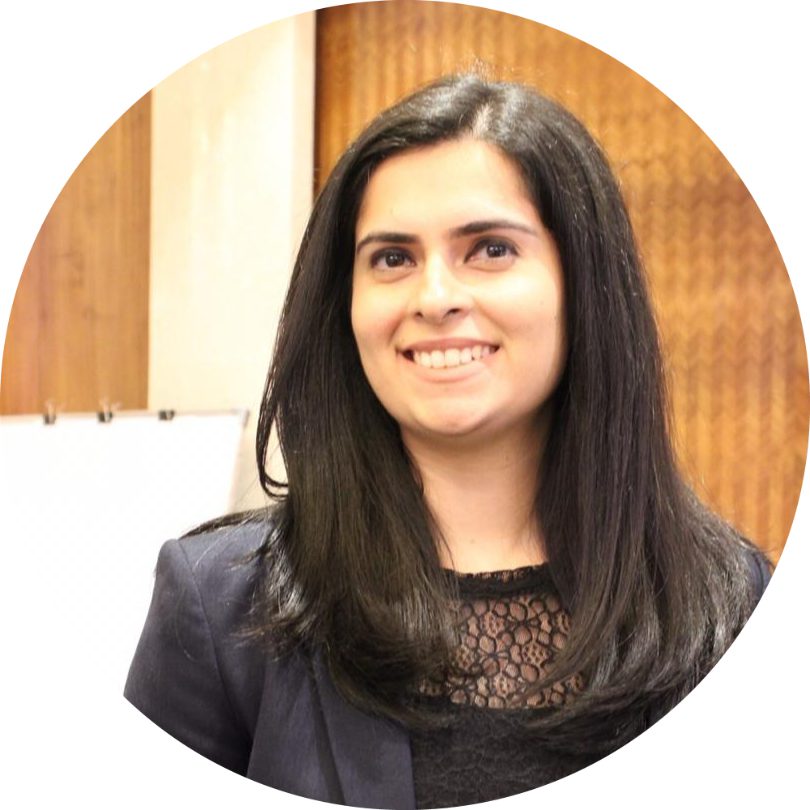 Fun facts about Neha:
A vacation you're dreaming about: Banff, Canada (hopefully next year!)


We'll often find you: Listening to French podcasts, watching French TV shows or thinking in French. As you can probably tell, I'm obsessed with learning the language and trying to make learning fun!


Book you think everyone should be reading right now: I recently read and loved the book S or Ship of Theseus by JJ Abrams—it's a book within a book, and possibly the most unique one I've ever read. I couldn't stop thinking about it for months after I put it down!


Top 3 places you want to visit someday: The French Riviera, the Swiss Alps and Turkey (Konya and Cappadocia)


Your favorite author/poet? Salman Rushdie—his writing style is one-of-a-kind and has had a major influence on my work in many ways.
Sign up for our newsletter to catch all of our interviews with content marketing leaders.
Can you introduce yourself?
My name is Neha Kirpalani. I'm a product marketing manager at an EdTech company, Quacquarelli Symonds. It's one of the largest higher education experts in the world. I manage product marketing for a portfolio of award-winning digital and event products.
Towards the end of last year, I was part of the LinkedIn Creator Accelerator program. Since then, I've been a member of the LinkedIn Creators program, which is a handpicked group of people who work with LinkedIn to create content and drive community engagement on the platform.
I'm also a diversity, equity and inclusion (DEI) champion and advocate, so a lot of my work on LinkedIn involves creating and curating content specifically in the DEI space.
What has your career journey looked like so far?
My journey to arrive at product marketing has been quite a meandering one. I started my career in finance, working in operations at Goldman Sachs, and I quickly realized that it wasn't the right fit for me.
Within less than a year, I realized I'm a pretty creative person, so I decided that I needed to make a move. I made the switch and begin my career in marketing as a copywriter at a leading creative agency, where I worked for three years. Though I started as a copywriter, by the time I left, I was the content manager and heading up social media, PR and internal communications.
Then I decided to do my masters in marketing to build on the industry knowledge I had gained by learning on the job. I went to the University of Manchester in the UK and lived there for two years, and loved it.
I think living and working in a different country and meeting people from all over the world was one of the best experiences of my life.
After completing my masters, I started working at Quacquarelli Symonds as a content marketing manager. At first, I was just handling engagement, which is a small but integral part of the lead gen journey. Within six or eight months, owing to internal changes in the team, the position of lead gen manager became vacant. I applied for the role—so within less than a year, I was handling the entire acquisition and engagement funnel.
A lot of my work involved figuring out how we can best leverage different pieces of content to cater to our B2C audience of university students' needs and interests.
Working closely with the content team, I created an onboarding strategy and lead nurturing framework to acquire and nurture leads throughout the engagement journey. It was quite revolutionary—and a departure from the way marketing was done in the student-facing space, moving from an outbound model to inbound marketing.
It was really rewarding to see the impact my work was having on the company and on the way the company was communicating with its target audiences.
How did you become a product marketing manager?
Product marketing is one of those nebulous career paths where if you asked 5 different people what the role entails, you'd probably get 5 different answers. I found product marketing very interesting and actively tried to learn more about it through reading and speaking to people in the role to understand what they do.
I tried to figure out a way to break into product marketing for over a year when a role opened up. It was serendipity.
I decided to go for it, and now I've been in the role for about a year. I think it helped that the team knew me and they'd seen the impact of my work and my passion and dedication.
It's been very exciting, although the learning curve has been a steep one for sure. It's challenging because it requires adopting a different mindset and learning how to manage a lot of key stakeholders—and senior stakeholders.

What is product-led content and why is it important?
If you think about product-led content, you're thinking about things that help the customer understand how to use the product while bringing them from the awareness phase to the consideration phase to the decision-making phase.
Product-led content is something you'd generally use in the middle of the funnel because it's not about brand awareness or lead generation. You're probably targeting a customer who's already a little further along in their decision-making journey, and who's a little more sure about your product.
It's about operating in that assistive space of being there for your customer and helping them solve their challenges.
Some examples of product-led content would be tutorials and help content, like in-app guides or product walkthroughs that show you how to use the different (or new) features—or case studies and testimonials that help prospective customers understand how the product can benefit them.
Product-led content is all about clinching that last step and being able to push them "off the fence" and into sales territory.
How and where should companies use product-led content?
I think there's very little space for product-led content not to be used. In fact, I think companies could stand to leverage product-led content a lot more than they already do. Because at the end of the day, it's engaging content that's meant to help and delight and attract and do all those wonderful things that you want to be doing through your content.
I do think product-led content is probably somewhat less appropriate in top-of-the-funnel content where your primary goal is to educate, inform and position yourself as an authority in your industry. I don't think it should be a hard sell at that point.
But at the same time, I think sometimes we're a little too safe when it comes to content marketing. We tend to assume that people take this very linear journey through the funnel, but when you think about it, an average of 6 people are involved in the decision-making in the B2B space.
And these people may be at different stages of the funnel or have varying levels of decision-making power. They may have different objectives when looking at the same ebook or white paper.
Somebody more senior may already know a lot of the top-of-the-funnel information and be looking for a solution. For them, it's worth including some product-led content like case studies or testimonials to demonstrate your use cases for those readers.
Are there any companies that you consider the gold standard for product-led content?
I like to use HubSpot as an example. They basically invented inbound content marketing for attracting and engaging their customers, and I think that played a huge part in making them the software giant that they are today.
Their knowledge base, HubSpot Academy, teaches users pretty much everything they need to know to use the platform and leverage its power. Their content is very product-centric and at the same time help-centric. You really feel that they're there for you and that they want to see you succeed, that they're not just pushing the product on you.
Canva is doing a good job as well. It's a very user-friendly, do-it-yourself platform and software. I think they're great at creating guides and FAQs and those kinds of content.
What advice would you give someone interested in making the switch to product marketing?
Product marketing is not very clearly defined, so the role can differ a lot from company to company. Sometimes it just means "B2B marketing", and other times it means "product management". So it really depends on where you're aiming to position yourself.
I think a lot of people use product marketing as a segue or shortcut between marketing and product management. So if that's something you want to get into in the future, product marketing is something you can explore to see whether you have the skills and aptitude for it.
Here's my advice:
Explore what's out there and what the role is about. Speak to people in product marketing and try to understand what they do and what their job entails.
Read up about it and take courses. I got a certification from the Product Marketing Alliance and I think that really helped me understand the world of product marketing.
It's high pressure. It's intense. But it's also a lot of fun because you get to use your creativity and your knowledge and experience.
If this is something that resonates with you and you've done the research and you feel like it's a good fit for you, just throw your hat in the ring and start applying for roles.
Just go for it.
Thanks for spending time with us!
Thanks to Neha for that insightful discussion—and thank you, reader, for spending part of your day with us. I hope you were as inspired by my interview with Neha as I was.
Here's how you can connect with Neha:
Connect with her on LinkedIn, where she talks about #digitalmarketing #strategy #marketing #productivity and #diversityequityinclusion
Read her piece on timeboxing published by the Harvard Business Review
Read more about product-led marketing
Check out this related Uplift blog post:
Learn more about content marketing for SaaS
Here are some more Uplift resources for you to check out:
P.S. Want more marketing insights?
If you'd like access to more content marketing insights like this, sign up for our newsletter to catch all of our interviews with content marketing leaders.
No spam, we promise—just one value-packed content marketing newsletter each month.
Plus, if you're interested in case studies and customer marketing, you can opt-in to receive a second monthly newsletter where we chat with leaders in customer marketing.

Speaking of case studies, have a look at our 2023 case studies trends and insights report, where we surveyed more than 100 customer marketers to gather their insights and experiences with customer stories.
Here's a preview:
Sign up for our newsletter to catch all of our interviews with content marketing leaders.