Updated March 2023: Product marketing content is all about getting the right content in front of the right people at the right time to generate demand. But do you have a strategy in place? When was the last time you updated it?

In this post, find out exactly how to create an effective product marketing content strategy. Here's what we're going to cover in this post:
2. What is product marketing content?
3. How to create an effective product marketing content strategy
What is product marketing?
Product marketing uses product experiences to move leads through the buyer's journey to complete a sale. You need to thoroughly understand the needs of your target customer so that you can most effectively promote and sell your product to that target customer.
Product marketing covers everything from your go-to-market strategy to your positioning, messaging and how a prospect understands and experiences it. It keeps existing customers informed and interested, and it attracts new customers by solving issues they didn't know they had.
What is product marketing content?
Product marketing content is content that positions your product in the market, shares its value proposition, and highlights key features and capabilities. It also demonstrates to potential customers that they can trust in your product's quality and usefulness.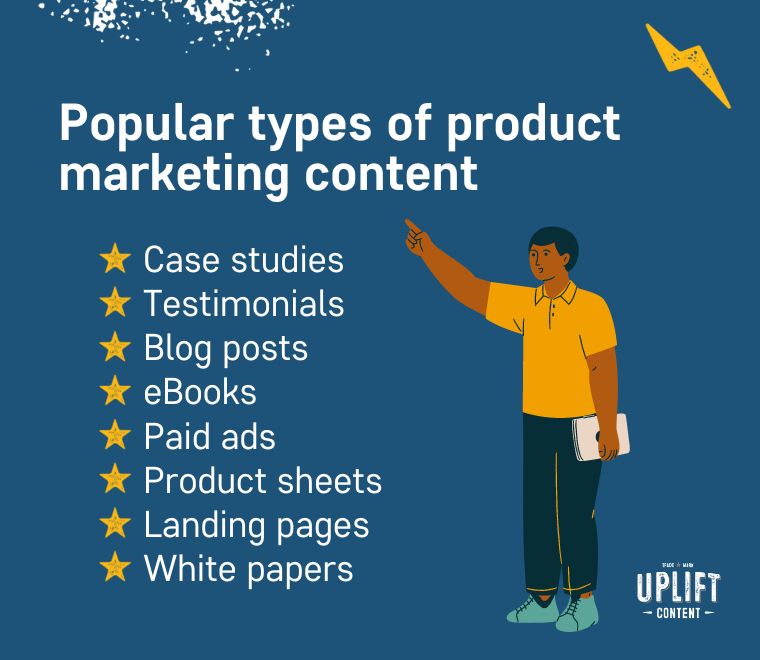 Popular types of product marketing content
Case studies: Create stories about your most successful customers. Describe how your product has helped them solve their challenges, and don't skimp on specifics: concrete data is important. Check out our case study writing service.
Testimonials: Reach out to your most satisfied customers to collect their thoughts on your product in their own words. Use testimonials in case studies, social posts, and on your website.
Blog posts: Write informative, but not overly promotional, content that drives inbound leads by helping your readers solve an issue (by using your product). Be sure to include a call to action to learn more about your product. Check out our blog writing service.
eBooks: Demonstrate your expertise and offer guidance on subjects your audience cares about. eBooks are great follow-ons from blog posts and allow you to dive deeper into a particular solution while capturing leads. Check out our ebook writing service.
White papers: Create white papers to establish your company as a thought leader, while at the same time providing value to your target audience and identifying leads for your sales team. Check out our white paper writing service.
Landing pages: Create web pages that give your customers a place to start learning about your product. Landing pages can be great jumping-off places to link to other product marketing content like product sheets, white papers, how-tos and case studies.
Product sheets: Highlight the main features and benefits of your product in these easy-to-digest one-pagers.
Paid ads: Direct advertising is a valuable (though expensive) part of any product marketing strategy.
How to create an effective product marketing content strategy
Whether you're just starting out with product marketing or you've been using the same approach for a while, it never hurts to revisit your strategy to make sure it's up-to-date, innovative and engaging for your prospects and customers—no matter when or how they intend to buy.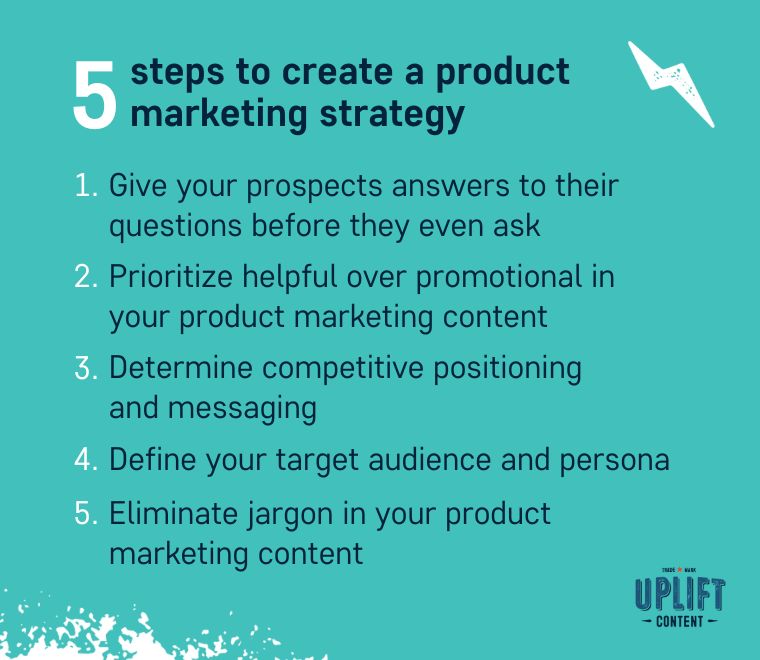 5 steps to creating a product marketing content strategy
1. Define your target audience and buyer persona
2. Prioritize helpful over promotional in your product marketing content
3. Determine competitive positioning and messaging
4. Eliminate jargon in your product marketing content
5. Give your prospects answers to their questions before they even ask
1. Define your target audience and buyer persona
Defining your target audience is the first step towards creating a product marketing content strategy that drives results. You want to narrow down the industries, company sizes and job titles that are most likely to be interested in your product—then tailor your content to them.
Who your content is for will determine what medium and style will be the most successful. If your target audience works long and unpredictable hours, a live webinar series will barely get a handful of attendees. If your target audience is primarily Gen Z, I Love Lucy references aren't generally going to land.
After you've defined your target audience, go even further by creating buyer personas. Why would your target audience buy your product? What challenge are you hoping it will solve for them? Once you have fleshed out your personas, you can create content that engages them, provides them with helpful information and anticipates their needs.
2. Prioritize helpful over promotional in your product marketing content

Nearly 80% of product marketers say communication is the top skill needed in their role, which demonstrates how crucial it is to create content that builds a real connection with your audience.
No one wants to hear about how great your company is, so you should avoid creating product marketing collateral solely for the purpose of promotion.
The content needs to relate to your prospects on a human level by helping them in their work and adding value to their lives. This is an excellent way to show your audience not only that you believe in a product, but that you're committed to proving its worth the right way.
However you choose to connect with your audience, be sure your product marketing content is relatable and useful. This will help you turn more readers into customers.
3. Determine competitive positioning and messaging

When developing a product marketing strategy, it's important to do thorough research of other companies in your market that offer similar products to yours. This will allow you to figure out what unique qualities or features of your product to showcase in your messaging.
Your product marketing content, like your product itself, will need to stand out. Whether it's a uniquely appealing format, a novel solution to a problem other people are solving, or a solution to a problem nobody else is solving, you need to figure out how to get the edge over your competition.
What does your product do that your customers can't find anywhere else? Keep your message focused on the parts of your product that can create concrete improvements in your buyer's experience.
4. Eliminate jargon in your product marketing content

In the B2B SaaS industry, one of the biggest communication barriers is the overuse of technical language. This seeps through into product marketing content and can confuse readers. It's no surprise that jargon is a problem, though, considering that over 21% of product marketers never actually speak with their customers. (Don't be part of the 21%!)
It's essential to communicate in a way that will resonate with your prospects when developing content, but to do that, you first need to understand your audience. From there, you can create content that gets your message across in simple, short and straightforward sentences.
If you're unsure whether potential customers can easily understand your product marketing content, sit down with someone outside of your industry and have them read your work. Ask them to identify each sentence that is confusing. You'll be amazed at the insights you can gather from this exercise.
5. Give your prospects answers to their questions before they even ask
Truly customer-focused product marketers have a knack for meeting their audience's needs in a proactive, intentional way. To hone this skill, practice identifying what questions your potential customers may have, then answer these questions in your product marketing content before anyone even asks.
For example, when first-time installations of Zoom's mobile app increased by 728% in March 2020, the company had to act quickly to deliver information to its audience on topics ranging from bandwidth to security.
While this is a unique example due to the circumstances, it demonstrates the importance of understanding what matters to your prospects and customers. If you know your product and your audience well, you can communicate the right information to illustrate the potential and value of your product.
For this writing practice, put yourself in your prospects' shoes. Look at your content and assess the information gaps. Think about what other information you should include to ensure you're answering all the questions a prospect might have about your product.
Need a hand with your product marketing content?
More than 78% of product marketers believe case studies are the most powerful sales enablement tool, but this type of product marketing collateral can take a lot of time and effort to create.
If you need help developing product marketing content, check out our B2B content writing services. We work with high-growth SaaS companies like ClickUp, WalkMe and Okta.