Updated February 2022: When you repurpose your case studies into new formats, you can increase exposure to your content, engage more buyers and maximize the value of each content asset. In fact, 90% of marketers find repurposing content to be more effective (from a time, cost and results point of view) than creating new content from scratch.
In this post, we'll explore 7 ways to repurpose your case studies so you can squeeze the most value from them.

Why repurpose your case studies
Case studies are among the top 3 types of content B2B marketers use to reach and engage with their audiences. However, producing this content is no small feat.
You need to identify the right customers to interview, get them to participate, find an interesting and compelling angle for your case study, write high quality content, gather statistics and visual assets—and the list goes on.
This is why it's crucial to repurpose your case studies so you can leverage them for maximum exposure. It's also an excellent way to save both time and money on creating new content from scratch.
Repurposing your case studies will also help you build brand awareness, as research shows people need to see a marketing message at least 7 times before it'll stick in their minds.

Are you repurposing your case studies as much as you could be?
In February of 2022, we conducted a survey of 121 SaaS marketers and found that 77% of SaaS companies have a case study section on their website. But marketers are also using case studies in a variety of other ways:
Read the full report here: 2022 SaaS Case Studies Trends & Tactics Report

7 ways to repurpose your case studies
1. Long-form
There's no one-size-fits-all approach when it comes to creating content for audiences' consumption preferences. While some people prefer bite-sized pieces of information, others love nothing more than to dig into a long-form read. This is why it's a good idea to repurpose your content by creating both short- and long-form versions of your B2B SaaS case studies.
You can try offering your short-form version as a non-gated asset on your website, then direct people to download the full case study so you can collect their email addresses via an opt-in form. Or, or turn a collection of case studies with the same use case or industry focus into long-form content like a gated ebook.
Here's a great long-form example from OutSystems: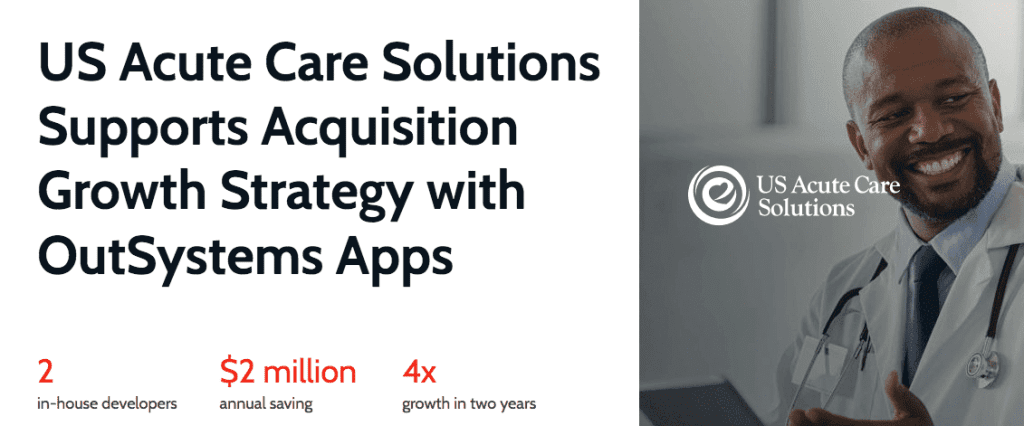 2. Q&A style
While most case study formats follow a challenge/solution/result structure, you can repurpose your content by telling these stories without using a formal narrative writing style. For example, take a page from the publishing industry's playbook and produce a Q&A interview-style version of your next SaaS case study. This way, your readers will get firsthand answers about your products and services from your customers.
Here's a little snippet from a Floify case study using the Q&A style: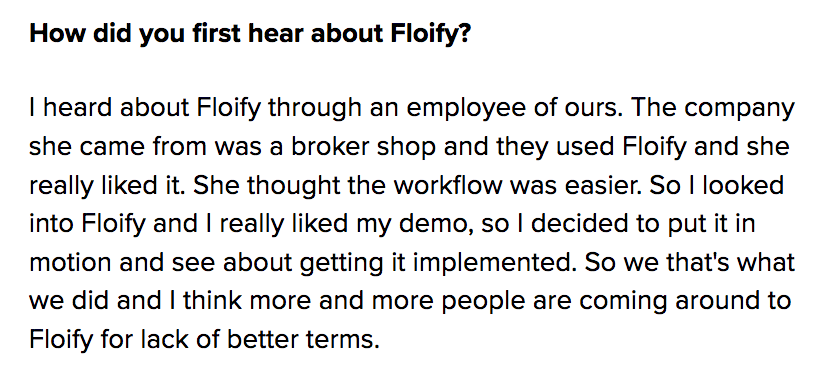 3. Infographic
Designing an infographic is another effective way to repurpose your case study, and is especially appealing to visual learners. B2B SaaS case studies often deal with complex concepts that lend themselves well to visual representation.
Using an infographic to communicate information in your case study is also a great way to call attention to statistics like the killer results your customers achieved with your products and services. Another bonus of this case study format example? It's easily shareable on social media.
Check out this one-minute case study infographic from Okta. Here's a little snippet: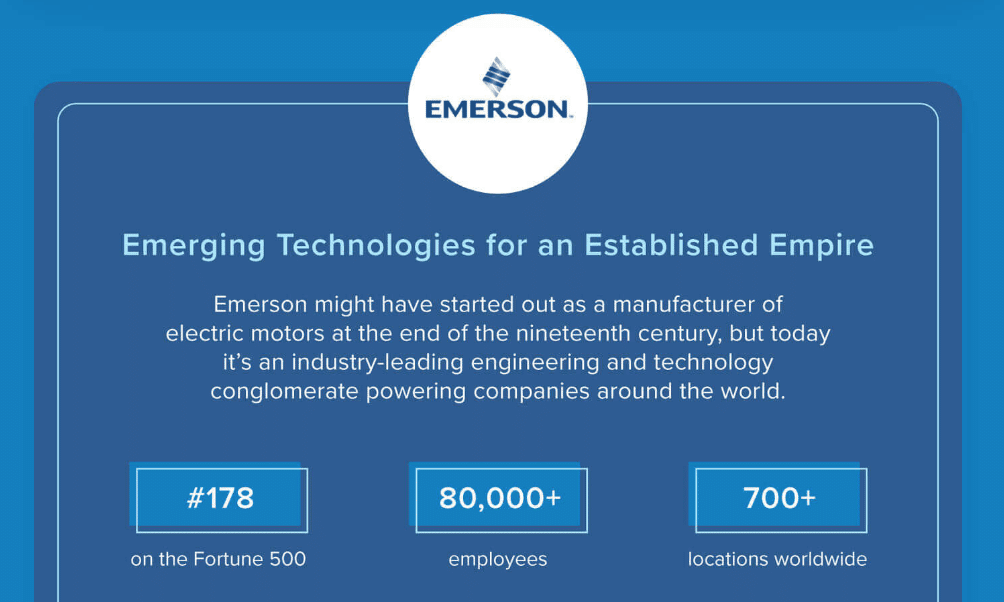 4. Social post
Speaking of social media, infographics aren't the only way to get your message across on your audience's favorite networks. Repurpose your content by creating a series of LinkedIn posts to promote your case study to your B2B SaaS market.
Or, share customer quotes from your case study on Twitter, a platform that's well suited to conversational marketing. Use hashtags that are relevant to your industry to extend the reach of your content.
CloudBees does a great job of sharing its case studies on LinkedIn:
5. Quote
Customer quotes are SaaS case study gold, which is why they're the perfect standalone case study format. A poignant quote will make your audience want to read more and dive into your full case study.
Using customer quotes to promote your content is also an excellent way to build trust with your audience, rather than simply singing your own praises from the rooftops. Share these quotes on product landing pages, in your email newsletter and in your sales decks.
Drift does a great job with their customer quotes. Check out this example: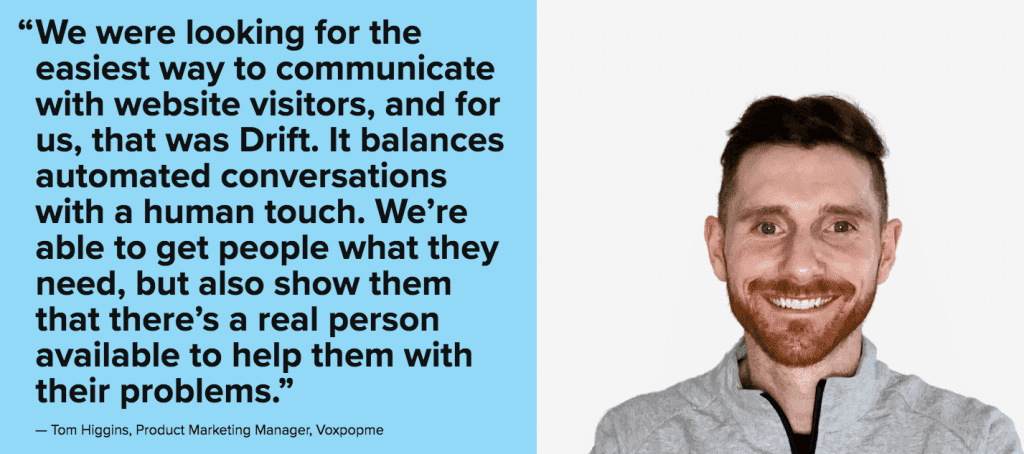 6. Podcast
More than half of the U.S. population has tuned into at least one podcast. You don't need to be producing true crime content to drum up a listener base, either. There are many successful tech podcasts on the internet today. This audio-based medium lends itself well to topical deep dives, which is what makes podcasts an ideal way to repurpose your case studies.
Here's an an example from Snowflake: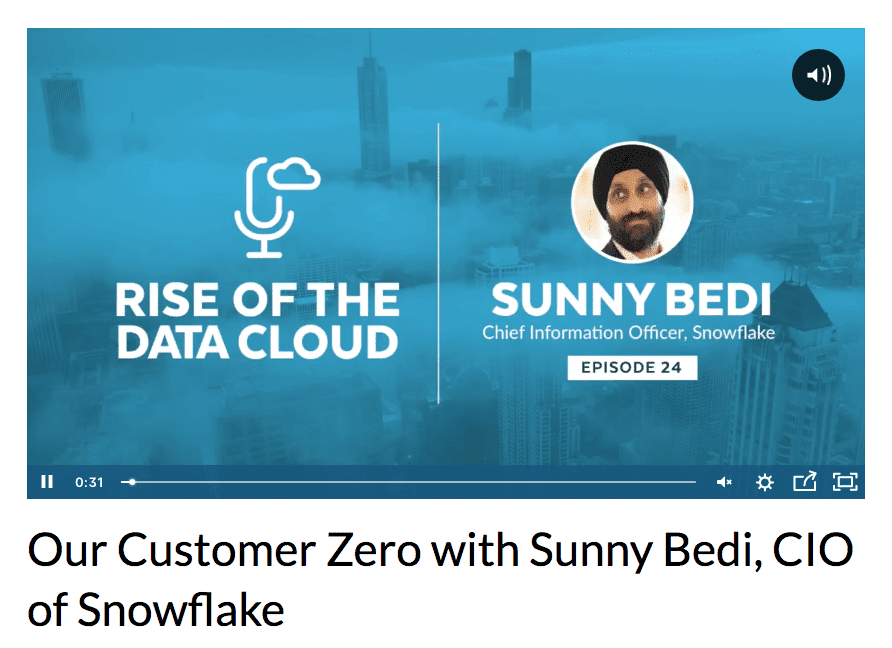 7. Video
Video is still a major player on the content marketing landscape. The medium is eye-catching and easy to consume, which makes video a great way to repurpose your case studies. Take snippets of your SaaS case studies and create short videos that share educational or actionable information. You can promote these videos on your social channels or upload them to the case study pages on your website.
Gong does a great job with its case study videos. Here's an example: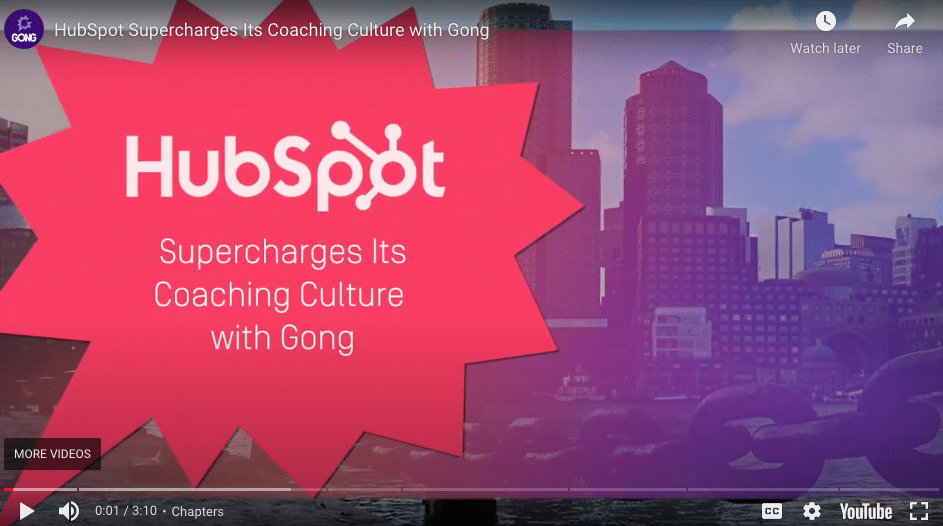 Leverage your SaaS success stories to drive sales
Your customers and your team work hard to achieve your successes, so the case studies that reflect those stories should be more than a flash in the pan.
You now have 7 ways to repurpose your case studies—plus examples to draw inspiration from when the time comes to publish and distribute your next customer case study.
Need a hand with your case studies?
At Uplift Content, we write case studies for high-growth B2B SaaS companies like Okta, LeanData and WalkMe. Check out our case study writing service.