Updated August 2023: Case studies are powerful tools for B2B SaaS companies to close bigger deals faster. Over 90% of consumers trust a non-paid recommendation like a customer success story over traditional advertising. Reviewing a case study example or two regularly is one way to ensure your case study game stays on point.


How do your competitors' case study examples stack up?
Over 82% of tech marketers use case studies, so there are a lot of customer success stories to choose from. You can hone in on your specific industry to identify case study best practices and trends. See what other SaaS companies excel at and where they could improve. And save a good case study example (or ten) in a swipe file to draw inspiration from.


Use a case study example for inspiration
As a busy SaaS marketer, you may feel strapped for time when it comes to finding case study examples to review. Well, you're in luck because we've done the legwork for you. We found 8 case studies and we analyzed them to see where the story hits the mark and where it falls short. 
The purpose of critiquing good case study examples is to help you see that even the top dogs aren't untouchable. We can all learn from what they do well with their content and what they need to work on.
Learn from these 8 case study examples:
SaaS case study example 1: ServiceChannel
ServiceChannel case study example: Freshpet
ServiceChannel provides facility managers with a single platform to source, procure, manage and pay for facility maintenance and repair services from commercial contractors. The company is currently used daily by 500+ brands to manage over 50,000 contractors at 300,000+ locations in 63 countries. 
Check out the case study example we're critiquing: Freshpet Cuts Out Middleman for Asset Management, Improves Operations and Increases Customer Satisfaction.

What worked well
1. Strong executive summary:
This case study kicks off with an introduction to the customer's business, and calls out the benefits Freshpet received from working with ServiceChannel, as well as a few quantifiable results. It's an excellent example of an executive summary that provides a concise overview of the case study, giving the reader the highlights right away.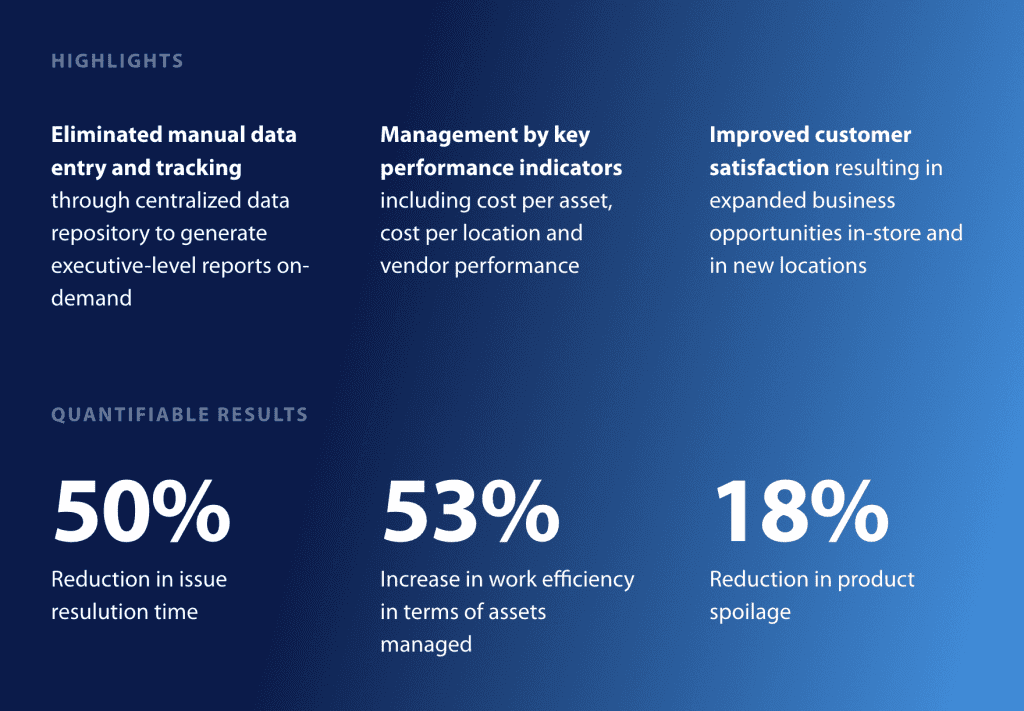 2. Defined structure and rich detail:
The case study clearly flows through Freshpet's challenges and goals, as well as the solutions, benefits and results that the company got from working with ServiceChannel. The challenge section paints a compelling picture of Freshpet's pain prior to working with ServiceChannel, and the solution section also includes why Freshpet chose ServiceChannel as a vendor—a valuable detail that's often missing from case studies.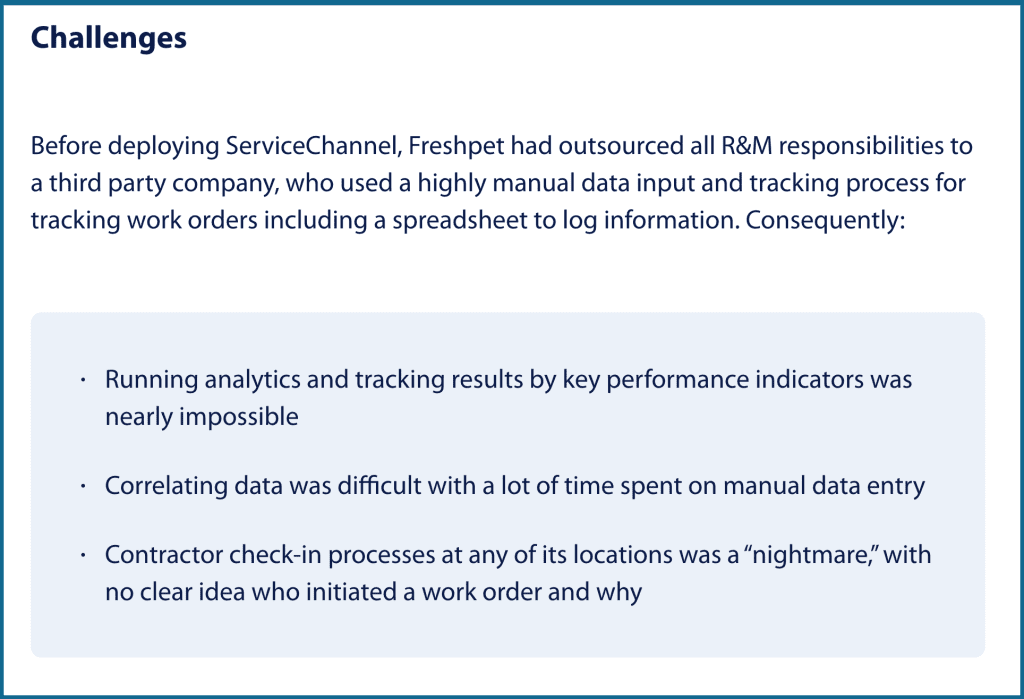 3. Various design elements:
ServiceChannel understands that no matter how powerful the storytelling in a case study is, you need quality graphic design to grab and keep your reader's attention. This case study hits the mark by incorporating strong design such as imagery, icons, bulleted lists and pull quotes.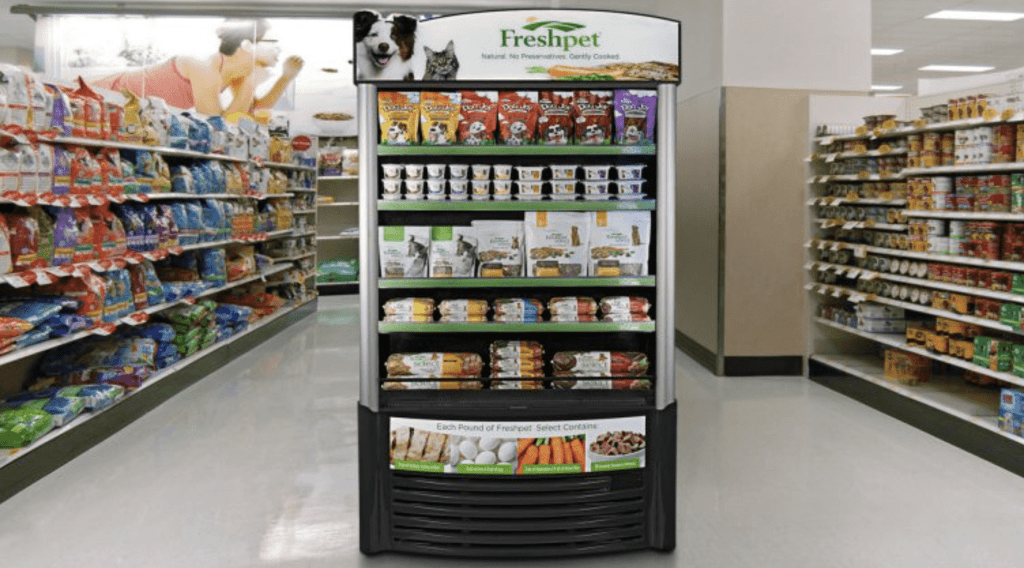 4. Useful metrics:
This story includes several case study metrics to measure Freshpet's success after implementing ServiceChannel's solution. For example, it shows how Freshpet increased asset management efficiency by 53%. In addition, the statistics highlight where Freshpet started out for additional context: "The same number of Freshpet staff and contractors who had serviced 13,000 refrigerated units now service 18,000 to 20,000 units."


What could be better
1. Title choice:
The current title of this case study is trying to touch on several points. The title would be more focused and impactful if ServiceChannel used a statistic and added its company name, for example, "Freshpet Increases Asset Management Efficiency by 53% with ServiceChannel."

2. Links to products:
There are no links driving users to ServiceChannel's product pages. This would be a useful addition to enable readers to more easily learn about products they're interested in with a simple click, rather than making them do the work of navigating on their own.

3. Customer quotes:
The only 2 quotes in this case study are the pull quotes. Quotes are important to include to illustrate the customer's perspective in their words. However, the case study would feel like more of a story with personality if ServiceChannel had included more customer quotes throughout the body text.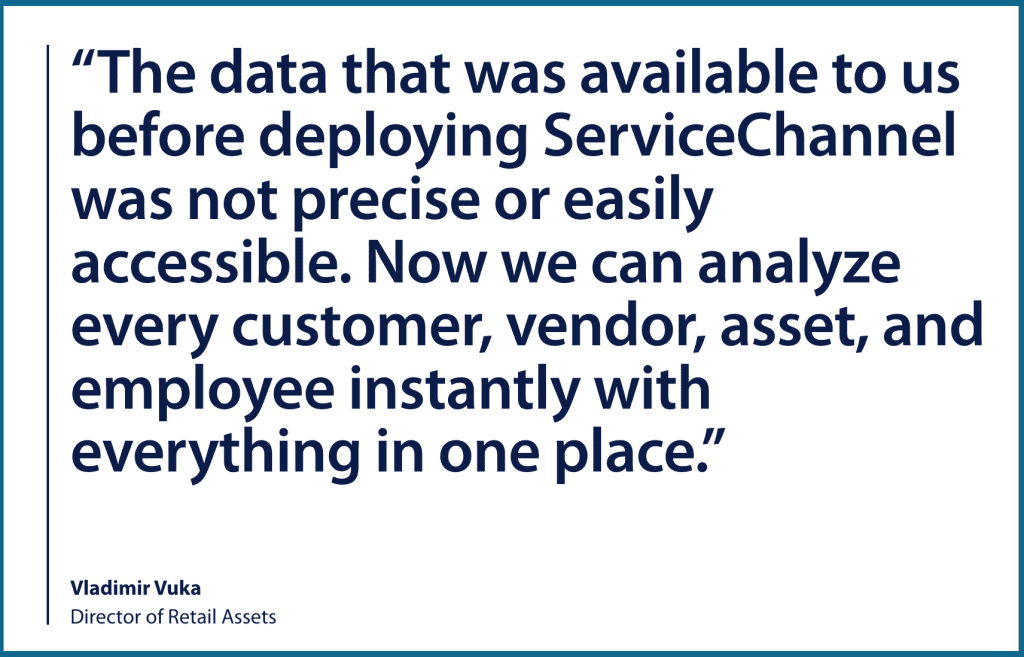 4. Call to action (CTA):
The call to action is buried at the bottom of the page, underneath the "Related Content" section. As a result, most readers likely miss it. Try moving it up to a more prominent spot within the story. A CTA should use specific language that speaks directly to your prospective customers, as well as smart design (including colour and large text) to make your words pop off the page.

SaaS case study example 2: Zenefits
Zenefits case study example: Skilljar
The Zenefits People Platform brings everything HR related into one simple, single app. The company's platform is designed to be comprehensive, but not overly complex. It puts benefits, payroll and HR access in the pockets and at the fingertips of employees.
Check out the case study example we're critiquing: Customer Education Company Taps Zenefits to Level the Playing Field for Talent in Seattle

What worked well
1. "Above the fold" section
The case study title, hero image and fast facts box are visually engaging and immediately draw the reader into the story. These elements pop on the lightly coloured web page background. This part of Zenefits' case study is an excellent example of case study design.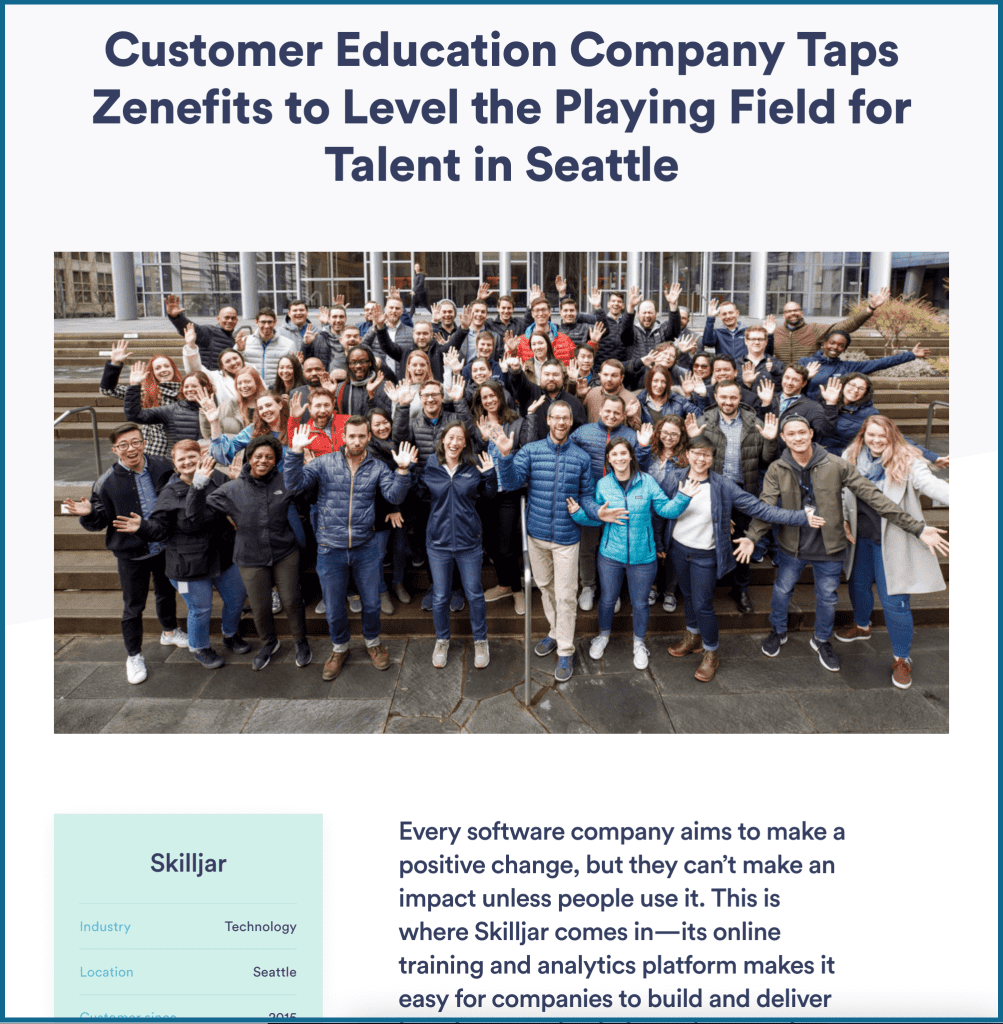 2. Compelling hero image
The image at the top of the case study showcases the "people first" aspect of HR that's integral to both Zenefits and its customer, Skilljar. The image is dynamic, colourful, and the people in the shot look happy and engaged.
3. Fast facts box
This graphic element is brightly coloured and eye catching. It also showcases important information such as the size of the customer company, Skilljar, and the Zenefits products that Skilljar purchased.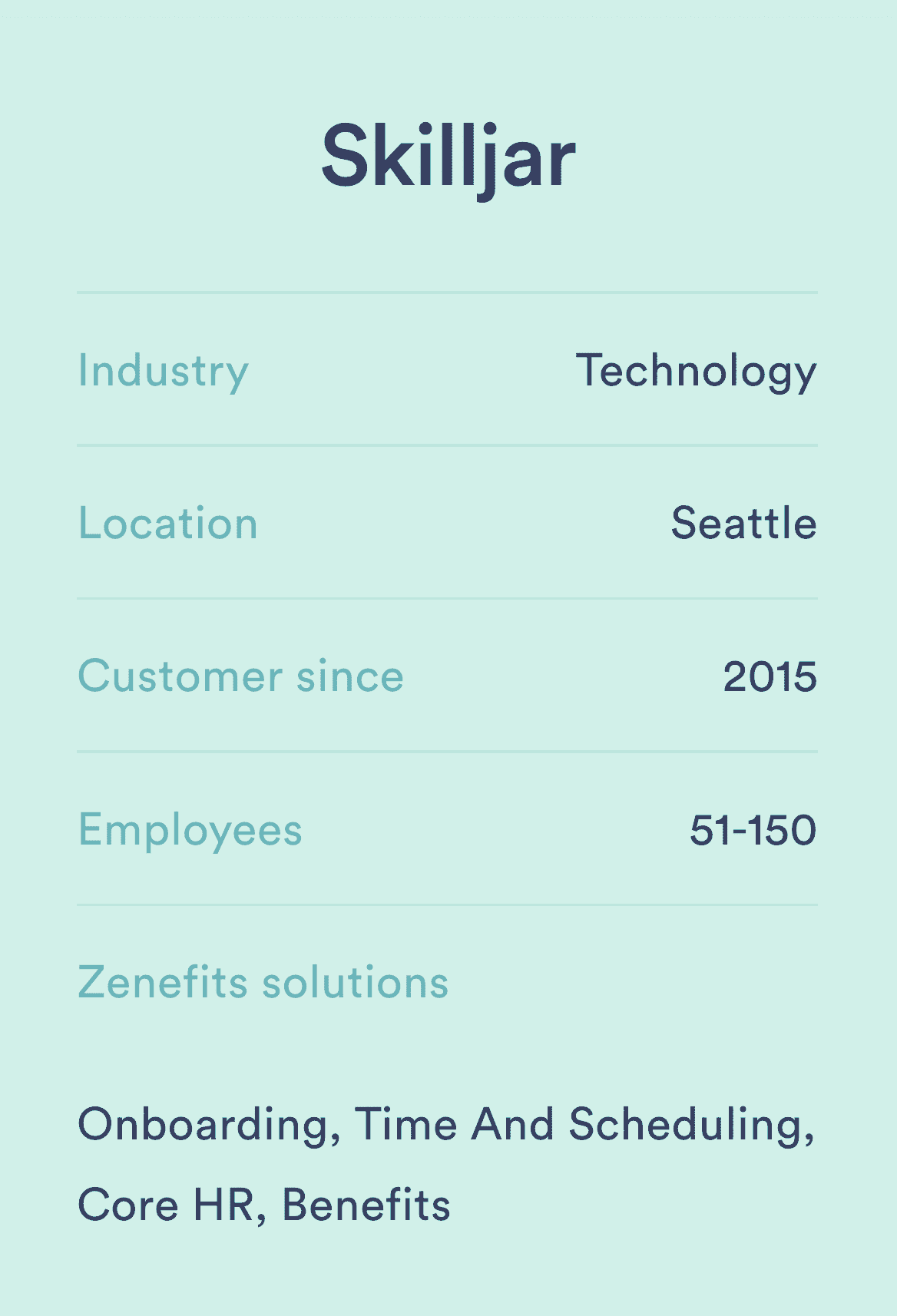 4. Call to action (CTA) button
The orange "Try It Now" CTA button at the top right corner of the web page contrasts well with the white background, and stays in place as you scroll through the case study. The CTA is obvious and clear.

5. Strong introduction
This case study intro clearly explains what type of organization Skilljar is and why there is a need for the company's services in the marketplace.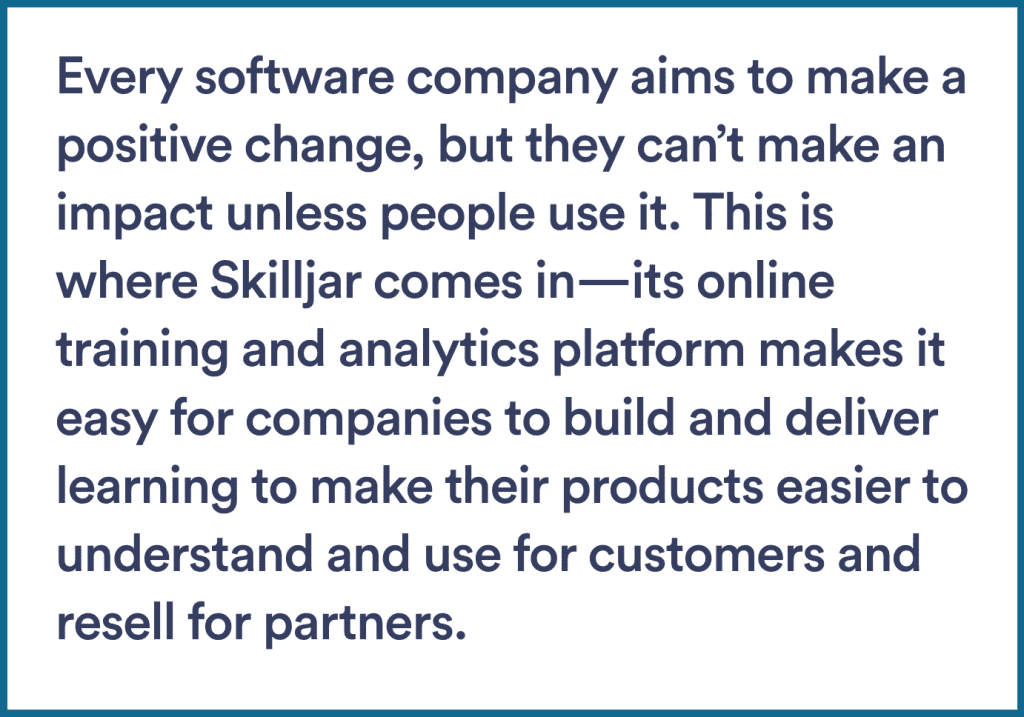 6. Identifiable sections
The challenge and solution sections of this case study are clearly marked, enabling the reader to follow along with the story easily.

7. Pull quote
This is another example of great design, with graphics and an image to accompany the pull quote. Providing a headshot of the customer helps offer added social proof. The quote itself is also compelling and mentions Zenefits.

8. Customer testimonials
This case study features several good customer testimonials throughout, which speak to the impact Zenefits has had on Skilljar's business. This is important because customer quotes carry more credibility with readers (potential prospects) than a company's own version of a story.
9. Closing CTA
In addition to the CTA button at the top of this case study, there's a second CTA at the bottom of the page that offers the option to read customer stories, then talk to an advisor or try a product demo. It's visually engaging with bright colours and clean design, communicating Zenefits' message clearly and drawing the reader in.


What could be better
1. Title choice
The case study title is a bit long and clunky, and should include a stat for greater impact. For example, the title could mention that Zenefits helped Skilljar triple the size of its workforce.

2. Challenge section
This part of the case study doesn't really describe the customer's challenge before using Zenefits' software. Rather than simply touching on Skilljar's opportunity to improve, the challenge section should illustrate how much time and money it was costing the company by not having Zenefits. The section should also incorporate a customer quote.

3. Solution section
The beginning of this section would be stronger if the vendor selection process stood alone in a separate section, explaining why Zenefits stood out from other vendors.
In addition, the section doesn't really touch on the software solution itself until several paragraphs in. Be sure to link to product and service pages within your site to help the reader move through the buyer's journey (and to improve SEO).

4. Results section
This section should fall clearly under a header that says "Results" instead of the solution section of the case study. In addition, it could use more statistics to emphasize the pros of Zenefits' solution—for example, how much time Skilljar has saved in the hiring process by using Zenefits.
SaaS case study example 3: AppDirect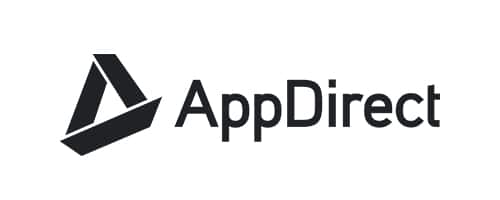 AppDirect case study example: ADP
AppDirect's end-to-end cloud commerce platform connects channels, developers and customers to simplify the digital supply chain. The company enables its customers to onboard and sell products with third-party services—for any channel, on any device, with support.
Check out the case study example we're critiquing: ADP Streamlines HR Operations for Companies Worldwide.
What worked well
1. Overall design
This case study uses strong visuals to enhance the customer story and break up the text, including a video in the header, a sidebar, short paragraphs, lots of white space, a graphic element and a pull quote. It's clear that AppDirect knows that strong design keeps readers engaged.
2. Customer video
This brief clip gives the reader valuable background information on what ADP does and what the company's pain points were before working with AppDirect. This is a great feature for audiences who prefer to consume video content rather than read text.

3. Useful sidebar
The sidebar provides helpful information, offering insight into the longevity of the relationship between AppDirect and ADP, as well as the scale of ADP's business.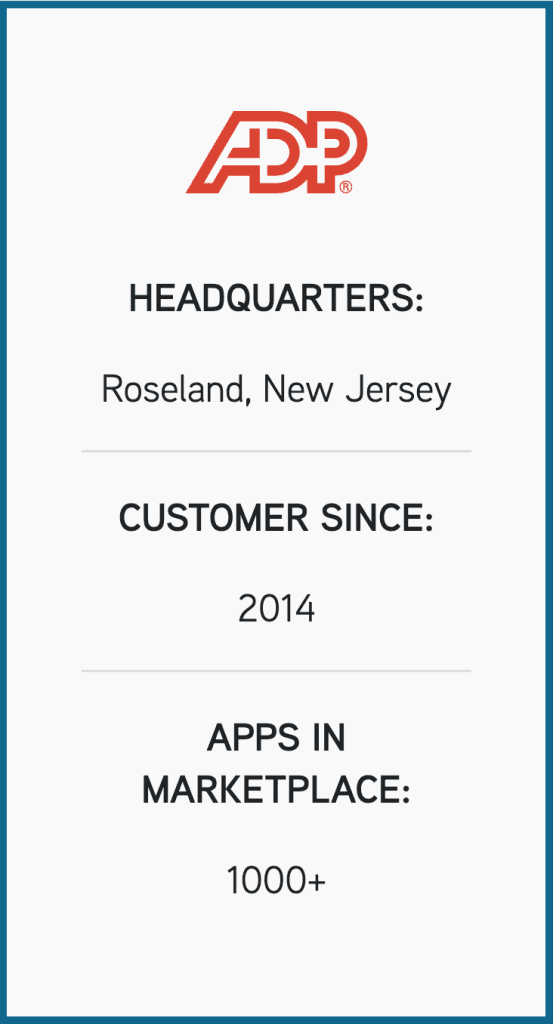 4. Pull quote
The customer pull quote acts as a strong visual call-out on the page and explains the value that AppDirect has brought to ADP from the customer's perspective. This is important because it means more to readers to hear your customer's opinion of your company than your (possibly biased) opinion.
5. Call-to-action options
It's essential to include an obvious call to action (CTA) at the end of your case studies. This piece features an interesting series of CTAs for different use cases.

What could be better
1. Title choice
While the title of this case study nods to the results ADP got from working with AppDirect, it would be stronger if it included a statistic and mentioned AppDirect by name.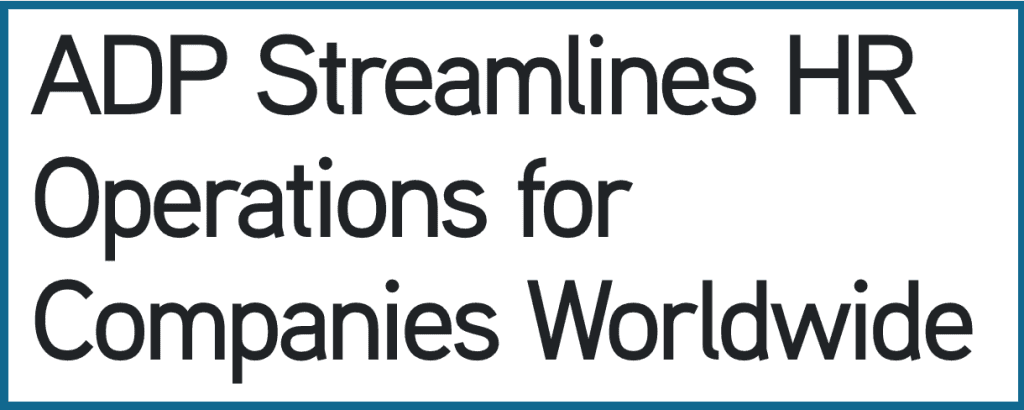 2. Challenge section
This part of the case study reads like an introduction. The section explains what ADP is and what the company's goals were when it sought out AppDirect, but doesn't outline ADP's pain points before implementing AppDirect. The pain points are only mentioned in the video. This challenge section should be changed to an introduction, and a true challenge section should be added for a stronger case study format.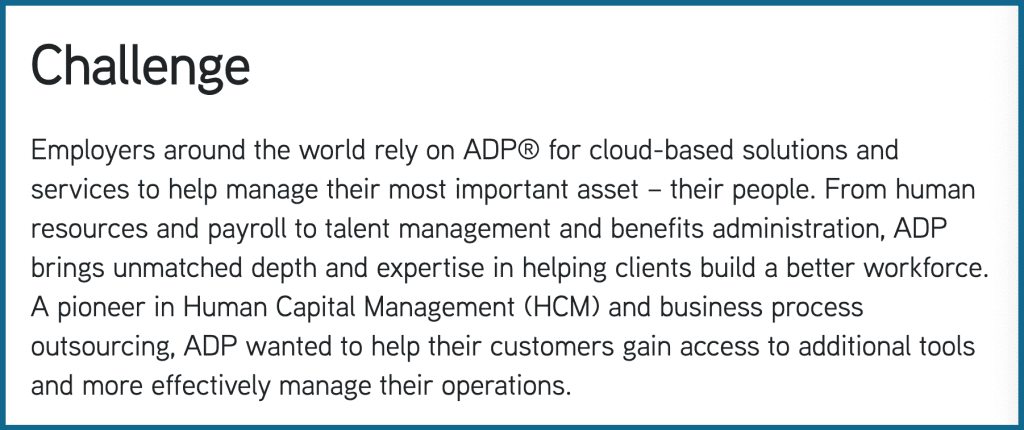 3. Vendor selection and implementation section
The written portion of the case study doesn't explain why ADP chose AppDirect or how the implementation process went. The customer mentions this in the video, but including this information in the text would be an opportunity for AppDirect to further highlight its value for readers who skip the video.
4. Hard numbers
The results section of the case study could use statistics to drive home the benefits of working with AppDirect. Hard numbers are more impactful than qualitative statements.
SaaS case study example 4: Expensify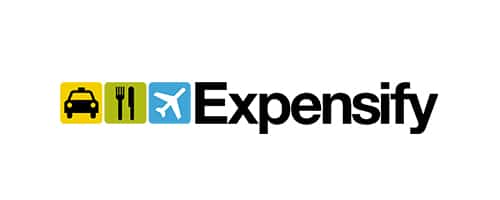 Expensify case study example: Philz Coffee
Expensify is the world's most widely-used receipt tracking and expense management app. The company helps its customers ditch spreadsheets so they have more time to focus on what really matters.
Check out the case study example we're critiquing: Philz Coffee – Mission: Happiness.
What worked well
1. Informative image caption
The small caption on the case study header image tells the reader that Philz Coffee has been an Expensify customer since 2014, offering insight into the strength and longevity of the companies' relationship.

2. Useful executive summary
The 'At a Glance' summary shows which Expensify product Philz purchased, and highlights the features that Philz Coffee loves about Expensify, as well as what results the company achieved by using Expensify's product. This executive summary provides valuable information for the reader before they even dig into the case study.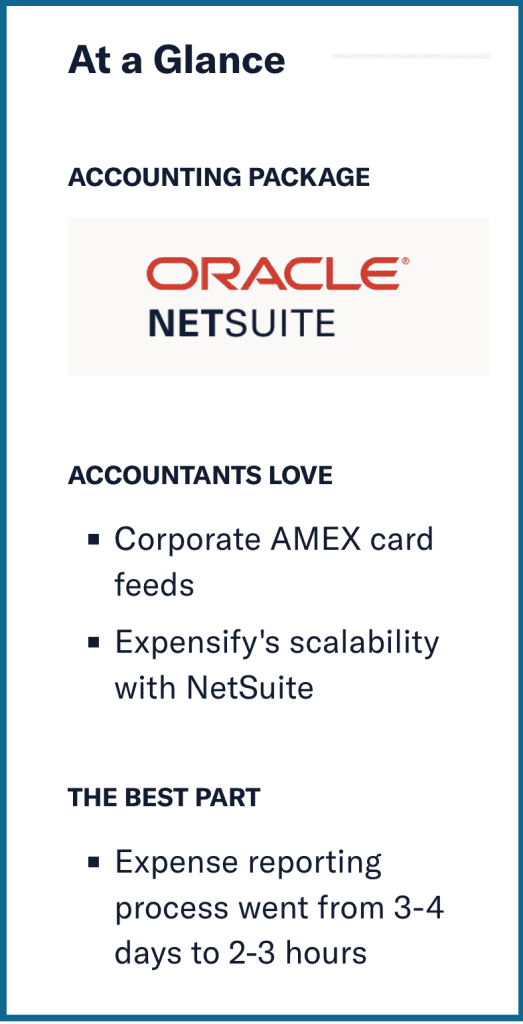 3. Descriptive customer quotes
The case study effectively illustrates Philz Coffee's pain points in the customer's words, enabling readers to consider their own challenges and envision themselves benefitting from Expensify's solution.

4. Strong design elements
It's important to consider several key design elements in your case studies. Expensify's case study on Philz Coffee uses a branded customer image and two pull quotes to break up the text. In addition, the piece is written in short paragraphs that are easy to scan, in keeping with best practice for web readability.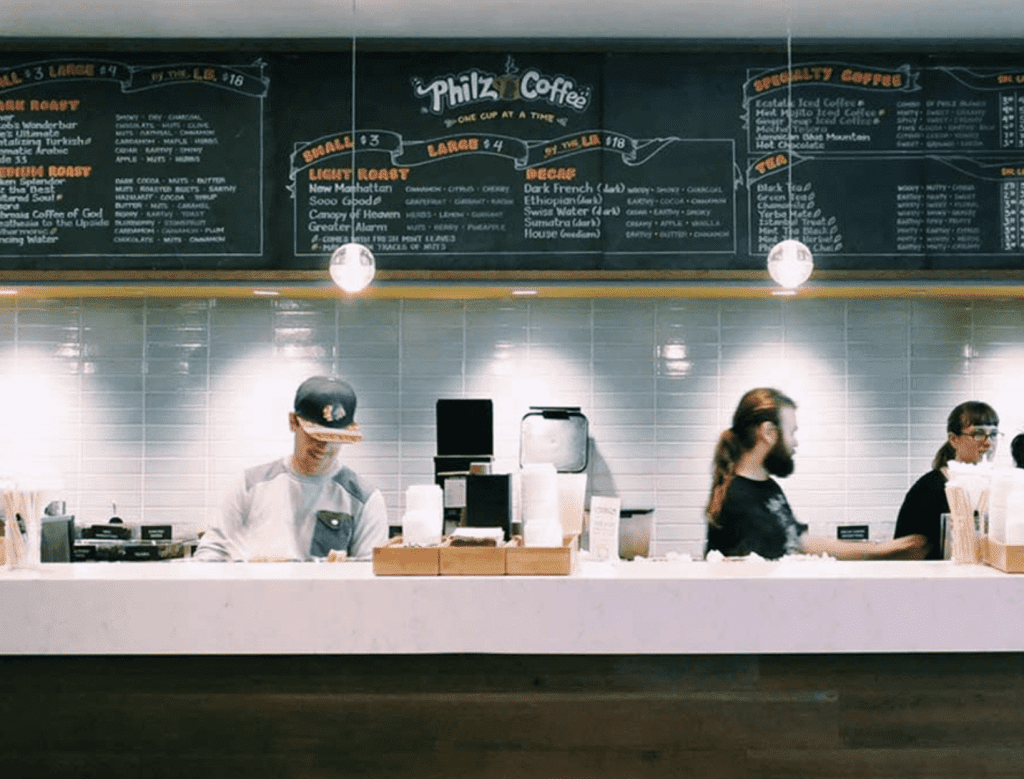 5. Specific sections
The most powerful case studies clearly lay out the steps of their customer's journey. Expensify's case study on Philz Coffee uses headers that explain what each section is about and walk the reader through the journey in a structured format.

6. Clear call to action (CTA)
At the end of this case study, a prominent CTA invites the reader to enter their email address and sign up as an Expensify customer. An additional CTA, "GET STARTED TODAY" also appears as a button in the top right corner of the case study. These elements guide the reader to the action that Expensify wants the reader to take next.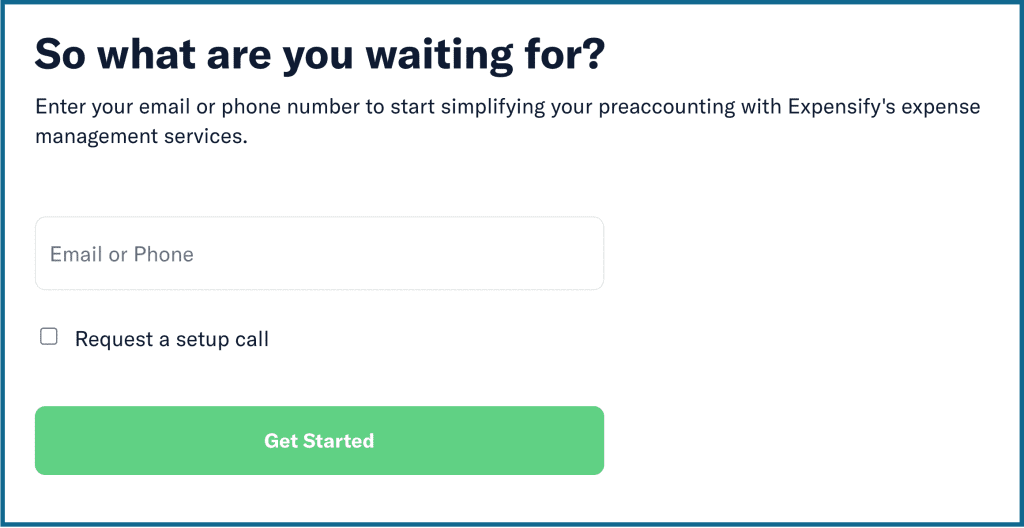 What could be better
1. Title structure
This section would benefit from a rework. While the words "CASE STUDY" appear at the top in small print with the Philz Coffee logo underneath, it isn't clear if "Mission: Happiness" is the title or a section header. This particular wording doesn't explain what the case study is about or highlight the results Philz got from working with Expensify.
"Philz Coffee reduces expense reporting time from days to hours with Expensify," is an example of a strong title that names the customer and Expensify, and calls out quantifiable results. This would work well in the blue header area, while "Mission: Happiness" could remain as the introduction header.

2. Link to customer's website
The case study should include a link to Philz' website so that the content is a win-win for both Expensify and the customer. It's important to help promote your customer so that they can benefit from the case study, too.
3. Challenge/solution/results flow
The customer journey could be better defined. The header "Sweeter with Netsuite" should use challenge-focused wording, and this section should focus only on the customer's problem. While the section does begin this way, it changes gear to talk about the results. Directly afterward, the case study backtracks to talk about the implementation process. It would make for a clearer flow if the results were not mentioned until after the implementation section.
4. Links to other customer stories
It would be beneficial to include links to other Expensify case studies for readers who want to find out more about others' experiences before signing up. While the case study does feature a sidebar that links to a customer page, call-outs to specific stories would add greater value.
SaaS case study example 5: GitLab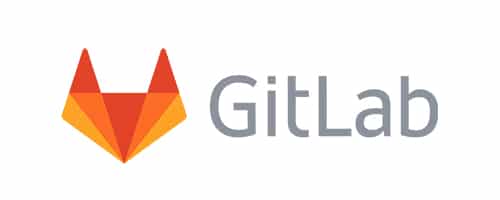 GitLab case study example: Fanatics 
GitLab is a complete DevOps platform delivered as a single application. The company is changing the way development, security and ops teams collaborate and build software. From idea to production, GitLab helps teams improve cycle time from weeks to minutes, and reduces development costs and time to market.
Check out the case study example we're critiquing: GitLab offers Fanatics the CI stability they were searching for.
What worked well
1. Strong title
This benefit-driven title mentions both GitLab and its customer Fanatics. The title is also paired with a subtitle that further explains the results Fanatics got from GitLab's solution.
2. Useful executive summary
This is an essential element for every case study because it gives the reader an immediate understanding of your service. The section at the top of the Fanatics case study is easily digestible and includes information that sets the stage for the reader, such as:
fast facts about GitLab's customer Fanatics
a brief overview of the solution
statistics to demonstrate results

3. Structured flow
The case study clearly guides the reader through specific challenge, solution and results sections, with subheaders for each section that summarize what the reader will learn about.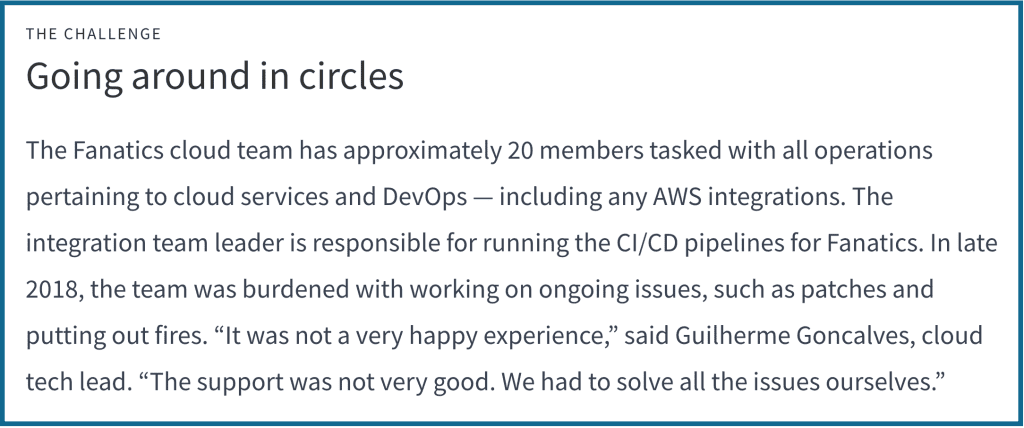 4. The customer is the hero
Making your customer the hero in your case study—as opposed to tooting your own company's horn—is an excellent way to achieve resonance with your readers. GitLab makes the interviewee, Fanatics' cloud tech lead Guilherme Goncalves, the hero by highlighting how he advocated for change in his organization.
5. Convincing quotes
GitLab uses several customer quotes to tell the story from Fanatics' perspective, adding detail, credibility and personality to the case study. This is a solid tactic because it allows the reader to hear straight from the customer why they recommend GitLab's service.
6. Call to action (CTA)
The case study features a bar with a button to sign up for a free GitLab trial. The CTA appears at the bottom of the page and stays in view as the reader scrolls through the content.
What could be better
1. Statistic in the title
Using a hard number in the case study title would help drive home the results that Fanatics got from GitLab's solution.
2. Product link
Including a link to the continuous integration (CI) product that Fanatics purchased would guide the reader in a specific direction to learn more about GitLab's offerings.
3. Pull quote
Adding a visual call-out between two of the sections would break up the case study text and give more weight to the story from the customer's perspective.
4. Design elements
Solid case study design is essential for grabbing and keeping your reader's attention. GitLab could consider adding a headshot of the case study interviewee alongside a pull quote, which helps deliver instant credibility. A data illustration would also be useful to help visual readers process the numbers in the solution section.
5. A look to the future
A paragraph on what's next for Fanatics would help demonstrate how customers can grow with GitLab.
6: CTA above footer
While the case study CTA remains visible as the reader scrolls 95% of the page, it does disappear when the reader scrolls into the page footer itself. GitLab could address this so that the CTA is visible 100% of the time.
7. Additional content
Including a call-out linking to other customer stories would be valuable for readers who want to find more information before signing up for a free GitLab trial.
SaaS case study example 6: ServiceNow

ServiceNow case study example: SAP SuccessFactors 
ServiceNow makes the world of work, work better for people. The company delivers digital workflows that create great experiences and unlock productivity. ServiceNow's IT service management (ITSM) and IT business management (ITBM) technology helps customers modernize IT, drive efficiency and enhance user experience.
Check out the case study example we're critiquing: Delta Air Lines Launches Services Portal with ServiceNow.

What worked well
1. Prominent metrics
ServiceNow features three metrics at the top of this case study, immediately highlighting the value that the company's products delivered to Delta Air Lines. The case study also includes more results in the form of hard numbers throughout the story.

2. Useful sidebar
The sidebar near the top of the case study provides educational 'fast facts' about the customer, Delta Air Lines. The sidebar also travels down the page with the reader as they scroll so that they can access the links to ServiceNow's products at all times.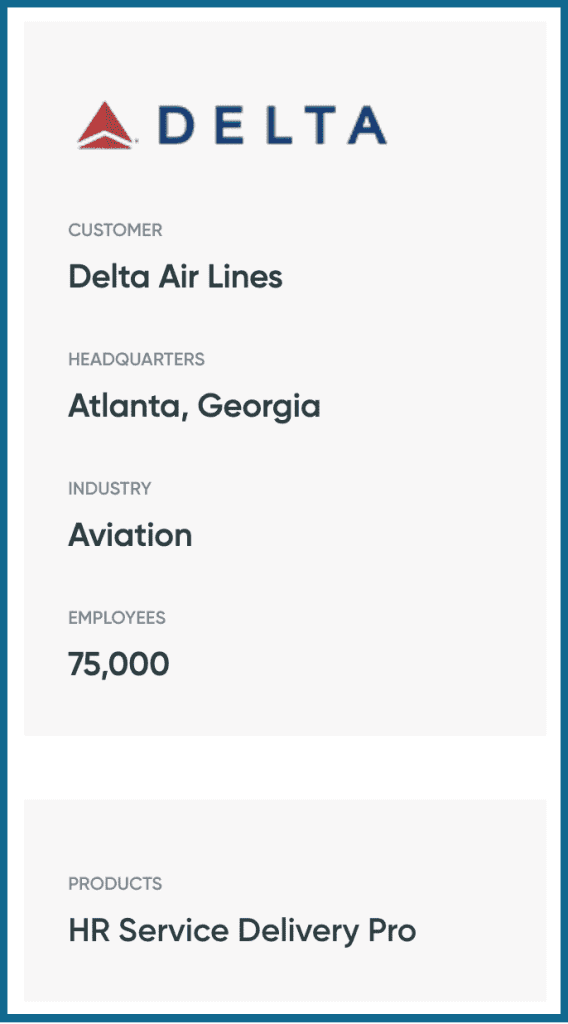 3. Strong quotes and testimonials
The customer quotes and testimonials successfully paint a picture of the pain points that Delta Air Lines was experiencing prior to working with ServiceNow, and why the company needed to implement a technology solution.

4. Clear structure
This case study clearly outlines Delta Air Lines' challenges, then highlights the solutions provided by ServiceNow and the benefits the customer gained from ServiceNow's products. The piece ends with a look to the future for Delta Air Lines, mentioning how ServiceNow's solution will help the organization achieve its goals. This case study format creates a flow and helps the reader understand where they are in the story.
5. Pull quote
The pull quote in the middle of the case study offers a visually compelling element that breaks up the text.

6. Call to action
This case study ends with a clear, prominent and compelling call to action (CTA) at the bottom right where the story finishes. This guides the reader to the action that ServiceNow wants them to take next—to explore demo videos.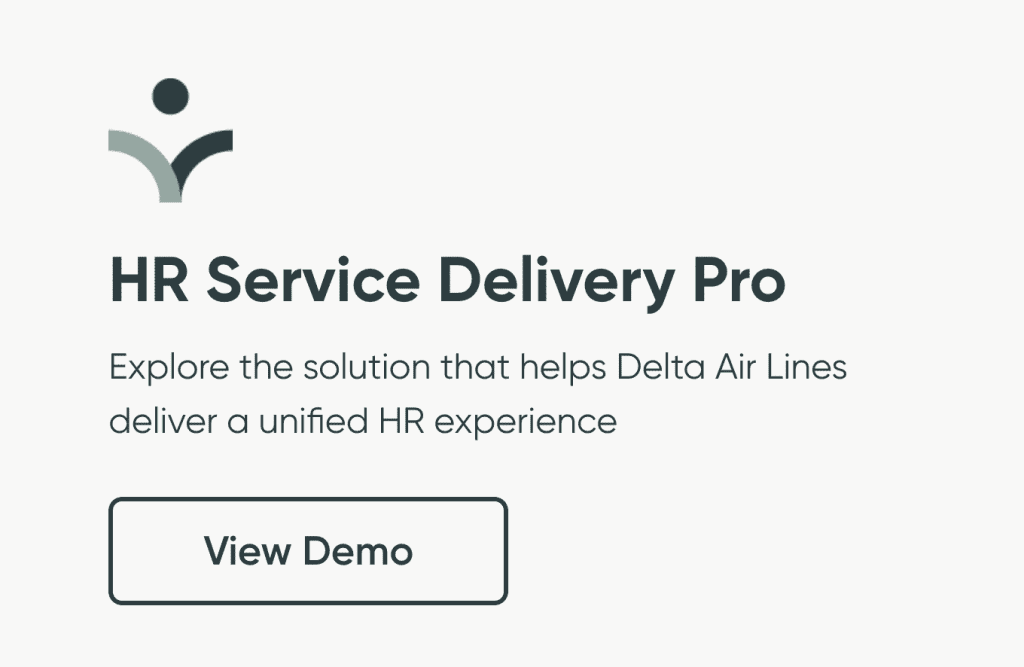 What could be better
1. Title choice
The title of this case study does not read smoothly, which makes it difficult to digest. It also doesn't mention ServiceNow or include a statistic. Try to be more compelling with a results-oriented title.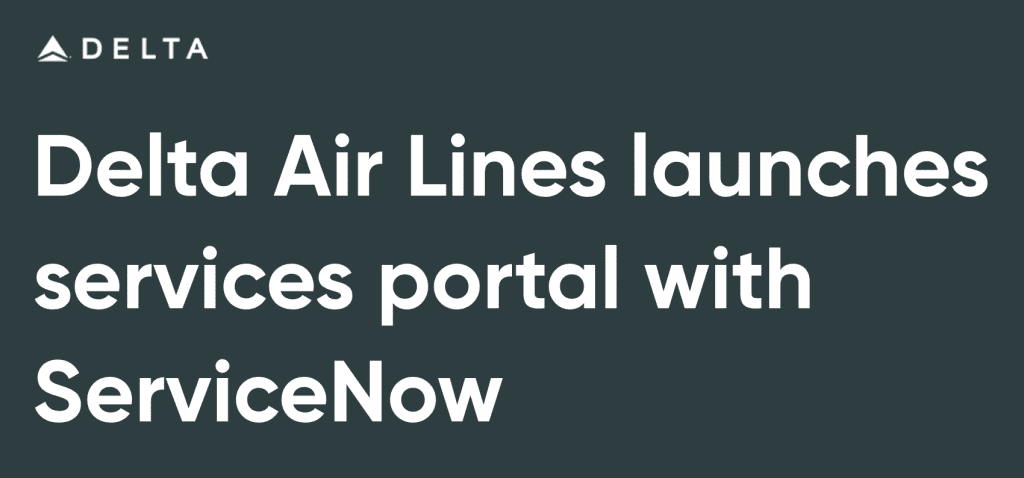 2. Flow of quotes
The challenge section of this case study relies too heavily on quotes to tell the story, using three quotes in a row to illustrate the problem. Alternating between a regular paragraph and a quote from the customer interview makes for a more dynamic flow and enables customer quotes to have a greater impact. This approach also ensures that a case study does not simply repeat quotes from the interview to tell the story.

3. Lack of metrics in Results section
The Results section of the case study lacks metrics, despite the fact that there are great numbers showcased just under the title. Add metrics or KPIs to the body text to help provide the reader with a concrete picture of what they could expect if they started using ServiceNow.
SaaS case study example 7: Splunk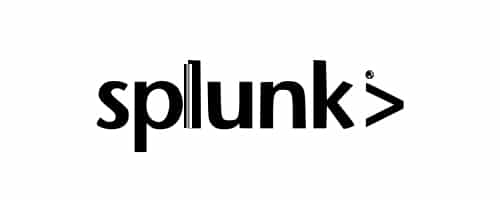 Splunk Case Study example: Domino's Pizza 
Splunk is a data-to-everything platform that helps organizations ask questions, get answers, take actions and achieve business outcomes from their data.
Check out the case study example we're critiquing: Domino's Reveals Splunk as Its Secret Sauce

What worked well
1. Title and subtitle combo
While different from your typical case study, the title and subtitle are fun, clever and on-brand for Splunk. However, we would have liked to see "Splunk" in the title—for example, "Revealing the Secret Sauce: How Splunk helps Domino's Pizza maintain position as the world's #1 pizza company. (Psst, it's the data.)"

2. Video content
We all consume content differently. Splunk made a smart move by placing a video CTA right under the title. This is great for folks who would prefer to watch the story unfold rather than reading it. (See screenshot above.)
3. Testimonial graphics
Customer testimonials are not only more credible than a company singing its own praises—they also bring a story to life with personal anecdotes. The testimonials in Splunk's Domino's case study evoke emotion and stand out well with a strong blue background.

4. CTA buttons
We give Splunk a thumbs up for offering 2 CTA options for readers at different stages of the buyers' journey, with "Talk to Sales" as the bolded option.

5. Engaging visuals
This case study is full of relevant images that set the scene (pizza!) and fun infographics that add value by helping to illustrate the story and communicate the facts.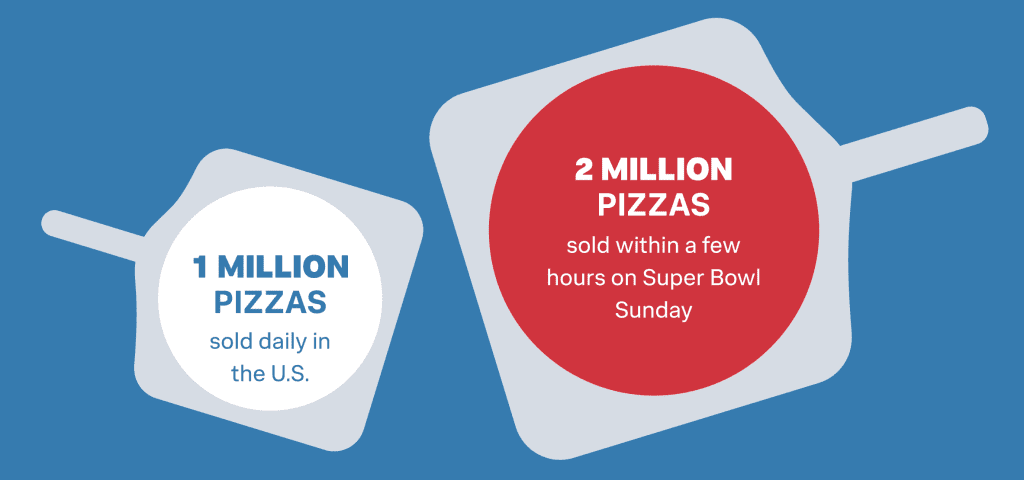 6. Strong storytelling
It's evident that Splunk's team knows how crucial storytelling is in capturing a reader's attention. This case study is well written and the quotes are weaved seamlessly throughout, adding a human element to the narrative.
7. Customer is the hero
Splunk succeeds at championing Domino's by highlighting several of the company's wins early on in the case study. This is a powerful tactic that helps readers see themselves in your customer's shoes.
8. Clear flow
The story is divided into 5 sections based on Splunk's components for a successful user experience: simplicity, reliability, quality, trust, and innovation. This is a unique way to structure a case study and provides clarity for the reader. The graphics also incorporate Domino's' branding.


What could be better
1. Pain points
This case study seems to focus more on the customer's aspirations than on the pain points that led Domino's to Splunk. It's generally understood that pain resonates more with prospects than aspiration. We'd like to see a dedicated "challenge" section that presents the problems and leads into how Splunk solved them.
2. A defined story arc
This case study lacks a beginning, middle, and end. There is no mention of what led Domino's to purchase Splunk and how the implementation went. It also isn't clear what changed or improved thanks to Splunk. And finally, the reader doesn't get any insight into how Domino's plans to use Splunk in the future. (Splunk could consider sticking with the traditional case study format so the reader can easily move through the challenge, solution and results sections of the story).
3. Metrics
Stats are a surefire way to measure success in a B2B SaaS case study. The lack of results-oriented numbers in this case study is a big miss. We want to know how sales and productivity have increased since Domino's implemented Splunk's solution. Ideally, this information would appear within the story, as well as in a bulleted list for a quick overview.
4. Executive summary
Speaking of an overview, an executive summary (or even a short set of bullets outlining the challenge, solution and results) would be an impactful addition to the top of the case study. This would enable the reader to understand the story at a glance.
SaaS case study example 8: Zendesk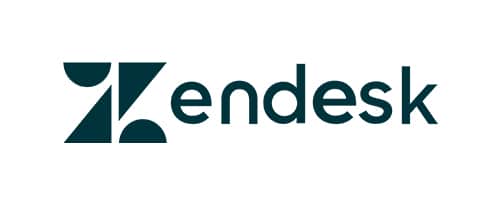 Zendesk case study example: Airbnb
Check out the case study example we're critiquing: Airbnb's custom 360-view of the customer
Zendesk is a CRM company headquartered in San Francisco with 17 offices worldwide. The company's support, sales and engagement software aims to improve customer relationships for clients ranging from large enterprises to startups. Zendesk has over 150,000 customers in multiple industries.
What worked well
1. Strong CTA near the top  
A good SaaS case study guides the reader to where you want them to go next with a call to action. Zendesk's Airbnb case study uses design to make its CTAs stand out. It's fine to include more than one CTA in a case study, which Zendesk has done here.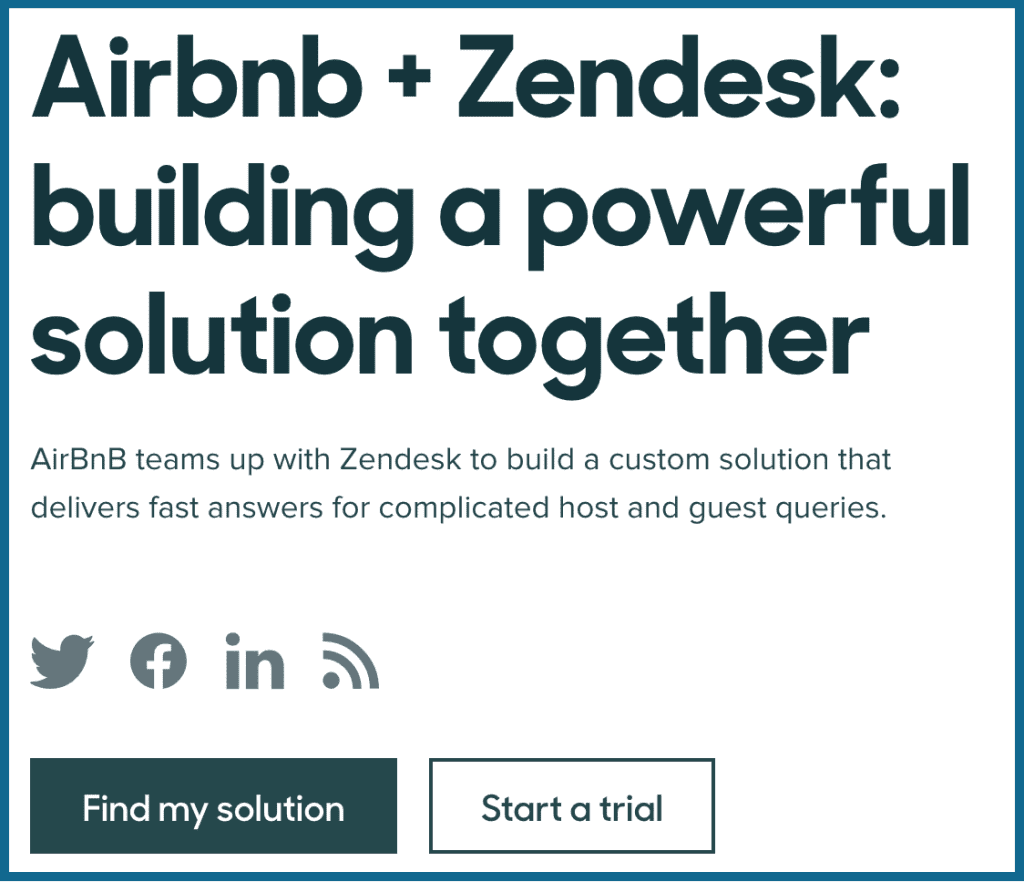 2. Social media icons
Zendesk makes good use of graphic elements by placing social media icons near the top of the page. The layout is clean and adds visual interest to the piece, but doesn't distract from the call to action (CTA) just below it.
3. Striking imagery
Using visually compelling content throughout your case studies is a must-do if you want to keep your audience engaged—and Zendesk has nailed this. Fortunately, their customer Airbnb has lots of great imagery to work with.

4. Impactful customer quotes
Great quotes help tell a human story that's relatable and powerful. They also give your readers what they really want: your customer's opinion of your products. No one wants to hear you drone on about how awesome your company is. Let your customer do the talking.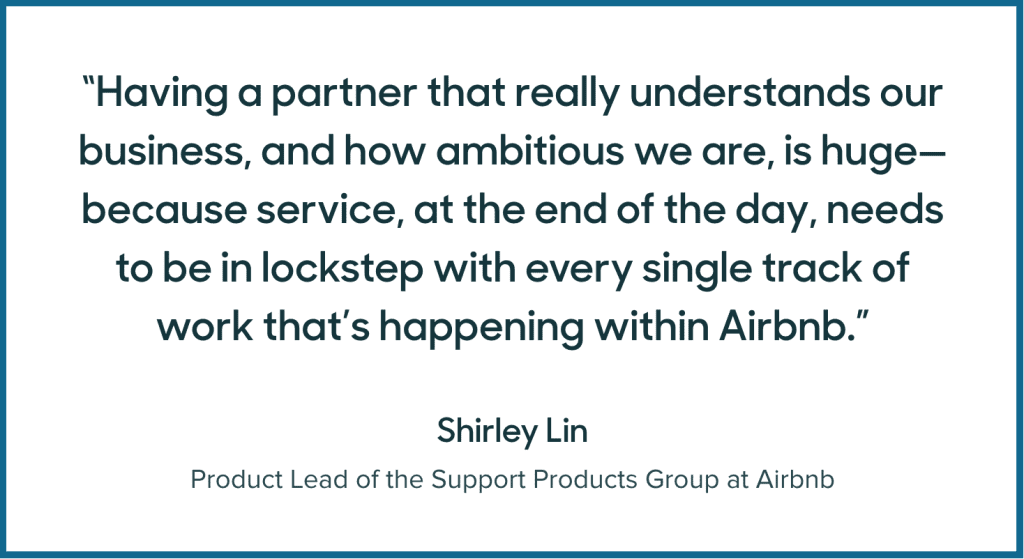 5. The customer is the hero
Zendesk does a fantastic job of putting the spotlight on the customer by introducing Airbnb in an incredibly positive light. Throughout the case study, the story is told by Airbnb with lots of quotes, and explains how Zendesk simply provided a tool for Airbnb to run its business more effectively.
6. Strong storytelling
SaaS case studies are only effective if they include a story arc to capture your readers' attention. Zendesk does this expertly, beginning with Airbnb's humble roots, then describing its wild success with over 100 million guests—and how that spurred the need for a solution that could help deliver high-quality customer service. The case study also evokes vivid detail like sitting in a "sun-drenched living room with a mug of steaming coffee."
7. Headers and subheaders
Not only does adding headers and subheaders to a case study help break up the text so readers can scan with ease—it's an essential component of healthy search engine optimization. Zendesk's Airbnb case study currently lacks these elements.

What could be better
1. Executive summary
Including an executive summary in your case studies gives your readers the chance to decide if the material is worth their time. It also means that if they don't read the entire piece, they'll still walk away with an understanding of your solution. Zendesk's Airbnb case study would benefit from adding an executive summary.
2. Clear challenge, solution and results sections
While Zendesk does tell a compelling story in this case study, it could help readers move through the story with greater ease by including more obvious challenge, solution and results sections.
3. Obvious CTA at the end
With no CTA at the end of this case study, Zendesk is missing out on a big opportunity. Currently, you read to the end of the case study and then see the footer. Think of what kind of results they could get if they added a "Book demo" button.

Get help with your B2B SaaS case studies
As part of Uplift Content's done-for-you case study writing service, we'll work with you to share your untold success stories. We'll also showcase how your products help your customers solve tough challenges.