At its core, SaaS content marketing is about building relationships and establishing authority in your industry. Whether it's blog posts, ebooks, checklists, videos, webinars or social media content, each content asset serves as a stepping stone to attract, convert and retain customers.
The value-driven approach of SaaS content marketing also fosters trust, loyalty and credibility, setting your SaaS company apart from competitors in a crowded market.
For SaaS companies, content marketing is an exciting opportunity. In fact, SaaS companies can benefit from over 600% ROI when they leverage content marketing, according to Marketing Insider Group.
If you're ready to get started with SaaS content marketing, this guide will lead you through the process of planning, executing and refining a successful strategy.
Here's what we'll cover:
What is SaaS content marketing?
SaaS content marketing is a strategy focused on creating, publishing and distributing highly valuable, relevant and informative content for software-as-a-service companies. The goal of the content is to attract, engage and convert potential customers with content assets like blog posts, ebooks, white papers, webinars and podcasts.
Content marketing for SaaS is relevant at all stages of the sales funnel, nurturing and guiding your target audience along their buyer's journey to ultimately purchase your products or services.
What is the difference between content marketing for SaaS vs other types of companies?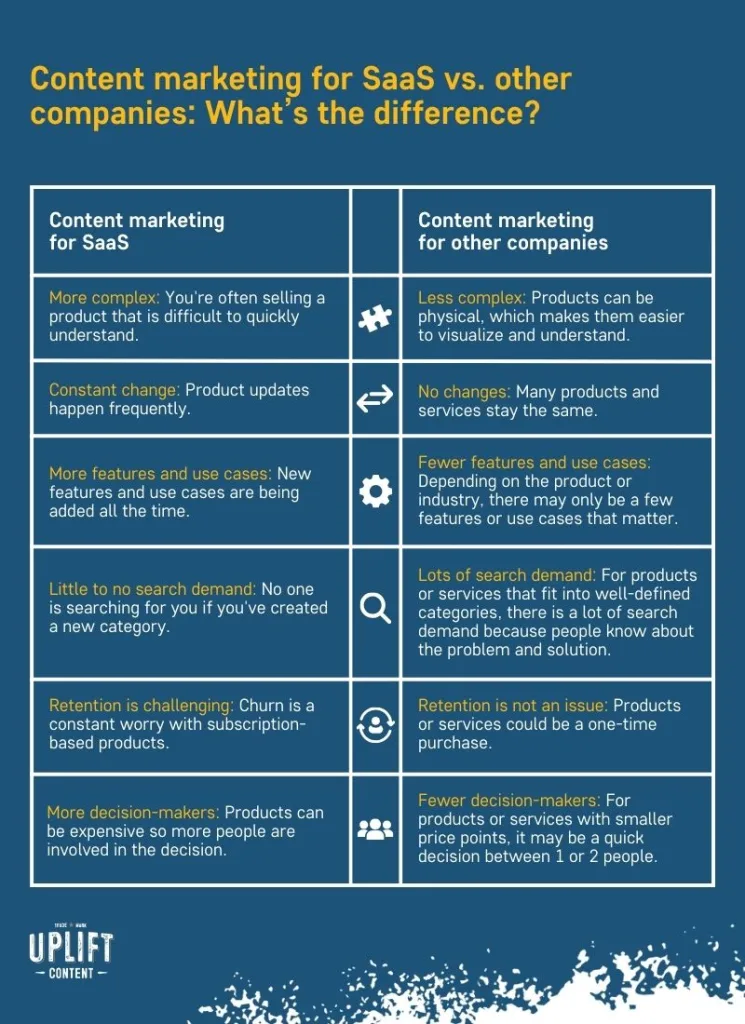 Content marketing for SaaS is different from content marketing for other industries in 6 ways:
1. Complexity
New technology can be difficult for prospects to quickly understand—and because the product is not physical, it's hard for prospects to visualize. SaaS content marketing needs to educate prospects on how your product can solve their problems.
2. Constant change
SaaS companies are continually adapting their products and developing new features and integrations based on user feedback. Each time there's a product update, you need to create content that reiterates the value prop and the benefits of the update.
3. More features and use cases
As SaaS companies continue to develop features for their products, new use cases are also created. SaaS content marketing needs to help educate potential and existing users so that they can take full advantage of the available features and use cases.
4. Search demand
For new category creators and niche SaaS solutions, there isn't a lot of search demand because no one knows that your product exists yet. Content marketing can help bridge that gap by creating content around the pain points that your target audience knows they have, but don't yet know how to solve.
5. Retention
The nature of subscription-based SaaS products means that customers need continuous education to get the maximum benefit. Educational content delivered exactly when customers need it helps reduce churn rates.
6. More decision-makers
SaaS can be expensive so more decision-makers are typically involved in the buying process. That's why SaaS content marketing should address the concerns of these decision-makers.
Why is content marketing important for SaaS companies?
Content marketing is essential for SaaS companies because it helps them grow organically. The target audience of SaaS companies is constantly trying to learn and improve, and the content these companies provide serves as a valuable source of knowledge.
By creating informative content, SaaS companies increase their brand awareness, build trust and educate audiences. This positions them as a go-to resource and fosters lasting relationships with their audience.
SaaS content marketing in numbers:
Semrush's State of Content Marketing 2023 Global Report found that:
70% of SaaS companies have a fairly developed or advanced content marketing strategy
97% of SaaS companies are finding some degree of success in their content marketing effort
75% of SaaS companies expect to increase their content marketing budgets in 2023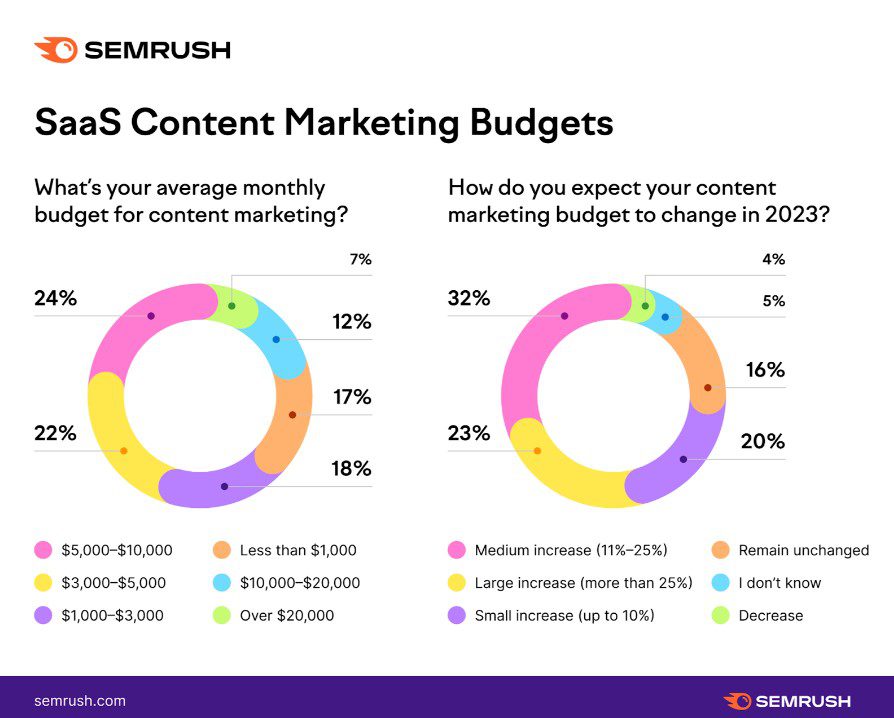 Source: SEMRush
Content you can count on
Blog posts, ebooks, white papers and case studies are powerful content assets—when well-written. Our team of experienced SaaS writers ensures your content hits the mark every time. Check out our content writing services.
5 benefits of SaaS content marketing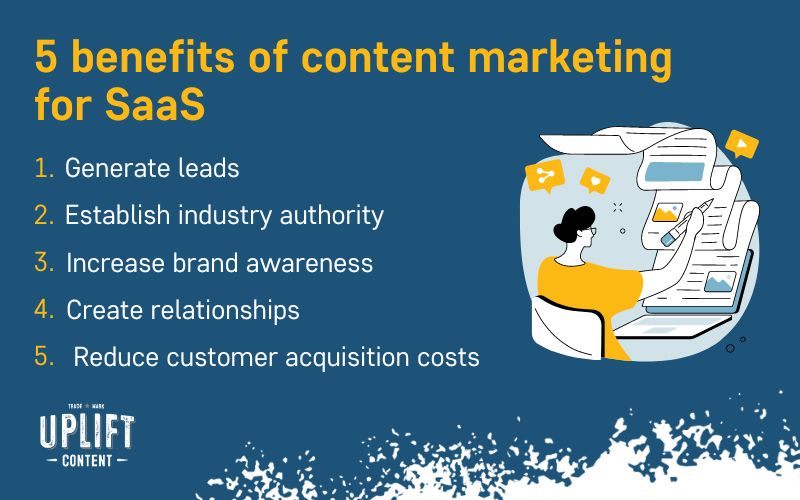 97% of SaaS companies found some degree of success in their content marketing efforts in 2023, according to SEMRush's State of Content Marketing 2023 Global Report. Here are 5 benefits of using content marketing for SaaS:
1. Generate leads
Solve a problem for your audience through ebooks, guides, checklists and templates. These content assets need to provide enough value that your prospects are willing to hand over their email address.
2. Establish industry authority
Establish your SaaS brand as a leading expert in the field. Construct a powerful content machine that covers diverse but related topics—similar to how HubSpot became synonymous with inbound marketing and overall marketing expertise.
3. Increase brand awareness
Create a recognizable online presence by using content marketing to boost your company's visibility and connect with a broader audience.
4. Create relationships
Understand your customers' needs and pain points better so you can create helpful content tailored to their preferences. When you nourish authentic relationships, you foster organic growth within your niche.
5. Reduce customer acquisition costs
Leverage content marketing as a sustainable, cost-effective approach to reach potential customers. Content marketing generates 3 times as many leads as traditional marketing—and costs 62% less.
15 types of SaaS content marketing assets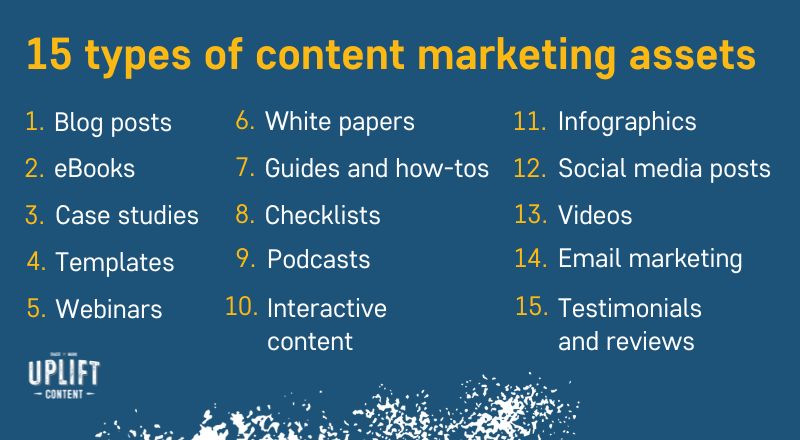 Which types of content are best for your SaaS company?
Content marketing for SaaS is the way to go when it comes to lead generation. If you really want to get ahead of competitors, it's important to explore the different types of content you can use in your SaaS content marketing and determine which combination will work best for your company.
Here are the 15 most popular types of content used in SaaS content marketing:
1. Blog posts 
Boost organic traffic with versatile, low-cost and often evergreen content that educates readers and answers their questions.
Check out Uplift's blog writing services for SaaS.

2. eBooks
Demonstrate your thought leadership and generate leads by producing ebooks that provide value to your potential customers.
Find out about Uplift's ebook writing services.

3. Case studies
Showcase your customers' successes by allowing them to tell their own story of their challenges and how your solution helped them solve those challenges.
Learn more about Uplift's case study writing services.

4. White papers
Pack in the value with first-party data and thought leadership that helps your company stand out from the competition.
Check out Uplift's white paper writing services.

5. Guides and how-tos
Provide helpful, step-by-step playbooks to help your audience solve a problem or learn something new with SaaS content marketing.

6. Checklists
Generate leads by creating checklists that provide step-by-step guides to performing tasks or solving problems.

7. Infographics
Catch the eye of your target audience with easily digestible, visual information that's appealing to readers and non-readers alike.

8. Social media posts
Connect with your audience and build relationships with influencers who can help expand the impact of your SaaS content marketing efforts.

9. Videos
Grab your audience's attention with engaging visual content. Tell your company's story through high-level "about" videos, short demo videos, social media clips, interviews and explainer videos.

10. Testimonials and reviews
Gain credibility and lower objections by having your happy customers share testimonials and reviews.

11. Podcasts
Create informative, thought-provoking and entertaining content your audience can consume at the gym or on their way to work.

12. Email marketing
Stay top of mind and nurture a highly targeted audience with relevant content for each stage of your sales funnel.

13. Interactive content
Quizzes, games, apps and calculators are a great way to gather information, boost engagement and find new customers.

14. Webinars
Educate existing and potential customers, attract new leads and establish your authority in your field by creating webinars that answer pressing questions and address common challenges.
15. Templates
Make blog posts actionable by providing a fillable template that your prospects can download.
Generate more traffic and leads
With done-for-you blog posts, ebooks and white papers, we give you back time to focus on other strategic initiatives. Check out our content writing services.
How to create a SaaS content marketing strategy
70% of SaaS companies have a fairly developed or advanced content marketing strategy, according to a 2023 report by SEMRush.
But is YOURS working as well as you'd hoped?
Is there room for improvement?
Or do you need to create a content marketing strategy from scratch?
No matter what stage you're at with yours, review these 9 steps to creating a content marketing strategy to see if you can up your game: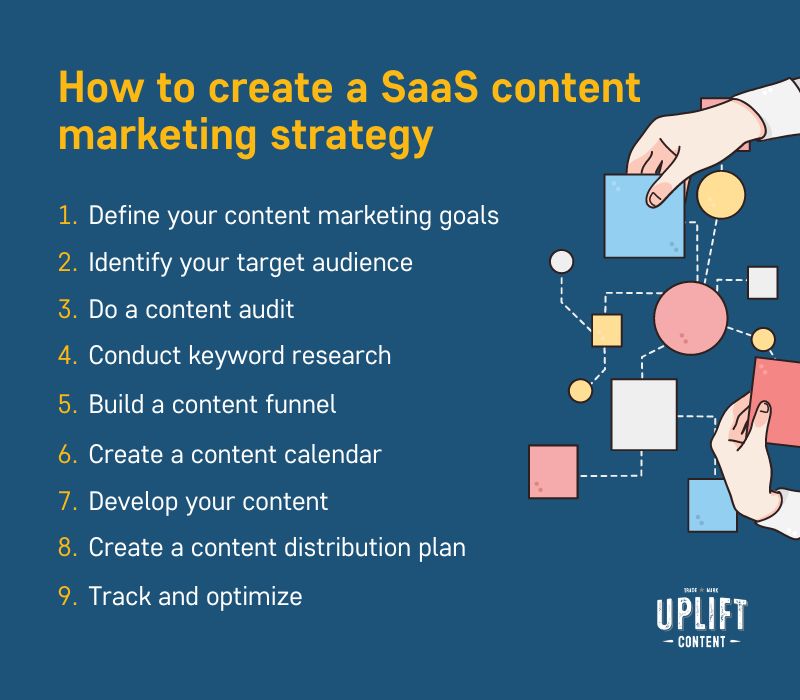 Step 1: Define your SaaS content marketing goals
Before you start developing or reviewing your content marketing strategy, you need to identify your SaaS content marketing goals.
Your goals need to be specific and measurable objectives that help you meet your company's broader business goals. The more specific you can be, the easier it will be for you to evaluate your progress and set realistic expectations.
Remember: SMART goals are specific, measurable, attainable, relevant and time-bound.
The top 3 content marketing goals for SaaS companies are:
1. Brand awareness 
Examples of SMART brand awareness goals:
Boost monthly organic and referral traffic by 50% within 6 months
Increase SEO rankings for specific keywords within 3 months
Grow social media platform by 1,500 new followers by October
2. Lead generation 
Examples of SMART lead generation goals:
Book 100 demos within 2 months
Get 5,000 downloads of your new ebook within 3 months of publishing it
Grow email newsletter list by 500 subscribers in 2 months
3. Website traffic
Examples of SMART website traffic goals:
Increase overall website traffic by 25% in the next quarter
Achieve 20,000 monthly visitors from organic search within 6 months
Obtain 3,000 unique visitors from social media channels by the end of the year
Step 2: Identify your target audience
Defining your target audience is crucial for building a SaaS content marketing strategy that will get you the results you're looking for. To do this, you need to build an ideal customer profile (ICP). An ICP is a detailed description of the company or user that will benefit the most from your SaaS solution.
To determine your ICP, ask yourself the following questions:
What are their demographics (age, location, gender, etc.) and psychographics (desires, goals, interests, etc.)?
What problems and pain points are they looking to solve?
What's their primary industry?
What other SaaS solutions do they use?
What burning questions are they asking on search and social?
What content formats do they prefer?
What motivates them to purchase a SaaS product?
What's your ideal customer's budget?
Once you've answered those questions, you can use the data to create your ICP. Give a face to the name and use it for all content brainstorming.
Get high-performing content
Uplift Content helps you produce content that converts. Get in touch.
Step 3: Do a content audit
Now that you know what your ICP is, you're ready to audit your existing content to see if it's content that will resonate with your audience at all stages of the buyer's journey.
The first thing you should do is create a content inventory, which is a spreadsheet that lists every page on your website.
Download our content inventory template.
Once you know what content you have, you'll want to figure out:
Whether your content is actually targeting your ICP
How your content is performing based on your goals
What keywords you're ranking for
What types of content you're missing, as well as what topic gaps exist
What content you should update, optimize or delete
How your content holds up against your competitors' content
While answering the above questions, you can also consider these indicators:
Number of website visitors: What are the most popular pages?
Number of unique visitors: Are people returning to your website?
Number of leads generated: How are the CTAs working?
Number of conversions: Are people taking the action you want them to?
Number of shares and likes: Are people engaging with your content?
Backlinks: Are other websites sharing your content?
Step 4: Conduct keyword research
Your target audience will likely search for different things at different stages of their customer journey.
1. Awareness – Top of Funnel (TOFU)
As your ICP realizes they have a problem, they may search for information on how to solve a problem related to their pain points. Or they might search for thought leadership or original research to better understand how they should approach the challenge.


2. Consideration – Middle of Funnel (MOFU)
Once your ICP understands the exact problems they need to solve, they might search for a checklist that outlines what questions to consider when researching a solution to their problem. Or they might look for product comparison articles to start assessing which solution might be best for them.


3. Conversion – Bottom of Funnel (BOFU)
Now that your ICP knows what kind of solution they're looking for, they might search for reviews or case studies for proof of how your software can solve their specific challenges. Or they might search for an in-depth white paper to fully understand your approach to solving their problem.

By identifying keyword terms typical of each stage of your customer's journey, you can develop content to address their needs at each point.
To create content that ranks AND gets clicks and conversions, you need to create better, more comprehensive and more valuable content than anyone else. Answer your audience's questions better than your competitors.
To get your content ranking on the first page in the search results, focus on answering questions that are not already answered (or poorly covered) by your competitors.
How?
Create content that dives deep into your areas of expertise to build topical authority rather than chasing after countless unrelated keywords and having shallow content. Find several core topics and dive further and further into them.
For example, at Uplift Content, we offer 4 main writing services:
So the content we create for content marketing purposes is usually on the topics of blog posts, ebooks, white papers and case studies. We try to go as deep as we can on these 4 services/topics—answering all possible questions that our target audience might have.
By having clearly defined topics, we can dive deep into our keyword research to identify appropriate sets of keywords for each topic.
Using your preferred keyword research tool, search for each topic you want your brand to be found for.
Analyze the list of keywords to look for ones that might be a good fit for your topics and what your audience might search for. To decide which keywords to go after, you'll need to consider which keywords have good volume and a low enough difficulty that you think you might have a chance of ranking well for them.
Once you have a keyword that you think fits the bill, Google it to see who is writing about it. Analyze the top 3 results to see what subtopics they cover and whether there are any subtopics missing. Also, look at the "People Also Ask" section to see what kinds of questions people are searching for answers on.
Step 5: Build a content funnel
It can be a long and complex sales process for B2B SaaS. And because there are often lots of decision-makers, it's important to create content that addresses their needs across every touch point in the customer journey.
You can do this by producing content for each stage of the funnel. As we mentioned in the previous section, a basic content marketing funnel takes the form of an inverted pyramid and has stages of Awareness, Consideration and Conversion.
Here's a simple SaaS content marketing funnel and customer journey:
Awareness – Top of Funnel (TOFU)
Top-of-funnel content should aim to educate your audience and familiarize them with your brand. Content for this audience can include:
Blog posts
How-to guides
Infographics
Thought leadership
Original research
Top-of-funnel resources:
Consideration – Middle of Funnel (MOFU)
Consideration content is more focused on guiding people at the middle of the funnel who have a higher purchasing intent. Here's where you want to encourage them to subscribe to your newsletter or download your free resources. This type of content can include:
eBooks
Checklists
Cheatsheets
Templates
Product comparison articles
FAQs
Middle-of-funnel resources:
Conversion – Bottom of Funnel (BOFU)
With a bottom-of-funnel audience, conversion content should be heavily action-oriented. You need to be strategic with your CTAs as people are already aware of the brand and might be considering their options. Types of bottom-of-funnel content can include:
Case studies
White papers
Use cases
Features or integrations landing pages
Email nurture sequences
Bottom-of-funnel funnel resources:
Think through what content you can create for each stage of the SaaS content marketing funnel and map it out so you can dish up exactly the content your target audience needs to take the next step.
Step 6: Create a content calendar
Now that you have discussed the SaaS content marketing funnel and done some keyword research, it's time to bring it all together and set up the workflow.
The content calendar is basically a way to visualize the content efforts of every team member. Writing a case study takes more time and resources than writing a blog post, so you need to be able to organize the working structure in such a way that the next steps are clear for every team member.
When crafting content, establish a specific objective for each piece, such as boosting brand recognition, acquiring leads or educating your target market. Use your research on audience pain points to make sure your content addresses your market's needs. But remember to always keep your sales funnel in mind.
When planning content, it's helpful to establish a consistent and manageable publishing schedule. Determine the amount of content needed per month to achieve your marketing goals and the amount that you can create with your budget and team resources.
Step 7: Develop your content
When it comes to creating content, it's best to emphasize quality over quantity, even if that means publishing fewer pieces that are thorough, well-researched and valuable to your ICP.
Creating high-quality content will help you establish your company as a thought leader and authority in your niche, drive more traffic to your website and convert more leads into loyal customers.
Consider these 5 tips when writing marketing content for SaaS:
1. Write an attention-grabbing headline
Your headline should be relevant and catchy. You can use a headline analyzer for extra help. 
2. Always use subheaders
Subheadings are a great way to break up your content and make it easier to read. Use them liberally throughout your article.
3. Use short sentences and paragraphs
This makes your content more scannable and easier to read.
4. Always include visuals
Use images, infographics and videos to break up your text and add visual interest to your content It also helps with ranking on Google Images. 
5. Include a call to action (CTA)
Add these strategically throughout your content to invite readers to take the next step in the buyer's journey. This could be signing up for your newsletter, downloading an ebook or scheduling a demo of your software.
Need results from your content?

Work with a content marketing agency that specializes in writing for B2B SaaS. Check out our content writing services.
Step 8: Create a content distribution plan
After producing your content, it is crucial to implement a plan for distributing and promoting it. This enables you to reach more of your target audience, increase brand visibility, and ultimately convert more leads into customers.
Here are 20 ways to distribute your content:
1. Hashtags
Share your content on your social media platforms using relevant hashtags.
2. Tagging people
Tag people so they reshare your content. 
3. Tagging brands 
Tag any of the brands you mention in your content.
4. Email
Send your content out via email, using relevant subject lines and calls-to-action (CTAs) to encourage click-throughs.
5. Influencers
Work with relevant industry influencers and bloggers to have your content featured on their sites, or reach out to publications in your niche to see if they would be interested in covering your content.
6. Webinars
Host a webinar or live stream about the topic of your content to attract a larger audience and generate leads.
7. Paid ads
Set up a paid advertising campaign on social media that highlights the content.
8. Comments
Include a link to your content in the comments section of relevant social media posts.
9. Graphics
Share graphics and images that come from the content.
10. Youtube Shorts
Announce the content with a Youtube Shorts video.
11. Instagram
Share a story on Instagram with a swipe-up link. 
12. DMs
Send a message with a link to people who have asked questions or shared similar content.
13. Youtube
Refer to the content in a YouTube video. 
14. Pinterest
Curate a Pinterest board with all the content you've published.
15. Podcasts
Promote the content through podcasts with a similar niche or audience to your content. 
16. Ask for help
Reach out to friends, your internal team or work connections within the relevant industry and ask them to share. 
17. Pin
Pin the content to the top of your social media pages. 
18. Remarketing
Run a remarketing ad for people who have visited your site lately.
19. Comments
Comment on thought leaders' LinkedIn posts and ask them to share their thoughts on the content.
20. QR codes
Share a QR code on Snapchat. 
Distributing your content as thoroughly as possible allows you to make the most out of what you've created, ensuring its reach extends to new audiences.
You should also consider repurposing your content so that you can maximize its impact by transforming it into different formats.
Here are 5 easy content repurposing ideas you can tackle:
1. Video
Pull the 3 top tips from a blog post and create a video on them. 
2. Infographic
Take the information from an ebook and turn it into an infographic.
3. Social posts
Pull out quotes from a case study to use in social posts.
4. Checklist
Take a white paper and create a supplemental checklist or template.
5. Blog post
Turn the transcript from a webinar into a blog post.
Repurposing content and distributing content complement each other, optimizing your content's performance and amplifying its value.
Step 9: Track and optimize
Once you start publishing and distributing your content, you need to track the results so you can evaluate its performance. This allows you to identify areas for improvement and adjust your SaaS content marketing strategy accordingly.
In Step 1, we talked about setting SMART goals and defining some key metrics to help evaluate the success of your content. It's great to track metrics, but only if you act on the information you gather.

For example, if you see that one of your new blog posts is getting lots of traffic, but the bounce rate is through the roof, you know that there's an issue with the content. You can ask questions like:
Is the meta description misleading?
Is the content answering your audience's question right away?
Is the content written for the right audience?
Is it targeting the wrong part of the funnel?
Once you've analyzed the situation, you need to act. Fix the post and check back in 2 months to see if the performance has improved.
Find out EXACTLY how to measure the performance of your content—and what actions you can take to fix it.
Best tools for SaaS content marketing
You're spoiled for choice when it comes to which tools to use when doing SaaS content marketing. The best options for your company will depend on your specific needs and budget.
Here are the SaaS content marketing tools we know and use, but there are so many more you can choose from. We suggest you conduct your own research if you require something more niche:
Google Analytics connects to your website for search, traffic and performance information.
Semrush is a powerful tool for SEO and PPC research, which can help with keyword research, competitor analysis and content optimization.
BuzzSumo is great for identifying popular content in any given niche, which can help provide you with content ideas and inspiration.


Canva is an accessible graphic design tool that can be used to create professional-looking images, infographics and other visual content.
Hootsuite is a social media management tool that can help schedule, publish and track the performance of your content on different social media platforms.
Mailchimp is an email marketing platform that simplifies the creation, management and execution of effective email campaigns.
Grammarly corrects your spelling and grammar in real time, ensuring that your content is error-free and easy to read.
WordPress is a popular website-building platform for many SaaS websites.
Zapier allows you to connect all your apps and automate processes.
How do you make your SaaS content marketing strategy stand out?
With so much noise in the market, it can be hard to stand out from your competitors. Here are 8 tips to help you get noticed—from our years of SaaS content marketing experience:
1. Know exactly who you're talking to
Conduct research to understand the pain points, challenges and goals of your target audience. The more accurate you are at solving their pain points, the better your content will be.  
2. Understand what makes your software different
The CEO of the company might understand this, but do you or your content writers understand what the company's unique value proposition is? Clearly communicate how your SaaS solution addresses the needs of your target audience better than your competitors.
3. Stay on top of industry news
Potential customers want to know the latest news and events relevant to their industry. If you make it a habit to cover timely and buzz-worthy topics, it will demonstrate that your SaaS company is a leader in the field and you'll attract qualified leads. 
4. Create a variety of content formats
Offer a mix of blog posts, ebooks, case studies, videos, webinars, white papers and infographics to cater to different preferences and learning styles. You can also create snippets of long-form content and share them on social media on various days.
5. Move away from keyword research and start keyword mining
Go for low volume and high intent keywords. Instead of competing with already-ranked articles, begin answering questions with fewer competitors. Use keywords and meta tags to optimize your website and content for search engines, making it easier for potential customers to find you.
6. Build authority with content clusters
This is an advanced SEO strategy where you organize your website's content around topics and keyword-based themes. Also known as content silos, the goal is to create a network of related content that answers your audience's questions as thoroughly as possible.  
7. Always measure and analyze your results
Use analytics tools like Google Analytics or Leadfeeder to track the performance of your content and make data-driven decisions to improve your strategy.
8. Networking and guest posting
Actively engaging on social media, guest post and be a guest on related podcasts to reach a wider audience and gain more exposure.
SaaS content marketing is your path to success
Content marketing is and will remain an important marketing channel for SaaS companies. As the digital landscape continues to evolve, we cannot underestimate the power of valuable, customer-centric content.
By implementing the insights and strategies shared in this guide, you can forge deeper connections with your target audience, build industry authority and drive organic growth.
Need a hand with your content?
We specialize in working with B2B SaaS companies like Calendly, ClickUp and WalkMe to produce content that moves the needle. Check out our content writing services.