As a sales tool, well-crafted and repurposable SaaS marketing case studies are hard to beat. Almost every SaaS company publishes B2B case studies to demonstrate the real-world benefits of their products by showcasing the success stories of their customers. But what exactly makes a great B2B marketing case study?
Are your SaaS marketing case studies helping your team close bigger deals faster?
How do your case studies stack up against the competition?
What B2B case study trends should you be experimenting with?
In this report, we answer these questions and more as we explore ways to improve the case study production process for greater efficiency, effectiveness and ROI.
For the second year in a row, our SaaS content marketing agency surveyed over 100 customer marketers to gather their SaaS marketing insights and experiences with marketing case studies. We compare results from this year's survey with last year's, illuminating insightful SaaS marketing trends in case study use.
Included in this report
If you prefer, you can download the report as a PDF.
SaaS marketing case studies: still the #1 marketing tactic to increase sales
For the second year in a row, SaaS marketers ranked SaaS marketing case studies the #1 most effective marketing tactic to increase sales—ahead of general website content, SEO, blog posts, social media and other tested tactics.
Almost 40% of SaaS marketers say that case studies are very effective at boosting sales.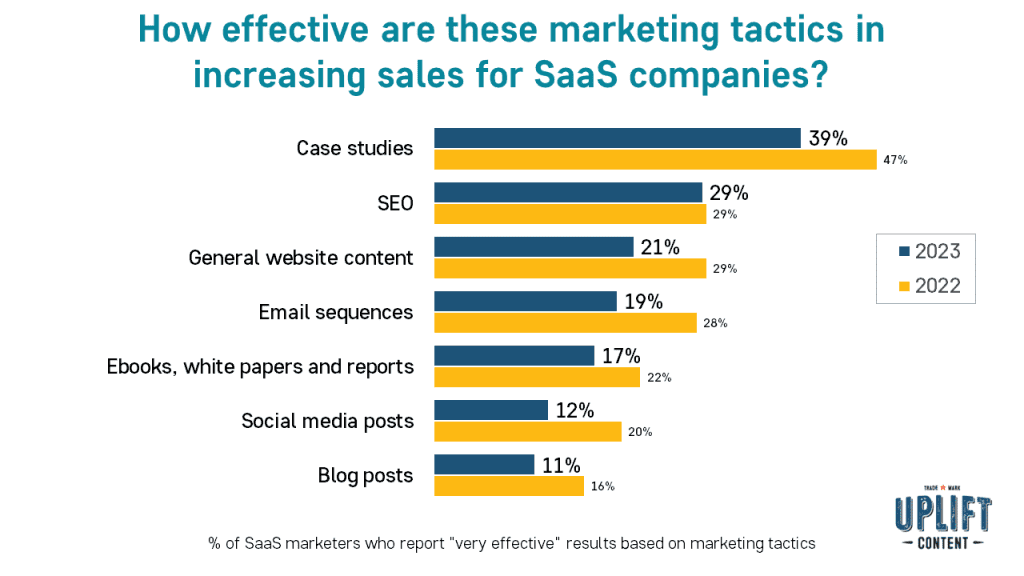 "Case studies are important because having others tell our story for us is more impactful than trying to promote our impact ourselves. It's also a way to get deeper customer research that can inform pain points, positioning, and areas of content focus."
Natalie Taylor, Sr. Content Marketing Manager, Everfi
How would a recession affect your case study production?
Given that SaaS marketing case studies are so effective, it's not surprising that almost 1 in 4 companies would produce more case studies if a recession hit. Another 31% would continue with their current case study strategy. Others would alter their case study production. Specifically:
24% of SaaS marketers say they would produce more case studies because they drive sales
20% say they would produce lower-cost case studies
Only 7% would produce fewer case studies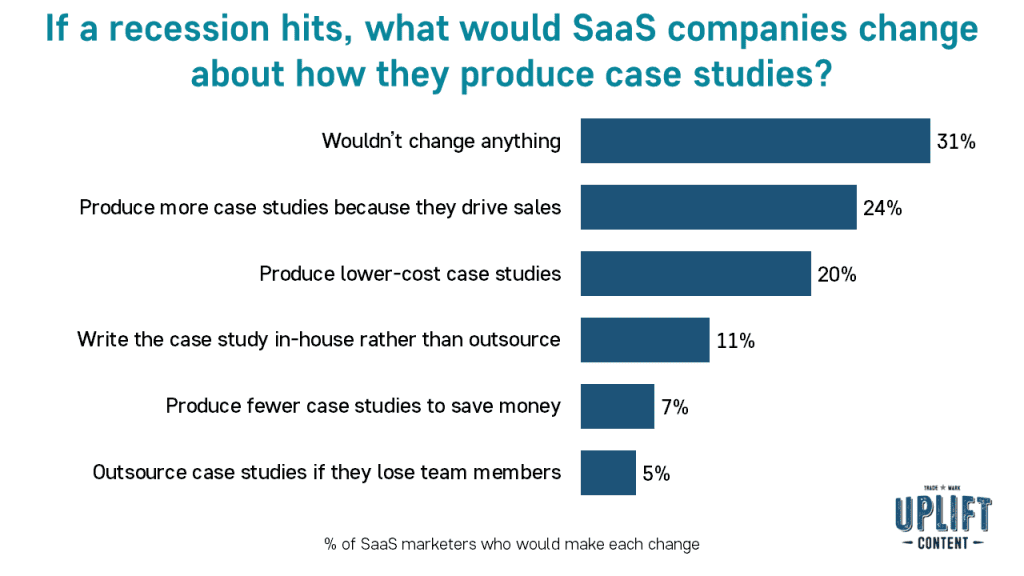 How many SaaS marketing case studies do you really need?
Marketing case studies are crucial sales tools, but we get it—producing them requires a sizeable investment of time and money. The key is finding the balance between having enough case studies (to cover all your products, use cases, industries and so on), and not wasting resources creating repetitive stories.
While there's no right answer to how many case studies are enough, you might be interested in how many case studies other SaaS companies are producing.
How many marketing case studies do SaaS companies currently have in use?
Our surveys indicate that marketing case studies are a growing priority for SaaS companies. In our most recent survey, SaaS companies reported having 38 active case studies on average—that's an increase of 10 case studies over the year before.
Depending on the size of the company, the average number of B2B case studies in use varies significantly:
64 case studies for larger companies (500+ employees) compared to 37 the year before
18 case studies for smaller companies (<500 employees) compared to 16 the year before
Marketers plan to produce even more case studies this year
SaaS companies produced, on average, 12 new case studies in 2022. And most are planning to ramp up production in 2023, with a forecasted 17 new case studies to come this year. That represents a 42% increase in case studies planned for 2023 over what companies produced in 2022.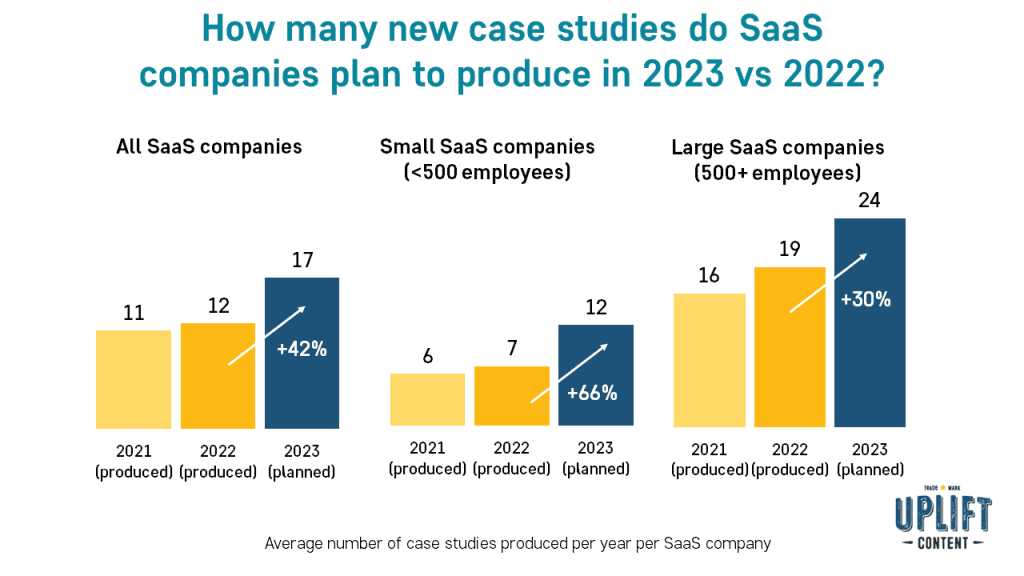 "Case studies are important because they provide our buyers with a sense of security by showing that their peers are facing the same challenges they are and have leveraged our product to improve. They also provide a sense of FOMO when they see a similar business leveraging technology to improve and accelerate business growth."
Stephanie Mansueto, Head of Marketing, Athennian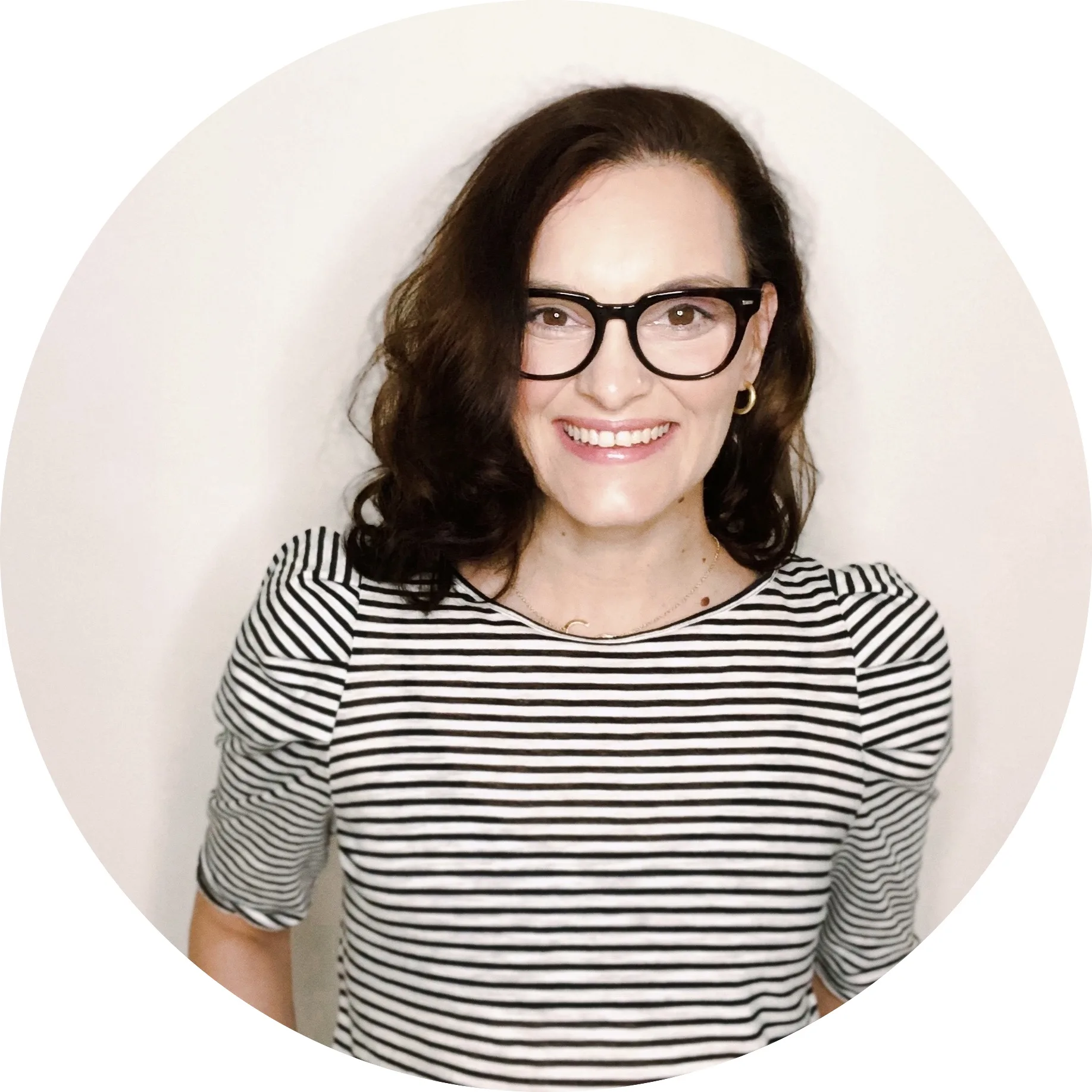 Are you repurposing your marketing case studies to reach maximum viewers?
To get maximum value from each case study, most survey respondents repurpose them in multiple ways.
By employing a variety of B2B case study formats and publishing them in a number of different places, SaaS companies are able to reach more potential customers.
Where should you use your SaaS marketing case studies?
93% of SaaS companies now have a dedicated case study section on their website (vs. 77% last year), making this an important SaaS marketing trend to follow.
We also saw a significant jump in the frequency of case studies being used in sales conversations and presentations (84% of SaaS companies use their case studies this way, vs. 72% last year).
Using SaaS marketing case studies in social media posts is another popular use of the asset, but it's complementary—while 84% of SaaS companies use case studies in social media, only 2% of respondents rank social media as the most important use of case studies.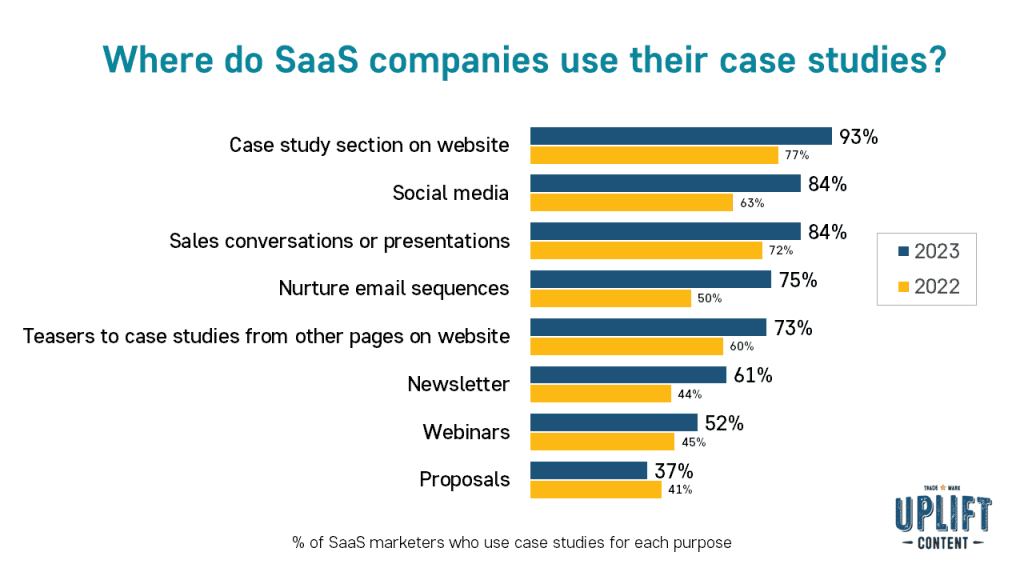 What SaaS marketing case study formats are most popular?
Most companies currently publish their marketing case studies in multiple formats, the most popular being:
text (HTML) on the company website (74%)
text (PDF) on the company website (73%)
social media post (63%)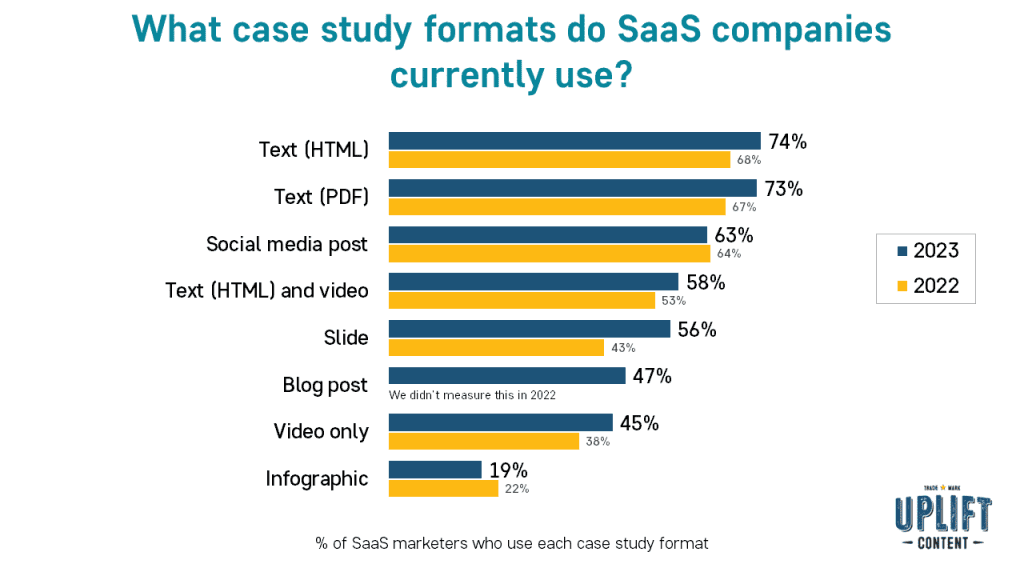 "Case studies are important because our prospects want to see that we've helped customers who are in the same industry and have similar pain points. Reference calls are helpful, but it's important to have stories that sales folks can share easily. 
I also capture lots of good quotes on my case study calls and get the customer to approve them for future marketing use when they approve the case study. That way, we have ready-made quotes for social media and other marketing materials."
Michelle Cloutier, Sr. Customer Advocacy Manager, Alation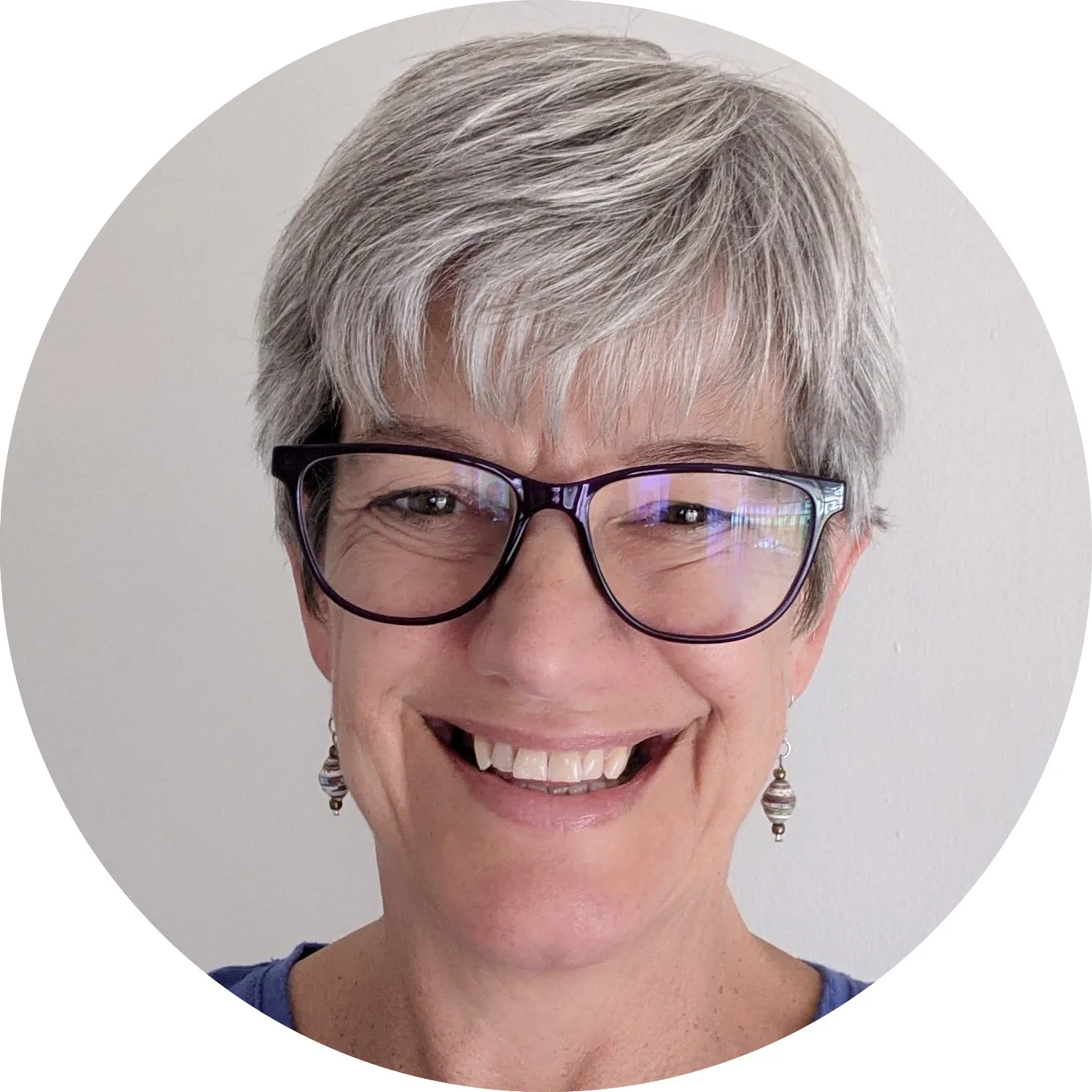 What B2B case study formats should you try in 2023?
Video is growing in popularity. It's the format that most (56%) SaaS marketers said they want to do more of in 2023.
More than one-third of respondents want to do more infographics, more text and video combos, and more case study compilations/collections.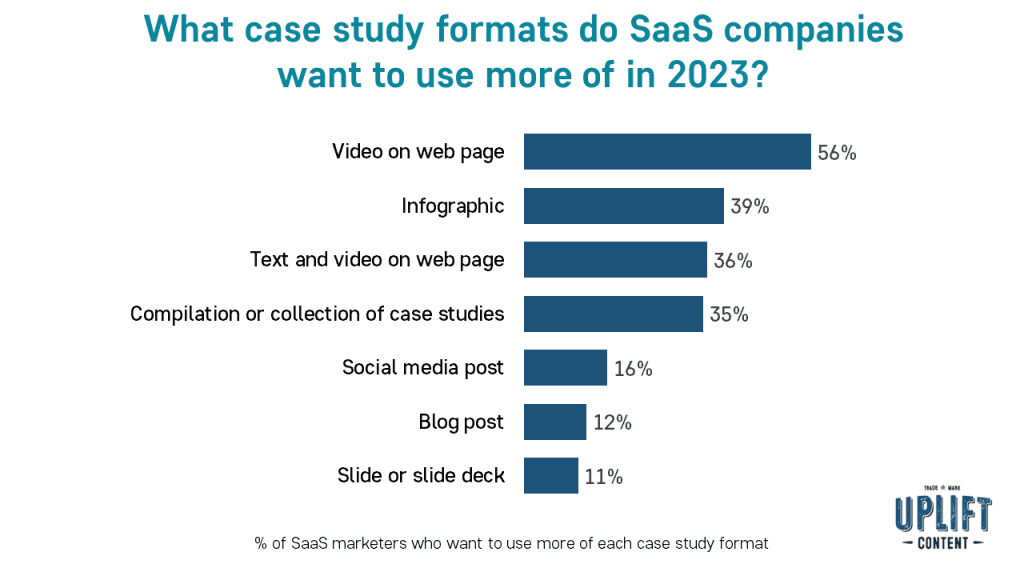 How do you find the right customers to participate in case studies?
Finding enthusiastic customers with a great story to tell can be challenging. In this section, we'll look at how you can encourage your sales team to identify case study participants. We'll also talk about ways you can encourage customers to participate—and why some customers still say 'no.'
How do you choose which stories to tell?
Though it would be great to tell the story of every happy customer, that's usually not feasible. Instead, you need to be strategic about which customers to feature in your B2B case studies.
Most SaaS marketers say the #1 criterion to consider when deciding which stories to tell is the impact of the results. Other key considerations are the alignment of the customer's story to the SaaS company's strategy, the availability of metrics and the various use cases.
Characteristics of the customer company (like size, region and industry) are of secondary importance, although SaaS marketers do prefer to profile well-known companies when possible.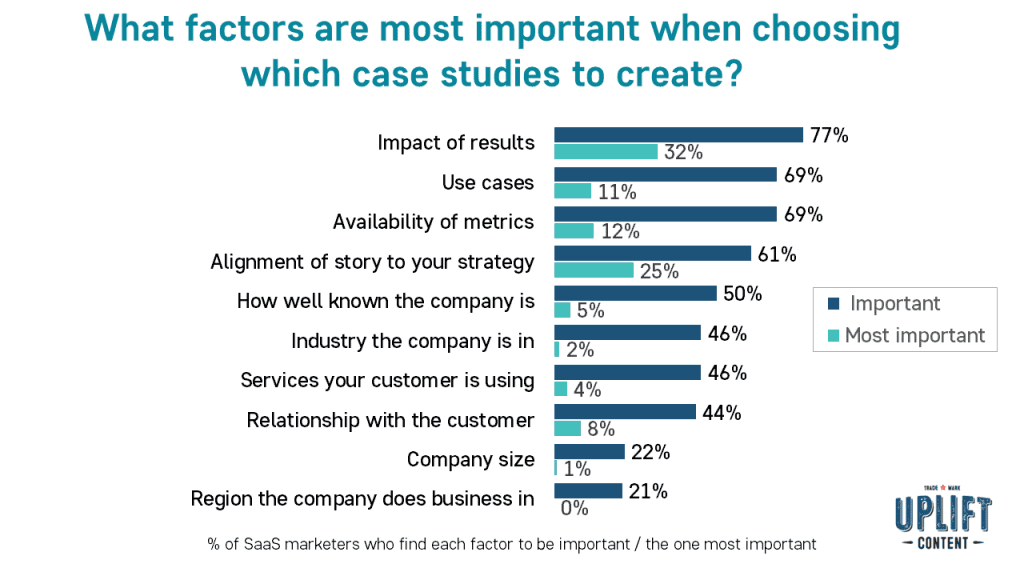 Logos are important
A strong majority (close to 80%) of SaaS companies brand all of their marketing case studies with the customer name and logo. Only 3% of companies have mostly unbranded (non-logoed) case studies.
Motivate your sales team to find happy customers
Sales development representatives (SDRs), account managers and customer success managers (CSMs) play an important role in identifying and securing case study participants.
Most SaaS companies use "emotional" tactics to motivate their employees to identify ideal case study candidates. For example, the company reminds their employees of the benefits of a case study to the company, as well as to them personally (67%), or the company fosters a cooperative, team environment (54%).
About 25% of companies give gift certificates, swag or cash to motivate their employees to find case study participants, a 20% increase over last year. The most common dollar value for the incentive to the SDRs, account managers and CSMs is $50 to $100 USD (38%) or $200 to $500 USD (29%).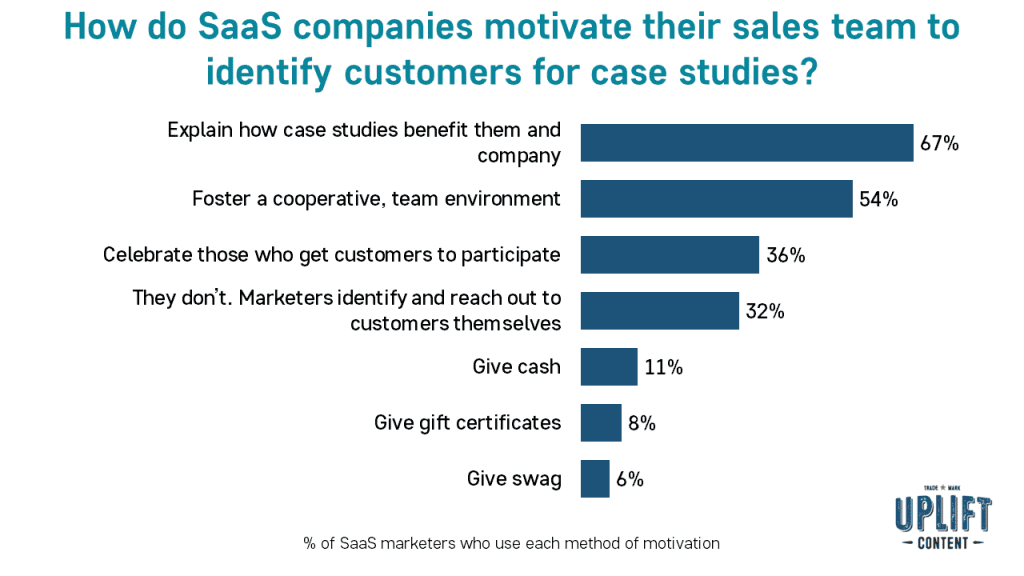 Incentivize your customers to participate in case studies: yes or no?
Customers are rarely directly incentivized to participate in SaaS marketing case studies. Over 50% of the SaaS companies surveyed offer customers no specific incentives to participate in a case study—happy customers love to share their stories. About 40% of companies proactively build case study participation into an initial contract.
Almost 70% of companies offer an indirect incentive to their customers by explaining the benefits of participating.
But some SaaS companies do sweeten the pot with direct incentives, including reduced fees for future services, swag or gifts. For those who offer direct incentives, the dollar value is most commonly under $50 USD (36%) or $100 to $200 USD (28%).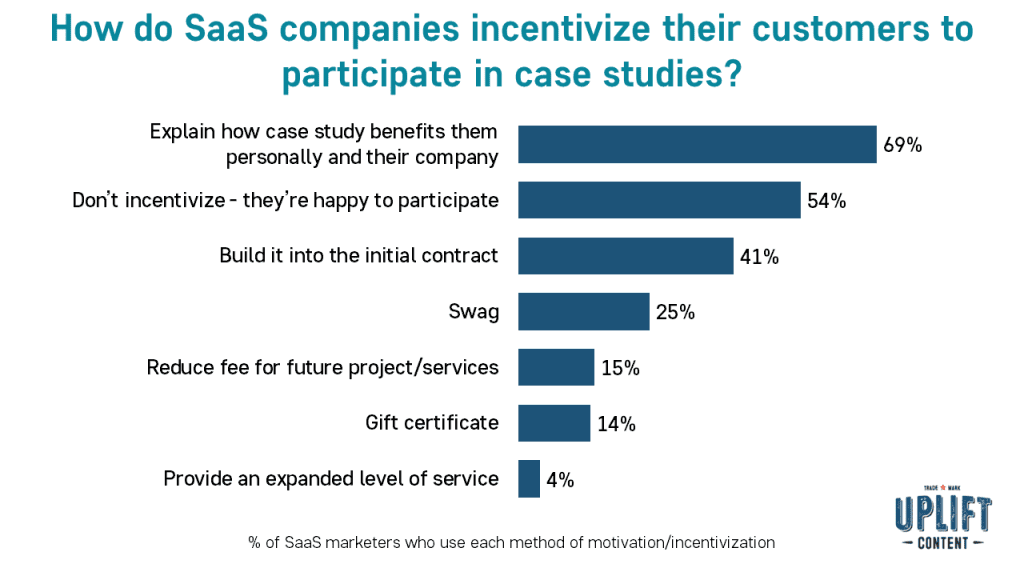 "Customers are our best marketers. I love getting to know our customers through these stories, especially because documenting their successes helps advance their careers and gives more senior leaders the chance to celebrate their teams."
Megan Donaldson, Customer Advocacy Global Lead, Zoom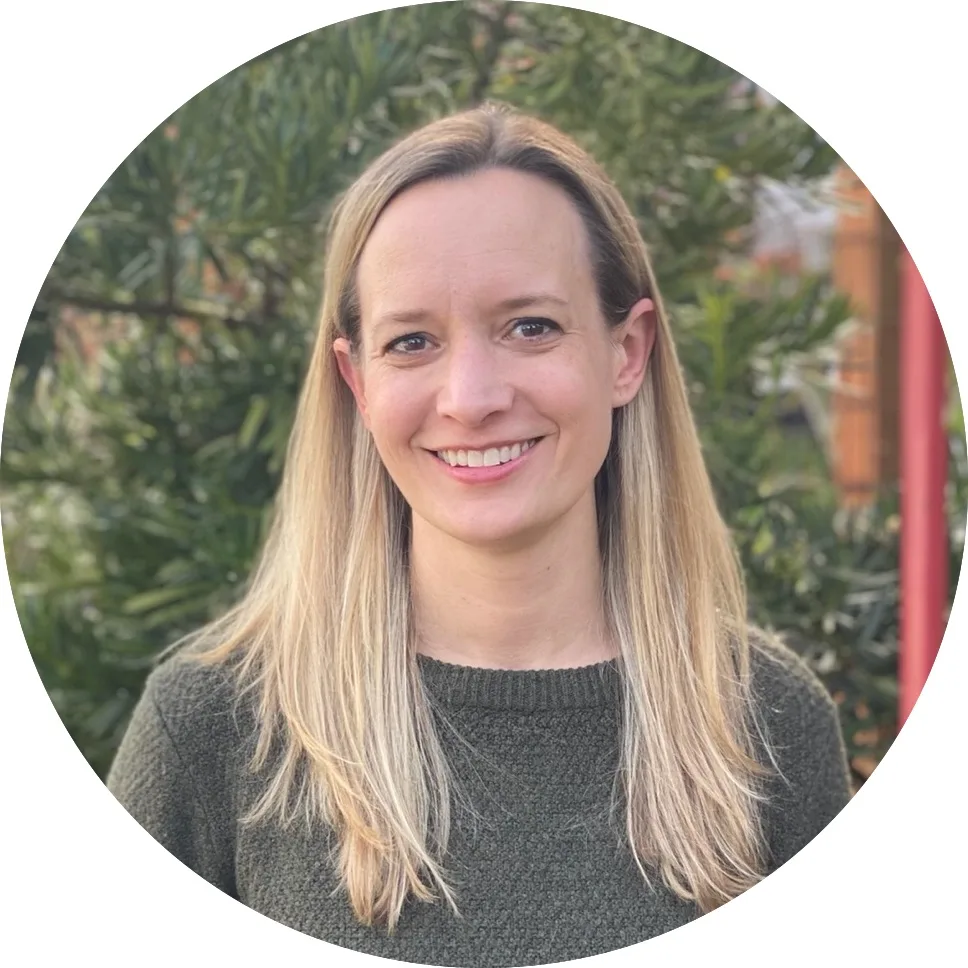 Video case studies are more challenging
SaaS marketers say it's more challenging to get customers to participate in a video case study than a written case study. Why? In many cases, customers feel a video requires more of their time (78% think so); in other cases, the customer is shy or self-conscious (61%).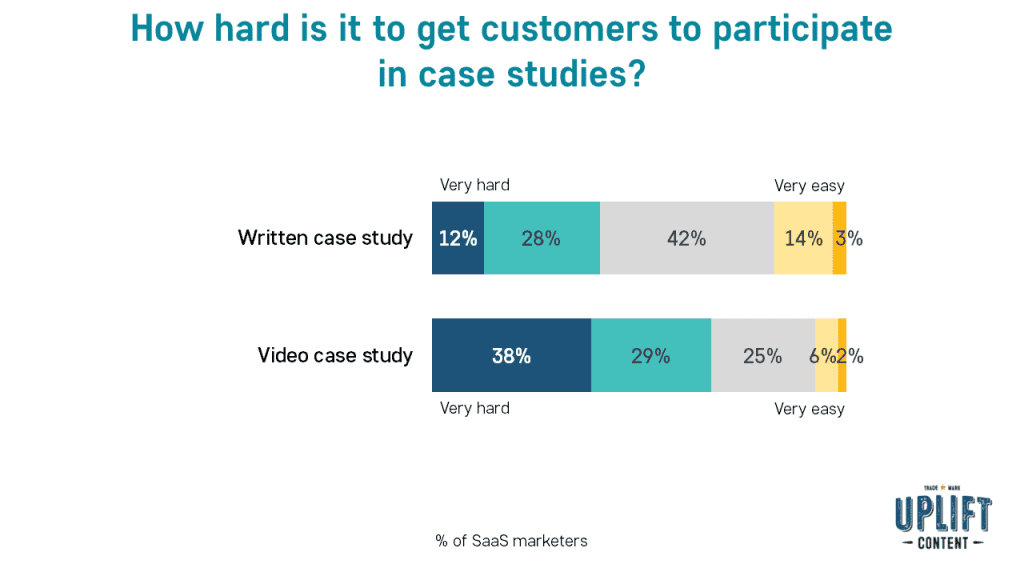 Reasons customers say 'no' to participating in a SaaS marketing case study
Even if a customer is delighted with a service, they may decline to participate in a case study for legal reasons. Or they may simply not have the time or interest.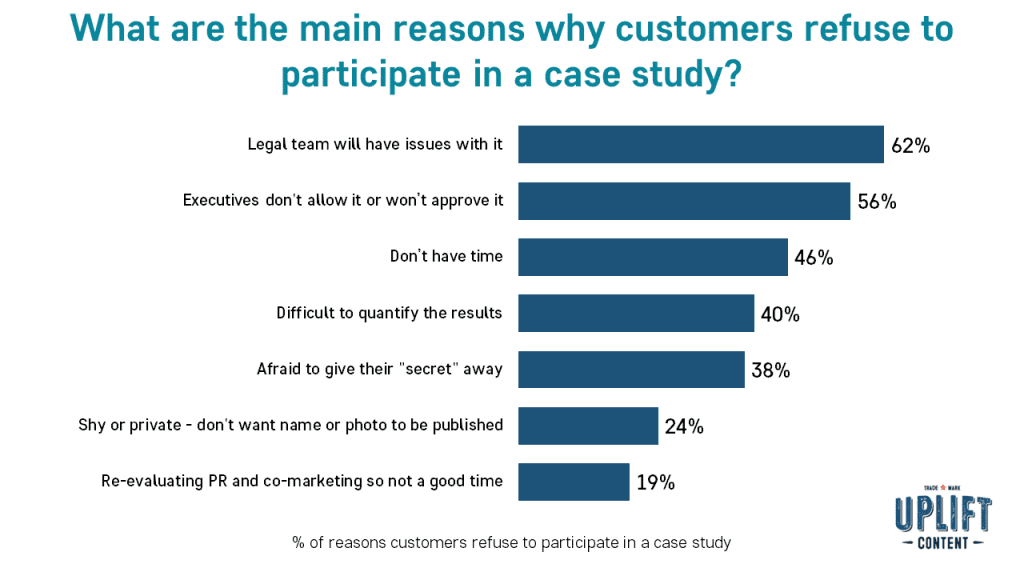 Are you doing enough to get strong metrics for your case studies?
Potential customers want to know how SaaS products can solve their challenges and improve their bottom line. Nothing illustrates that better than concrete numbers in a relatable case study.
Case study metrics make an impact
More than 3 in 4 companies (76%) have metrics in at least half of their case studies (and 29% have them in almost all their case studies). Only 4% of SaaS companies have case studies without any metrics.
How to get metrics that matter
What's the best way to gather strong metrics for your case study? 88% of respondents say: ask the customer during the case study interview.

Do you leverage each case study component?
You invest significant time and other resources in creating an engaging SaaS marketing case study. Be sure you're making the most of every case study component—such as images and a compelling call-to-action—that could further boost the case study's effectiveness.
Do you use images in your SaaS marketing case studies?
While 93% of SaaS companies use images in their case studies, those images are incorporated in different ways.
Using pull quotes with design elements is the most popular graphic to include, followed by headshots with quotes. Icons in support of KPIs/metrics are third.
Photos of the customer's product, headquarters or office, as well as charts, are less widely used.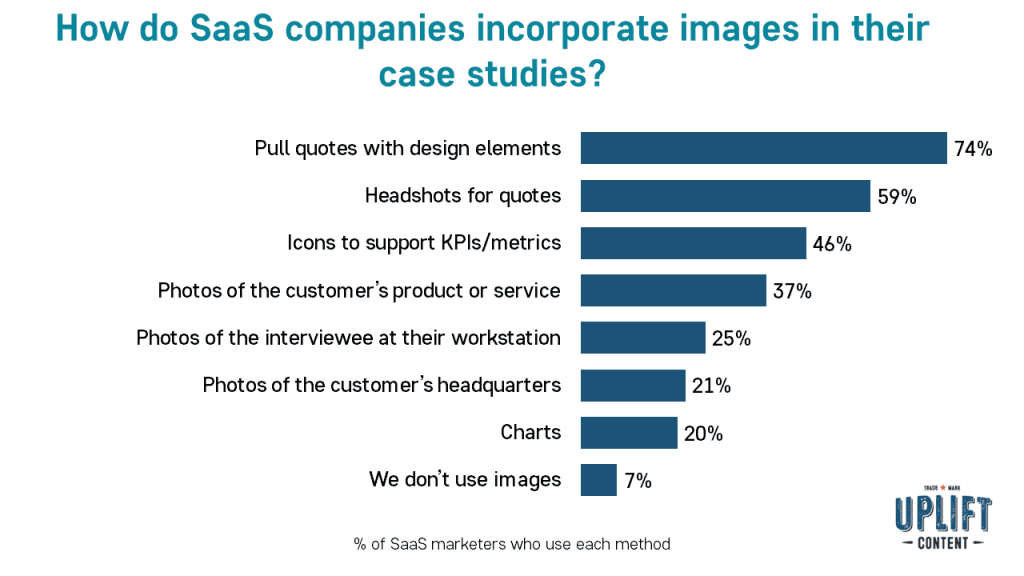 No CTA? You're missing a key opportunity
The call to action (CTA) is also an important part of SaaS marketing case studies. A CTA directly invites readers to engage with your product or company at a deeper level, offering them a clear next step.
Almost half (46%) of SaaS companies use a CTA in all of their case studies, while a quarter don't use a CTA at all.
The most common CTAs for case studies are:
Book a demo (62%)
Contact us (38%)
Read another case study (20%)
Should you gate your B2B case studies?
For more and more SaaS marketers, the answer is 'no.' This year, 76% of survey respondents say they don't gate any of their case studies, a sharp increase from 49% last year.
Only 9% gate all of their case studies, while 15% gate some of them.
How long should a B2B case study be?
We know you're dying to know the answer to this one!
Across the board, respondents typically keep case studies between 500 and 1,000 words—as they did last year—regardless of company size or the number of case studies in use.
"Case studies are important because they provide real-life examples of positive customer outcomes and sentiment—a critical part of gaining buy-in from prospects during a sales cycle."
Jake Sotir, Customer Marketing Manager, Reprise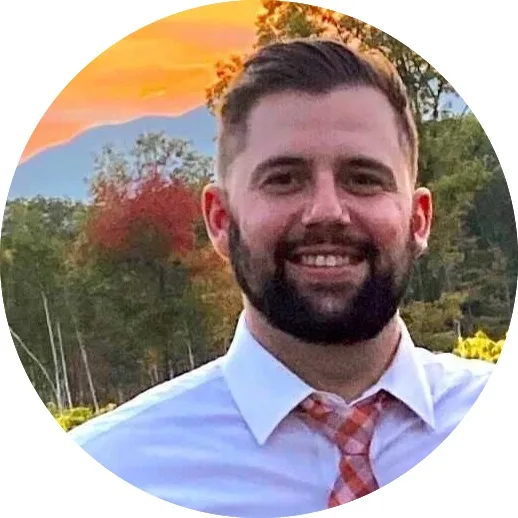 What's slowing down your case study production?
Not every B2B case study hits the mark. In fact, not every case study even sees the light of day—a third of SaaS marketers say they've experienced a customer withholding approval of a case study.
Overall, 10% of case studies DON'T get published because the customer doesn't approve them.
What are the main challenges of case study production?
Myriad issues and circumstances can get in the way of producing a quality case study. For SaaS marketers, the biggest challenge in producing a case study is identifying measurable results or metrics (70%). Finding customers who are willing to participate, and a never-ending customer review process are also common issues.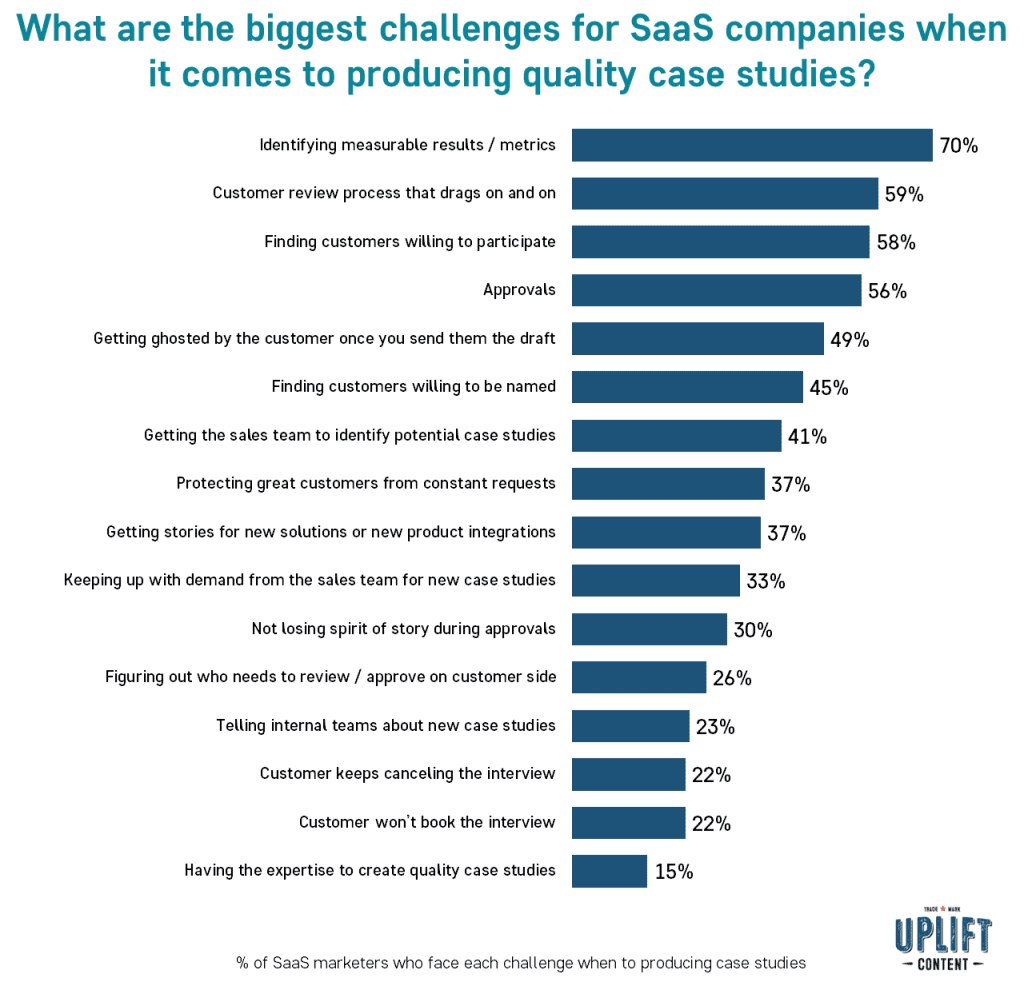 Templates can speed up the production process
Designing templates ahead of time—whether a participation request script, list of interview questions or design template—can streamline and standardize case study production. In fact, 93% of SaaS marketers use templates to speed up case study production.
On average, marketers use 3 templates throughout their process, the most common one being the interview questions.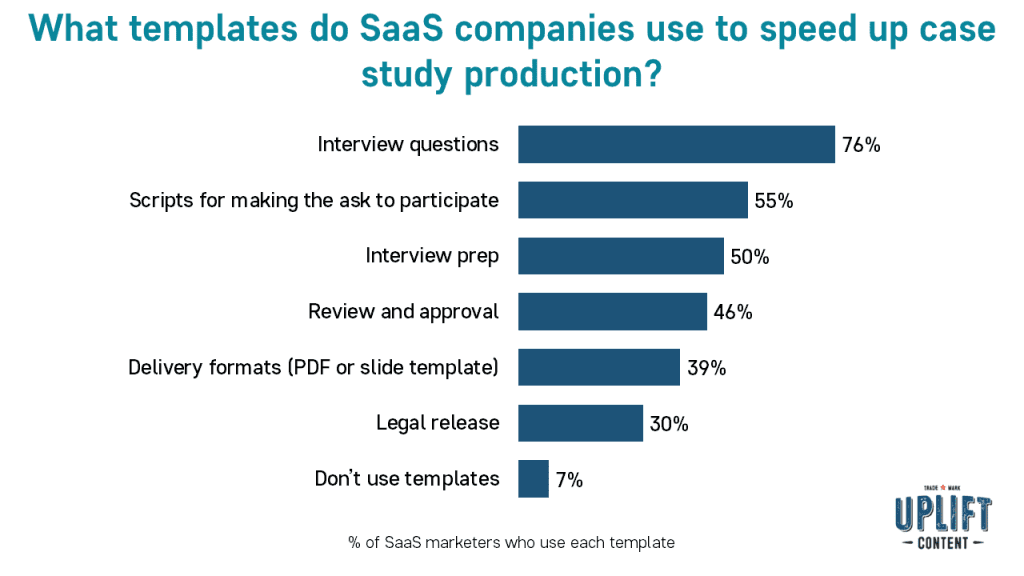 "Case studies are important because SDRs and AEs need them as social proof for different verticals. We rely heavily on outbound so this is an important part of our revenue generation.
As marketers, we love case studies because they help us gain insights into real customer workflows, polish our value props, and understand how different verticals can use the platform."
Yulia Olennikova, Senior Marketing Manager, N.Rich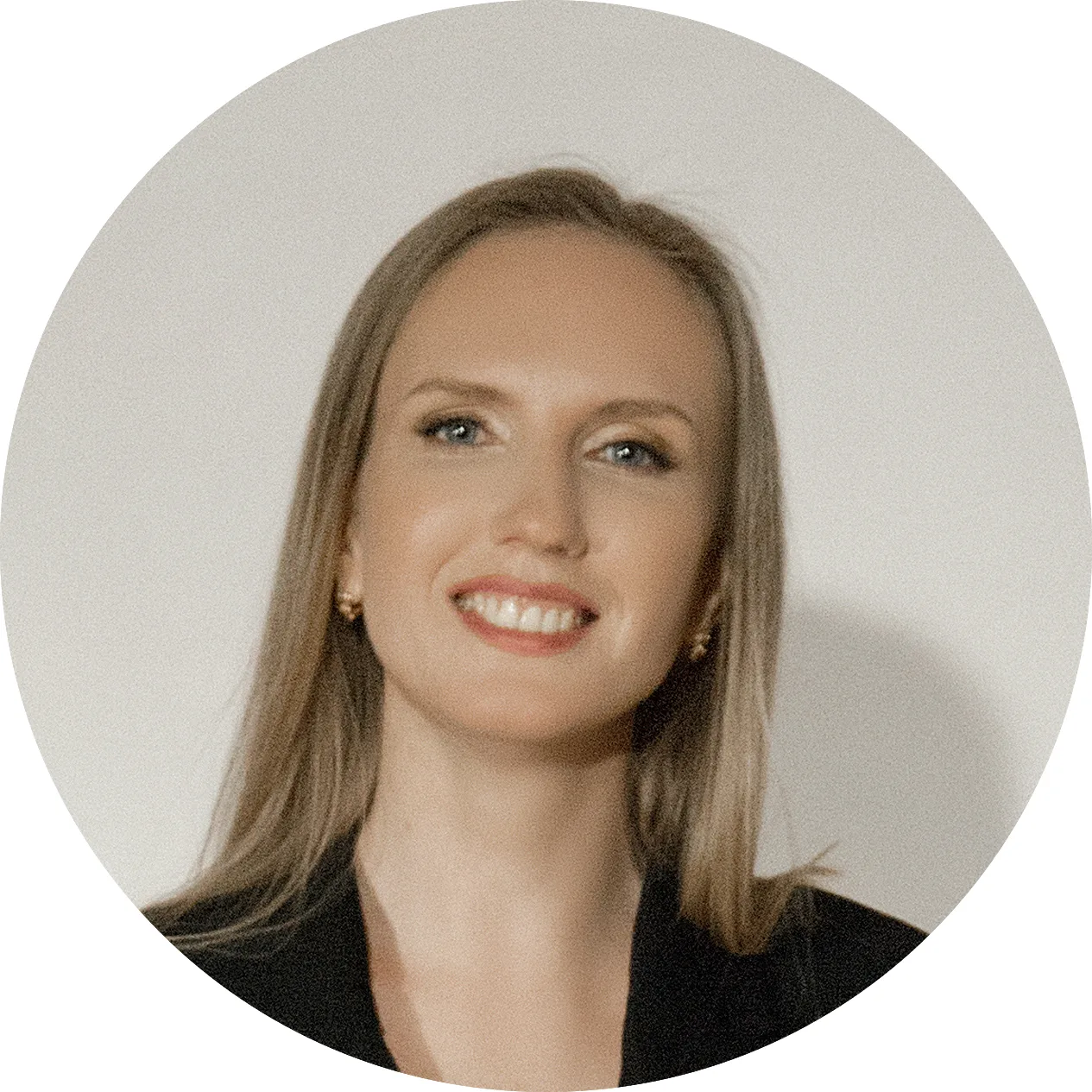 Should you produce your case studies in-house or outsource them?
We all know that SaaS marketing case studies can be a beast to produce. From first identifying the customer to final approval, our survey respondents report that it takes 2 months on average to produce a case study.
Within that time frame, the marketing team spends an average of 12 hours actively working on each case study.
When your marketing team is constantly slammed, outsourcing case study production can be a good solution.
Who writes your SaaS marketing case studies?
In-house marketers most often write the case studies for SaaS companies with 500 employees or less. In-house writers and agency writers most often write the case studies for large SaaS companies with 500 employees or more.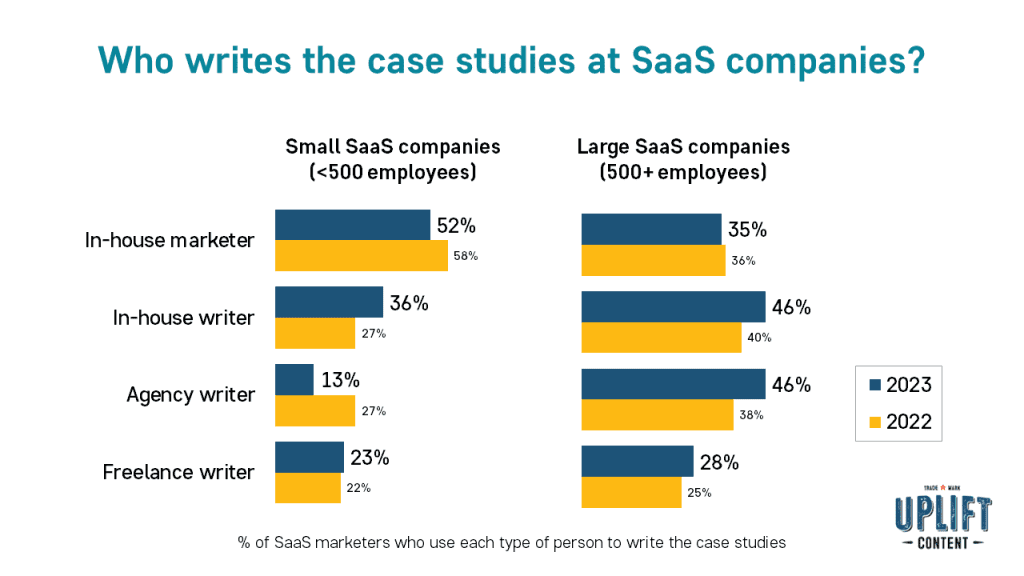 Why do SaaS companies outsource case study writing?
SaaS companies have different reasons for hiring an agency or freelancer to write their case studies, including a desire to ramp up production, or a lack of time or expertise.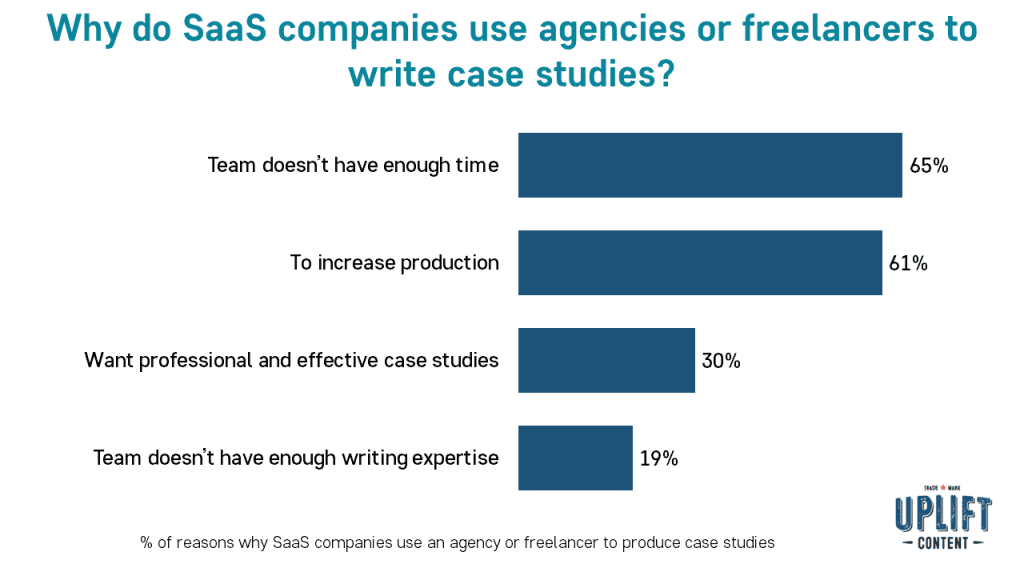 Does outsourcing case study writing really save time?
Our respondents say 'yes!' Using an agency or freelancer saves customer marketers an average of 13 hours of work per case study. If you're planning to produce 17 B2B case studies this year, like our survey respondents are, using an agency or freelancer could save you 221 hours this year—that's 31.5 days!
"Case studies are important because our customers can relay the benefits of our products to their peers in an authentic and relatable way."
Cristina Seckinger, Sr. Customer Marketing Manager, Qlik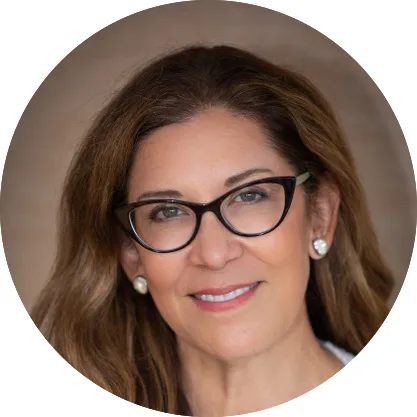 How do you make sure your company can access the case studies?
SaaS marketing case studies are crucial sales tools so it's important that your sales folks can easily access them. Almost half (46%) of SaaS companies use storage tools (such as SharePoint, Dropbox or OneDrive) to share case studies with others within the company. About a third of companies use CRM tools, spreadsheets or project management tools.
Among the 28% who checked "other" in our survey, many mentioned that they use their own website as a central case study repository. In other words, people within the company turn to the website for case studies, in the same way that prospects or leads would.
What makes a successful SaaS marketing case study?
As in last year's survey, SaaS marketers agree that the most effective B2B case studies include relevant metrics, discuss relatable business challenges, and tell an engaging story. Overall, SaaS marketers are satisfied that their case studies contain these key elements.
But our respondents did identify a few key areas they want to improve:
Stronger metrics and KPIs that show results
Using the case study more often
Adding video elements
How do you get your case studies in front of more prospects or leads?
A great case study means nothing if no one reads it! Most SaaS marketers (59%) say their preferred method of getting eyeballs on case studies is by encouraging sales reps to use them in calls, emails and pitches. 50% also say sharing on social media is effective.
The third most popular way of ensuring case study visibility is to place them on a prominent part of the website.
"Case studies are important because they give you the opportunity to celebrate an existing customer, which in and of itself is of immense value. Secondarily, for both customers and prospects alike, they always prefer to "see someone like them" rather than just hear you spew what-ifs at them."
Patrick Clore, Customer Marketing Manager, Zimperium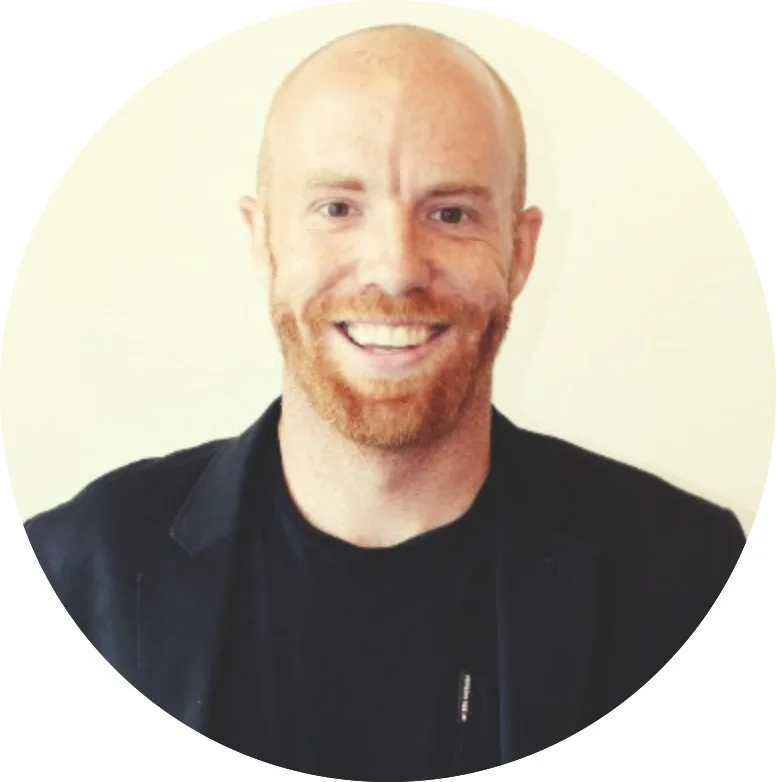 How satisfied are marketers with their SaaS marketing case studies?
Only 12% of SaaS marketers are very satisfied with their case studies—compared to 18% last year.
A key area they'd like to improve is the metrics or KPIs for the case studies—marketers rate them as a very important component for case studies, but are rather dissatisfied with them in their current case studies.
"Case studies offer social proof for how we provide value to our customers. We also use case studies as an educational tool.
Our customers use our case studies to learn the exact Crossbeam workflows and processes some of our most successful customers are employing on their own.
They're also a sales enablement tool. Our sellers use our case studies to build credibility and offer "proof points" for why (and how) Crossbeam can solve their problems."
Jasmine Jenkins, Sr. Customer Marketing Manager, Crossbeam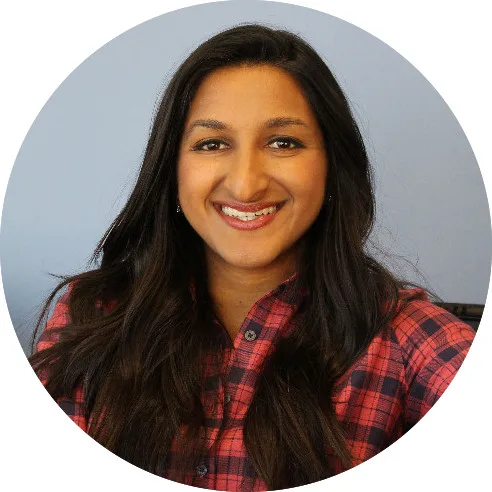 How do SaaS marketers measure the success of their marketing case studies?
30% of SaaS marketers say they don't measure case study performance at all because they lack the time, resources or know-how.
The rest of the respondents use a wide variety of tactics to evaluate B2B case studies. Landing page traffic, anecdotal feedback from sales reps and clicks from social are the top 3 ways of measuring the success of case studies.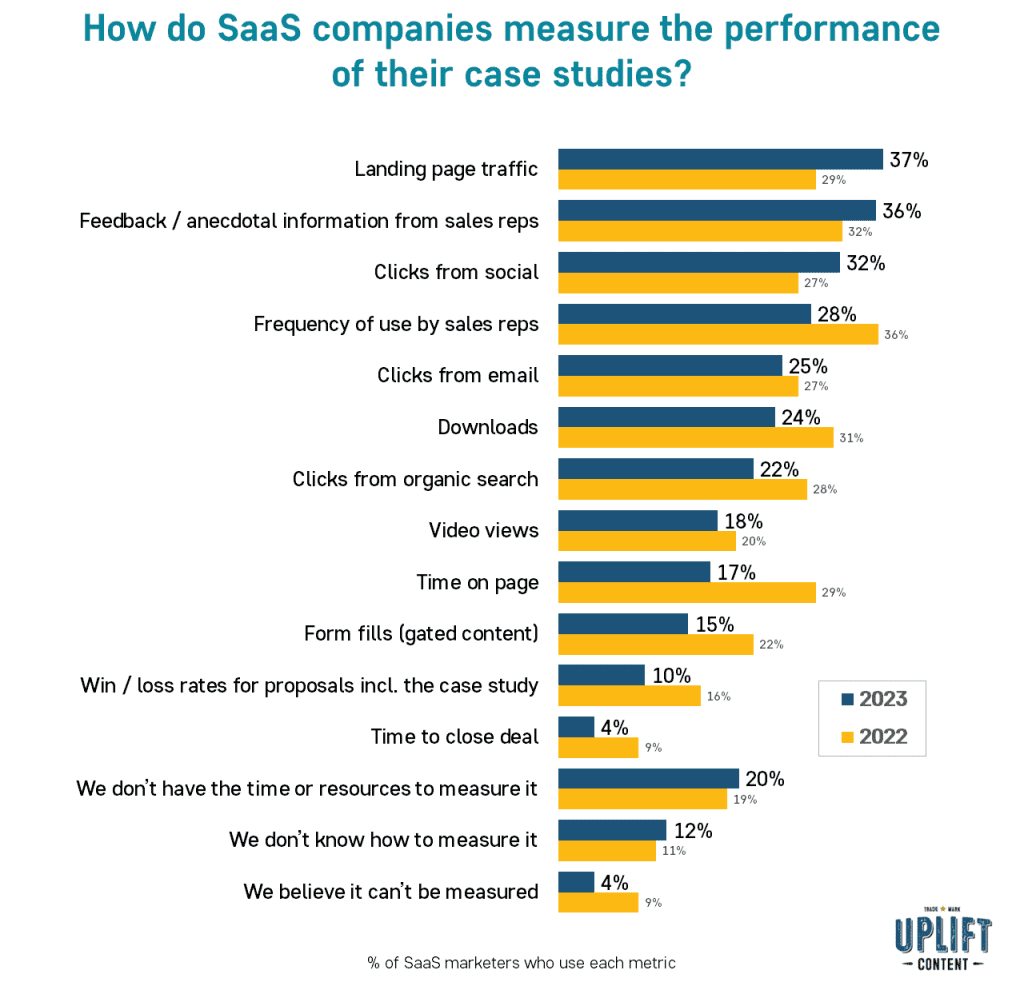 If you'd like, you can download the report as a PDF.


Thank you to all survey participants
If you were one of the 123 marketers who completed our survey this year, thank you! Your input has provided valuable case study trends and SaaS marketing insights that all customer marketers can learn and grow from.
Survey methodology
We surveyed 123 SaaS customer marketers or other SaaS marketers who are part of the team responsible for producing case studies.
We collected survey responses from Nov 29, 2022 to Dec 19, 2022 using an online survey tool.
Need a hand with your case studies?
At Uplift Content, we write case studies for high-growth B2B SaaS companies like ClickUp, WalkMe and Okta. Check out our case study writing service to see how we might help you.
"When I started at ClickUp, we had nearly zero customer stories. I was under a lot of pressure to produce stories quickly to support our marketing and sales enablement efforts. 
Working with Uplift has been a game changer for us! We've been able to scale our strategic customer story output 3x since partnering with Uplift."
Tiffany Keel, Head of Customer Advocacy, ClickUp