Monthly case study critique of a high-profile SaaS company
Each month, we dive deep into a case study from a well-known SaaS company, analyzing where the content shines and where the gaps are. In this month's Splunk case study critique, we're looking at the case study it did on its customer Domino's Pizza.
Our mission with this series is to help you, as a SaaS marketer, see that even the big guys aren't perfect. We can all learn from what they do well and what they need to improve. Case studies are a critical piece of the marketing and sales funnel, so it pays—literally—to get them right.

Splunk Case Study Critique: Domino's Pizza 
Splunk is a data-to-everything platform that helps organizations ask questions, get answers, take actions and achieve business outcomes from their data.
Check out the case study: Domino's Reveals Splunk as Its Secret Sauce

What worked well
1. Title and subtitle combo
While different from your typical case study, the title and subtitle are fun, clever and on-brand for Splunk. However, we would have liked to see "Splunk" in the title—for example, "Revealing the Secret Sauce: How Splunk helps Domino's Pizza maintain position as the world's #1 pizza company. (Psst, it's the data.)"

2. Video content
We all consume content differently. Splunk made a smart move by placing a video CTA right under the title. This is great for folks who would prefer to watch the story unfold rather than reading it. (See screenshot above.)
3. Testimonial graphics
Customer testimonials are not only more credible than a company singing its own praises—they also bring a story to life with personal anecdotes. The testimonials in Splunk's Domino's case study evoke emotion and stand out well with a strong blue background.

4. CTA buttons
We give Splunk a thumbs up for offering 2 CTA options for readers at different stages of the buyers' journey, with "Talk to Sales" as the bolded option.

5. Engaging visuals
This case study is full of relevant images that set the scene (pizza!) and fun infographics that add value by helping to illustrate the story and communicate the facts.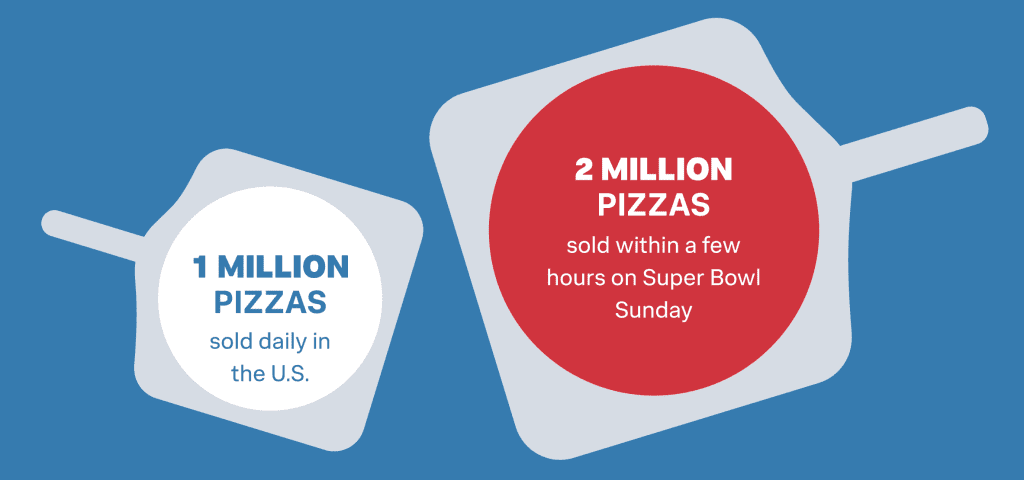 6. Strong storytelling
It's evident that Splunk's team knows how crucial storytelling is in capturing a reader's attention. This case study is well written and the quotes are weaved seamlessly throughout, adding a human element to the narrative.
7. Customer is the hero
Splunk succeeds at championing Domino's by highlighting several of the company's wins early on in the case study. This is a powerful tactic that helps readers see themselves in your customer's shoes.
8. Clear flow
The story is divided into 5 sections based on Splunk's components for successful user experience: simplicity, reliability, quality, trust, and innovation. This is a unique way to structure a case study and provides clarity for the reader. The graphics also incorporate Domino's' branding.


What could be better
1. Pain points
This case study seems to focus more on the customer's aspirations than on the pain points that led Domino's to Splunk. It's generally understood that pain resonates more with prospects than aspiration. We'd like to see a dedicated "challenge" section that presents the problems and leads into how Splunk solved them.
2. A defined story arc
This case study lacks a beginning, middle, and end. There is no mention of what led Domino's to purchase Splunk and how the implementation went. It also isn't clear what changed or improved thanks to Splunk. And finally, the reader doesn't get any insight into how Domino's plans to use Splunk in the future. (Splunk could consider sticking with the traditional case study format so the reader can easily move through the challenge, solution and results sections of the story).
3. Metrics
Stats are a surefire way to measure success in a B2B SaaS case study. The lack of results-oriented numbers in this case study is a big miss. We want to know how sales and productivity have increased since Domino's implemented Splunk's solution. Ideally, this information would appear within the story, as well as in a bulleted list for a quick overview.
4. Executive summary
Speaking of an overview, an executive summary (or even a short set of bullets outlining the challenge, solution and results) would be an impactful addition to the top of the case study. This would enable the reader to understand the story at a glance.

Splunk case study critique is a wrap!
Tune in again next month for a new critique, and in the meantime, check out our Zendesk case study critique.

Your case study partner
Get help with your B2B SaaS case studies with Uplift Content's done-for-you case study writing service.

Explore how our case study writing services can help your SaaS company.