We interviewed content marketer Andy Crestodina, co-founder and CMO of Orbit Media Studios, to better understand how he gets over a million visitors and almost 1,000 leads per year—and never publishes more than twice a month.
We also talk about the 3 biggest challenges that content marketers are facing today (and how to overcome those challenges), as well as his advice for folks just starting out in content marketing. Read his interview below.
Interview with content marketer Andy Crestodina from Orbit Media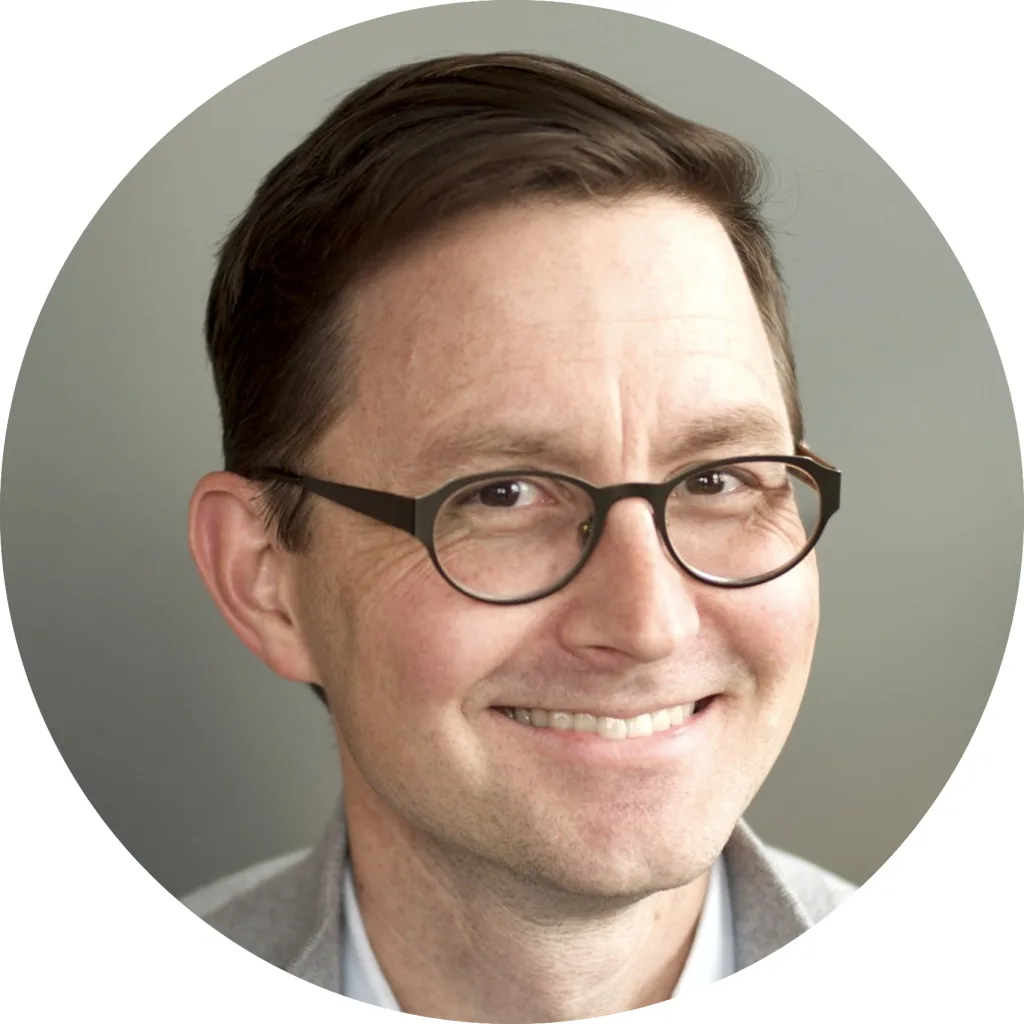 Fun facts about Andy:
Food you're craving right now: Falafel

Tea, coffee, or something else?: Lots and lots of coffee (~6 cups per day)

You're a parent to: Eli (6) and Ada (4) …they have short first names because their last name is "Crestodina"
Can you tell us about your career journey?
Well, Plan A was to teach Mandarin in high schools in Iowa. Instead, I decided to see what was happening in the world of business. I was an IT recruiter in the late '90s and quit because it wasn't creative. I didn't get to make anything.
I wanted to be a designer, and it was easier to start a company than to find a job because I didn't have a portfolio. So I joined a friend who was already building websites, and we started Orbit Media in 2001 and never looked back.
But the full-circle story is that years later I realized I had to hone my skills as a content marketer to attract an audience and generate leads without a budget. So in a way, I became a teacher after all because so much of content marketing is about creating useful, helpful materials. There's a learning objective, just as teachers have with lesson plans.
What are 3 of the biggest challenges content marketers face today?
1. Lack of time
The number one challenge content marketers are facing is lack of time. According to all the surveys, marketers want to spend more time with their content, but we're all under the gun because of publishing deadlines and our calendars.
Solution? Do fewer things—and make them bigger and better
It's more efficient to publish more detailed answers and stronger pieces with lower frequency.

A lot of people think they need a weekly article. In 15 years, my frequency has never been more than twice a month. I still have more than a million visitors, I'm generating close to a thousand leads a year, and we're hitting all of our goals.

Be very efficient with your time and stop publishing medium-quality content. Reduce your frequency and make each piece that you publish hit harder. Success really comes from not publishing a thousand good things, but publishing a hundred really great things—and keeping them updated.
2. Buy-in
Another big challenge is buy-in. We get input from our clients or from executives who are forcing us to justify our actions on a time scale that sometimes isn't realistic because content marketing is slow.
Or we get pushed into topics and strategies that really just don't make sense. There are sales teams and executives who say, "Why aren't we writing about X?" even if X was not part of our content strategy.
Solution? Document your content strategy so you can defend yourself from stakeholder requests.
Unless you have a documented content strategy, you'll always be on the defensive when stakeholders ask for things that aren't part of the plan.
Maintain a list of hypotheses: when someone has a new idea, you can put it on your list of hypotheses and score it against the other things that are also on that list. This way, you're deprioritizing bad ideas wherever they come from, including yourself, and prioritizing the most impactful ideas wherever they come from, including others.
When someone says, "Why don't we do X?", use data. You can say, "Well, we tried that and the results were flat." The only way to combat a bad opinion is with good data.
3. Algorithms and big tech are in between us and our audiences
For example, if Google decides to fill search results pages with tons of visuals, it's harder for writers to get traction as click-through rates decline. This is the biggest trend in SEO.
Also, AI is going to start answering all kinds of people's questions. Our target audiences will rely less on clicking on a website to get an answer.
Solution? Make the algorithms irrelevant by building a community and relationships
Reach out to sales support. Create content specifically for your current leads—content that closes deals. Go to the bottom of the funnel. Algorithms matter much less down there.
What advice do you have for content marketers worried about economic uncertainty?
The people who are best positioned to succeed in a downturn or in the face of stiff competition or a new technology like ChatGPT are the people who wrap their services in strategy and measurement.
People don't like to pay to have things created for them. People don't mind paying for strategic advice, plans and the measurement of activities that were taken. For anyone who's trying to make a living by just making something—Orbit builds websites—there's always going to be a cheaper option.
It's easy for people to discontinue or pause your contract. But when your services are considered strategic, you're far more secure in the value that you offer when the value you're adding is something that far fewer people can do, when you're proving results through Google Analytics or some other metric.
In the age of AI and ChatGPT, what advice would you give to someone just starting out in content marketing?
There's no question that ChatGPT is a fantastic research tool, and when used as such, it has huge value for the content creator, editor or researcher. But if you're worried about it taking your job, there are lots of things you can do to be secure in your work. Do what it CAN'T do:
It's not good at writing strong opinion pieces
It's not good at empathy
It's not good at hard-hitting first sentences
ChatGPT tries to be accurate and useful in a broad way, so it frequently starts with a long, boring paragraph of throat-clearing language to qualify itself. It just tastes like water. How do you beat that? Make your content taste like whiskey. Stick your neck out. Take a stand. Make stronger assertions. Be unexpected.

People who are good at social media are probably not worried about ChatGPT. The people who are worried about it are the people who are trying to produce large volumes of medium-quality content that appeals to broad audiences.
If you were competing before with cheap overseas writers and now you're competing with an actual robot that's free, these are never good places to be. Be more human. Get contributor quotes from experts. ChatGPT is a tool for all of us to be more efficient in doing research, but it can't replace a human voice.
Sign up for our newsletter to catch all of our interviews with content marketing leaders.