Monthly case study critique of a high-profile SaaS company
Each month, we dive deep into a case study from a well-known SaaS company, analyzing where the content shines and where there are gaps. In this month's Zendesk case study critique, we're looking at the case study it did on its customer Airbnb.
Our mission with this series is to help you, as a SaaS marketer, see that even the big guys aren't perfect. We can all learn from what they do well and what they need to improve. Case studies are a critical piece of the marketing and sales funnel, so it pays—literally—to get them right.
Zendesk case study critique: Airbnb
Check out the case study: Airbnb's custom 360-view of the customer
Zendesk is a CRM company headquartered in San Francisco with 17 offices worldwide. The company's support, sales and engagement software aims to improve customer relationships for clients ranging from large enterprises to startups. Zendesk has over 150,000 customers in multiple industries.
What worked well
1. Strong CTA near the top
A good SaaS case study guides the reader to where you want them to go next with a call to action. Zendesk's Airbnb case study uses design to make its CTAs stand out. It's fine to include more than one CTA in a case study, which Zendesk has done here.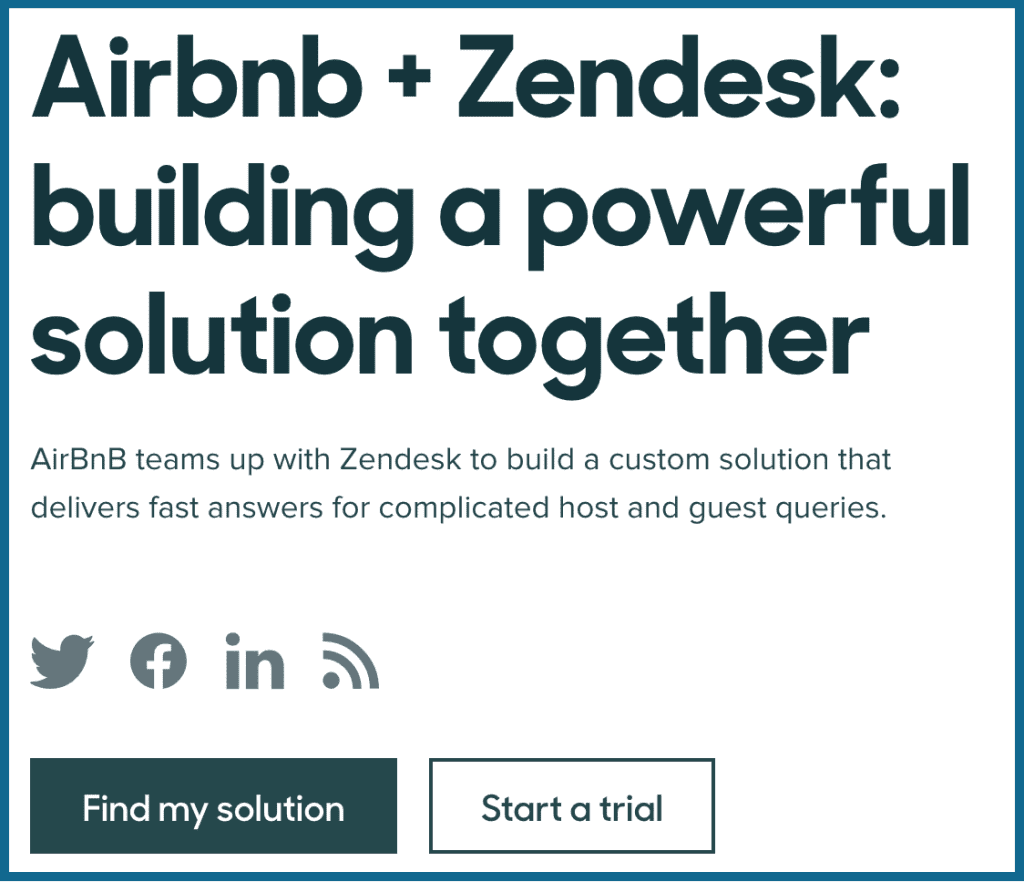 2. Social media icons
Zendesk makes good use of graphic elements by placing social media icons near the top of the page. The layout is clean and adds visual interest to the piece, but doesn't distract from the call to action (CTA) just below it.
3. Striking imagery
Using visually compelling content throughout your case studies is a must-do if you want to keep your audience engaged—and Zendesk has nailed this. Fortunately, their customer Airbnb has lots of great imagery to work with.

4. Impactful customer quotes
Great quotes help tell a human story that's relatable and powerful. They also give your readers what they really want: your customer's opinion of your products. No one wants to hear you drone on about how awesome your company is. Let your customer do the talking.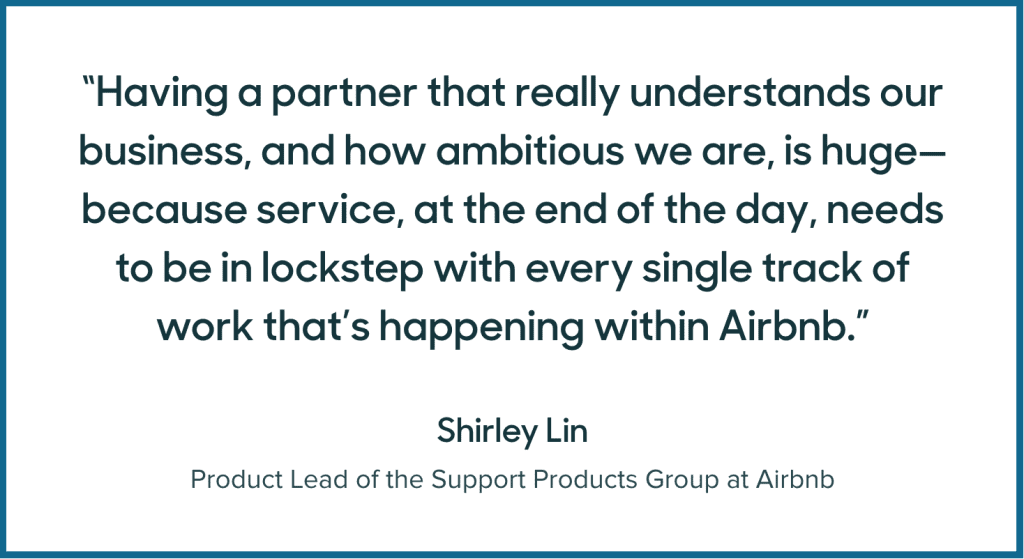 5. The customer is the hero
Zendesk does a fantastic job of putting the spotlight on the customer by introducing Airbnb in an incredibly positive light. Throughout the case study, the story is told by Airbnb with lots of quotes, and explains how Zendesk simply provided a tool for Airbnb to run its business more effectively.
6. Strong storytelling
SaaS case studies are only effective if they include a story arc to capture your readers' attention. Zendesk does this expertly, beginning with Airbnb's humble roots, then describing its wild success with over 100 million guests—and how that spurred the need for a solution that could help deliver high-quality customer service. The case study also evokes vivid detail like sitting in a "sun-drenched living room with a mug of steaming coffee."
7. Headers and subheaders
Not only does adding headers and subheaders to a case study help break up the text so readers can scan with ease—it's an essential component of healthy search engine optimization. Zendesk's Airbnb case study currently lacks these elements.

What could be better
1. Executive summary
Including an executive summary in your case studies gives your readers the chance to decide if the material is worth their time. It also means that if they don't read the entire piece, they'll still walk away with an understanding of your solution. Zendesk's Airbnb case study would benefit from adding an executive summary.
2. Clear challenge, solution and results sections
While Zendesk does tell a compelling story in this case study, it could help readers move through the story with greater ease by including more obvious challenge, solution and results sections.
3. Obvious CTA at the end
With no CTA at the end of this case study, Zendesk is missing out on a big opportunity. Currently, you read to the end of the case study and then see the footer. Think of what kind of results they could get if they added a "Book demo" button.

Zendesk case study critique is a wrap!
Check back next month for a new critique, and in the meantime, learn more about how to create a killer B2B SaaS case study.

Your case study partner
Get help with your B2B SaaS case studies with Uplift Content's done-for-you case study writing service.
We'll work with you to share your untold success stories and showcase how your products help your customers solve tough problems.