Introduction
WalkMe pioneered the Digital Adoption Platform (DAP), a new category of software that empowers every organization to realize the promise of its technology. As the defining leaders in digital adoption, WalkMe's insights, guidance, and automation platform enables leaders with visibility into digital usage to make data-driven decisions, and streamlines user experiences for employees and customers.  
"We were the first to create this type of platform, and that means that our customers are right by our side as early adopters and pioneers at their own organizations," says Brittany Rolfe Hillard, Vice President of Customer Engagement and Advocacy at WalkMe. "Our customers are the innovators behind the category—they're the heroes bringing better solutions into their organizations."
And they're the people Brittany works with, helping to boost the impact they're having within their organizations. "I love to recognize and celebrate the individuals and teams who are really spearheading innovation with digital adoption at their organizations to achieve great things," she says. However, figuring out the best way to share those stories—and finding the bandwidth to do so—isn't always easy.
---
Because we're able to work with Uplift, we're no longer the bottleneck. We've increased the number of stories, which has given our sales team more ammo to use in the sales cycle.
Brittany Rolfe Hillard, Vice President of Customer Engagement and Advocacy, WalkMe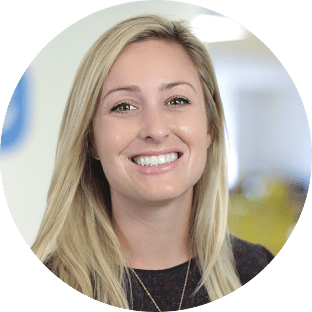 ---
Challenge
A wealth of stories—but not enough time to tell them
As WalkMe's business grew, Brittany began working with more and more successful, engaged customers who were interested in sharing their digital adoption journeys. "That was super exciting," she says, noting that "capturing customer success stories is crucial for boosting market confidence in new and innovative products." 
"When you're creating a category, you want to get people and organizations to see a challenge from a new perspective and to visualize a new, better solution in action," Brittany says. "If it's just the vendor telling the story, it lacks the real-world application. It's harder to trust. But hearing from another company, one that may have the same challenges you're having, makes it very personal and authentic."
Crafting those valuable case studies, though, posed a challenge. "Our team is small and we're growing in other responsibilities," she says. "We're juggling so many tasks that we can't clear our calendar long enough to focus on writing case studies. We also had to consider opportunity cost—we can write the customer story or we can work on other, more strategic tasks that add value to the company. By working with Uplift Content, we're able to achieve both." 
The technical nature of WalkMe only added to the workload of creating case studies. "It was difficult to find a simple, clear way to explain all the nuances and complexities of our use cases," Brittany says. "We really wanted to tell a better story—from the challenges that customers were facing to the unique ways they're using WalkMe to solve those challenges to the overall value and impact."
Because creating case studies in-house was taking so long, Brittany's team risked losing momentum or, worse, the customer stakeholders. "We just didn't have the resources to own the writing internally," she says. "We realized that working with a third party would produce better content faster," she says.
Solution
Analysis, best practices and flexible content creation
Brittany set out to find a partner for content creation. She wanted to work with someone who would take time to fully understand WalkMe's technology and messaging, and who could effectively tell unique, complex stories, sometimes with tight turnaround times.
A colleague at another SaaS company recommended that Brittany try Uplift Content. Her first meeting sealed the deal. "Uplift is easy to talk to and work with," she says. "I also feel like Uplift is really invested in us, and they come to the table with the best practices that our team really benefits from."  
From the start, Uplift was more than a case study writing service. "Uplift helped us analyze a variety of case studies from other companies and build a set of guidelines for what we wanted for ours," Brittany says. "Working with Uplift as a partner helped us create rules of operation and ensure more consistency."  
Brittany also appreciates the flexibility Uplift offers. "Uplift was willing to work with us to figure out a pricing structure to get our program going," she says. "And then we've been able to change as we've grown and our needs have changed."
Results
Well-told stories that boost credibility and customer confidence
Brittany and her team have achieved their goal of executing more case studies, faster. "Because we're able to work with Uplift, we're no longer the bottleneck. We've been able to increase the number of stories, as well as the variety of use cases and products we've featured," she says. "That has given our sales team more ammo to use in the sales cycle."
Partnering with Uplift has also helped reduce the time required to produce case studies. Brittany estimates her WalkMe team would spend up to 25 hours developing each story, from identifying the customer to final approval. Now, they're only spending about 10 hours per case study—saving them 150% more time to use for other, more strategic initiatives. 
And the case studies are finding an audience: since Uplift came on board, WalkMe has noted improved results for their case studies: 
400% increase in people scrolling at least 75% down the page

206% more page views

435% increase in time on page 
These stats indicate that Uplift case studies give WalkMe's target audience the information they want, and keep them on the page longer reading the full story. 
In other words, Uplift case studies are engaging potential customers. "Our readers get a well-articulated story that helps them understand how digital adoption has solved challenges and created value for another organization, and allows them to visualize that potential within their own organization," Brittany says.
The WalkMe sales team is also benefiting from well-crafted case studies. "Especially when you are defining a new category, the voice of the customer is probably the most important voice you can have in your marketing efforts. It improves authenticity, it increases credibility, and it increases your reach and awareness," Brittany says. "Having more stories to reference or tell helps everyone sell better."
"Bringing in somebody who can really help you to create quality content without having to compromise is a small investment that will dramatically pay off in the end."
Let's work together
Looking for fresh, relevant and effective customer stories? We've got you covered.